Florida has earned a respected reputation as one of the most popular—if not the most popular—snowbird destinations in the country. With mild winters, pleasant temperatures, and plenty of sunny days, the weather in Florida allows active adults to live a more active social and physical lifestyle throughout the year.
Snowbirds can enjoy everything that The Sunshine State has to offer at an affordable price. Keep reading to discover ten of the most affordable places to snowbird in Florida.
1. Ocala, Florida
Population: 58,598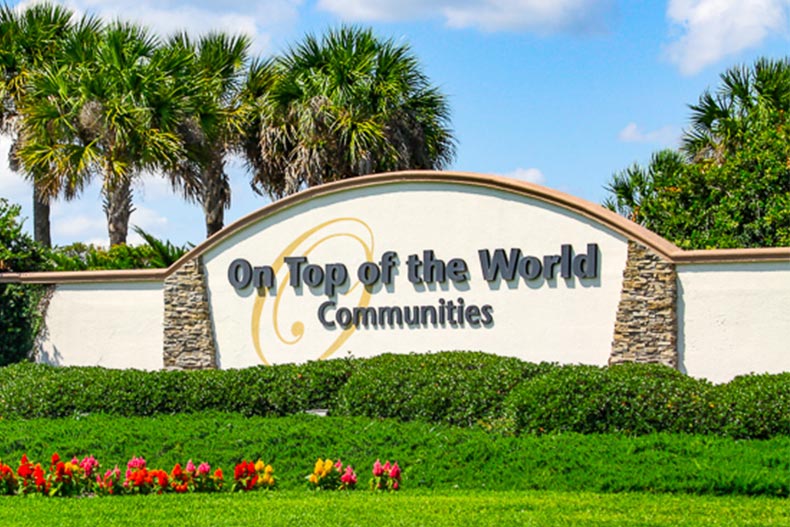 Located in Central Florida, Ocala is one of the most affordable places to snowbird in Florida. For seasonal residents, Ocala offers a cost of living more than 16 percent lower than the national average as well as no income tax. With a lower cost of living and a higher quality of life, snowbirds flock to Ocala year after year.
As a well-established destination for snowbirds and permanent active adult residents, Ocala includes a significant 55+ population. The area also features some of the most popular and best-selling active adult communities in the country, like the award-winning On Top of the World community.
The location of Ocala also connects residents to some of the best entertainment options and outdoor recreation opportunities in The Sunshine State at a more affordable price than many of the coastal cities in Florida. Residents can drive 75 minutes to the world-class city of Orlando and 60 minutes to the shoreline along the Gulf of Mexico. The location also ensures that residents can enjoy pleasant weather in all four seasons.
2. Sarasota-Bradenton, Florida
Population: 111,161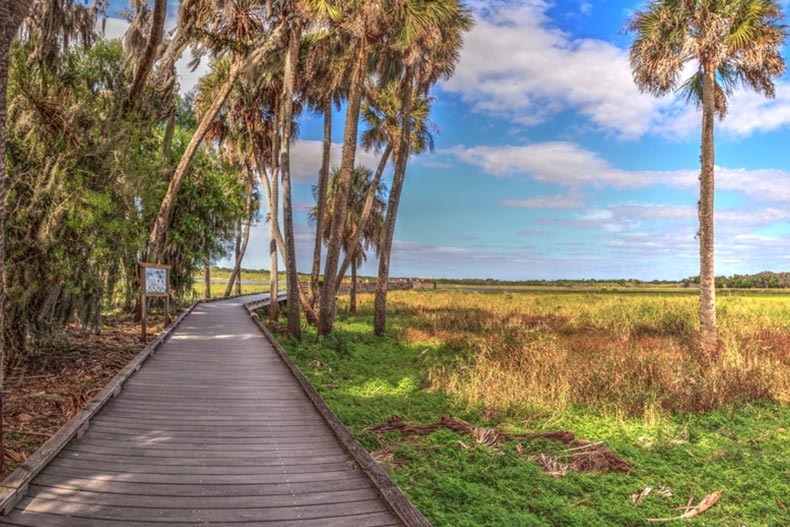 For snowbirds who want to live near the beach, the Sarasota-Bradenton area provides an ideal Gulf Coast location surrounded by world-class beaches, attractions, and affordable snowbirding locales. With dozens of 55+ communities in the area, active adults can find an abundance of options for snowbirding in Southwest Florida.
The humid subtropical climate in the cities of Bradenton and Sarasota allows active adults to enjoy very mild winters and hot summers. Even in the winter, the annual low temperature remains above 60 degrees. Throughout the year, there is an abundance of attractions to visit in the area, such as the Marie Selby Botanical Gardens, Mote Marine Laboratory & Aquarium, TPC Prestancia, The John and Mable Ringling Museum of Art, Sarasota Jungle Gardens, and Longboat Key Golf Club.
A thin line of barrier islands runs along the Sarasota-Bradenton coast, providing access to scenic beaches such as Siesta Key Beach, Lido Key Beach, and Crescent Beach. Residents also have convenient access to Tampa and St. Petersburg.
3. Fort Lauderdale, Florida
Population: 178,783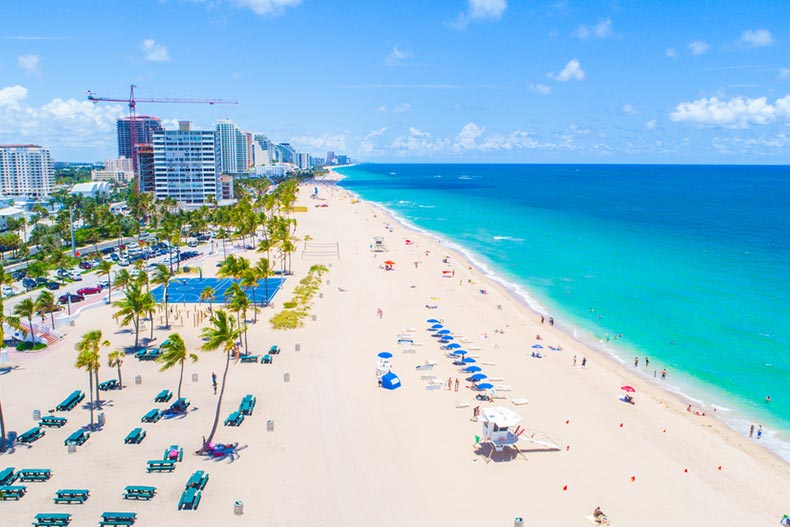 With more than 300 days of sunshine each year, Fort Lauderdale welcomes plenty of snowbirds who want to enjoy warmer weather instead of the harsh temperatures and regular snowfall associated with northern winters. Fort Lauderdale has no annual snowfall and an annual low temperature that stays above 65 degrees. The mild weather allows many snowbirds to live a more active physical and social lifestyle throughout the year.
The Atlantic Ocean borders Fort Lauderdale to the east, which means that miles of scenic shoreline are always within reach. Residents can also drive 20 minutes north to Boca Raton and 30 minutes south to Miami, providing access to everything these vacation destination cities have to offer.
When active adults want to explore local entertainment options, the surrounding area features a variety of cultural attractions and seasonal events. The unique Greater Fort Lauderdale Ale Trail connects more than 50 craft breweries and bars that active adults can try. The area also hosts the Tortuga Music Festival, Women's International Film Festival, Riptide Music Festival, Florida Renaissance Festival, and the Indie Craft Bazaar.
4. Tampa, Florida
Population: 392,905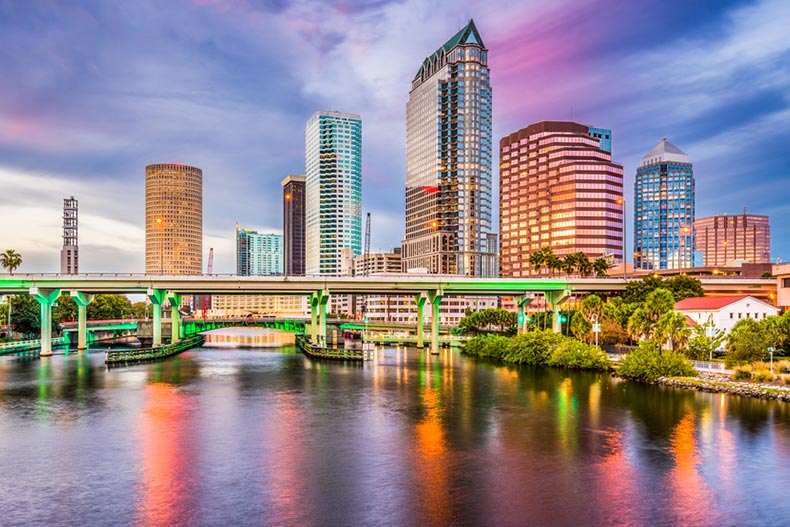 Many snowbirds find their ideal snowbirding destination in Tampa, the third-largest city in Florida. In addition to an affordable cost of living for seasonal travelers, the city gives residents access to a metropolitan city, expansive greenspaces, and scenic beaches.
The Tampa area houses some of the most popular attractions in Southwest Florida, which include The Florida Aquarium, Tampa Museum of Art, Busch Gardens Tampa Bay, SS American Victory Mariners' Memorial and Museum Ship, Sunken Gardens, and Raymond James Stadium, home of the NFL's Tampa Bay Buccaneers. Some of the best parks in the area include Hillsborough River State Park, Little Manatee River State Park, and Terra Ceia Preserve State Park.
From the heart of downtown Tampa, residents can reach St. Petersburg within 25 minutes, Clearwater within 30 minutes, and Bradenton within 45 minutes. The scenic Tampa Bay and the nearby Gulf Coast mean that a day on the water is always within reach.
5. Pembroke Pines, Florida
Population: 168,260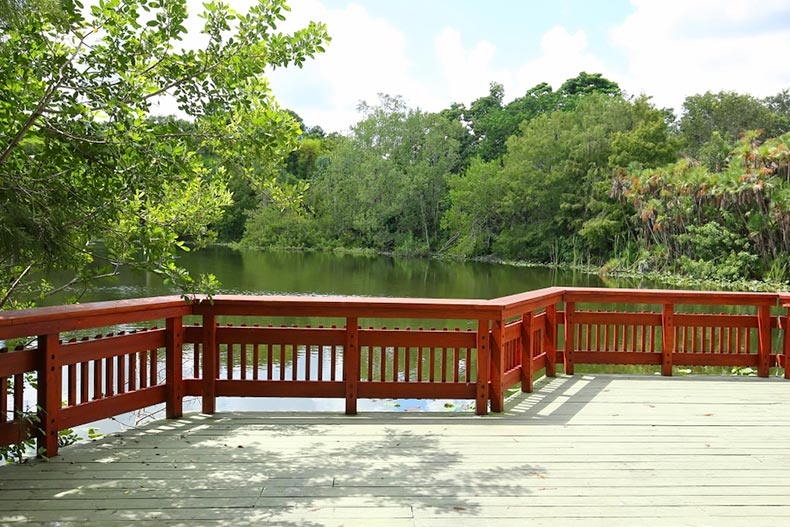 Although Pembroke Pines may not come to mind as one of the best-known cities in Florida, this hidden gem in Southeast Florida gives active adults an opportunity to snowbird in a small town for an affordable price. While Pembroke Pines maintains a small-town feel, those who want to visit nearby cities can reach Miami, Fort Lauderdale, and the Atlantic Coast within 30 minutes.
Pembroke Pines is home to more than 28 parks that surround the community with lush, natural scenery. The humid subtropical climate with an average yearly temperature above 65 degrees makes the area ideal for tropical gardens and diverse flora and fauna. In addition to expansive natural spaces, nearby attractions include Flamingo Gardens, Butterfly World, Miami Seaquarium, and Miami Beach Botanical Gardens.
Seasonal residents can also participate in some of the community's annual events and festivals, such as arts festivals, jazz concerts, and holiday celebrations. The affordable cost of living in the area (and the benefits of no income tax) gives active adults more freedom to explore the surrounding area and enjoy their leisure time.
6. Port Charlotte, Florida
Population: 61,204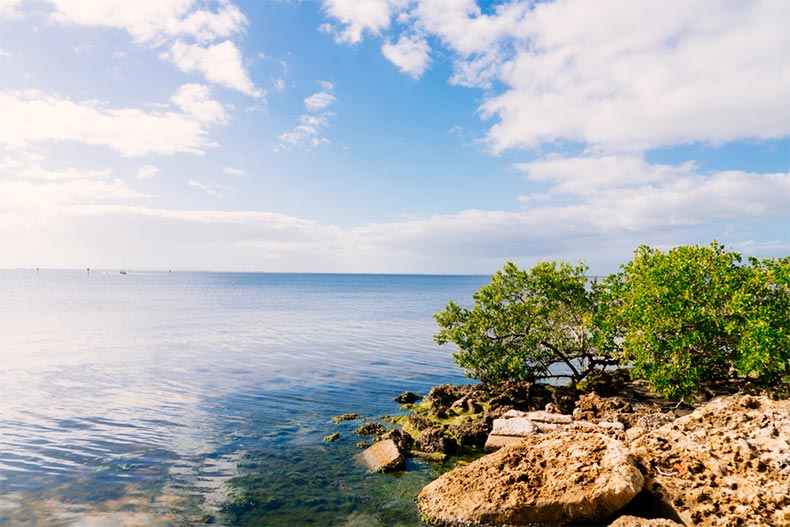 As the name might indicate, Port Charlotte is a coastal town situated directly next to the water of a bay by the same name, Charlotte Bay. The city, located about 40 minutes north of Fort Myers, attracts many snowbirds looking for a low cost of living and convenient access to an abundance of activities associated with water, sun, and sand.
Port Charlotte often feels like a haven for any active adults who enjoy spending time on the water. Whether snowbirds like to swim, fish, scuba dive, or spend the day at the beach, Port Charlotte offers more than 165 miles of waterways as well as miles of natural shoreline and beaches. Hundreds of acres of parks and preserved natural spaces, including several state parks, also surround the city.
With a cost of living nearly 12 percent below the national average and without any income tax, snowbirds looking to escape to a natural paradise can find plenty of options in Port Charlotte. Active adults often come for the low cost of living and return again and again for all of the outdoor and water activities.
7. Boynton Beach, Florida
Population: 75,720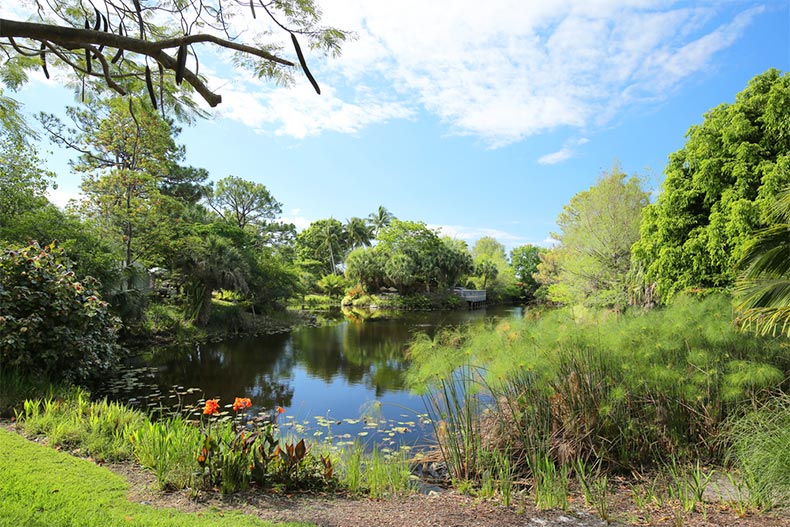 Boynton Beach is positioned on the Atlantic Coast directly between West Palm Beach and Boca Raton, two popular vacation destinations. For many active adults, the city offers almost everything they enjoy about Florida all in one place: pristine shores, world-class attractions, lush natural spaces, and 90 55+ communities where active adults can snowbird.
There are several reasons that make Boynton Beach one of the top-selling active adult destinations in the country. The nearby attractions capitalize on the tropical landscape and welcoming weather. They include Mounts Botanical Garden, Morikami Museum and Japanese Gardens, Lion Country Safari, and the South Florida Science Center and Aquarium. As previously mentioned, the city is also home to miles of scenic beaches and coastal amenities.
Although the high-end cities of West Palm Beach and Boca Raton are each easily only 20 minutes away, Boynton Beach maintains itself as an affordable spot to snowbird. If you're looking for an area to head south for the winter that's like a vacation hotspot but without the crowds and high prices, you might want to consider Boynton Beach.
8. Fort Myers, Florida
Population: 76,591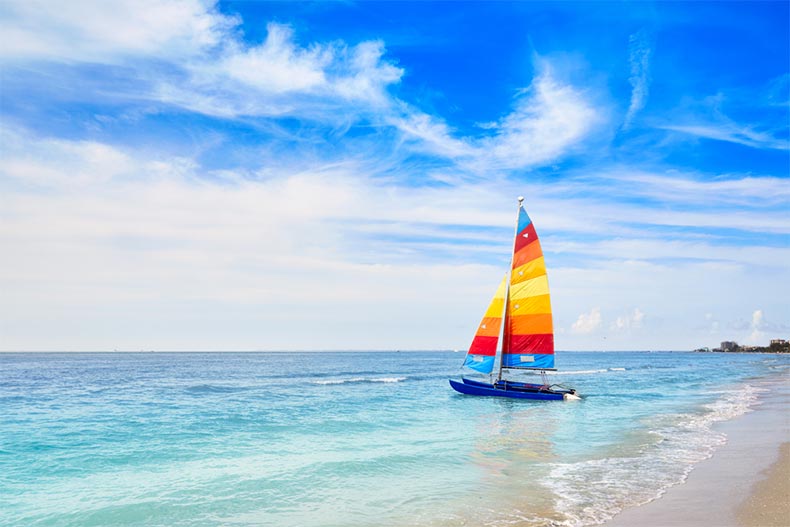 With nearly three dozen 55+ communities in the area, Fort Myers has been a popular vacation and retirement destination for active adults for decades. Many snowbirds also return to Fort Myers every year to enjoy warmer winters and a lower cost of living. Snowbirds on a budget can still enjoy plenty of outdoor activities, entertainment options, shopping, and dining.
Fort Myers is located 75 minutes south of Sarasota and 35 minutes south of Port Charlotte as well as 45 minutes north of Naples. Residents can also reach the nearby city of Cape Coral within 15 minutes. Some of the most popular attractions in the area include Calusa Nature Center and Planetarium, The Butterfly Estates, Everglades Wonder Gardens, Edison & Ford Winter Estates, and Fenway South Park, the spring training home of the Boston Red Sox.
The waterfront location of Fort Myers along the Caloosahatchee River also reflects the abundance of scenic waterways, beaches, and parks in the area. Residents can visit the Estero Bay Aquatic Preserve, Lovers Key State Park, Sanibel Island, and Cayo Costa State Park.
9. Sebring, Florida
Population: 10,636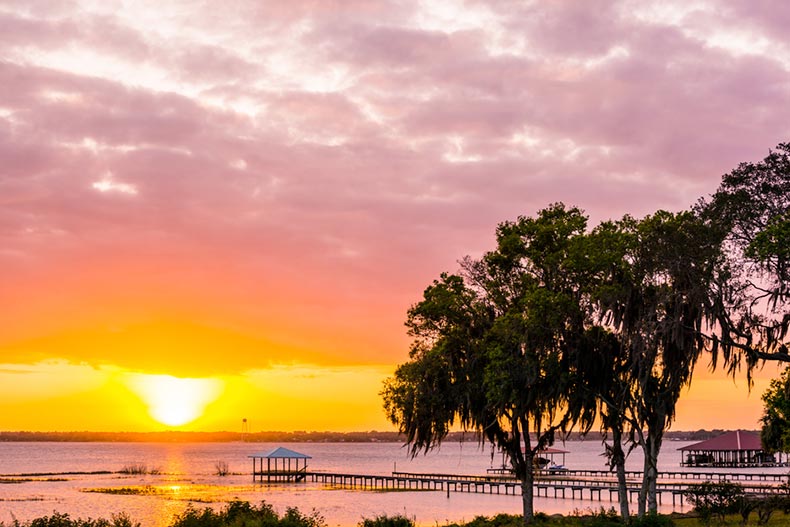 Snowbirds who can appreciate the idea of spending their winter months in a small, tight-knit community might find a lot of appeal in Sebring. With just over 10,000 residents, Sebring offers the best of small-town Florida. The nickname "The City on the Circle" pays homage to the city's downtown historic district, and a 3,212-acre lake called Lake Jackson also spans the center of the city.
From Sebring, active adults who enjoy afternoon and day trips can travel about 75 minutes to Fort Myers and West Palm Beach. The ideal position in Central Florida provides residents with access to both the Atlantic Coast and the Gulf Coast.
The tight-knit community also offers a lower cost of living than many other places in Florida—nearly 19 percent lower than the national average. With an affordable lifestyle, active adults can snowbird on a budget in Sebring while enjoying all that the Sunshine State has to offer.
10. Pensacola, Florida
Population: 52,562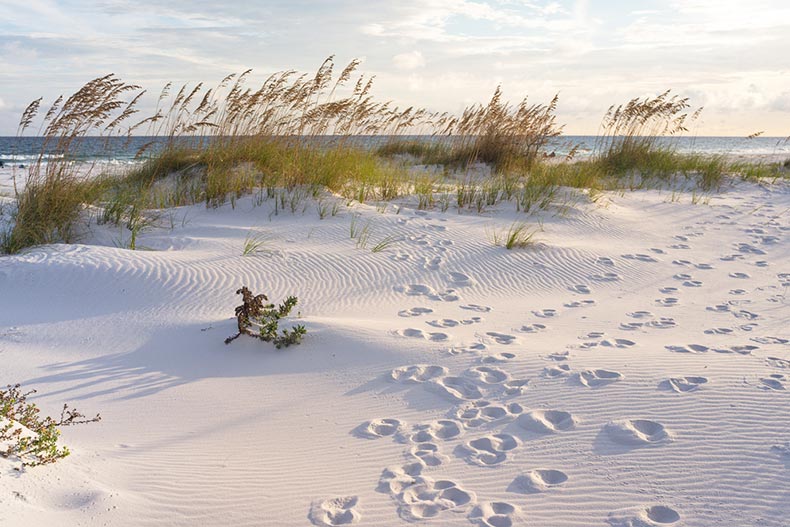 Any list of the most affordable places to snowbird in Florida should feature at least one entry along the Florida Panhandle, an up-and-coming area for active adult community development. Pensacola, the westernmost city on the Panhandle, offers an affordable cost of living for Florida snowbirds who want to live near the Gulf Coast.
The city of Pensacola, with a population of around 52,000, features a historic downtown area with a range of things to do. Some of the most popular attractions in the area include the Pensacola Museum of Art, Wildlife Sanctuary of Northwest Florida, National Naval Aviation Museum, Pensacola Country Club, Fort Pickens Aquatic Preserve, and Blackwater Heritage Trail State Park.
Most visitors and seasonal residents come to Pensacola to enjoy the miles of white, sandy beaches along the Gulf Coast. At the Gulf Islands National Seashore, active adults can enjoy swimming, snorkeling, sunbathing, sailing, boating, and watersports. Within 45 minutes, residents can also reach the vacation destination of Gulf Shores, Alabama.