A swath of southwestern Florida is known as the state's Paradise Coast. The crystal-clear waters of the Gulf of Mexico lap the shores of white sand beaches, and the lush green of plentiful golf courses beckon.
Naples is one of the prime cities in this part of Florida, and many retirees will find themselves at home in this warm locale. If you're thinking about spending your post-work life in Florida, you may want to consider Naples. Learn more about the city lovingly dubbed the "Golf Capital of the World" as you contemplate your perfect retirement spot.
Retiring in Naples: Pros and Cons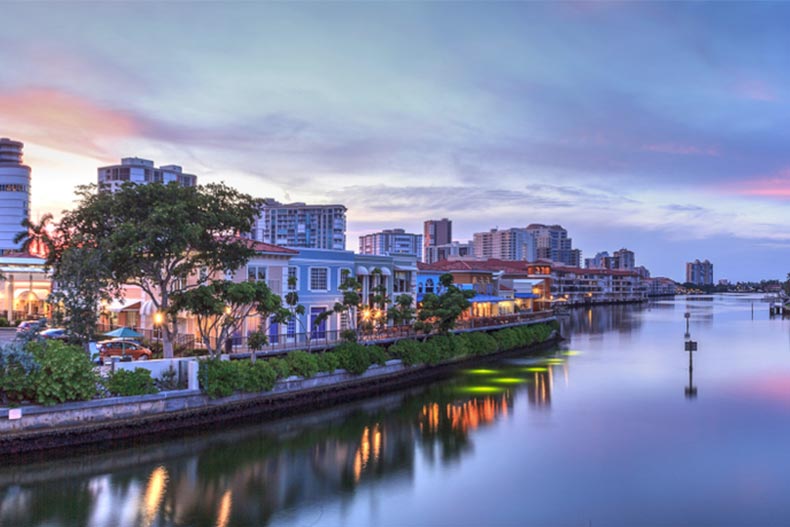 Any city has its pros and cons; it's up to you to weigh them to find what works best for you. Some of the pros and cons of living in Naples include:
PROS
The beaches: If you've always pictured yourself lounging on the beach during your retirement, you could hardly find a more promising spot. Grab your sunscreen and spread out your towel at Naples Pier, Clam Pass Park, and plenty of other pristine beaches in and near the city.
The golf courses: Naples has more than earned the title of "Golf Capital of the World." The city has nearly 100 18-hole courses. Some are private, and some are accessible to anyone. Get your clubs and practice your swing at some of the most beautiful courses in the world.
Luxury living: Some retirees imagine spending their days in the lap of luxury, and Naples is happy to provide. The city is known for its resort-style amenities and high-end vibe for shopping, dining, golfing, and living.
CONS
The tourist crowd: Naples beaches and golf courses aren't for locals only. The city attracts a steady stream of tourists who want to experience some of that beachfront living for themselves. If you don't care for crowds, this could be a con on your list.
The weather: Florida is, of course, the Sunshine State, but Naples is located right on the coast, and that means a heavy wet season and vulnerability to hurricanes.
Cost of living: If you're looking to be cost-conscious in your retirement, you might find Naples' expensive home prices and high cost of living to be a downside.
Naples Climate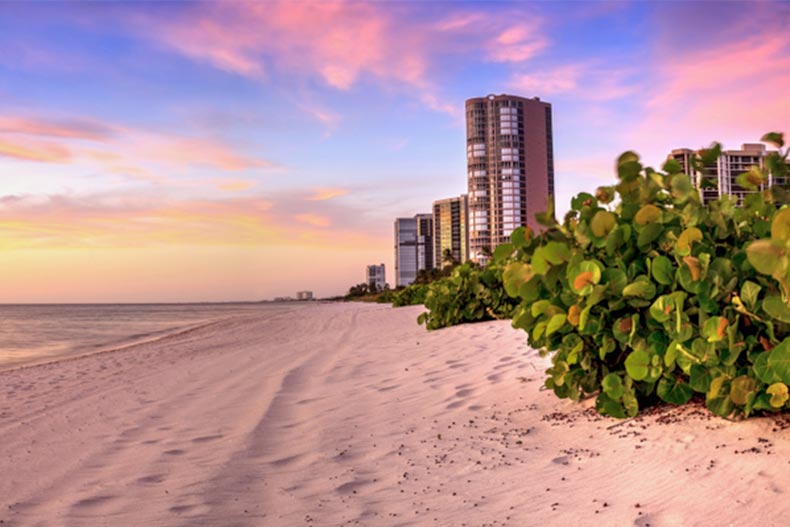 Summer in Naples tends to be humid and wet. If you're looking for dry heat, Naples is not the place to find it. Temperatures peak in August at an average high of 89 degrees Fahrenheit, according to WeatherSpark. But the winter months of December to early March are a pleasant average 77 degrees. Keep in mind that hurricane season runs through early summer to fall.
During the muggy months, many Naples residents find respite at the beach. When temperatures start to drop, the golf courses might just start calling your name. Plus, Naples is located not far from the Everglades for nature aficionados who want to spend their time looking for wildlife.
Naples Taxes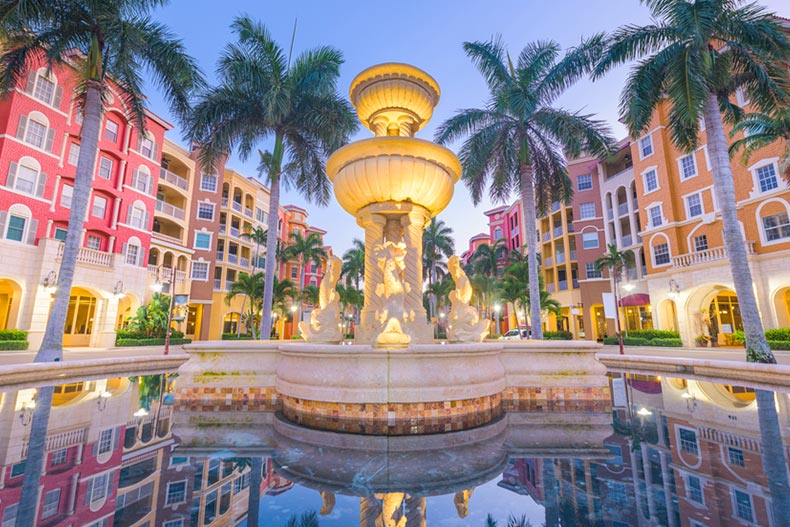 Florida has no state income tax, which makes cities like Naples attractive to retirees who are looking to save on taxes. Here's what you need to know about some other important tax issues if you are eyeing Naples for your retirement.
Naples Property Taxes
Naples is located in Collier County. On average, the county collects 0.67% of a home's fair market value as property tax, according to Tax Rates.org.
Naples Retirement Income Taxes
Florida's lack of income taxes is a boon for retirees because this also applies to retirement income. Individuals living in Naples don't have to pay taxes on income they receive from their IRAs, 401(k)s, or pensions.
Naples Tax Exemptions for Seniors
People who are 65 and older living in Naples may be eligible for a property tax exemption if their income doesn't exceed a certain limit and they have had a permanent residence in the state for at least 25 years. If you're coming from out-of-state, you will not qualify for this homestead exemption.
Naples Health Care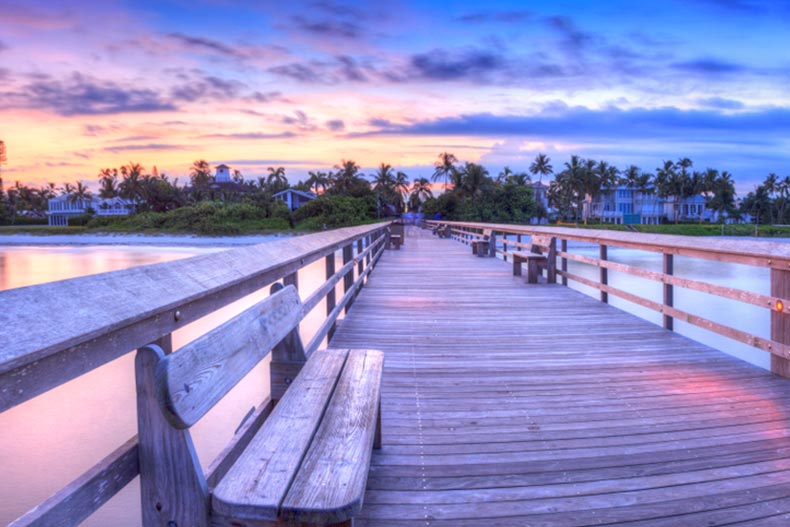 While you're living your best life during retirement, you want to know that you're within easy reach of quality health care. Some of the major hospitals and medical centers in Naples include NCH Baker Hospital, Physicians Regional Medical Center Pine Ridge, and Landmark Hospital of Southwest Florida.
Where to Live in Naples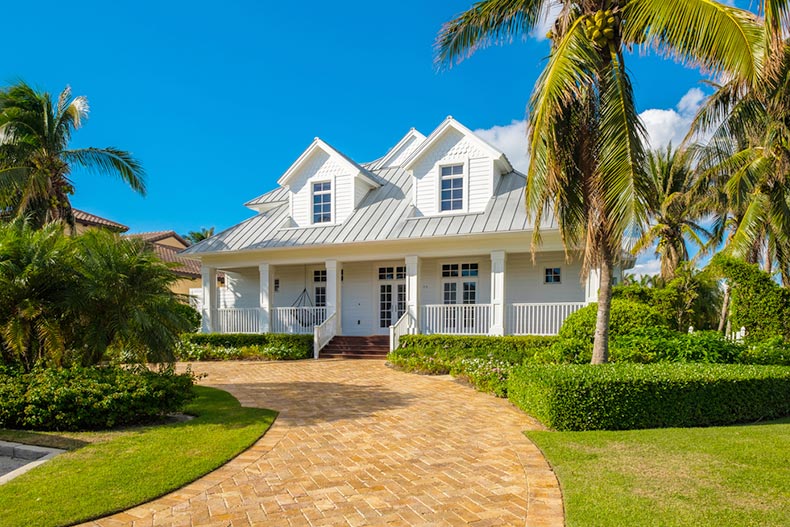 Walk a few blocks in most cities and you'll experience a noticeable change in atmosphere. Distinct neighborhoods and areas are part of the appeal of settling down in an urban area, but if you're unfamiliar with a city, narrowing down where you'd like to live can be an overwhelming process. Here are a few spots retirees might like to get to know in Naples.
Lely Resort
Lely Resort is a sprawling community in Naples. If you're looking for the resort lifestyle, it's right there in the name. The gated community stretches out among a series of lakes. It has three of its own golf courses and a multitude of clubhouses. This gated community has no age restrictions.
With more than 4,000 homes and a variety of neighborhoods, Lely Resort has plenty of options. You can opt for a condo if you're looking to downsize, or you can spread out in an estate. Lely Resort has homes built back in the early 2000s as well as brand-new construction. Wherever you settle down, you won't be far from a golf course, spa, or pool.
Lely Resort's crowning jewels are the Players Club & Spa and the Village Center. The area's residents come to the Players Club & Spa to float in the lagoon-style pool, exercise in the outdoor lap pool, compete on the tennis courts, and socialize at the bar. The Village Center, exclusively available to residents, has restaurants, cafes, and plenty of other amenities.
Pelican Bay
Pelican Bay is located right on the coast, giving residents easy access to the warm waters of the gulf. If you're coming to Florida to enjoy some wildlife along with your relaxation, this active lifestyle community is recognized for its preservation efforts. You can visit the Clam Bay mangrove preserve for some restorative time outdoors.
This area of Naples has a total of 58 neighborhoods, which include thousands of homes. You can opt for a waterfront condo, or you can settle down in a villa with a view. Pelican Bay isn't a gated community nor does it have any age restrictions, but it does emphasize low-maintenance living, a feature many retirees will appreciate.
Pelican Bay has impeccably maintained beaches that stretch for three miles along the coast as well as a tram system that helps residents easily travel around the area. Sun yourself on the beach and catch the tram to make your dinner reservations. If you have visitors coming into town, Pelican Bay has plenty of hotels.
Pelican Bay also has a large community center complete with a fitness studio and a tennis pro shop. The pro shop comes in handy for many residents who spend their time out on the court. If golf is your game of choice, Pelican Bay also has a member-owned golf club. Additionally, the area has plenty of trails for walking and bicycling.
Old Naples
Old Naples, like the name suggests, is a historic part of the city. It's a coastal neighborhood that includes both Naples Beach and Naples Pier, two of the city's most iconic beach hangout spots. While you can find plenty of new construction in Naples, this part of the city is known for its architecture dating back to the turn of the century. Retirees with a taste for the classics might find themselves right at home in Old Naples. You won't find any age restrictions in this part of the city.
While Naples Beach might be the biggest name in ocean-side relaxation, the entire western edge of the neighborhood is made up of beaches. Take your pick for sand and surf. You can lounge and bask in the warm waters, or you can find an outlet for indulging your sailing hobby. You can also get your dose of the green at Naples Beach Hotel and Golf Club.
If shopping is on your list of retirement leisure time activities, the neighborhood's Third Street South has you covered. This part of Old Naples has a bevy of restaurants, cafes, and boutiques. It also has an outdoor farmers market. Strolling through this part of town gives you plenty of opportunities to do more than just window shop.
Old Naples is also home to NCH Baker Downtown Hospital, which gives the neighborhood's residents easy access to health care. Additionally, the neighborhood is bordered by U.S. Route 41, making it easy to drive to other parts of the city and the state.
Deciding where to settle down for your retirement is a big decision. If the luxurious beach lifestyle sounds right for you, Naples is probably high on your list of destinations.
Ready to Make the Move? 55places Can Help.
To discover more exciting 55+ communities in Naples, we invite you to contact us at 800-928-2055 or visit 55places.com. Our experienced team of real estate experts will guide you through the top options in your area and help you make a seamless transition from your current home to a 55+ community. We look forward to helping you make your next move the best one yet!