Palm Beach, Florida is actually off the mainland. The city sits on a barrier island, with the Intracoastal Waterway separating it from nearby coastal cities and beach towns. It encompasses everything that most people imagine about southeastern Florida: palm trees, sandy shores, and water everywhere.
People retire to West Palm Beach and the other Palm Beaches because it's warm, it's pretty, and there's always something to do. Whether you enjoy golf, beachgoing, shopping, dining, art, or travel, this region has it all.
If living in West Palm Beach has always been a retirement goal, we have some tips on how to make a successful move.
Retiring in Palm Beach Pros and Cons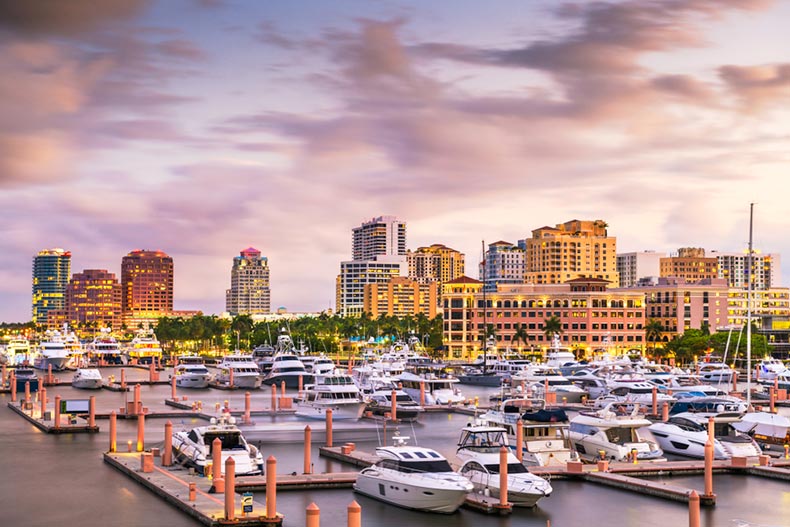 PROS
Endless recreation and entertainment: Palm Beach has art and culture. There are also great restaurants, beautiful shopping experiences, and over 160 golf courses throughout Palm Beach County. You'll find fishing charters, snorkeling and scuba diving opportunities, and over 47 miles of Atlantic coastline. If you love the beach, you've got plenty of space to pitch your umbrella and settle in. Surfing, paddling, kayaking, and water sports are extremely popular.
Year-round sunshine: Shorts and flip flops in February and no snow to shovel. These are some of the main pros that people from colder climates tend to name when talking about what it's like to live in Palm Beach. There's a lot of sun, there's a lot of warmth, and you can enjoy all your favorite outdoor activities even in the middle of winter. Sometimes, nights and mornings have a chill in the air, but it's never so cold that an entire day has to be planned indoors to avoid the snow and ice. If your lungs hate winter, this is the place to be.
Airports, interstates, and cruise terminals: It's easy to explore all of South Florida from Palm Beach, including Miami, the Keys, the Everglades, and local seaside cities like Fort Lauderdale and Boca Raton. Interstate 75 takes residents west to Naples and all points along the Gulf Coast. Interstate 95 travels north, making it easy to plan trips to Orlando, Daytona Beach, Jacksonville, and the Panhandle. Also, there's a cruise port and an airport in West Palm Beach.
CONS
Weather can be extra tropical: True, we've already listed the weather in Palm Beach as a "pro." But, with those sun-shiny benefits comes one or two drawbacks. For example, the humidity. Plenty of sea breezes keep things from getting too steamy, but in the middle of an especially hot August, things can get uncomfortable. There's also the threat of hurricanes.
Traffic and crowds: The trouble with living in West Palm Beach is that everyone else wants to be here too. More than 8 million people visit Palm Beach County every year. Traffic can be a bit much, especially if you're sitting on the highway during rush hour or even trying to run errands in Downtown West Palm Beach. You'll need reservations at restaurants and sometimes a lot of patience when it comes to finding a parking spot. The busiest months are November through March.
It's not exactly cheap: Lots of billionaires in Palm Beach. In fact, at least 30 known billionaires are living in Palm Beach. It's a wealthy area, and trying to settle in on a budget isn't always easy. It's not impossible, but prepare for more upscale options when it comes to shopping, dining, and recreating.
Climate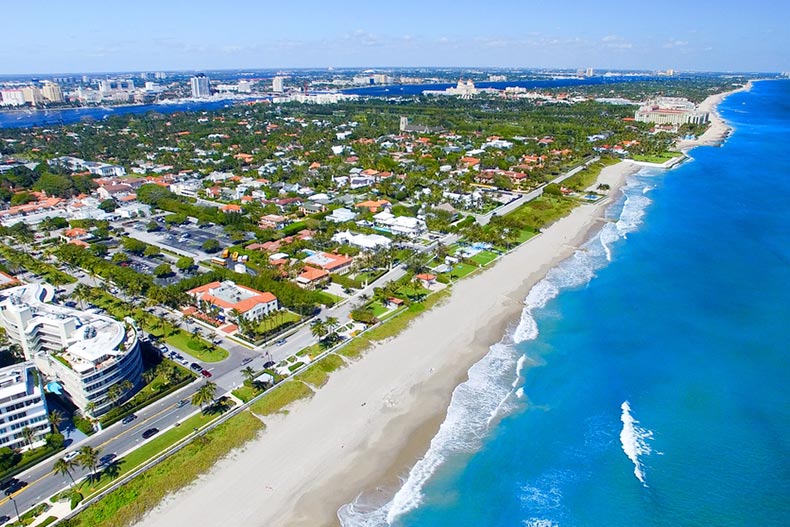 On average, there are 231 sunny days every year in Palm Beach, which is higher than the national average. However, Palm Beach gets an average of 63 inches of rain every year, which is also much higher than the national average. Most of that rain shows up in the humid summers when thunderstorms pass through on a nearly daily basis.
The winters are mild, though. Average temps in the summer top out at 90 degrees in the day and 75 degrees at night. In the cooler months, the highs are in the mid 70s and the lows in the high 50s.
Active adults love to golf in this weather. There's a lot of boating, some great hiking and biking trails in Palm Beach, and plenty of opportunities for tennis, shuffleboard, pickleball, and beach volleyball. Expect outdoor seating all year long at most restaurants.
Taxes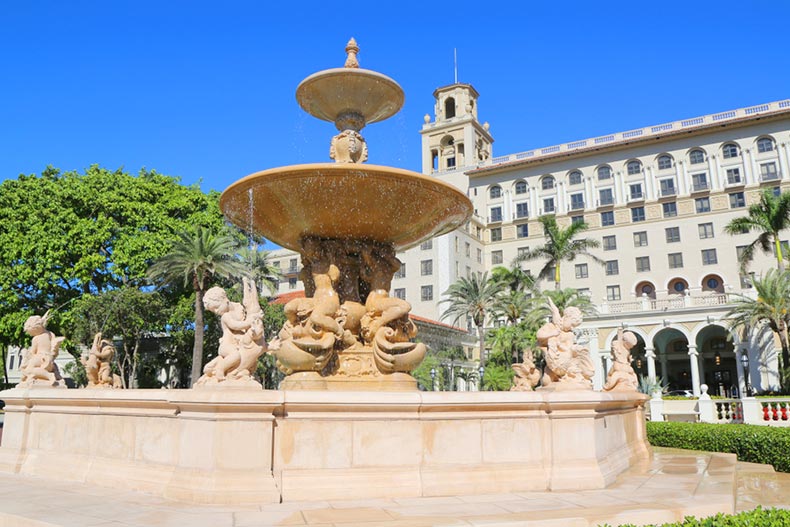 Retiring in Palm Beach is a great idea for people who want to protect their retirement income from state taxes. There's no state income tax in Florida, and there's no inheritance tax or estate tax either. The minimum combined 2022 sales tax rate for Palm Beach County is 8.75 percent, which is the total of state and county sales tax rates.
Property Taxes
Property taxes in Palm Beach are paid to the Palm Beach County tax collector. They're due annually in April and installment agreements can be requested. Property taxes aren't cheap, mostly because there are so many high-value homes in the region. Kiplinger recently reported that West Palm Beach has the highest overall local tax burden of Florida's most populated cities.
Retirement Income Taxes
Retiring in West Palm Beach might mean higher property taxes, but there's no state tax on income. This includes all types of retirement income, such as social security benefits and investment earnings from 401(k) plans or other retirement funds. This benefit often puts Florida at the top of most lists that measure retirement-friendly states.
Tax Exemptions for Seniors
Residents who are 65 years of age and older are eligible for a Homestead Exemption in Florida. Additional exemptions are allowed in some cases, depending on income. Decisions on eligibility are made through the Property Appraiser's office.
Health Care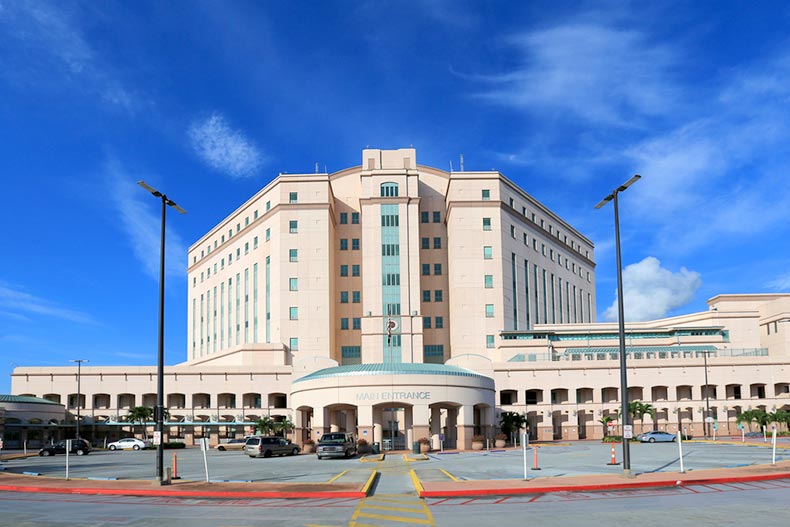 The largest and best hospitals in Palm Beach County are found in West Palm Beach. Good Samaritan Medical Center and St. Mary's Medical Center are known for emergency services, cancer treatment and diagnosis, and pain management.
HCA JFK North Hospital offers residents a 280-bed acute care facility with an adjoining 124-bed psychiatric unit and a medical professional office building. Areas of specialization include outpatient rehabilitation, wound management, and a comprehensive breast cancer institute. There's also 24/7 emergency care, pain management, orthopedic care, gastroenterology, and urology. Behavioral health services are also available for seniors.
Where to Live in Palm Beach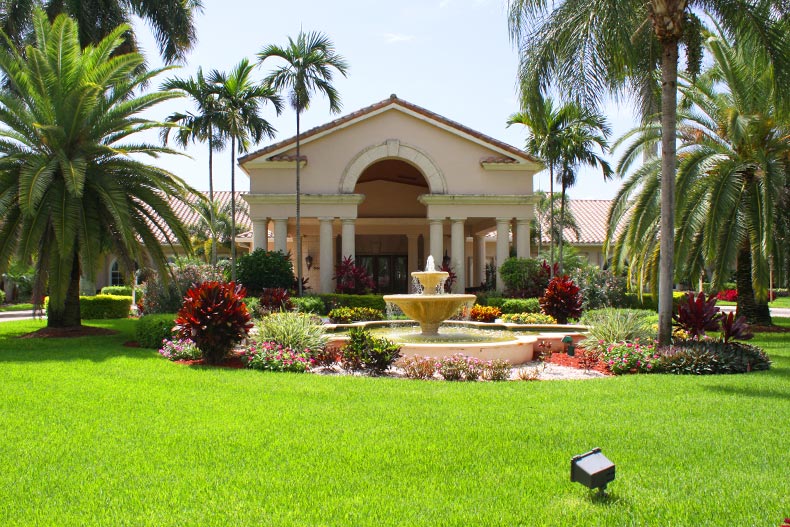 Palm Beach is a city, and it's also a county that covers a large region of coastal southeastern Florida. Some of the most notable places for active adult living include cities such as Boca Raton, Boynton Beach, Delray Beach, Lake Worth, and Palm Beach Gardens.
Certain areas in and around Palm Beach have a larger number of 55+ communities, and that's where active adults find homes for sale, fitness facilities, and amenities.
West Palm Beach
West Palm Beach is one of the best-known cities in Palm Beach County. There are beaches, a thriving downtown area full of shops and restaurants, and the often-visited Clematis Street, which is the center of nightlife and special events.
Living in West Palm Beach means enjoying art galleries, museums, and high-end shops. It's city living without feeling overwhelmed in a place the size of Miami. Everything that's needed is close by, including grocery stores, pharmacies, banks, and retailers.
Some of the best local attractions in West Palm Beach include the Norton Museum of Art, Kravis Center for the Performing Arts, and McCarthy's Wildlife Sanctuary.
Baywinds is a 55+ community with a long list of amenities for homeowners hoping to stay active. The clubhouse includes a fitness center and a dance studio as well as locker rooms, a sauna, a library, and a game room. There's an outdoor pool and shuffleboard courts as well as a resistance pool and a lap pool. Residents enjoy the walking and bike paths that include views of fishing lakes.
If golf is a priority while living in West Palm Beach, Ibis Golf and Country Club is an excellent lifestyle community to consider. There are three golf courses as well as tennis courts, swimming pools, and other amenities, including 45 lakes and ponds. The community is made up of 33 unique neighborhoods, with single-family homes, attached villas, and condos. There's a mix of new construction homes and resale, move-in-ready properties.
Boynton Beach
Another well-known community in Palm Beach is Boynton Beach. This area is famous for its OceanFront Park, which has quite a reputation for being one of the most beautiful beaches in the state. Boynton Inlet is a favorite spot for fishing, swimming, and wildlife watching.
Living in Boynton Beach offers a mix of urban and suburban living, with a lot of activity taking place at the beach and outdoors. Residents enjoy access to restaurants, coffee shops, and parks.
The most popular beach in Boynton Beach is Gulfstream Park. There's also a lot of nature. Seacrest Scrub Natural Area is 54 acres with several hiking trails. There's also the Arthur R. Marshall Loxahatchee National Wildlife Refuge, which is one of the largest urban wildlife areas in the country. The Links at Boynton Beach is a popular Palm Beach area golf club with two courses.
Some of the most popular 55+ communities are both near the water and further inland. The Cascades is a 55+ community of single-family homes that are available in two and three-bedroom models with 1,563 to 2,417 square feet. Amenities in this community include a clubhouse with a fitness center and saunas, a pool with a pavilion, 10 tennis courts, and four pickleball courts.
Colonial Club is a 55+ condominium community on the Intracoastal Waterway. Residents enjoy water views from their outdoor spaces, and there's also a saltwater pool, a clubhouse, and a fitness center. Condos are low-maintenance and available in one and two-bedroom models.
Boca Raton
Known simply as "Boca" by people in the know, Boca Raton is a well-known city in Palm Beach County and a popular place for retirement. It's a popular place for tourists to gather, especially in the winter.
Living in Boca Raton means having constant access to beaches, shopping, and some great restaurants. People come here to play golf and escape winters elsewhere.
Art lovers will enjoy the Morikami Museum and Japanese Gardens, which houses permanent collections and ongoing exhibitions of Japanese art. The Boca Raton Museum of Art was originally an arts guild founded by local artisans and craftspeople in 1950. Sugar Sand Park and Red Reef Park are great places to soak up some vitamin D.
Plenty of active adult communities can be found in Boca Raton. Whisper Walk is a scenic 55+ community with five clubhouses, five pools, eight tennis courts, eight shuffleboard courts, and four pickleball courts. Attached villas are available in two and three-bedroom models with 1,000 to 1,921 square feet.
For luxury living, Sabal Ridge is a 55+ condominium community in Boca Raton with million-dollar homes. Living at Sabal Ridge comes with private beach access, a pool, and concierge services.
Ready to Make the Move? 55places Can Help.
To discover more exciting 55+ communities in Palm Beach, we invite you to contact us at 800-928-2055 or visit 55places.com. Our experienced team of real estate experts will guide you through the top options in your area and help you make a seamless transition from your current home to a 55+ community. We look forward to helping you make your next move the best one yet!