Tampa is all about the coastal lifestyle. This Florida city juts out into Tampa Bay, offering plenty of beautiful waterfront views and beaches. But Tampa is large enough that you can also find plenty of places to live and things to do more inland.
If you're looking for a spot to retire, Tampa might beckon with its warm weather, beautiful views, and vibrant entertainment. Get into the nitty-gritty of living in Tampa to help you decide if this is the perfect spot for your retirement.
Retiring in Tampa: Pros and Cons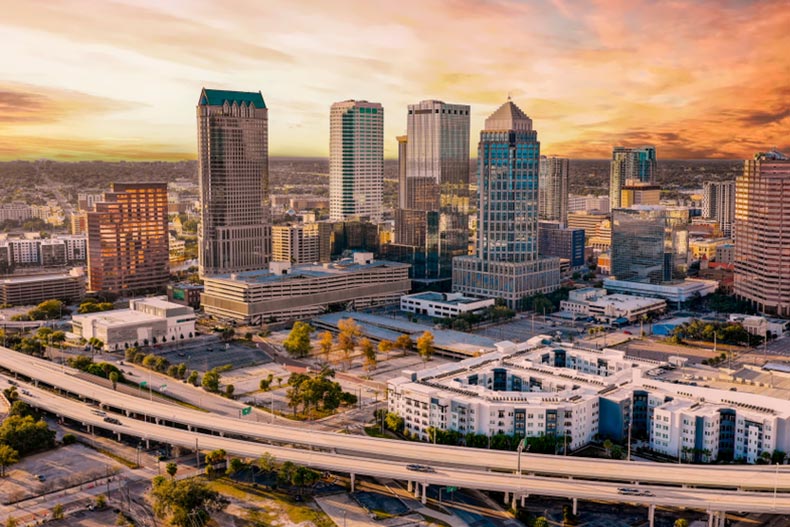 PROS
The warm weather: Tampa is located on the state's Gulf Coast. You can expect to enjoy sunshine and warm weather for most of the year. Even during the winter, temperatures rarely dip below 50 degrees Fahrenheit.
The outdoors: Do you imagine spending your retirement soaking up the sun? Tampa is ideal for outdoor living. You can lounge on the beach, head to Busch Gardens, kayak, play golf, and more.
The taxes: Florida has no state income tax, which is a benefit you can enjoy during your retirement in Tampa.
CONS
The humidity: While you might live for warm weather, humidity can make a sunny day feel oppressive. Expect some of your time in Tampa, particularly the summer months, to feel muggy.
The local wildlife: People aren't the only creatures to enjoy the warmth and water of Tampa. If you move to Tampa, you might encounter some scaly neighbors. Alligators are regular residents of the city's lakes and ponds. Smaller reptiles, like lizards, and insects are also common in Tampa.
Public transportation and traffic: Tampa is known for traffic. If you're coming from somewhere like LA, you might not be phased. If you're more used to open roads and occasional traffic jams, Tampa's roads might be on your cons list. If you opt for public transportation, getting around will still likely take up a good amount of your time.
Tampa Climate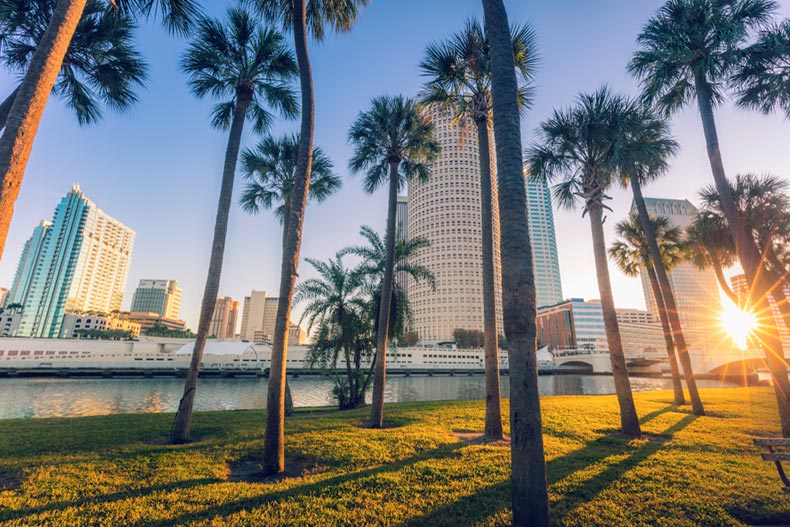 Weather is one of the biggest considerations for many people on their search for the perfect retirement destination. Florida attracts plenty of people for that very reason. The Sunshine State is known for its heat, and Tampa is no exception.
The city has temperatures that mostly stick to the 70s and 80s, though it can get hotter or cooler depending on the time of year. In January, the average high is 70 degrees, and the average low is 52 degrees, according to U.S. Climate Data. July and August are typically the hottest months of the year, with an average high of 90 and an average low of 76.
The city does have a rainy season, typically June through September. It's also important to remember that Florida is vulnerable to hurricanes. The area that encompasses Tampa and St. Petersburg has an 11 percent chance of being affected by a hurricane, according to AccuWeather.
With mild winters and hot summers, Tampa residents have plenty of opportunities to step outside, barring rain. Ben T Davis Beach is a narrow strip of sand that sits along the Courtney Campbell Causeway. In addition to this beach actually within the Tampa limits, residents of the city are near a plethora of sandy shores in cities like Dunedin, St. Petersburg, and Clearwater Beach.
Beyond the beaches, you can explore state parks for fishing, hiking, and kayaking. You can even spot manatees in the Tampa Bay area. Or you can grab your clubs and perfect your swing out on one of the many courses in and around the city.
Tampa Taxes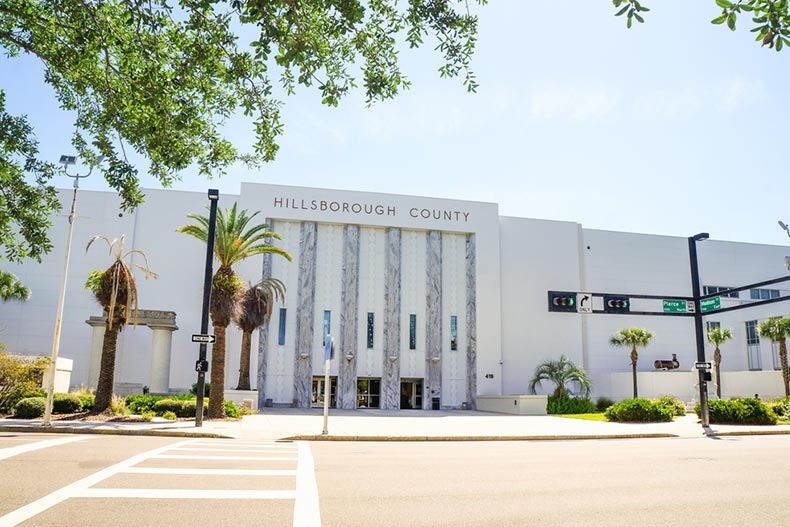 Taxes can have a big impact on your retirement plans. Florida is often considered a top retirement destination because it doesn't have personal income taxes It's just one of a handful of states in the U.S. that doesn't. While that is a big plus, there are still some important taxes to know when moving to Tampa.
Tampa Property Taxes
While you won't have to worry about personal income taxes in Tampa, the city does have property taxes on the higher end. Tampa is located in Hillsborough County, which has median property taxes of 1.09%, according to Tax-Rates.org.
While higher than some warm states, such as Hawaii or Nevada, the Tampa property tax rate is considerably lower than in places like Texas and Illinois.
Tampa Retirement Income Taxes
With no state income tax, living in Tampa means you don't have to pay taxes on your retirement income, such as income from a pension, IRA, or 401(k). This also applies to your Social Security benefits. As a tax-friendly state, Florida also doesn't have estate or inheritance taxes.
Tampa Tax Exemptions for Seniors
While property taxes might be high in Tampa, it's possible for some seniors to take advantage of tax breaks in Florida. For example, people 65 and older who have a permanent residence in the state for more than 65 years may not have to pay any property taxes, according to Nolo. This tax exemption is subject to location and income restrictions.
Tampa Health Care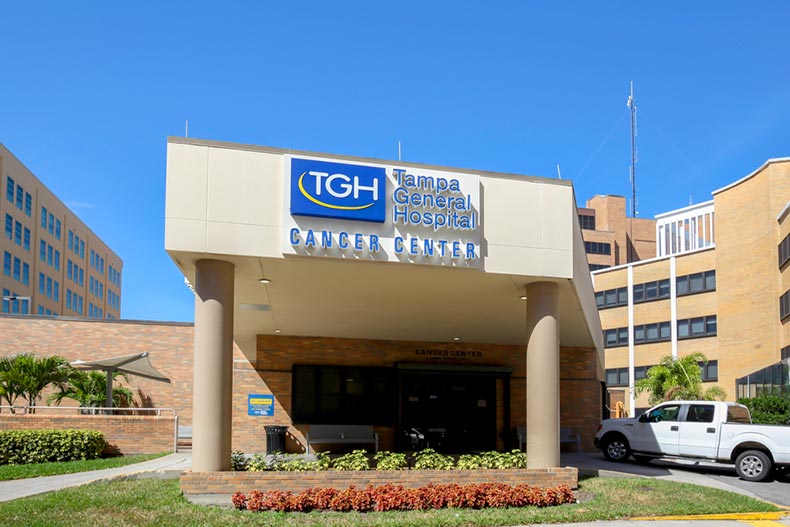 If you're moving to Tampa, Florida for your retirement, you'll want to have a solid understanding of the area's health care options. U.S. News & World Report ranked Tampa General Hospital as the top hospital in the Tampa-St. Petersburg area. The hospital is nationally ranked in adult specialties, including diabetes and endocrinology, ENT, gastroenterology, orthopedics, and rehab.
Where to Live in Tampa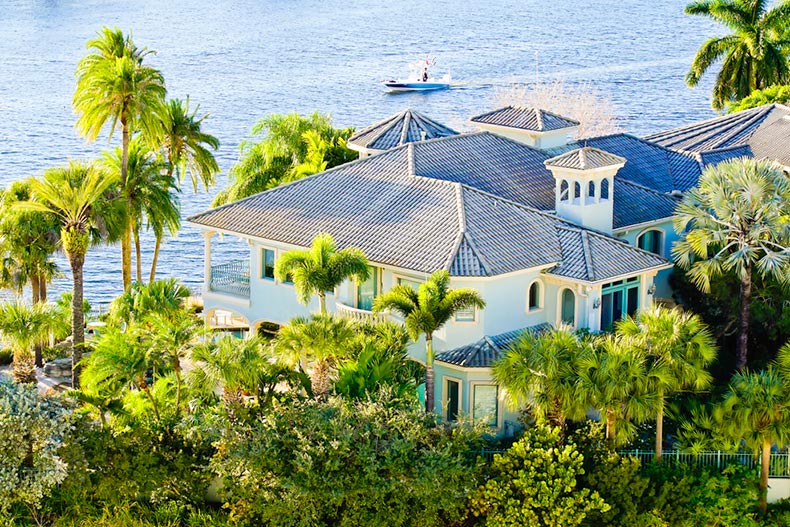 Tampa is a large city, both in terms of size and population. While residents enjoy the fruits of living in Florida (literally, the city is great for fruit trees), they don't have to deal with quite as many tourists in cities like Orlando or Miami Beach. If you think Tampa is right for you, where is the best spot to live in the city?
Bayshore Gardens
Bayshore Gardens is sandwiched between FL-618 and Bayshore Boulevard, which runs along Hillsborough Bay. Residents of this Tampa neighborhood are treated to waterfront views, as well as plenty of eateries within walking distance of home.
The neighborhood has a mix of attached homes, condos and apartments, and single-family options. Though a relatively small neighborhood, Bayshore Gardens retains an urban vibe without being too crowded.
If you want somewhere to enjoy views of the bay, head to Fred Ball Park. Right on the water, the park has a gazebo and plenty of open space to stretch your legs.
For an upscale dining experience, residents can head to the south end of the neighborhood, which is home to the modern dishes of Counterculture. On the other end of the neighborhood, you can indulge in a good wine list and Italian food at Bella's Italian Café.
While you can settle down anywhere in Bayshore Gardens, the neighborhood also has a 55+ community if you are looking for low-maintenance living. Howell Park Condominiums has a total of 52 units contained in two towers that overlook the water. Units range in size from 2,060 to 2,867 square feet.
Many of the condos have features like private balconies and open floor plans. The community has its own pool and patio. Plus, the location gives you easy access to plenty of grocery stores and restaurants.
Channel District
Tampa's Channel District neighborhood is bordered by the Ybor Channel on one side. If you're looking to settle down somewhere with a buzzy atmosphere, this neighborhood could be the right fit.
Tampa's Channel District is largely home to high-rise homes, which leave more room for the area's entertainment, including The Florida Aquarium and the Amalie Arena. The arena is home to the NHL's Tampa Bay Lightning and plays host to a number of concerts and events.
While Tampa as a whole may be easier to traverse with a car, the Channel District itself is easily walkable. Step outside your door, and you can stroll to your choice of restaurant. The neighborhood also has plenty of places to shop, whether you're looking to browse or buy.
If you have grandchildren coming to visit, the aquarium will be a perfect activity. The neighborhood is also home to the American Victory Ship and Museum. If you don't have room in your condo for out-of-town visitors, the neighborhood has a hotel.
Tampa's riverwalk snakes right through the neighborhood, giving residents a pleasant place to stroll and peruse the neighborhood's dining and entertainment options. If you don't know what you want to do, start walking and take your pick. If you're feeling hungry, you can grab something quick to eat at Vietnamese restaurant Bamboozle, or take your time at La La's Sangria Bar.
Some people envision a quiet retirement, while others want to be closer to the action. The Channel District offers a little bit of both. You can get away from the bustle of the neighborhood in a high-rise condo, but you will be just an elevator ride away from the neighborhood's lively atmosphere.
Davis Islands
Davis Islands is the ideal neighborhood for someone who comes to Tampa to live on the water. This neighborhood is situated on an archipelago in Hillsborough Bay. The neighborhood has plenty to appeal to residents, including an airport, beach, and yacht club, as well as a commercial area with restaurants and bars.
Davis Islands is considered an affluent Tampa neighborhood. Residents enjoy a sense of privacy in this neighborhood, while not sacrificing access to the city center or the water. You can spot more modest ranch-style homes in the neighborhood, as well as grand, colorful homes characterized by graceful arches.
The thin strip of land that makes up the southern part of the neighborhood is home to the private Davis Islands Yacht Club and the neighborhood's beach. The neighborhood has a dog park and dog beach, desirable amenities if you plan to enjoy retirement with a four-footed companion.
In the center of the neighborhood, you will find Peter O. Knight Airport, which still serves as a general airport. It also has an aviation school and offers aerial tours. If you'd rather keep your feet firmly planted on the ground, enjoy a waterfront view at Seaplane Basin Park, which has an area for dogs to run and a canoe launch.
Davis Islands has plenty for active adults to do, and it won't disappoint when friends and family come to visit.
Ready to Make the Move? 55places Can Help.
To discover more exciting 55+ communities in Tampa, we invite you to contact us at 800-928-2055 or visit 55places.com. Our experienced team of real estate experts will guide you through the top options in your area and help you make a seamless transition from your current home to a 55+ community. We look forward to helping you make your next move the best one yet!