If you haven't already decided to live in Pennsylvania, we may be able to persuade you. To begin with, it's quite affordable, especially when compared to some of the neighboring states. It's also easier on the wallet because retirement income is exempt from taxes, and there's no sales tax on most food, clothing, and prescription drugs.
Some of the country's top hospitals like University of Pennsylvania Hospital and UPMC Pinnacle are here, along with historic landmarks like Independence Hall in Philadelphia and Saylor Park in Allentown.
Pennsylvanians enjoy all four seasons, allowing them to embrace year-round outdoor recreation at the parks, preserves, and forests throughout the state. Hershey Park has a popular amusement park and gardens, Pine Creek Gorge is called the Grand Canyon of PA, and Jack Frost Resort is a great place for skiing. There are also dozens and dozens of public and private golf courses, covered bridges, wineries, breweries, galleries, museums, and shopping malls to explore.
Convinced yet? Read on to learn more about Pennsylvania 55+ communities that offer condos.
Low $200s – Mid $600s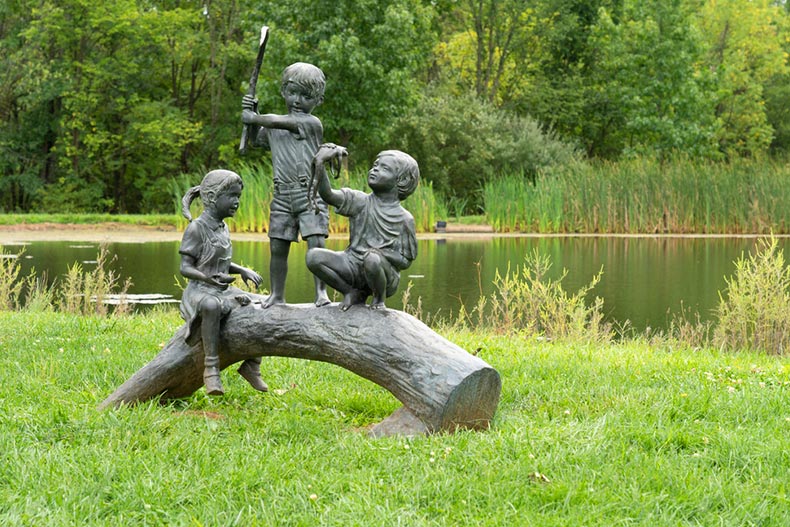 Lansdale is a Philadelphia suburb that attracts discriminating homebuyers interested in a good location and stellar community amenities. The Reserve at Gwynedd is a stone's throw from Blue Bell Country Club and scenic Crossways Preserve. It's also less than five miles from Montgomery Mall and other shops and services.
Built from 2005 to 2012, this gated 55+ neighborhood offers 400 resale condo, attached, and single-family homes. Homes range from 1,400 to 3,200 square feet with two or three bedrooms, two to three bathrooms, and covered parking or attached garages. Some may include custom cabinets, gas fireplaces, and other custom upgrades. Current homes for sale start in the low $400s.
The Reserve at Gwynedd has a private clubhouse and a sports pavilion for residents. Between the two, there's a ballroom, activity rooms, indoor and outdoor pools, an exercise room, and a dance studio. Neighbors enjoy attending activities like Tai Chi, lunch club, the pet club, softball, and mahjong.
Request more information about The Reserve at Gwynedd.
High $100s – Mid $200s
This is downsizing at its best; an intimate community of just 72 new and resale condos located in the mid-sized city of Pottstown. About 23 miles from Reading, Bucktown Crossing will have four buildings in total when construction is complete. It's just outside of French Creek State Park and the downtown area has a Walmart, Kohls, and other stores you probably visit.
The four condo buildings all have underground parking and six units on each of its three floors. The three models are sized from 1,050 to 1,500 square feet, with one or two bedrooms and one-and-a-half to two baths. Features like roomy master suites, patios, balconies, and dens make these condos comfortable and easy to live in. Current homes for sale start in the mid $200s.
Bucktown Crossing's private clubhouse has a welcoming social lounge, a catering kitchen, an exercise room, an outdoor pool, shuffleboard, and tennis. The TriCounty Active Adult Center is also nearby, and it's great for exercise programs, card games, and getting help with area resources.
Request more information about Bucktown Crossing.
Mid $100s – Low $200s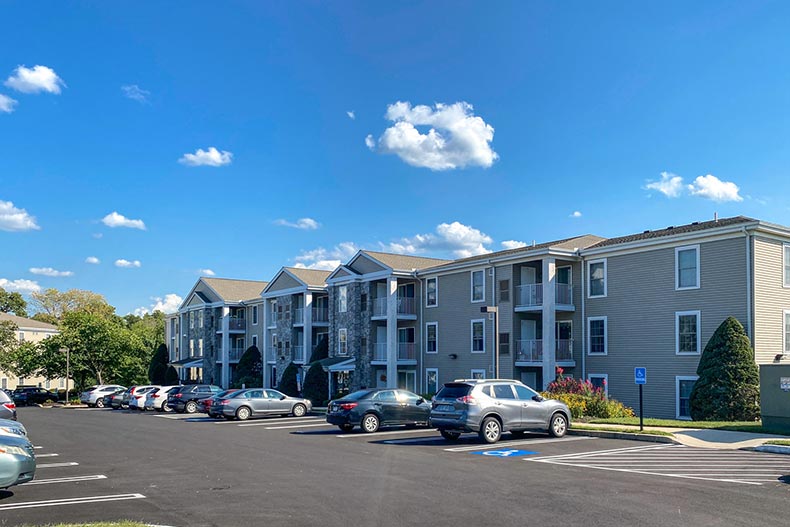 The Philadelphia suburb of Norristown is about 20 miles north of the city, and it's home to The Greens at Westover, a budget-friendly retirement community with 306 condos built from 1998 to 2004. There are two models offered, at 1,025 or 1,054 square feet, with two bedrooms, one to two bathrooms, open floor plans, balconies, and adjacent lot parking. Current homes for sale start in the low $200s.
The property has a community clubhouse, with a library, a lounge, a catering kitchen, an exercise room, and an indoor pool. There are also walking and biking trails on the grounds.
Request more information about The Greens at Westover.
Mid $300s – High $400s
Residents of Meridian of Valley Square have it easy; this 55+ neighborhood is within walking distance of a Wegman's shopping center and close to pharmacies, discount stores, clothes stores, and restaurants. It is also right near Kemper Park and Five Ponds Golf Course.
This mid-sized property broke ground in 2006 and has 200 resale condos, broken down into four subdivisions. The units range from 1,651 to 2,859 square feet, with two bedrooms, two to three bathrooms, and one-car garages. Some of these upscale models have features like dens, balconies, master suites with sitting rooms, plus gas fireplaces or covered patios. Current homes for sale range from the mid to high $400s.
The private clubhouse has comfortable meeting rooms, an exercise room, a catering kitchen, and a heated outdoor pool.