Washington 55+ Active Adult Retirement Communities
21 Communities near Washington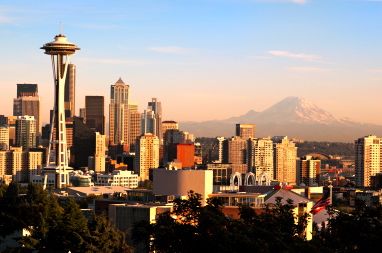 Overview
Washington was named after the first president, George Washington and is the third most densely inhabited state in the Western United States. Most people don t think of Washington when considering retirement, however, it is a great state to retire in if you love outdoor activities. It is becoming a popular place for Baby Boomers because of the location, backdrop and people. Washington is home to several amazing 55+ active adult and retirement communities.
Climate & Geography
Washington is the most northwestern state in the continental United States and is bordered by Canada, Oregon, Idaho and the Pacific Ocean. Its topographies range from glacier-covered mountains to broad, sea level lowlands. The region is divided up into the Coast Range, Puget Sound Basin, Cascade Range, Columbia Plateau and Rocky Mountains.
The climate varies considerably between the eastern and western areas of the state due to the Cascade Mountains. West of the mountains, summers are mild and humid and winters are milder. While east of the mountains they have warm summers and cold winters. Cloud overcast, fog and drizzle are fairly common in the western region. Washington is also one of the rainiest states.
Recreation, Culture & Entertainment
Washington is rich with trees making it a leading producer of cedar, white pine, spruce, and larch. The state is ranked first for apples, lentils, hops, pears, red raspberries, sweet cherries and more. Its location is ideal for land, sea and air transportation to Alaska and Asian countries across the Pacific Ocean. The state is also a leading producer of jet aircrafts and missiles. Washington also plays a huge role in livestock, livestock production, chemicals, machinery, metals, transportation equipment and food processing.
Many active adults and retirees are drawn to Washington for its picturesque beauty. The state is perfect for outdoor recreation such as hiking, skiing, fishing, whale watching, and kayaking. Popular attractions include Mount Rainier National Park, Olympic National Park, North Cascades National Park, Fort Vancouver and Whitman Mission. There are several apple and cherry orchards throughout the state as well.
Washington has a lot of cultural and historical sites. Some of these include the Seattle Space Needle, Tillicum Village, Pike Place Market, and the North Cascades Scenic Highway. Popular cities include Seattle, Spokane and Tacoma. Active adults never get bored with the wide variety of recreational opportunities.
Cost of Living & Taxes
Washington is one of seven states that doesn t charge a personal income tax. The state also does not impose a corporate income tax or franchise tax. However, the sales tax and cost of living is a littler higher than the US average. The sales tax ranges from 7 to 9.5 percent depending on location. Property tax is about average in Washington and the state law requires the county appraisers to evaluate all property at 100 percent of its true and fair market value. Many retirees appreciate the fact that there is also a property tax exemption for those whose household income is $35,000 or less.
Healthcare
According to a yearly survey that takes into account general measures of health including smoking, crime, air pollution, and spending on public health, Washington ranks number eleven in the country. Washington is home to 98 hospitals with one of them nationally ranked. Fourteen other hospitals met criteria for strong performance within the state. Active adults and retirees love that they are close to top-notch medical facilities. Washington provides a large amount of unreimbursed care to low-income populations, with over $300 million in charity care a year.