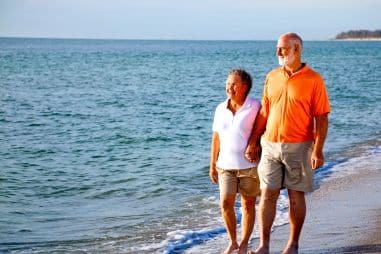 When it comes to saving money, most retirees understand the benefits of moving to a low-tax retirement location. However, some of the most tax-friendly retirement states may not be the best fit when you consider other factors such as climate, culture, and proximity to family and friends.
When considering low tax retirement locations, remember that you cannot look at state income tax, property tax, or sales tax alone. You must look at an area's total tax burden to be sure you won't be surprised by unexpected expenses after you've relocated.
Tax-friendly states like Alaska and New Hampshire will certainly appeal to select retirees, but the majority of homebuyers may be more interested in low-tax retirement locations that balance cultural appeal with affordability and a mild climate. Here are five of our favorite low-tax retirement states.
1. Nevada
With no state income tax, Nevada catches the attention of many relocating retirees. Of course, this doesn't mean that there are no taxes. Both real estate and personal property are subject to state and local taxes based on 35 percent of the assessed fair market value. However, homeowners who are 62+ may be eligible for a refund of up to 90 percent of these taxes if they make less than $28,677 each year. Nevada has no inheritance tax and sales tax excludes food and prescription drugs.
2. Georgia
Georgia is one tax-friendly state about to become even more desirable. Currently, the state does not tax Social Security benefits and it exempts up to $35,000 of retirement income for those 62+. In 2012, Georgia will begin to phase out the taxes on retirement income, reaching an unlimited exemption for 65+ retirees by 2016. Georgia also has no inheritance tax and reasonable sales tax with food and prescription drugs exempt.
3. South Carolina
Offering scenic coastal regions and a sunny climate, South Carolina is rapidly becoming a retirement hot spot. This historic region features a relatively low tax burden for retirees. South Carolina does not tax Social Security benefits and it has no inheritance tax. Property taxes are low and the homestead exemption lets homeowners 65+ exclude the first $50,000 of their property's fair market value. 65+ retirees can also deduct up to $15,000 per person or $30,000 per couple of their retirement income. Retired military can deduct up to $10,000 of their military retirement benefits. Here's everything active adults need to know about South Carolina taxes.
4. Florida
A long-time favorite of relocating retirees, The Sunshine State offers semi-tropical living and some enticing tax breaks. Florida has no state income tax, and, as of 2007, the state did away with its intangible tax on investment income. When it comes to property taxes, Florida has a homestead exemption of up to $50,000, which applies to homeowners who are permanent residents. Combined state and local sales tax can be high in Florida, but food is exempt, as are both prescription and non-prescription medicines. Here's everything active adults need to know about Florida taxes.
5. Tennessee
Tennessee has started building its reputation as a prime retirement location, partially because it is very tax-friendly for retirees. There is no broad-based state income tax in Tennessee, which means there are no taxes on wages, Social Security benefits, pensions, or IRA distributions. There are taxes on some investment earnings, but 65+ retirees may be exempt. Tennessee does have a high sales tax, which includes a 5.5 percent tax on food, yet the overall tax burden remains low enough to attract many retirees.