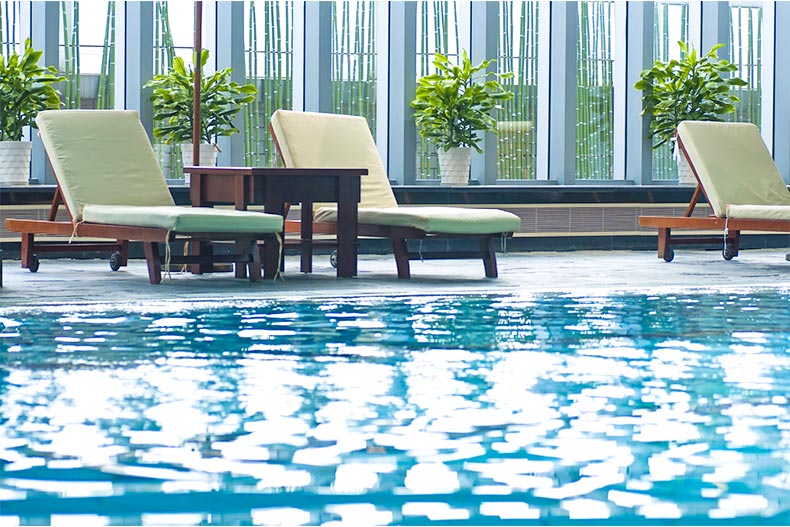 Swimming is mostly associated with summertime, but it doesn't have to be. Experienced swimmers know that this exercise is one of the best things they can do throughout the year to stay healthy.
Swimming is much easier on your joints than impactful activities like running, weight-lifting, and hiking. Active adults that find other workouts too strenuous might find that getting their feet wet is a better option.
Long Island is a magnet for 55+ home seekers that want to enjoy outdoor life, beaches, and the other perks seaside resort living offers, all about an hour or two from Manhattan. Finding Long Island, NY real estate isn't that complicated, but if you want to maintain your swim stroke 12 months a year, you can consider these communities that have their own indoor pools.
The Greens at Half Hollow - Melville
Melville is located within Huntington, a town in Suffolk County. Outdoor lovers are drawn to this region's many beaches and parks, including pristine Cupsogue Beach and Blydenburgh Park. These offer ample opportunities for swimming, camping, and boating. The Greens at Half Hollow's advantageous location is also just minutes from attractions like Cold Spring Harbor and Oyster Bay Cove.
The Greens at Half Hollow gated 55+ community has 1,200 resale condo and attached homes. Floor plans run from 1,040 to 3,200 square feet, so there's a wide range of options here that have two or three bedrooms, and one-and-a-half to two-and-a-half baths, and one- or two-car garages.
In addition to the indoor pool, the expansive clubhouse has saunas, a fitness center, and a restaurant with a bar. Outdoor amenities include a second pool, tennis courts, walking trails, and an 18-hole golf course.
Meadowbrook Pointe Athletic Club & Spa - Westbury
Located in vibrant Nassau County, this newer, gated retirement community has 720 resale condo and single family homes. This county has its own museum row in Garden City, where guests can visit the Nassau Veterans Memorial Coliseum and the Long Island Children's Museum, among others.
Meadowbrook Pointe Athletic Club & Spa is a few minutes from Eisenhower Park, a 930-acre facility that offers golf courses, fitness trails, and special events.
Meadowbrook Pointe Athletic Club & Spa has 720 resale homes on its property. There are 14 floor plans ranging from 970 to 3,359 square feet with two bedrooms and two or two-and-a-half bathrooms.The clubhouse has the indoor pool and a fitness center, plus a business center, a cafe, and activity rooms. The outdoor patio area features a lovely pool and spa, plus bocce ball and tennis courts.
The Seasons at East Meadow
Also in Nassau County, this smaller gated condo community has a lower price point but is also close to Eisenhower Park, plus Jones Beach State Park and other beach towns are also just minutes away.
The Seasons at East Meadow is in a relatively more developed area, with a Walmart, a public library, banks, grocery stores, liquor stores, restaurants, and medical facilities like Nassau University Medical Center all within a three-mile radius.
There are 404 resale condos within this gated 55+ community. They're sized from 1,030 to 1,300 square feet and have two bedrooms, two bathrooms, and assigned parking spots in the front of each building.
The indoor lap pool and spa is located in the 17,000 square-foot clubhouse, which also has a dance studio and fitness center, a cinema room, and game rooms. During the warmer months, homeowners head outside to the outdoor pool; a community dog park is open year-round.
Fairfield at St. James
Fairfield at St. James, a gated Suffolk County neighborhood, is more established and also affordable, with 653 condo and attached resale homes. It is in a highly sought-after location, being near Avalon Park & Preserve and other NorthShore landmarks like the Vanderbilt Museum and Planetarium.
Most of the residences here are condos with one or two bedrooms, one to two bathrooms, and either one-car garages or driveways. Townhomes here feature three bedrooms and two-and-a-half baths, some with garages.
The private clubhouse is where homeowners head for indoor swimming; there are also two outdoor pools, tennis courts, and a community bus. Some of the most popular neighborhood events include fundraising luncheons, guest speakers, food drives, parties, and Twin Ponds Senior Club meetings.
HarborView - Port Washington
This smaller, upscale, gated development has 145 condos, plus attached and single family homes, totaling 270 residences.
It is in Nassau County, in an enviable location across the street from Harbor Links, a championship, public golf course. There are several other golf and country clubs nearby, as Port Washington is alongside Hempstead Bay, the quintessential area for fishing, sailing, and outdoor relaxation.
HarborView's homes are sized from 1,064 to 3,440 square feet, with one to three bedrooms, one-and-a-half to three-and-a-half bathrooms, and parking spots or attache garages. This 55+ community also has indoor and outdoor pools, saunas, a modern clubhouse with a fitness center, and a community bus.