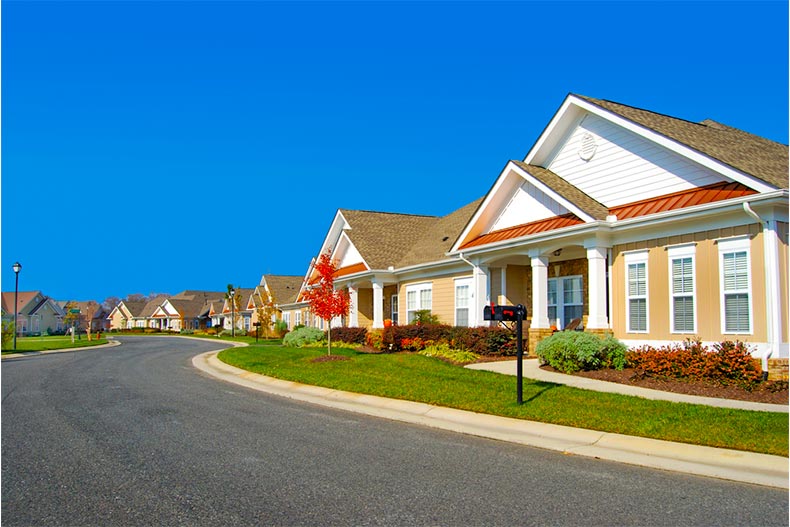 At 55places.com, we're committed to helping active adults have all the information and resources they may need when selecting a home post-retirement. Each day, our Partner Agents work with individuals across the country to help them find the community that is best suited towards their lifestyle.
One of the most common questions that we and our partner agents receive is whether or not 55places assists in rentals. The short answer is no. Rather, our Partner Agents are all licensed brokers who deal mostly in sales. However, we understand that buying a home is not what every active adult desires.
Whether you want to find a home for the winter, test out a 55+ community through rental, or simply would like to rent throughout retirement, here are a few things to know.
Types of Rentals
Rentals tend to fall in one of four categories: short-term rentals, long-term rentals, weekend getaways, and rent before you buy.
Short-Term Rentals: These are rentals that last less than three months. 55places does not assist in these types of rentals as most active adult communities do not allow for rentals that are less than six months or one year. This is done to minimize disruptions that would come from frequently changing tenants in a home. Also, most short-term rentals are not listed in the Multiple Listing Service (MLS) that we use, so our Partner Agents would be unable to assist.
Long-Term Rentals: Generally six-to-twelve months, but sometimes longer. Feel free to ask our Partner Agents if they may assist you. Largely though, most active adult communities deal primarily with owner-occupied residences. Finding a unit available for rent in a 55+ community is a tricky thing to accomplish.
Weekend Getaways: For those looking to rent a home in a community prior to purchasing, there are options available where select communities will allow potential buyers the chance to come for a few days to see first-hand what life is like in their neighborhood (i.e. a Stay & Play package). Most major active adult builders and brands (Del Webb, Trilogy by Shea Homes, GL Homes) host Stay & Play packages in many of their communities. 55 Places Partner Agents would be able to help you find the right one.
Rent Before You Buy: With this option, you can rent one home while you search to purchase a different home in the same community. Or, you can find a home that is for sale that will consider a rental with the option to purchase later on in the lease or after it expires. This option is rare, however, as most sellers would rather sell their homes as fast as possible rather than letting it be rented out.
The Pros & Cons of Renting
Renting brings with it a lot of variables to consider. As a renter, you're given a certain freedom that homebuying doesn't provide. Most notably, should the rental home not meet your taste, you are able to keep looking for a better option after the rental period is over. Another advantage is that maintenance responsibilities do not fall on you but rather on the landlord. You can simply pick up the phone and call the landlord and have them take care of the problem. This would be a perfect scenario for retirees who would rather spend their time not worrying about interior home maintenance.
However, renting does bring with it less favorable issues. One thing to keep in mind is that renting a home can be less financially stable. By renting for an extended period of time, you run the risk of rent increases as more time passes or each time you renew your lease. This differentiates from buying, where you are generally locked into a mortgage payment that will stay the same or includes scheduled increases.
Another thing to keep in mind with renting is that you won't be given the same level of freedom in decorating your home compared to a purchased home. Renters are generally not allowed to paint rooms, change utilities, or make any extensive changes to the premises, depending on the landlord.
Where to Look for Rentals
For those looking online for rental properties in a 55+ community, there is a lack of resources specifically designed for that purpose. However, there are a couple of options to consider, such as SnowbirdCondo.com and VRBO.com. While neither website specifies rental homes in active adult communities as part of their search options, both are good resources to explore when renting.
Besides looking online, the next best resource might be to talk to friends or acquaintances who live in 55+ communities already. By speaking to people who live there, you'll get some insight on how the specific community handles renting as well as some insider knowledge on any availability.
While most agents at 55places do not handle rentals, we will continue to ensure that active adults everywhere have the means and resources they need to make a well-informed decision when choosing the right community for them.