Living near an airport has distinct advantages, as long as you're not too close to it. Finding an active adult community that's far enough removed from the noise yet close enough to make domestic and international travel easier is a real challenge, but we're happy to offer some help.
The Philadelphia International Airport is the state's largest airport, and it's close to the Delaware River and the New Jersey state border. It serves 31.7 million passengers every year, with 500 daily departures to 130 global destinations provided by 25 airlines. You can pretty much travel anywhere you want from here.
Active adult homebuyers who seek homes for sale near this airport have options in several Pennsylvania and New Jersey suburbs. The PA communities can be more costly, but you won't have to cross over a bridge to get to the airport. Real estate in close proximity to the airport is in high demand, so availability can be limited. The best advice? If you find something you like, grab it before someone else does!
High $600s – Low $1Ms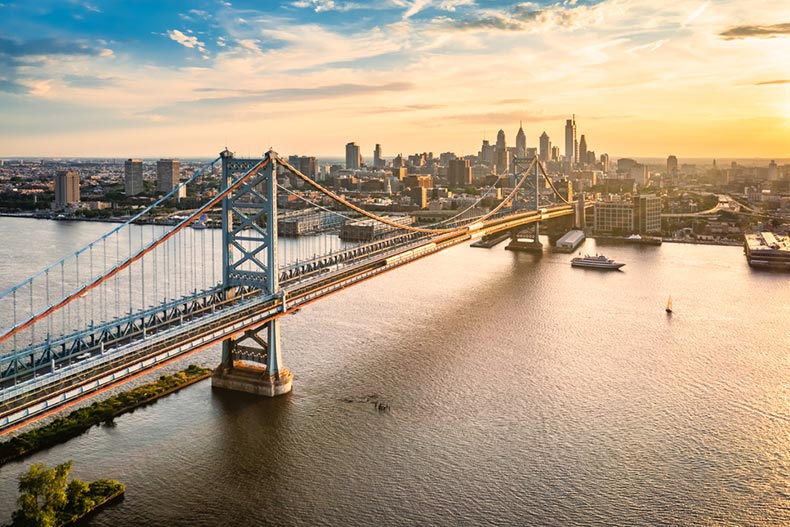 This elegant 55+ community is about 17 miles from the airport, and it'll have 198 new and resale luxury condos when completed by Pohling Builders. Athertyn at Haverford Reserve is on a lush, 209-acre property, with 33 units built into six buildings.
Condos range from 1,592 to 2,962 square feet, with one to three bedrooms, two to two-and-a-half bathrooms, and indoor reserved parking. Luxury upgrades include custom kitchens, hardwood floors, covered terraces, and gas fireplaces.
Athertyn's resort-style clubhouse has an indoor golf simulator, a fitness center, The Club Room and Bar, and elegant gathering rooms. Outside, you'll find a putting green, a tennis court, a pool, walking trails, and the lovely Athertyn Gardens. Special events like cooking demonstrations, guest speakers, and themed parties are a great way to meet friends, as are the popular exercise classes, dinner clubs, and wine tastings.
Located in Philadelphia's prestigious Main Line area, Haverford has a population of around 49,000. Athertyn is located within Haverford Reserve, which contains 120 acres of pristine, preserved woodlands, a dog park, hiking trails, and a playground.
Request more information about Athertyn at Haverford Reserve.
Low $300s – Mid $400s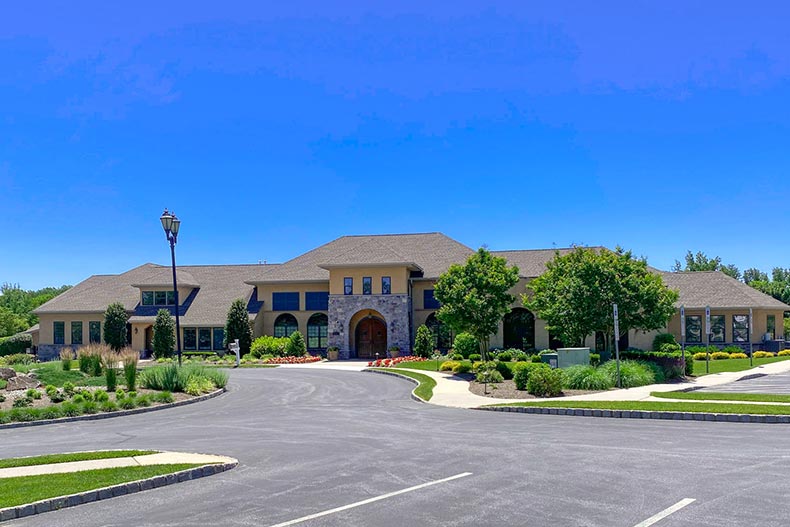 With its impressive array of floor plans and year-round activities, Foxfield gives homebuyers plenty of lifestyle options. Built by McKee Builders from 2004 to 2013 near the Pennsylvania and Delaware borders, this 55+ neighborhood has 520 resale condo, attached, and single-family homes. It's also only 13 miles from the airport.
The five cozy condo models range from 1,114 and 1,400 square feet, with one to two bedrooms, two bathrooms, and a one-car garage located on the ground level. The attached homes are larger, from 1,708 and 1,836 square feet, with one to three bedrooms, one-and-a-half to three bathrooms, and attached garages.
Foxfield's single-family ranch homes range from 1,586 and 1,831 square feet, with two to four bedrooms, two or three bathrooms, and attached two-car garages. Some of these homes have upgrades like lofts, hardwood floors, sunrooms, and decks.
The sophisticated clubhouse is the neighborhood hub of activity, with its indoor pool, whirlpool, catering kitchen, and grand room. Outside, you can find a second pool, a putting green, a 6-hole golf course, and a tennis court. There are many activities for residents, running the gamut from ladies' poker to computer class.
Request more information about Foxfield.
Mid $300s – Mid $400s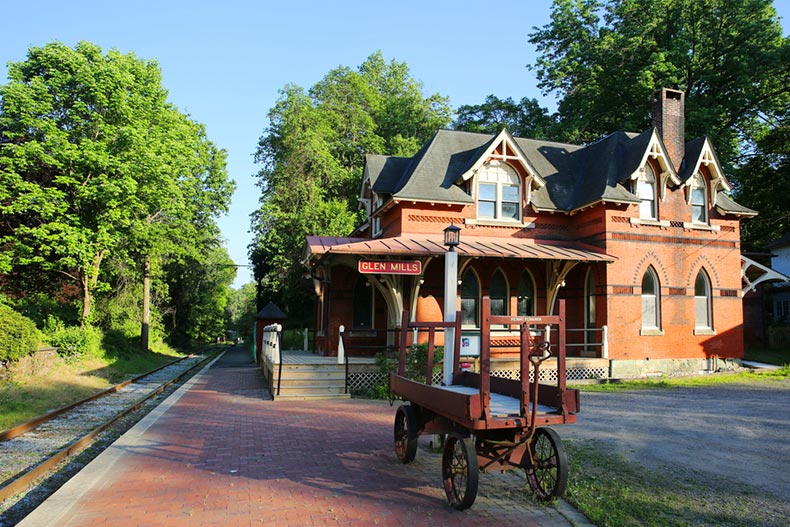 Also a McKee Builders property, Fox Hill Farm was completed in 2003 with 491 resale attached and single-family homes. You can get to the airport in 30 minutes, and the community is also conveniently located near Routes 1, 322, and 202. For added convenience, the nearby Concordville Town Centre has a Home Depot, restaurants, and a Target.
The three attached home models range from 1,373 to 1,679 square feet, with two bedrooms, two to two-and-a-half bathrooms, and garages. Options include decks, patios, and basements. There are six single-family models, from 1,561 to 2,109 square feet, with two bedrooms, two or two-and-a-half bathrooms, and attached garages. Some feature dens, basements, patios, and decks.
The private clubhouse has an indoor pool and spa, a catering kitchen and ballroom, an exercise room, and a crafts studio. Outside perks include lakes, walking trails, another pool, and tennis courts. Residents use the community van, which makes running errands and taking trips easy; nearby attractions include The Golf Course at Glens Mills.
Request more information about Fox Hill Farm.
Low $300s – Low $400s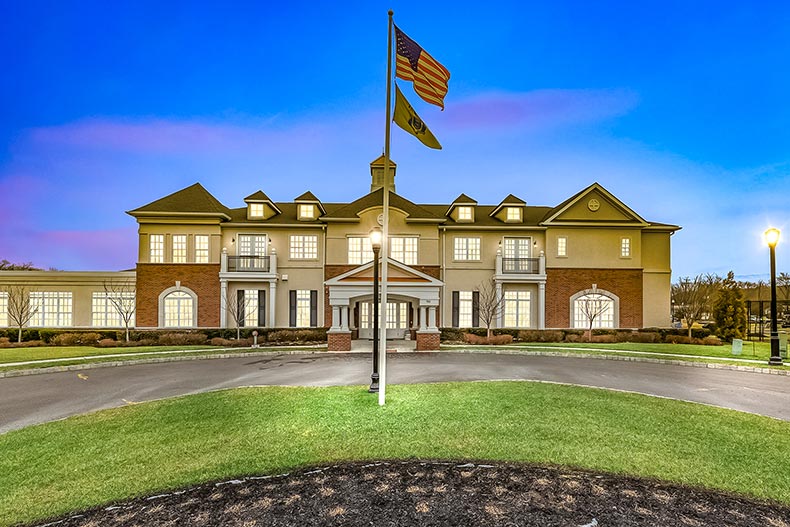 On the Jersey side, you'll find The Plaza Grande at Garden State Park, built from 2005 to 2013 by TSV and D.R. Horton. This 55+ neighborhood of 608 new and resale condos has a desirable location; not only is it 20 minutes from the airport, but it's also smack-dab in the middle of Cherry Hill's best shopping outlets. You can practically walk to the Towne Place at Garden State Park, or drive a few minutes to the Cherry Hill Mall.
D.R. Horton offers 12 floor plans and condos range from 1,270 to 2,370 square feet, with two bedrooms, two or two-and-a-half baths, and garage parking. Layouts may include dens, breakfast areas, and balconies. The TSV models range from 861 to 2,070 square feet, with one or two bedrooms and bathrooms as well as options like one-car garages, dens, and balconies.
The Grande Club private clubhouse features a modern fitness center with a steam room, spa, and indoor lap pool; a sports bar and catering kitchen; and a movie theater and media room. There are also bocce and tennis courts, an outdoor pool, and walking trails. Residents also enjoy spending time together at dinner nights, game nights, and water aerobics.
Request more information about The Plaza Grande at Garden State Park.
Mid $200s – High $300s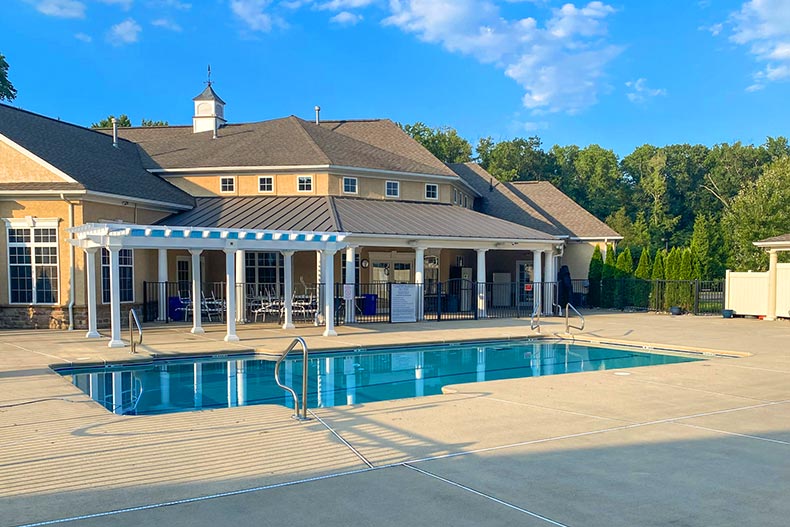 Active adults who choose to live in Deptford do so because it's close to the airport (16 miles), the Deptford Mall, and beach towns like Ocean City, NJ. From 2001 to 2012, Engle Homes built Northgate at Heritage on a forested property, and it has 400 well-designed resale single-family homes.
These homes range from 1,448 to 2,385 square feet, with two or three bedrooms and bathrooms, and attached garages. Upgrades may include dens, fireplaces, and basements.
Warm-weather activities include relaxing at the outdoor pool, playing bocce or tennis, and practicing on the putting green. Northgate's private clubhouse has an exercise room, a lounge, a ballroom, and other gathering areas.