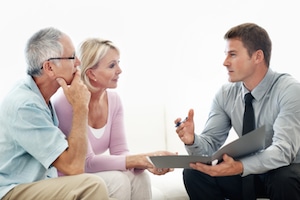 Understanding the real estate landscape can make it easier to make decisions about when to buy or sell a home. While national real estate market reports are a good statistical reference, they may paint a different picture than what you will find in a particular region, town or neighborhood.
After the recent housing boom, and its resulting bust, experts have been watching the market closely for signs of recovery and normalization. Over the past year or so, many regions have reported low inventory, an increase in home values and even bidding wars. This is continuing in some areas, but more markets are beginning to slow, possibly indicating a stabilization. When home prices are on the rise, and inventory is low, an area is considered to be having a seller's market.
Buyers are competing to purchase a smaller amount of available homes and this demand typically lets sellers negotiate higher prices for their homes. In a buyer's market, the opposite is true. The large number of available homes creates less demand and sellers are forced to lower their home prices to attract buyers. Across the country, an overall slower real estate market indicates that many regions are more stable.
Instead of being labeled as a seller's market or a buyer's market, they typically have an amount of available home inventory that is in line with a number of interested buyers. In that situation, sellers can often sell their homes in a reasonable amount of time, while buyers can still find affordable homes. Of course, real estate markets can be very different from one region to another, or even from one neighborhood to another.
According to Zillow's July Real Estate Market Reports, many metro areas are still seeing home prices that are higher than this time last year. The metro areas with the largest increase include Las Vegas, Nevada; Riverside, California; Miami-Fort Lauderdale, Florida; and Atlanta, Georgia. Although home prices are rising in many areas, they have remained affordable in 94 of the nation's largest 100 real estate markets. When compared to peak home prices in 2007, national home values are down by 11.1 percent. The areas showing the largest monthly declines were Kansas City and Indianapolis. However, out of the 35 largest metros in the report, only eight showed monthly declines and two remained flat.
The best way to learn about your local real estate market, or the market where you wish to move, is to contact a local real estate agent. A professional real estate agent can tell you whether your area is experiencing a buyer's market or a seller's market. She can also perform a comparative market analysis to estimate your home's selling price or reasonable prices for homes you might like to buy.