If you're looking to retire in the Southeastern U.S., there's no doubt the cities of Atlanta, GA and Charlotte, NC have shown up at some point during your research. Both are large, flourishing cities full of cultural amenities, entertainment options, and outdoor activities, making them extremely appealing to retirees who want to stay active and busy.
In several ways, these cities are relatively comparable, but there are a few factors that set them apart and may determine which is best for you.
Here's what you need to know about Atlanta and Charlotte:
Geography and Population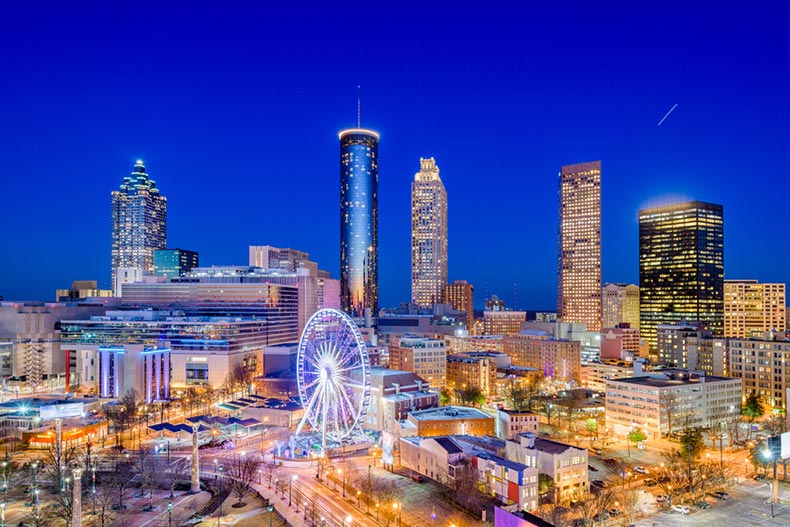 Charlotte is situated in the Piedmont Region in the southwestern part of North Carolina, less than 20 minutes from the South Carolina state line. The city is conveniently located within a two-hour drive of the Blue Ridge Mountains and within three hours of the Atlantic Coast and seaside towns like Charleston, SC.
Charlotte is the largest city in North Carolina with a total population of 874,579, according to the 2020 U.S. Census. Nearby metropolitan areas include other popular NC cities including Asheville, Raleigh, and Durham, plus Columbia, SC.
Located 245 miles south of Charlotte, Atlanta sits in northwestern Georgia near the Chattahoochee River. Like Charlotte, Atlanta is also centrally located between the mountains and Atlantic coastline, both of which can be reached within a few hour's drive.
Atlanta is the largest city in Georgia with a population of 498,715, according to the 2020 U.S. Census. It's important to note that while this specific number is much lower than Charlotte's population, it's because Charlotte is more densely populated within its city limits, whereas Atlanta is more spread out. The Atlantic Regional Commission reports that in 2020 Atlanta's metro area was home to 4.6 million residents. The Charlotte Business Journal reports that the Charlotte metro area is home to only 2,636,883 residents.
Nearby metropolitan areas include Greenville, SC; Chattanooga, TN; and Birmingham, AL.
Climate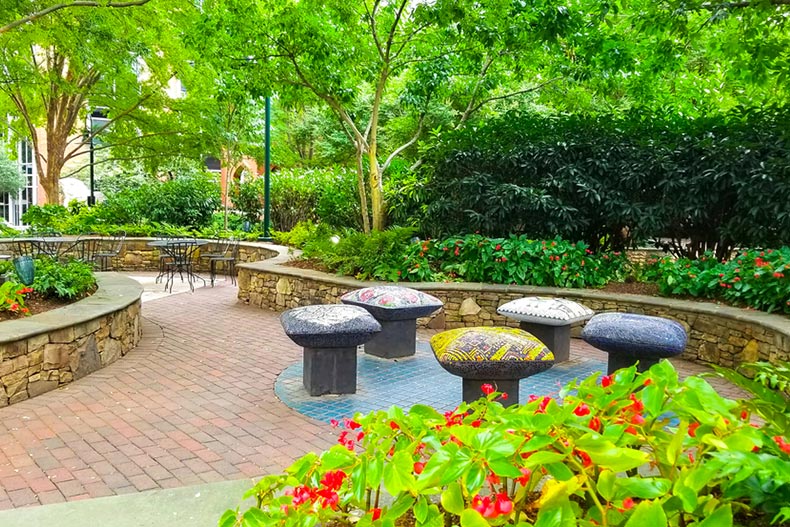 Separated by less than 300 miles, the two cities are relatively similar in regards to climate—with only a few degrees difference in average annual temperatures. Both have mild climates and experience all four seasons.
According to USclimatedata.com, Atlanta's annual temperatures reach an average of 70 degrees Fahrenheit and a low of 53 degrees. Charlotte's annual temps reach an average high of 71 degrees and average low of 49 degrees.
Of the two, Atlanta generally gets more rain, with its rainiest month being November with an average of 5.35 inches. Although neither city gets much snow, Charlotte is the more likely city to get some snow—averaging between 1-2 inches per month from January to March.
When the weather is nice, you can typically find Atlanta residents outside at Piedmont Park, the Atlanta Botanical Gardens, or exploring trails and public art displays along the Atlanta BeltLine. Georgia's most-visited attraction—Stone Mountain Park—sits just 30 minutes outside of Atlanta.
Similar to Atlanta, Charlotte residents can also be found enjoying time outdoors in picturesque parks like Romare Bearden Park and Freedom Park. The U.S. National Whitewater Center is another go-to for Charlotteans when the weather is nice. The USNWC spans 1,300 acres and offers 50 miles of hiking and biking trails as well as 30 recreational activities that range from whitewater rafting and paddleboarding to rock climbing and ropes courses.
Cost of Living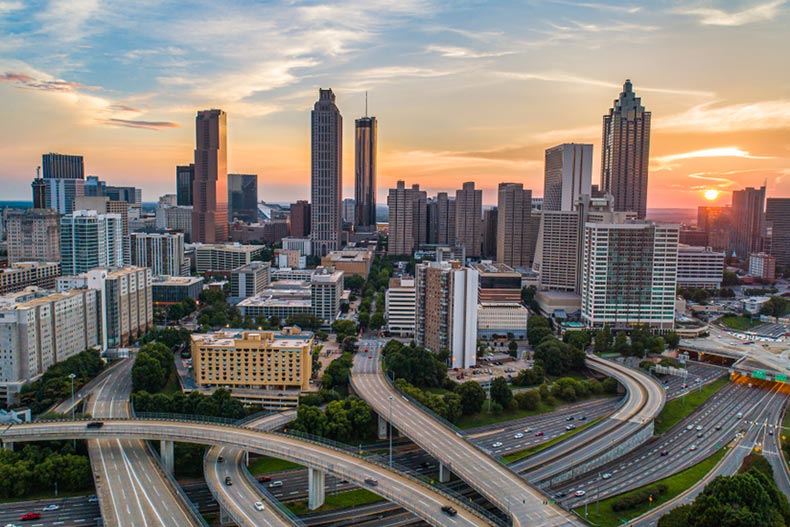 According to BestPlaces.net, Atlanta's median home price is $334,200, making it higher than Charlotte's median price of $301,300. Atlanta's overall cost of living is 7.5% higher than the U.S. average, while Charlotte's is 1.1% lower than the U.S. average.
Atlanta's housing, utilities, and transportation costs are also higher than the national average—with transportation being 22.7% higher. From housing, utilities, and transportation, Charlotte's costs are lower than the national average across the board, making it more affordable than Atlanta.
Culture and Entertainment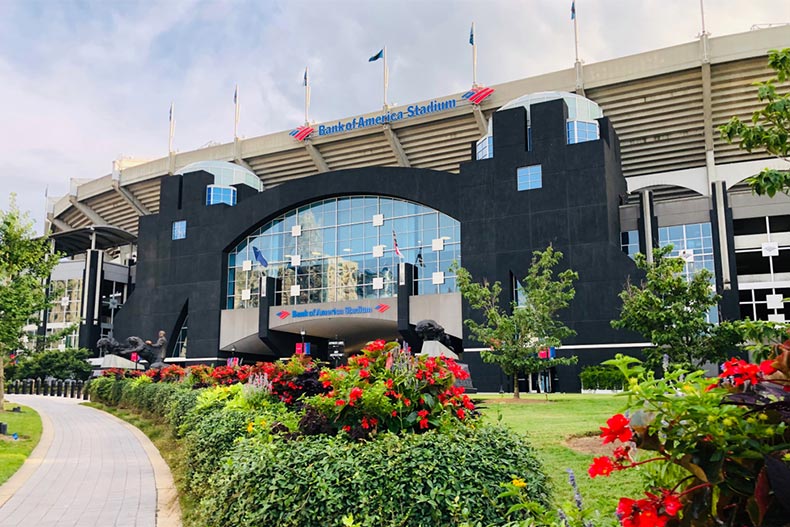 Neither city lacks for things to see or do, with seemingly endless lists of cultural amenities and entertainment options for people of all ages to enjoy.
What To Do In Atlanta
From the largest aquariums in the country to Stone Mountain State Park to luxury shopping centers and championship-winning sports teams, Georgia's capital city is brimming with things to do.
For those interested in a history lesson, there are several interesting museums within the city that cover a vast selection of topics. The lengthy list of museums includes, but is not limited to, the Atlanta History Center, the Delta Flight Museum, the College Football Hall of Fame, the High Museum of Art, and the Museum of Design Atlanta. The Georgia Aquarium and World of Coca-Cola are both ideal places to have fun during visits with the grandchildren.
Along with its many museums, Atlanta also boasts many performing arts theaters and music venues, including places like the Cobb Energy Performing Arts Centre, the Fox Theater, the Cadence Bank Amphitheatre at Chastain Park, and the Lakewood Amphitheater.
There are several popular shopping districts within Atlanta that range from flashy, high-end shops and specialty retailers to smaller, local boutiques full of charm. The Lenox Square Mall, Ponce City Market, Phipps Plaza, Buckhead Village District, and the Atlantic Station are just a few of the top shopping destinations in the city.
More into sports than shopping? There are plenty of professional sports teams to cheer on, including the Atlanta Hawks, the Atlanta Falcons, and the Atlanta Braves.
Atlanta also provides plenty of ways to spend time outdoors, including Stone Mountain State Park, the Atlanta BeltLine, the Atlanta Botanical Gardens, and the Chattahoochee River National Recreation Area, which stretches for 48 miles down the Chattahoochee River.
What To Do In Charlotte
Although Charlotte is the smaller of the two cities, it still has plenty to offer residents. From a myriad of museums and performing arts theaters to a 1,300-acre outdoor recreation center, the Queen City delivers when it comes to having plenty of things to do.
The heart of Charlotte known as Uptown, features several museums and art galleries, including the Bechtler Museum of Modern Art, Levine Museum of the New South, the Mint Museum Uptown, Harvey B. Gantt Center for African-American Arts + Culture, and the NASCAR Hall of Fame.
The Discovery Place Science Museum is a must-visit whenever grandchildren are in town. Want to enjoy a live show? Peruse the calendar lineups for the Belk Theater at Blumenthal Performing Arts Center, the McGlohon Theater, and the Knight Theater. Snag a ticket at the PNC Music Pavilion to catch live music concerts throughout the year.
Between the Southpark Mall, the Park Road Shopping Center, Phillips Place, and the Carolina Premium Outlets, residents can find just about anything they could want or need while out shopping.
For outdoor fun, residents can stop by one of the local parks like Freedom Park or Romare Bearden Park, or take a short drive out of the city to hike Crowders Mountain or Kings Mountain. The USNWC also provides plenty of outdoor recreation options for Charlotteans to take advantage of.
Health Care and Education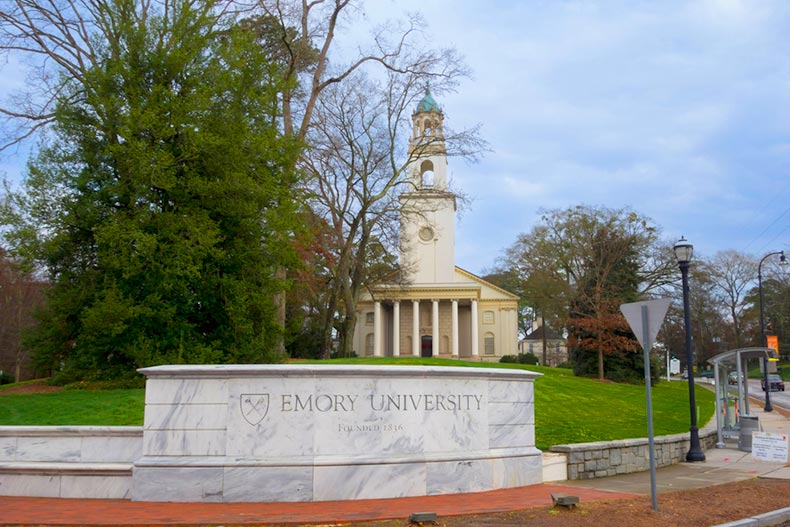 As with most large cities, Atlanta and Charlotte both feature prominent health care systems, making it easy for residents to access almost any type of medical treatment needed. However, where Atlanta and Charlotte are comparable on most accounts, Atlanta undoubtedly surpasses Charlotte when it comes to health care options.
While Charlotte is home to two major healthcare systems—Atrium Health and Novant Health—both of which have hospitals and medical networks spread throughout the city, Atlanta boasts several nationally-ranked hospitals, including Emory University Hospital and the Shepherd Center. Atlanta is also home to the Centers for Disease Control and Prevention (CDC), the Atlanta VA Medical Center, and a number of teaching hospitals, including Emory University Hospital, Emory University Hospital Midtown, and Grady Memorial Hospital.
For those who are interested in continuing education after retirement, there are more than 50 colleges and programs to consider in the Atlanta area, including the University of Georgia, the Georgia Institute of Technology, Emory University, Spelman College, and the Atlanta Technical College.
Charlotte also has a number of colleges close by to consider for continuing education, including the University of North Carolina at Charlotte, Davidson College, Queens University of Charlotte, Johnson C. Smith University, and the Central Piedmont Education Center. The renowned culinary school, Johnson & Wales University, also calls Charlotte home.
55+ Communities in Atlanta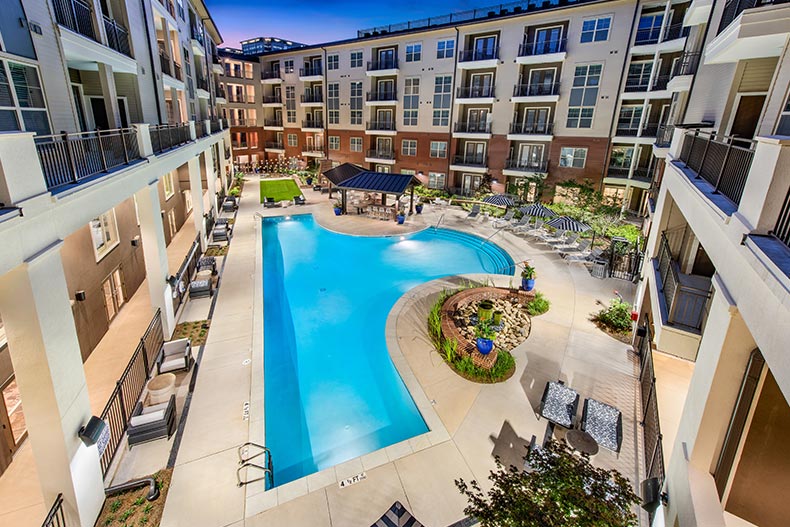 Rent Starting at $1,595
Overture Buckhead South is an age-restricted community that features 190 apartments. There are 19 available floor plans that range from 618 to 1,797 square feet and have one to two bedrooms and one to two bathrooms. Overture's list of amenities includes a generously-sized amenities space, a cafe, a game room, a hair and nail salon, a fitness center and yoga studio, plus an outdoor pool and patio.
Request more information about Overture Buckhead South.
Rent Starting at $1,500
Overture Powers Ferry is another age-restricted apartment community to consider in the Atlanta area. Final plans for the gated neighborhood include a total of 162 apartments with 18 floor plans ranging from 555 to 1,405 square feet. Apartments will have one to two bedrooms and one to two bathrooms. Community amenities include a great room, a fitness center and yoga studio, a coffee bar and bistro, a theater room, and an outdoor pool and sundeck.
Request more information about Overture Powers Ferry.
55+ Communities in Charlotte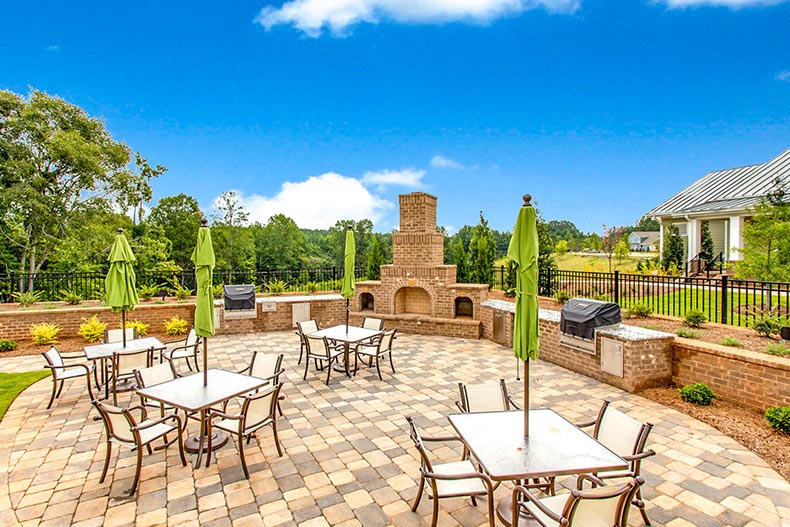 High $300s – Low $600s
Located 15 minutes from the city, Cresswind Charlotte is an age-restricted community featuring 850 single-family homes. There are several single-level floor plans that range from 1,448 to 2,547 square feet and have two to three bedrooms, two to two-and-a-half bathrooms, and two-car garages. Cresswind Charlotte's amenities include an 18,000-square-foot clubhouse, a fitness center, a catering kitchen, and an indoor pool. Outdoor amenities include an outdoor pool as well as tennis, pickleball, and bocce courts.
Request more information about Cresswind Charlotte.
 Low $300s – High $700s
Trilogy Lake Norman is a gated and age-restricted community located near popular Lake Norman. It features a total of 1,100 single-family homes with 20 distinct floor plans. Homes within the community range from 1,345 to 2,553 square feet and have one to four bedrooms, two to three bathrooms, and two- or two-and-a-half-car garages. Trilogy Lake Norman's amenities include a large clubhouse, an on-site restaurant, a fitness center, an art studio, and an indoor lap pool.