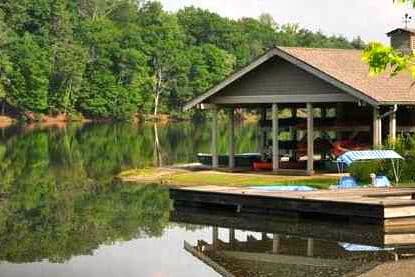 In recent years, Western North Carolina's beautiful Asheville area has been gaining popularity as a retirement destination for active adults. Biltmore Lake, which is set beside a mountain lake of the same name, is an Asheville master-planned community which appeals to residents of all ages, including active adult retirees.
The Biltmore Lake community is spread across 1,300 acres at the foot of the Blue Ridge Mountains. It encompasses many different neighborhoods, each containing a diverse mix of home styles. Trails, sidewalks and common areas weave between and throughout the various neighborhoods making the entire master-planned community very pedestrian-friendly.
Biltmore Lake Homes & Real Estate
While the Biltmore Lake community was developed by Biltmore Farms Homes, featured builders have built, and continue to build, many of the community's high-quality homes. Biltmore Lake home builders include some of the best developers in North Carolina, including: Bass & Royster Builders, Inc., Pebbledash Builders, Preish Construction, Inc., Ridgeline Construction Group, Inc., and Wright Family Custom Homes, LLC.
Homebuyers who are interested in purchasing a new construction home can purchase homesites in Biltmore Lake's Woodsedge and Laurel Ridge neighborhoods. Resale homes in both single-family and attached styles can be found in various neighborhoods throughout the community.
Active adults who have busy lifestyles may want to take advantage of Biltmore Lake's Lock-and-Go Living. At townhomes in the Rock Fish Cove and Laurel Ridge neighborhoods and at single-family homes in the Cedar Rock neighborhood, homeowners can purchase homes which feature included outdoor maintenance.
Biltmore Lake Amenities
The 62-acre Biltmore Lake is the community's most popular amenity. This natural body of water reflects the majesty of the surrounding mountains, while providing many recreational opportunities for community residents. Boating, kayaking, swimming, and fishing are all popular activities. Lakeside trails also offer the perfect location for a scenic jog or stroll.
Outdoor enthusiasts can enjoy even more of Biltmore Lake's natural beauty by spending a few days at one of the community's four trail-accessible campsites. Two camps are lake adjacent, while the remaining two sites are located higher in the mountainside on Scott's Ridge.
Nestled on the shores of the lake, the Biltmore Lake clubhouse provides a sheltered place for socializing year-round. There are cozy spots by the large fireplace, an open exchange library, complimentary coffee, and free wireless Internet access. Social lounge areas are the perfect place to meet up with friends, while windows near the lake offer stunning sunset views.
Just south of the clubhouse, community residents will find two hard surface tennis courts. There is also a full-length lakeside basketball court for pick-up games, and several playgrounds will entertain visiting grandchildren.
Biltmore Lake may not be an age-restricted community, but its desirable location, natural beauty and well-maintained amenities have made it a popular destination for active adult homebuyers. Whether enjoying the amenities within the community or venturing out into the city of Asheville, active adults are sure to love life at Biltmore Lake.