The state of North Carolina is an ideal location for active adults looking to settle down on the East Coast. The Tar Heel State offers mild temperatures year-round, southern charm, and easy access to both the stunning mountains of Western North Carolina and the sandy beaches of the coast.
Two of the state's biggest cities—Charlotte and Raleigh—are popular areas to consider for retirement. Both have many positive attributes, including quick access to major interstates, international airports, and high-quality health care. Neither city lacks for things to do with countless museums, art galleries, and restaurants. We've highlighted aspects of each city to help you determine which town is the right fit for your lifestyle.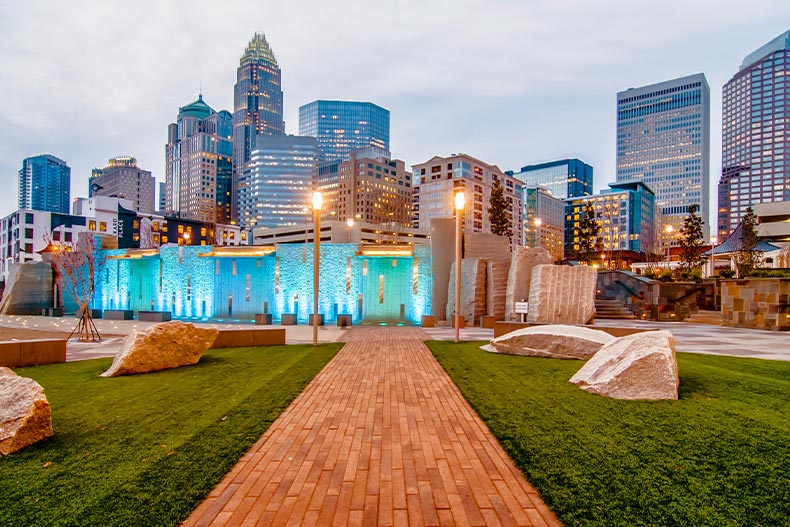 As one of the fastest-growing cities in the South and the largest city in North Carolina, Charlotte has plenty to offer its residents. The city is consistently named one of the top places to live in the U.S. with no wonder why given its abundance of cultural amenities, growing restaurant scene, public transportation, and numerous health care facilities. Plus, there's also plenty of activities and entertainment offerings with countless museums, theaters, and several professional sports teams to cheer on year-round.
Beyond the cultural amenities, the opportunities to get outside and stay active are plentiful in Charlotte with multiple popular parks and greenspaces spread throughout the city. The U.S. National Whitewater Center is another big draw for active adults who like to be outdoors. The center has a wide variety of outdoor activities to choose from, including whitewater rafting, kayaking, paddle boarding, and mountain biking.
The city's constant growth and an influx of new residents bring a lot of exciting changes as well as additional resources and amenities. However, it also brings the typical hassles that come along with a larger population and faster pace like traffic, higher taxes, and increasing housing prices.
The Charlotte area is also home to over 40 age-restricted and active adult communities, including: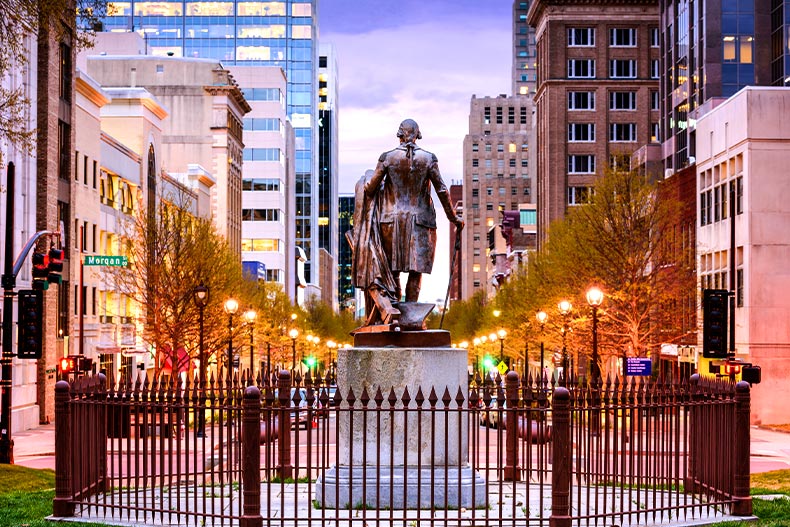 Raleigh, the second-largest city in NC and the state capital, is much smaller than Charlotte. Considered a mid-sized city, it is home to several large tech corporations and top-rated hospitals. The area is also an art and entertainment hub full of history and charm with picturesque tree-lined streets and plenty to do.
Raleigh also features a diverse restaurant scene, impressive museums, science centers, and art galleries, plus the Carolina Ballet, the North Carolina Symphony, and the North Carolina Museum of Art. Outdoors, residents can take advantage of 180 miles of walking and biking trails, many public and private golf courses, William B. Umstead State Park, and flowering botanic gardens. As an added bonus, the city is conveniently located near a number of respected colleges and universities that offer continuing education options.
While it may not have the flashiness and fast pace of a bigger city like Charlotte, Raleigh is a great option for anyone looking to live in a place that has a wide selection of attractions but still maintains its small-town feel.
The Raleigh area is home to over 30 age-restricted and active lifestyle communities, including: