Have you been searching for a fun, new sport to try? Pickleball is gaining popularity as a growing staple in recreation communities. You may have noticed pickleball courts popping up in rec centers and resort-style 55+ communities. Active residents often flock to the court for some midday exercise. There's nothing dinky about this game (except, of course, a dink shot soaring over the net). Pickleball requires strategy, precision, and skill.
So what exactly is pickleball? Well, for one thing, there are no actual pickles involved. In fact, the name remains a mystery. No one is quite sure why pickleball is called pickleball. One persistent theory is that the game is named after a family dog of the same moniker who kept running off with the ball during each game. Another suggests that the sport was named after a pickle-boat which is a patchwork of leftover crews, much like pickleball is a combination of tennis, badminton, and ping pong.
Creativity defines this lovable hobby. While we may never learn the true origins of the name, you can take a moment to learn the appeal of pickleball and prepare for a game or two.
What 55+ Pickleballers Love About the Sport
Pickleball may not be an Olympic sport yet, but it's certainly a growing sport in many active 55+ communities. There's very little equipment needed, and many fitness centers provide paddles and nets. The rules are similar to ping pong, so there isn't much of a learning curve when getting into the sport. Once you're in, you'll be hooked on the fun.
Let's take a closer look at the top reasons to play pickleball this summer in your 55+ community.
Social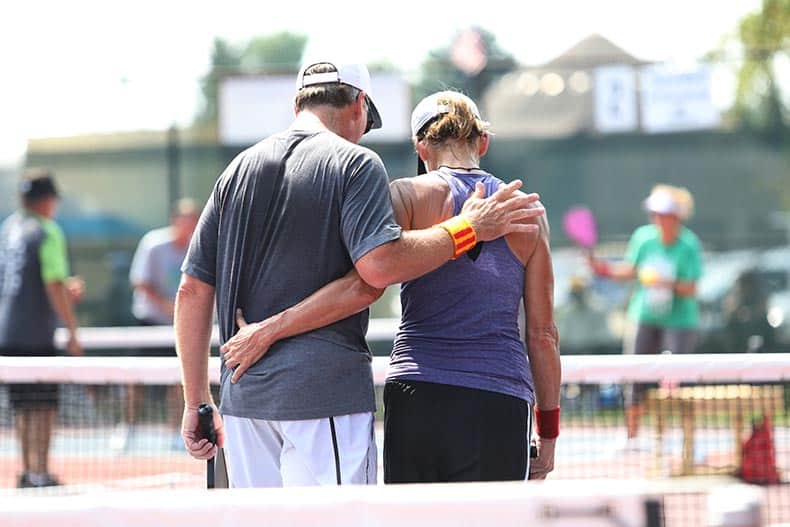 Pickleball can be played in singles or doubles. The game requires collaboration, strategy, and teamwork, as well as plenty of good vibes. Players join the court to connect with other pickleballers, trade some friendly banter, strike up a rivalry, and even form their own teams. Many even come up with team names and tees!
Neighborhood pickleball leagues are an opportunity for residents to come together. Pickleball is always open to players of all skill sets, making this game the perfect opportunity for a community mixer.
Accessible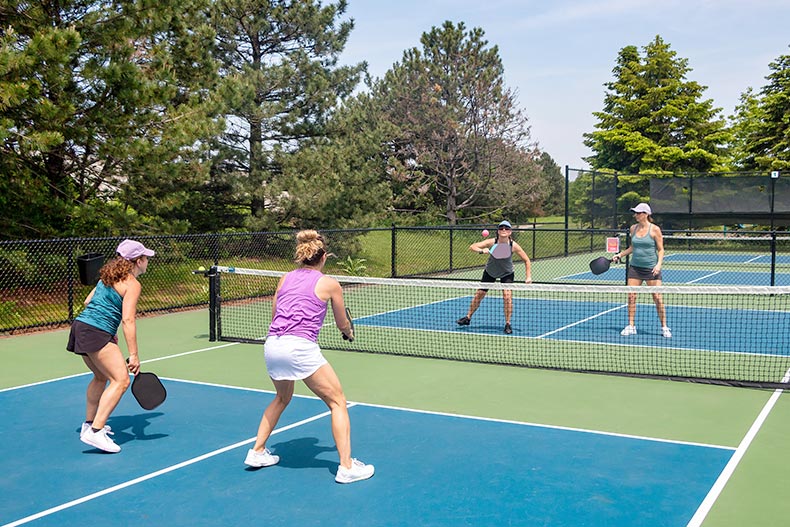 Pickleball was designed to be a sport for everybody—and we mean everybody! The nature of the game creates accessibility for all players. One distinction that sets pickleball apart from tennis and other similar sports is the non-volley zone, also called the "kitchen." This keeps the game contained within a smaller space, focusing more on skill than power or fitness.
Running is minimized, and the playing field is made more equitable for everyone involved. The ball itself is soft and light, minimizing the risk of injury. This also ensures that the game is not simply a test of strength but one where all players have an equal chance at winning. It's an excellent sport for those with joint issues, as there's no risk of hitting the ball hard enough to accidentally cause an injury.
The game can easily be modified to accommodate additional needs to ensure all participants have the chance to hit a dink.
Indoor or Outdoor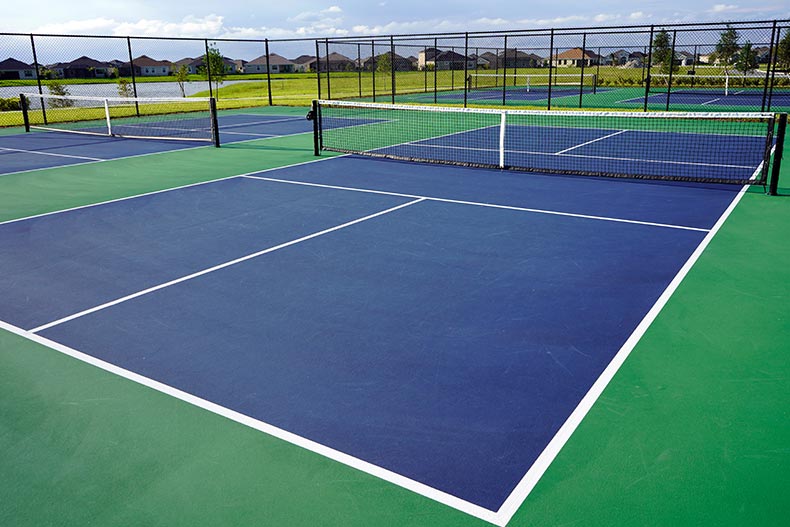 Whatever the weather, a game of pickleball is always a good idea. Get outside and enjoy the lush scenery while practicing your swing. Pickleball is gaining popularity in active retirement 55+ communities that prioritize plenty of greenspace and ways to connect with nature. In time, it may even become more popular than golf!
Poor weather days call for a round of indoor pickleball. Onsite rec centers are the perfect spot to relax, chat, and stay active with a few lively games.
Fitness and Wellness
Do you want to improve your balance but aren't quite ready to embrace the yoga lifestyle? Give pickleball a try! This lively game may not feel like exercise, but the sport promotes agility, speed, strength, and overall cardio health. Unlike higher-impact sports such as tennis, pickleball is far kinder to your knees and core. You'll still get the benefit of an excellent workout without the next day's soreness.
Pickleball incorporates strategy as well as fitness for a sport that engages your brain as much as your body. If getting better attuned with mindfulness is a priority of yours, consider taking a whack at pickleball.
Additionally, adding pickleball to a gym routine is a great recovery day option. The game is low-impact but still engages your muscle memory and stamina. Pickleball is a fantastic aerobic workout that promotes better circulation with a reduced risk of injury or strain. After all, a workout that feels like a game is the best type of exercise. We are far more likely to be consistent in an activity when we enjoy ourselves.
Fun for the Whole Family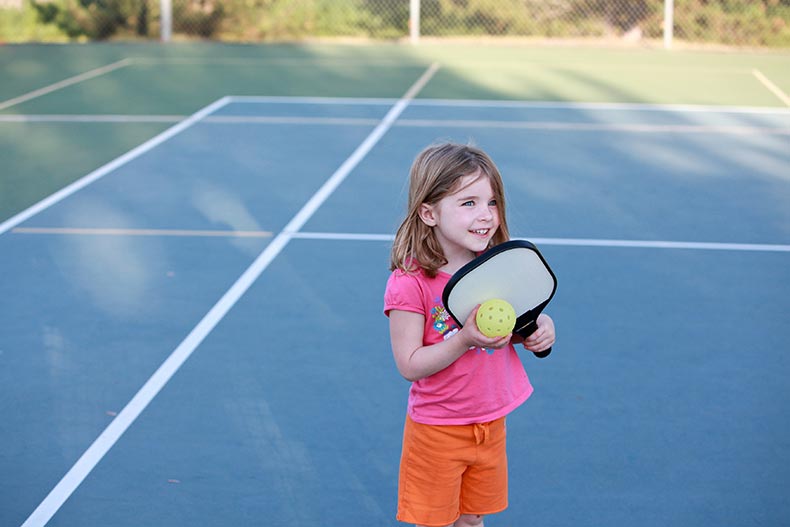 Pickleball is a sport for all ages. In recent years, the game has become especially popular among adults 55+. The ease of participation and simplicity of the rules allow anyone to jump in and pick up the paddle. You'll often find like-minded, tight-knit communities in pickleball groups. If you're new to the area, this is a chance to meet your neighbors—and beat them on the court.
Unlike other sports that may not appeal to your wider social circle—such as golf or tennis—pickleball is an easy game to invite others to participate in. All skill levels, from beginner to pro, can join in on the excitement. The paddles are designed so that reach and arm length play a diminished role. This allows for more contenders at the pickleball community tournament.
Whether you're playing against adults or enjoying a weekend with the grandkids, the simplicity of the game makes it a hit with all involved. Divide your family into teams, have a match with a friend, or test your skills at a neighborhood tournament. Pickleball is a great way to kick off summer. Give it a try at your next barbecue!
Ready to join a game of pickleball? Check out the Top Pickleball Communities for 55+ Active Adults and Find Your Perfect Pickleball Home.