Retirement is the best time to explore your favorite hobby or sport! With more retirees wanting to stay active, more 55+ communities are adding sports courts to their list of amenities.
Nowadays, pickleball is all the rage in many active lifestyle communities. Invented about 50 years ago, pickleball has become one of the fastest-growing sports in America. It appeals to retirees because it's fun, social, quick to learn, and easy on the body.
Active adult communities have taken notice of this growing trend and have added more courts or converted existing tennis courts for pickleball use. If you're ready to play, grab your paddle and check out some of the best communities for pickleball enthusiasts.
Mid $300s – Low $1Ms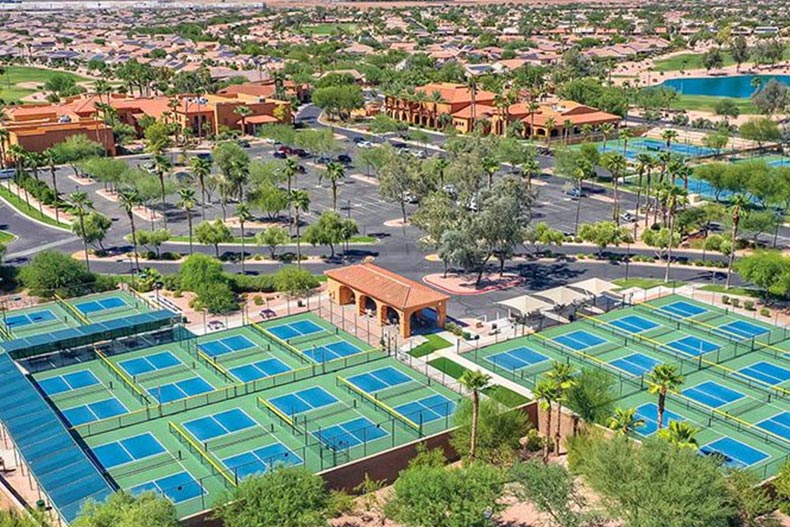 This 6,200-home community offers a myriad of amenities that keep residents active and social. However, most of the action revolves around the recreational facilities found at the Tuscany Sports & Aquatics Complex. Here, residents have eight pickleball courts to choose from for a quick game with friends.
Homeowners will also find a robust social calendar, including the community's pickleball club. The club hosts social events, provides instruction and equipment, and has tournaments and leagues throughout the year.
High $300s – High $1Ms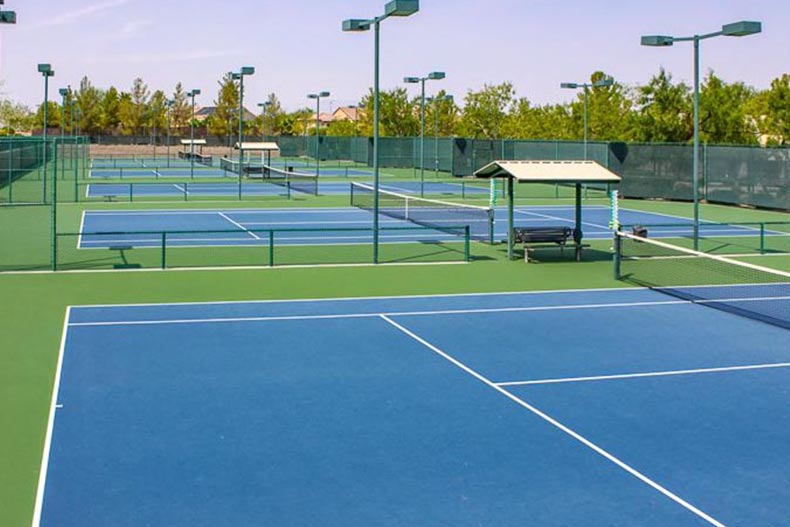 This established 55+ community in Henderson, Nevada, provides plenty of spacious clubhouses with indoor and outdoor amenities. Pickleball fans will fall in love with the community's new amenity complex Liberty Center. This 22,000-square foot complex features 11 pickleball courts and a vibrant pickleball club. Additionally, residents can have their social calendars full of pickleball events, tournaments, and lessons in Sun City Anthem.
High $300s – Low $500s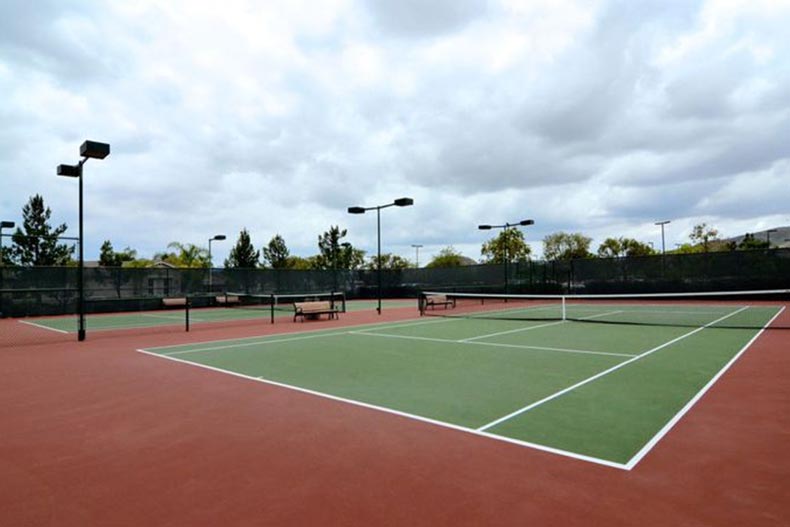 There are plenty of reasons to retire at Four Seasons at Hemet in Southern California. In addition to the area's breathtaking views and beautifully designed homes, active adults will love its variety of world-class amenities.
The heart of this 55+ community is its 14,859-square-foot clubhouse. Residents can spend their days playing on one of the four pickleball courts. And if that's not enough action, they can always play on the bocce ball, shuffleboard, or tennis courts to switch up their routine.
Low $300s – Low $700s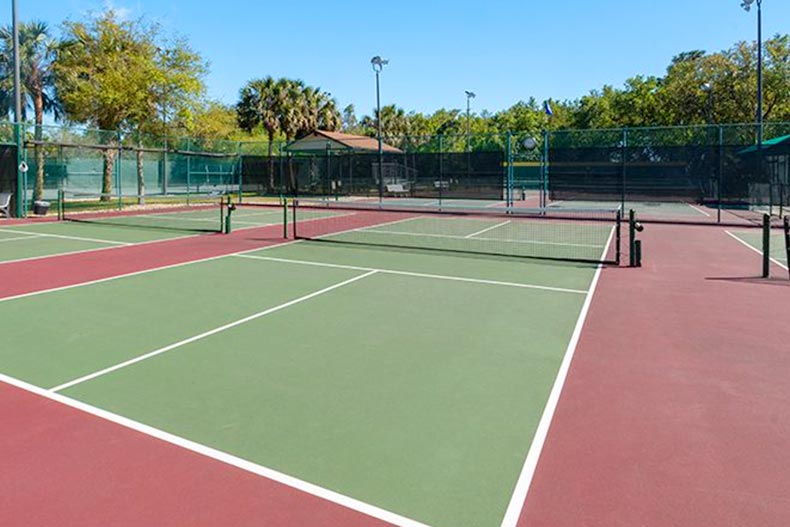 Boasting more than 150,000 square feet of recreational space, Solivita is a master-planned 55+ community that's perfect for pickleball fanatics. Retirees can find multiple lighted pickleball courts spread across this 4,300-acre development. Generally, residents can be seen playing this popular sport day or night at one of the many recreational centers as well as participating in pickleball clubs or clinics.
Low $300s – Low $1Ms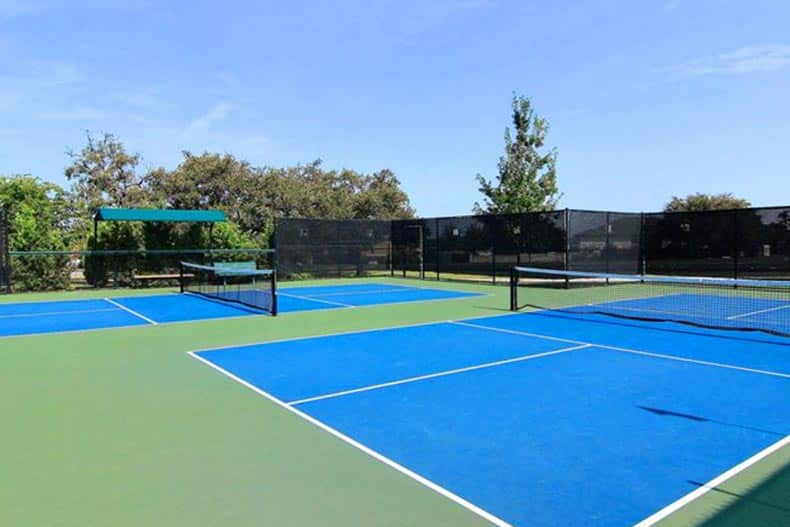 Pickleball fans can come together and have a ball in this 55+ community in Georgetown, Texas. The Village Center Amenity Complex provides a total of 86,000 square feet of recreational space. With six pickleball courts onsite, residents won't have to wait long for their next match.
Also, this community offers a long list of social clubs and groups. Homeowners can share their passion for this activity by joining the Pickleball Club and competing with other enthusiasts.
Mid $600s – Mid $1Ms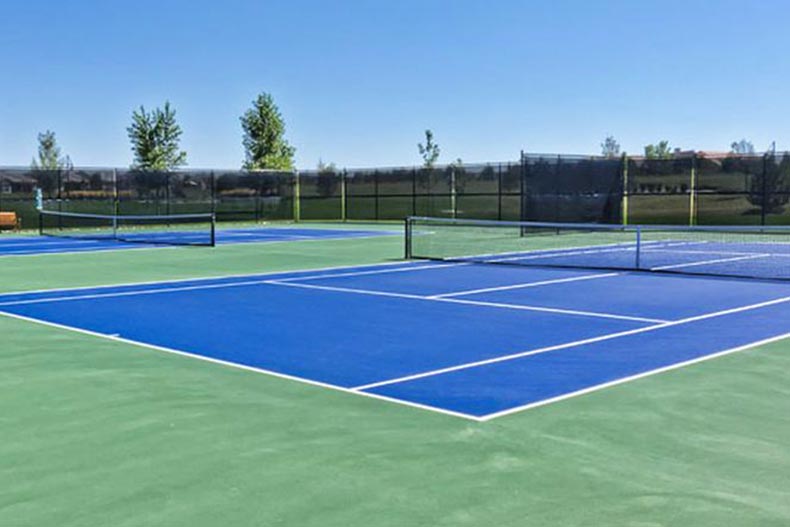 This welcoming 55+ community in Broomfield offers amenities to keep retirees fit, active, and social all in one place. At the heart of Anthem Ranch is the Aspen Lodge, a 32,000-square-foot clubhouse with activities and sports courts for active adult residents. Pickleball enthusiasts can challenge their neighbors to a game on one of the four pickleball courts.