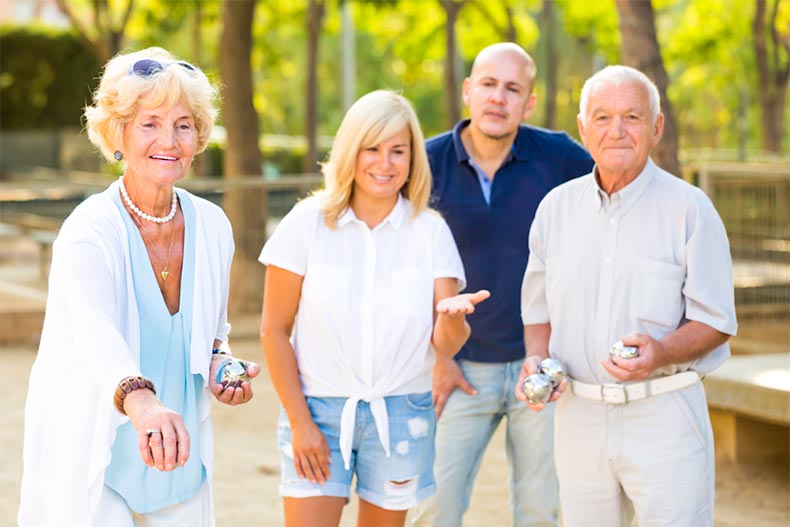 Affectionately called "Italian lawn bowling," the sport of bocce has been around in one form or another since ancient times. Unlike other ball sports, bocce is unique in that it is both calming and competitive, making it an obvious choice for active adults interested in low-stakes fun. According to the United States Bocce Federation, the sport has over 25 million enthusiasts and players throughout the country, with a large number of participants aged 50 and older. Before you gather on the green, take a look at our comprehensive guide below to learn about all things bocce.
History of Bocce
Throwing weighted balls at a fixed target has been a popular pastime for centuries. Bocce is believed to have originated in Egypt as early as 5200 B.C., making its way to Greece around 800 B.C. before spreading throughout the Roman Empire. Players used coconuts and rocks as balls in early days, eventually transitioning to carved wooden balls. While all ranks of people delighted in the sport, it was particularly favored among nobility across nations and eras, including Emperor Augustus, Queen Elizabeth I, and Sir Francis Drake.
Today's bocce game was developed in Italy and popularized by Italian general Giuseppe Garibaldi. The sport quickly became popular throughout Europe, eventually prompting the creation of the sport's highest governing body, the Fédération Internationale de Boules. Bocce was brought to the United States by Italian migrants in the early 1900s as a social tradition, usually played by men with drinks in hand and without women or children in attendance. In the 21st century, bocce has developed a strong following of players spanning all backgrounds and skill levels because of its inclusive attitude and emphasis on enjoyment.
Bocce Equipment
One of the main appeals of bocce is that it is a low-maintenance sport. Participants need only have access to a bocce ball set, as no personal equipment is required for gameplay.
Bocce balls are sold in sets ranging from $20 to well over $100 and contain eight colored balls–four of each color, typically red and green–and one smaller ball, called the jack or pallino. The balls are generally made of wood, plastic, or a composite material. In bocce volo, a variant of traditional bocce, players use metal balls. Official regulations dictate that balls have a diameter of 107 millimeters (4.2 inches) and a weight of 920 grams (roughly two pounds).
Bocce courts span a full range of sizes and surfaces. The game can be played on a variety of indoor and outdoor surfaces including grass, sand, clay, or asphalt. Regulation-sized courts are 91 feet long by 13 feet wide, but the size can be adapted to accommodate space considerations. So long as the court is mostly flat and marked with the center and foul lines, play can commence.
How to Play Bocce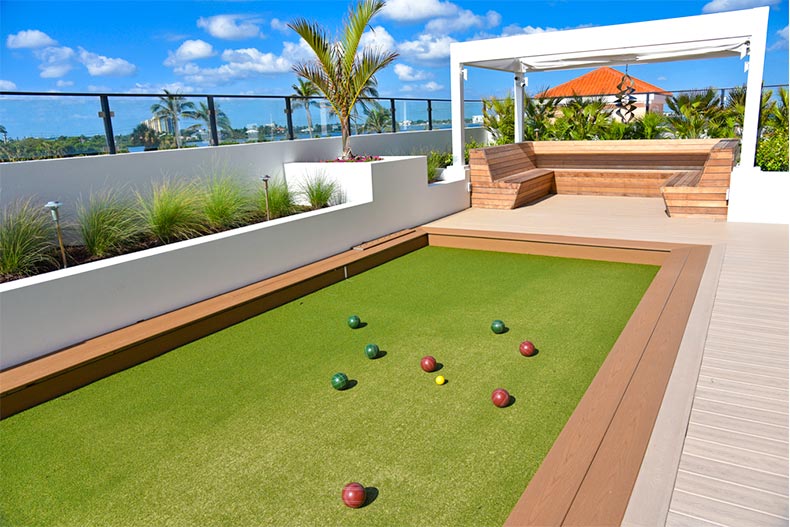 Bocce has variations across the globe, including British crown green bowls and French pétanque. In the United States, players can usually expect to play either traditional bocce or bocce volo, which uses a metal ball and an overhand throw. Bocce doesn't require much physical output, but players need to use a certain amount of strategy to win.
To play bocce, two, four, or eight participants must split into two teams. Using an underhanded throw, a member of one team begins the frame by throwing the pallino from one end of the court to another. Taking care not to cross the foul line as they throw, the teams then take turns throwing the larger balls at the pallino. Players may choose to use their throw to get their ball closest to the pallino, move their opponent's ball away from the pallino, or to move the pallino closer to their ball.
The team closest to the pallino after all team members have thrown the balls earns the point. Players then start a new frame and continue play. To win a regulated game, one team must collect 11 points and finish at least two points ahead of the other team. During informal backyard bocce, 12 points is considered the typical goal to reach.
Active Adults and Bocce
Bocce is popular among active adults because it is a low-impact, no-contact sport that is best enjoyed alongside family and friends. Players aged 55 and older can benefit from light cardiovascular exercise and increased stamina without putting themselves at risk of injury. The inexpensive nature of participation also makes it accessible for enthusiasts from all walks of life.
Beyond the physical perks, active adults will benefit most clearly from the social element of bocce. The sport is often praised for the leisurely community that promotes fraternizing and fun over finishing in first. Active adults who engage in bocce can expect to meet new people and challenges with vigor.
Players interested in taking their skills on the road can take part in annual National Senior Games Association bocce tournaments. Each year, select states host championship bocce tournaments for active men and women aged 50 and older.
Best 55+ Communities for Bocce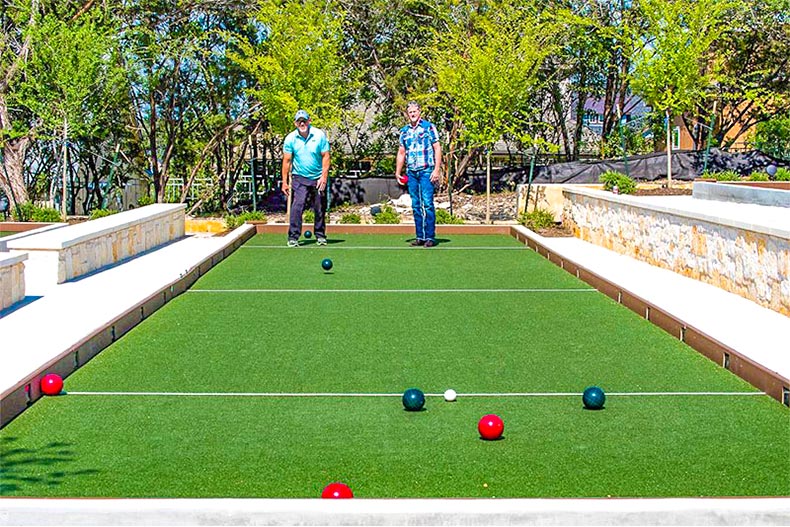 Kissing Tree in San Marcos, TX has lighted bocce ball courts for night play.
While there can be only one winner in each frame of bocce, the social and physical benefits of the sport mean that every player ends the game having gained something. At these temperate 55+ communities, active adults and retirees can play bocce throughout the year no matter their skill level.
Cascades at Sarasota in Sarasota, Florida provides residents with three bocce courts and a strong game culture. The community has active men's and women's bocce groups that meet weekly and host in-house competitions.
Sun City Roseville near Sacramento, California is home to six lighted bocce courts. Residents can play as they please or choose to join the community's Bocce Club, which meets weekly and boasts a roster of over 300 members.
Kissing Tree in Texas Hill Country recently completed The Mix, the community's impressive 20-acre amenity campus, in 2017. Featuring six outdoor bocce courts, residents have ample opportunity to take part in the community's vibrant bocce group.
Del Webb at Lake Oconee near Atlanta, Georgia has four pristine bocce courts and frequently hosts classes where residents and their guests can learn to play.
Winterhaven in Sierra Vista, Arizona has two well-maintained bocce courts and an informal group that promotes socializing over competition.