Most homebuyers looking for 55+ communities in Florida and even across the country have heard of The Villages in Central Florida. This community located about 65 miles northwest of Orlando is renowned as Florida's Friendliest Hometown and as the largest active adult community in the world.
Residents of The Villages, known as Villagers, enjoy all the features of a small town and the amenities of a luxury resort. With over 80 recreation centers, 50 golf courses, 2,500 clubs and activities, and three town squares, The Villages has created a high quality of life desired by many active adults who want to retire in Central Florida.
Plenty of myths have circulated about life in The Villages, but even with those rumors dispelled, there's still a lot to learn about this retirement destination. Whether you've already set your sights on The Villages or you're just starting your search, we've rounded up some of the most important information about The Villages, Florida all in one place.
What Is The Villages?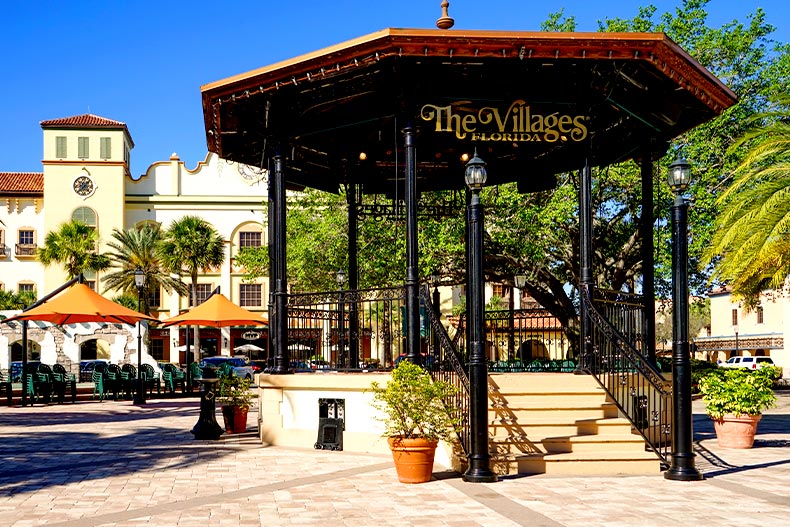 Spanning three counties, three zip codes, and over 20,000 acres, The Villages is among the largest active adult communities in the world—and it may even double in size. In fact, according to recent census data, The Villages was the fastest growing metropolitan area in the US over the past decade, jumping almost 40 percent since 2010.
Over 125,000 residents live in over 70,000 homes across Sumter, Lake, and Marion Counties, with the majority of the community in Sumter County. According to Neighborhood Scout, approximately 78 percent of residents are 65+ and 17 percent of residents are between 55 and 64. Both numbers continue to grow as more new construction homes are built for incoming residents.
The Villages is often described as a golf cart community because the entire area is accessible by golf carts and low-speed vehicles. Over 100 miles of golf cart-legal streets and trails connect Villagers to everything the community has to offer, including grocery stores and restaurants.
It's also known as an age-restricted community, but that comes with its own specifications. In particular, 80 percent of all homes must be occupied by at least one person who is 55 or older. No one under 19 can reside within The Villages, but they can visit for up to 30 days each year.
Three subdivisions of the approximately 78 neighborhoods have been designated as family units, which means that the minimum age does not apply. Ultimately, most of the population consists of 55+ residents drawn to the community for its convenience, location, and amenities.
A Central Florida Location and Climate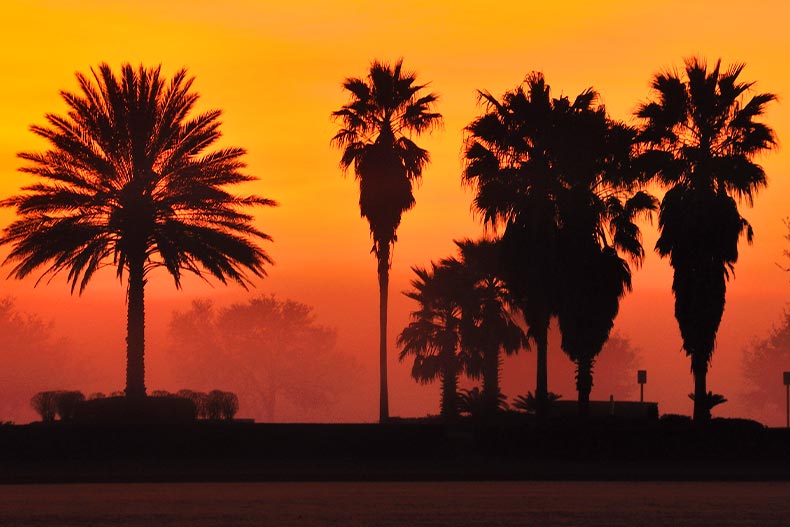 The Central Florida location of The Villages keeps residents within easy reach of the area's best attractions and entertainment. The Villages is located approximately 25 miles south of Ocala and 65 miles northwest of Orlando, putting both cities within reach for day trips. Villagers can also drive 50 miles west to the Gulf Coast and 75 miles east to the Atlantic Coast.
The location also comes with a humid subtropical climate known for hot summers and milder winters. The average summer temperatures often reach the low 90s with nightly lows in the 70s. Winter months bring temperatures in the upper 60s to low 70s with a few nights in the 40s. While the summer months can feel hot and humid, the temperatures typically bring bright, sunny days ideal for enjoying outdoor recreation.
Three Town Squares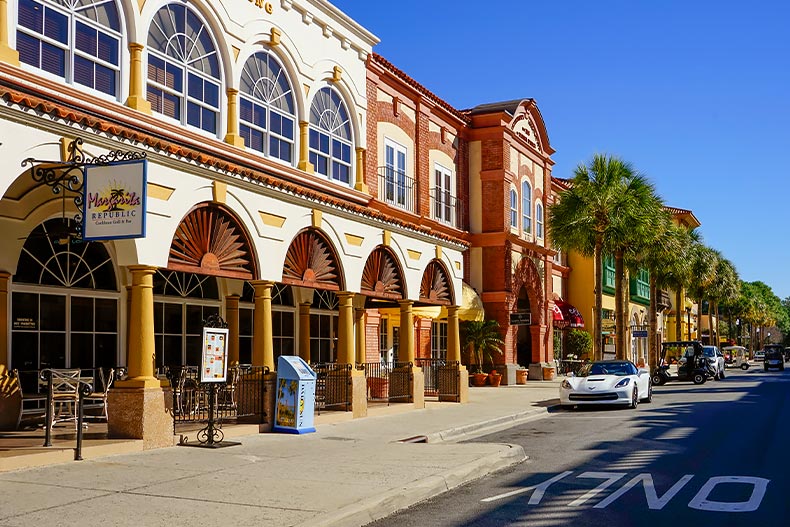 The three old-fashioned town squares located throughout The Villages are central to the community's lifestyle. Each town square features its own theme, but they all include movie theaters, shops, restaurants, and free nightly live entertainment.
On the northern side of The Villages, the southwestern-style Spanish Springs Town Square features The Sharon L. Morse Performing Arts Center and the Rialto Theater. Residents can dine at 15 restaurants and explore retail shops that include spas, salons, craft stores, and a winery. This town square also hosts a classic car cruise-in every month.
Lake Sumter Landing Market Square provides a waterfront setting for a quaint coastal feel in the center of the community. The Old Mill Playhouse features the latest movie releases, while over 15 restaurants provide dining opportunities. Some of the shops available here include Winn-Dixie, shoe stores, clothing boutiques, and home improvement stores.
Brownwood Paddock Square, designed to look like a 19th-century cattle town, offers the Barnstorm Theater for movies and nightly entertainment on the community's south side. The Square includes 10 restaurants and even more shops and conveniences, such as a bank, spice shop, and dog groomer.
Amenity-Rich Recreation Centers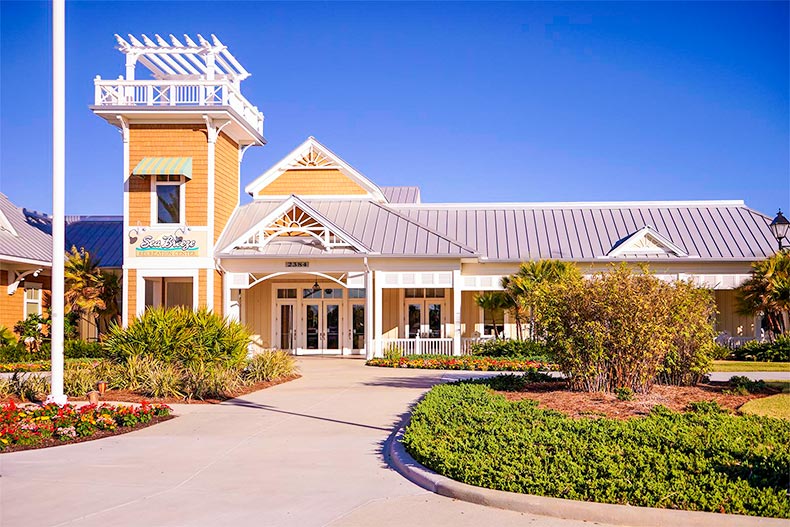 In addition to three expansive town squares, dozens of state-of-the-art neighborhood centers, village centers, and regional centers provide luxury amenities throughout the community. For Villagers, who can use all of the recreation centers, daily needs and fun amenities are always within reach.
More than 49 neighborhood recreation centers feature everyday conveniences like ATMs and post offices alongside recreation opportunities like swimming pools, horseshoe pits, and courts for bocce and shuffleboard.
The 24 village recreation centers serve several neighborhoods and feature meeting rooms for clubs and activities, fully equipped kitchens, and billiard rooms. These centers also have swimming pools, horseshoe pits, and bocce, shuffleboard, tennis, and pickleball courts.
The 11 regional recreation centers include even more amenities, such as fitness centers, pottery facilities, meeting rooms, and large venues with stages for musical and theatrical productions. Sports pools offer ample space for lap swimming, water exercise, aerobics, and water volleyball. There are also athletic courts, including a basketball court.
All The Golf You Can Play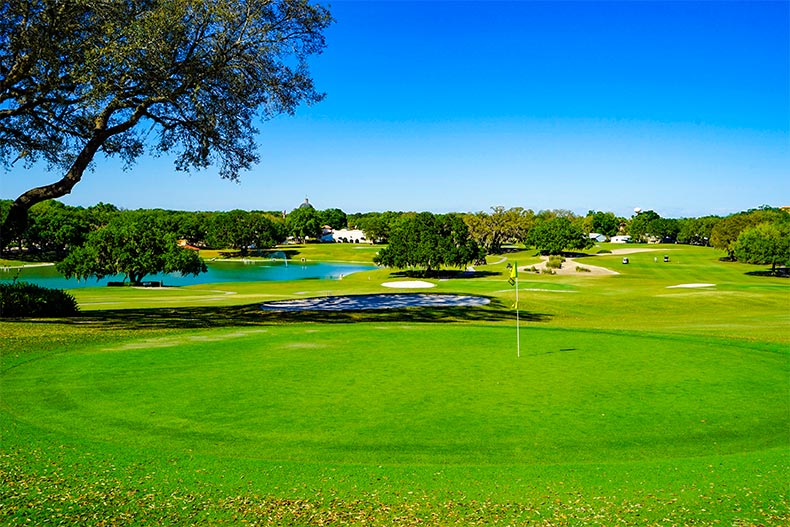 With 12 championship courses, 38 executive courses, and four practice facilities, The Villages is also the largest golf community in the world. The 648 total holes of golf span an estimated 85 miles. Residents get to play complimentary golf for life on all executive courses, and they also receive a free lifetime membership to all championship course country clubs.
The quantity and quality of golf may be enough to entice any pro, but many of the courses also welcome casual golfers and beginners. The Villages Golf Academy hosts programs for brand new golfers as well as group and private lessons.
Social Clubs and Activities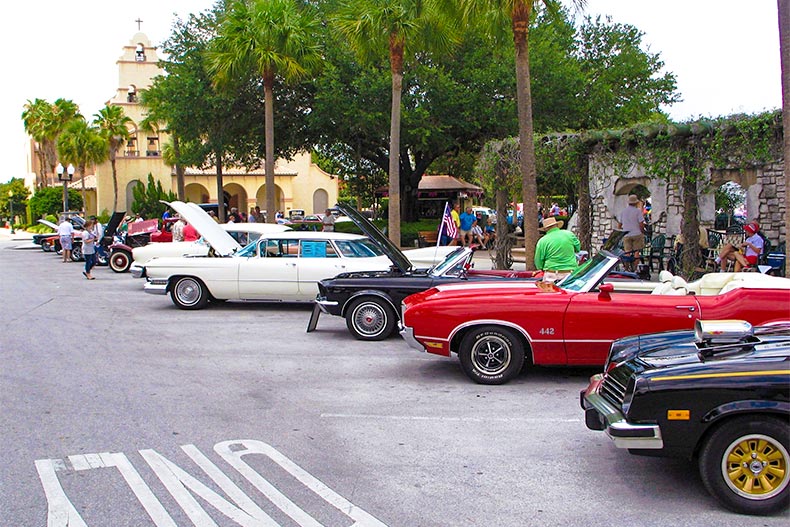 Over 2,500 social clubs and lifestyle activities appeal to almost every interest and hobby, allowing residents to enjoy their pastimes and even find new pursuits. The variety of offerings includes neighborhood groups, singles events, fitness classes, and special interest groups. There's also the largest group of Red Hat Society chapters in the country.
Some of the active recreation groups include archery, biking, walking, hiking, rowing, pickleball, and table tennis. Residents also gather to play almost every card, dice, and board game.
A sample of the arts and crafts clubs available includes pottery, painting, coloring, clay art, ceramics, glasswork, wearable art, and much more. Several bands, music groups, and dancing clubs offer another opportunity for artistic expression.
With so many choices available, it's almost certain that residents can find what they're looking for. If not, they can always start their own club.
Staying Connected Online
Anyone who wants to know what's going on in The Villages may want to make use of some of the community's very own media platforms.
The developers of The Villages operate The Villages News Network (VNN), which airs on the local cable network, as well as a radio station and a newspaper called The Villages Daily Sun.
There's also a monthly email newsletter called Vmail which rounds up the latest happenings and events. The Talk of The Villages online forum includes classified ads, directories, calendars, maps, and a place to ask questions.
For getting around, the Villages GPS app is an application developed by a third-party company that functions like any map application but includes the community's 90 miles of golf cart paths. It also allows users to bookmark their favorite locations, search by address, and view nearby points of interest.
But with autonomous vehicles being tested in The Villages, there may soon be more hands-free ways to get around.
How To See The Villages
Sometimes, the best way to know if a community is right for you is by visiting it and experiencing the community first-hand.
The Villages offers a Lifestyle Preview Plan so potential homebuyers can stay in the community and see what life could be like there. Active adults can customize their trip, which includes the opportunity to stay in a private, fully furnished cabana complete with a golf cart and bikes so you can get around the community as Villagers do.
If you just have half a day, you can rent a golf cart to drive around the community on your own self-guided tour. With just a few hours, you can drive your car around the streets. With so much to do at The Villages, you may just have to see it yourself to believe it.