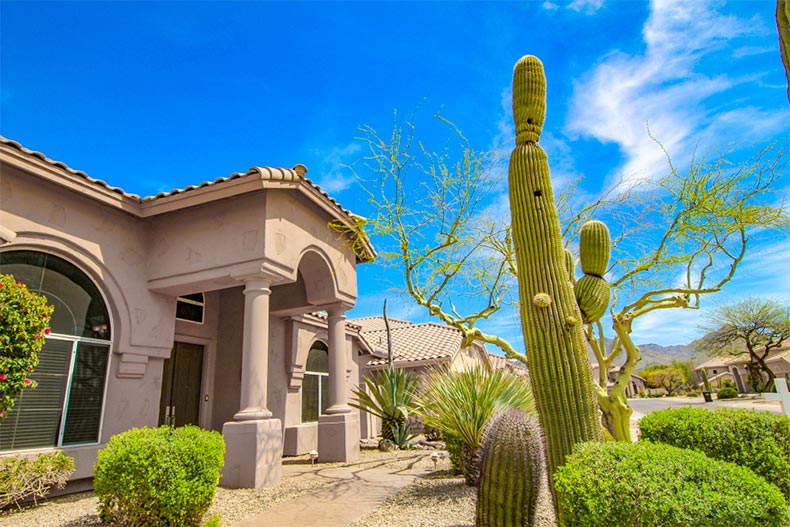 Peoria is a suburb of Phoenix and a city of about 170,000 people, an easy 30-minute drive northwest of Downtown Phoenix on Highway 60.
Its ideal location means a 30-minute drive due west takes you to the 30,000-acre White Tank Mountain Regional Park which has 26 miles of hiking trails and other recreational activities. On the northern edge of Peoria is also the Lake Pleasant Regional Park, a 23,362-acre park offering hiking, boating, fishing, swimming, and other attractions.
It's a part of the Greater Phoenix Area and was founded in the late 19th century by a group of settlers, some of whom were from Peoria, Illinois, after which it is named. A number of historic buildings survive, the oldest being the Peoria Presbyterian Church, which was built in 1899.
It has all the facilities you would expect from the ninth largest city in Arizona and a climate similar to that of Phoenix. From June to September average high temperatures are in the low 100s, with average lows in the 70s. Over the year the city sees less than ten inches of rain, snow is rare, though there may be winter nights when it drops below freezing.
Westbrook Village
Peoria has three communities for the 40+ or 55+ active adult. The largest and with the youngest age restriction of 40+ is Westbrook Village, which has 3,910 attached and single-family homes, and condos. It's within a few blocks of major stores such as Walmart, Sam's Club, and Costco, and also a few blocks from the 101 Loop, the highway which circles Phoenix and gives easy access to many of the area's attractions.
The smallest models are the condos, which range from just under 1,000 to about 1,800 square feet. Most have two bedrooms, two bathrooms, and a balcony or patio. Attached homes go from 1,363 to 1,478 square feet and all have two bedrooms, two bathrooms, and a two-car garage.
The single-family homes start at 1,354 square feet, and these also have two bedrooms, two bathrooms, and a two-car garage. The largest models have 2,578 square feet, two bedrooms, a den, two bathrooms, and a three-car garage.
Amenities include a Fine Arts and Learning Center, two recreation centers, two 18-hole golf courses, two outdoor pools, a bistro and a restaurant, several activity studios, and courts for tennis, bocce, and pickleball.
There are numerous clubs, classes, and activities on offer, including aerobics, yoga, Zumba and other activities, clubs for arts and crafts, for card and board games, dance, singing, theater, and a singles club.
Trilogy at Vistancia
Trilogy® at Vistancia is a gated community of 3,300 single-family homes for the 55+ active adult covering 7,100 acres. It's in the northern part of the city, a 15-minute drive from the Peoria Regional Preserve and about 25 minutes from the Lake Pleasant Regional Park. Downtown Phoenix is a 45-minute drive away.
There are numerous models available, the smallest being 1,218 square feet with two bedrooms, two bathrooms, and a two-car garage. The largest models are 3,223 square feet and have four bedrooms, a den, four-and-a-half bathrooms, and a three-car garage.
Many of the amenities center on the 35,000 square-foot clubhouse. Its facilities include a fitness center, indoor lap pool, outdoor pool, and an aerobics and dance center. A second clubhouse is 17,000 square feet and has a larger aerobics and dance studio, a restaurant, an outdoor bar and grill, outdoor pool, a crafts studio, and a culinary studio. Other amenities include an 18-hole golf course, illuminated tennis courts, pickleball courts, and hiking and biking trails.
Among the classes, clubs and activities available are arts and crafts, card and board games, a genealogy group, sports groups, and Spanish lessons.
Ventana Lakes
The smallest of the communities in Peoria is Ventana Lakes. This 55+ active adult community has 1,701 single-family and attached homes. It's a 20-minute drive from both downtown Peoria and the Peoria Regional Preserve.
The smallest homes start at 991 square feet and have two bedrooms, two bathrooms, and a two-car garage. The larger Tradewinds model has 2,030 square feet with three bedrooms, two bathrooms, and a two-car garage.
Amenities in Ventana Lakes include a clubhouse with a fitness center which has an aerobics studio, and sauna and steam rooms. There's also a ballroom, library, four outdoor pools, four spas, courts for several sports, and, as the name suggests, there are nine lakes including catch-and-release fishing lakes.
The clubs and activities include sports clubs, breakfast groups, arts and crafts, card and board games, bingo, and karaoke.