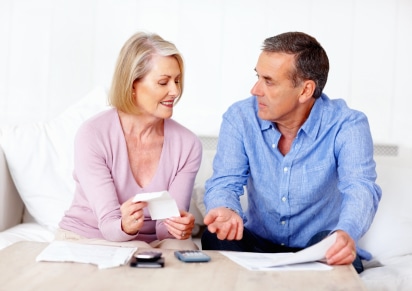 When considering a move to a new community, such as Sun City Grand in Arizona, it is important to understand the total cost of homeownership.
This is particularly true in an active adult community which may have resort-style amenities or outdoor maintenance services which come with additional fees. These community fees will be in addition to your monthly mortgage payment, taxes, insurance and utilities.
Mortgage Options
Unless you are buying your home with cash, you will have to plan for paying monthly mortgage payments. The amount of your payment will vary depending on many factors, including: the amount owed on your mortgage, the length of your loan, your interest rate, the amount of your property taxes and the cost of your homeowners' insurance. If your down payment is less than 20 percent of the cost of your home, you will also have to pay private mortgage insurance (PMI) until your loan-to-value ratio reaches 80 percent.
For example, if you were currently buying a 1,600 square-foot single-family home in Arizona's Sun City Grand community, you might expect it to cost about $245,000. If you paid a 20 percent down payment ($49,000) and obtained a fixed 30-year mortgage at an interest rate of 3.38 percent, your estimated monthly payments might be $1,179. That amount estimates the following:
Principal and interest – $867
Property taxes – $245
Homeowners' insurance – $67
If you prefer to pay off your mortgage more quickly and pay less interest over the life of the loan, you might opt for a fixed 15-year mortgage. This option usually comes with a lower interest rate, but your payments would be higher as you have half the time to pay off the loan. For example, a fixed 15-year mortgage at 2.603 percent, with a 20 percent down payment, might equal a monthly payment of about $1,628. That estimated payment includes:
Principal and interest – $1,316
Property taxes – $245
Homeowners' insurance – $67
In addition to your mortgage financing, taxes and insurance, your monthly expenses in an active adult community are likely to include homeowners' association (HOA) fees to cover the expense of community amenities and other services.
Community Fees
You may be required to pay one fixed community fee, or separate fees for home maintenance, golf memberships and other recreations. The rates for HOA fees can vary drastically from one community to the next or even within the same community. Adding services such as lawn maintenance will usually increase the fees.
Condos also tend to have higher fees because the community is responsible for the home exterior. Continuing to use Sun City Grand as an example, we can see that the community's condos have a monthly HOA fee of between $236 and $345, while villas and single-family homes have an annual fee of $1,104 instead. While this annual fee is only collected once each year, you can plan ahead by estimating it as a monthly expense of $92.
Anywhere you live, your monthly expenses will include the cost of utilities, such as electric, gas, water and sewer. We can estimate that a 1,600 square-foot home in Sun City Grand would average approximately $100 in monthly utilities. Yet that amount would vary depending on personal usage.
Amenity Fees
Certain amenities in active adult communities may come with additional fees as well. For example, resident golfers in Sun City Grand will also want to estimate the cost of greens fees into their monthly expenses. Even with resident discounts, each round of golf could cost anywhere from $18 to $71 depending on the season and time of day.
Purchasing Passes
Residents also have the option of purchasing passes, including an annual Premium Pass which costs $3,480 per person (which we could budget as a $290 monthly expense, even though it is paid annually). Given these estimates, a couple buying a 1,600 square-foot, single-family home in Sun City Grand could expect their monthly payments to be anywhere from $1,371 to $1,820, depending on their financing options.
If they are golfers who want the Premium Pass for unlimited play, which would essentially tack on an additional $580 per month (or $290 for just one golfer). They could also opt for less expensive golf passes. Depending on where you plan to live, your monthly estimates could be very different.
To find out how much it costs to live in your favorite active adult community, be sure to include the estimated monthly costs for your mortgage, taxes, insurance, homeowners' association fees, utilities and any additional recreation fees.