Imagine you're looking for an active lifestyle community in Florida's northwest panhandle, and you have to choose between Latitude Margaritaville Watersound and Watersound Origins.
That might be a difficult decision, which is a nice problem to have, we know.
Let's take a look at how each community measures up and which might be best for active adults looking for homes for sale in Watersound, FL.
Similarities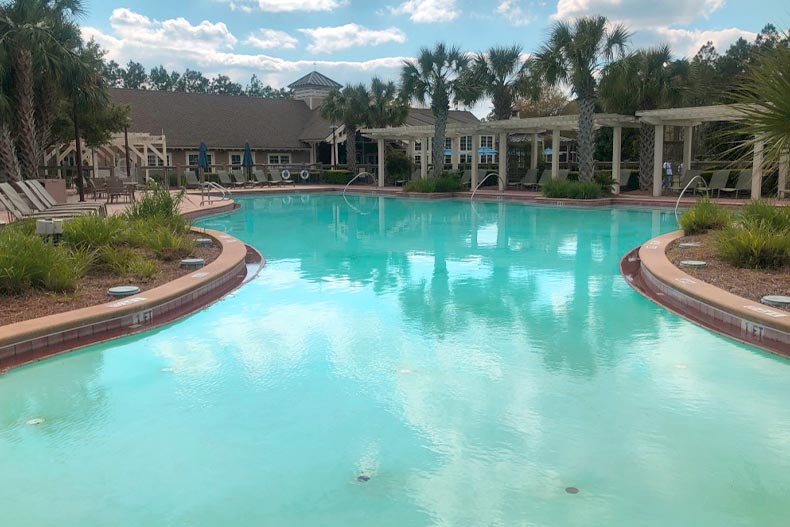 Some things are almost entirely the same when we compare the two communities. We can start with location. Both are in Watersound, which is a scenic town right off of Highway 30-A on Florida's northern coast. This city is just steps from the Gulf of Mexico, in South Walton County. Located on the Emerald Coast, Watersound has more than 20 miles of shoreline and is largely untouched by commercial endeavors or tourism. This leaves the beaches and surrounding areas serene, natural, and pleasant for the locals who call the area home.
Both communities are also offering new construction single-family homes and feature similar amenities. Both communities will include a clubhouse with multipurpose and activity rooms as well as fitness centers. Residents in either community will also have access to outdoor pools, patios, and walking trails throughout the neighborhoods and parks.
Both active lifestyle communities will host events, as well. Homeowners can expect to enjoy parties, activities, and invitations to join clubs and classes.
Latitude Margaritaville Watersound and Watersound Origins are also both committed to providing a low-maintenance lifestyle for their residents. Common areas and community landscaping are included in homeowners' association fees, which are priced according to community and property.
Differences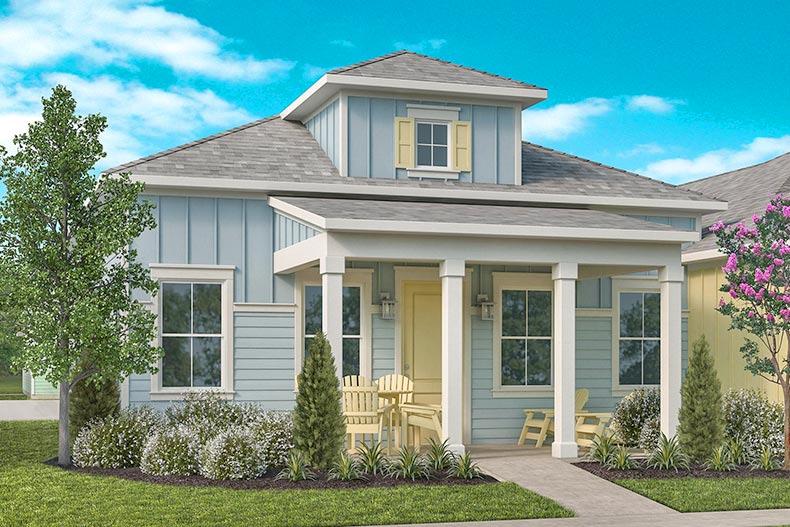 Sure, both communities offer residents the benefits of Watersound living and a modern, comfortable community which makes meeting friends, staying active, and living a low-maintenance life easy. But if a buyer has to choose one over the other, what are some differences?
Age Restrictions
Latitude Margaritaville Watersound is a 55+ community while Watersound Origins does not have any age restrictions. This will make a difference for buyers who might prefer to be surrounded by their peers and engage in activities geared toward their own age group.
Alternatively, anyone who is thinking about moving into a home with adult children or even grandchildren will want the flexibility of intergenerational living. This will have an impact on which community will better fit their needs.
Community Size
Those looking for a smaller community will do better at Watersound Origins, where there are plans for 1,100 single-family homes. At Latitude Margaritaville Watersound, however, developers expect to complete 3,500 homes. That's more than twice the size of Watersound Origins.
Home Prices
The market is always changing, so speaking with an agent for these communities is the best way to get an accurate price range when it's time for serious house-hunting. Generally speaking, however, buyers can expect more affordable prices at Latitude Margaritaville Watersound, where homes will sell starting in the $200s. Homes at Watersound Origins are priced between the $500s and $800s.
Home Models and Floor Plans
At Watersound Origins, multiple developers are coming together to design and build single-family homes that are customized for new construction buyers. Huff Homes and Romair Homes are the main builders. Huff Homes will offer a total of nine floor plans that range from 1,750 to 2,615 square feet with three or four bedrooms, two to three-and-a-half bathrooms, and attached two-car garages. Romair Homes offers five floor plans ranging from 2,278 to 2,948 square feet and have three or four bedrooms, three-and-a-half to four bathrooms, and attached two-car garages.
Latitude Margaritaville Watersound has four collections, all designed by Minto Communities. The Conch Cottages collection has four floor plans ranging from 1,204 to 1,466 square feet with two bedrooms, two bathrooms, and an attached two-car garage. The attached homes in the Caribbean collection range from 1,503 to 1,862 square feet and have two bedrooms, two bathrooms, and an attached two-car garage. Both the Island Collection and the Beach Collection feature single-family homes. These floor plans range from 1,684 to 2,568 square feet and offer two or three bedrooms, two to three-and-a-half bathrooms, and attached two or three-car garages.
Resort-Style Amenities
While both communities offer some of the same amenities like pools and fitness centers, there are a few stand-out features unique to each one. At Watersound Origins, for example, residents have access to a private beach and a beach club. There's also a six-hole golf course. At Latitude Margaritaville Watersound, residents enjoy amenities named after their favorite singer. There's the Last Mango Theater, the Barkaritaville Pet Spa, and The Hangar Workshop, where residents can work on their golf carts.
So Which One is Best?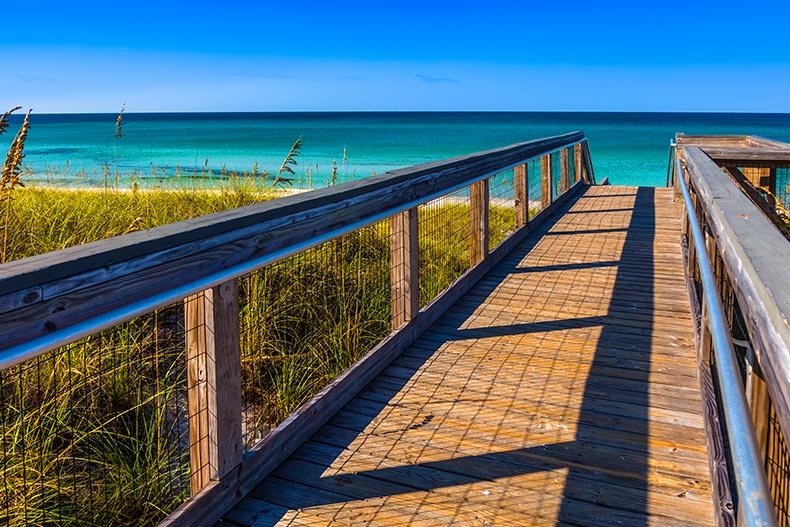 The answer is simple: it depends on the buyer!
Homebuyers looking to associate with the Jimmy Buffett-themed lifestyle of cheeseburgers in paradise and searches for lost shakers of salt may gravitate toward Latitude Margaritaville. Those who want a golf course and private beach access just steps from their front door may choose Watersound Origins.
There really is no wrong choice here.
Request more information about Latitude Margaritaville Watersound.