Considering settling down in the Golden State? You're not alone. California is one of the most coveted states to retire in—one that many active adults put on their shortlist of dream retirement locations.
The state boasts idyllic weather, a booming economy, and beautiful scenery, but it's not without its disadvantages. To help make the all-important decision of where to retire a bit more clear (and perhaps whittle down that list), here's our comprehensive guide to retiring in California.
Retiring in California Pros and Cons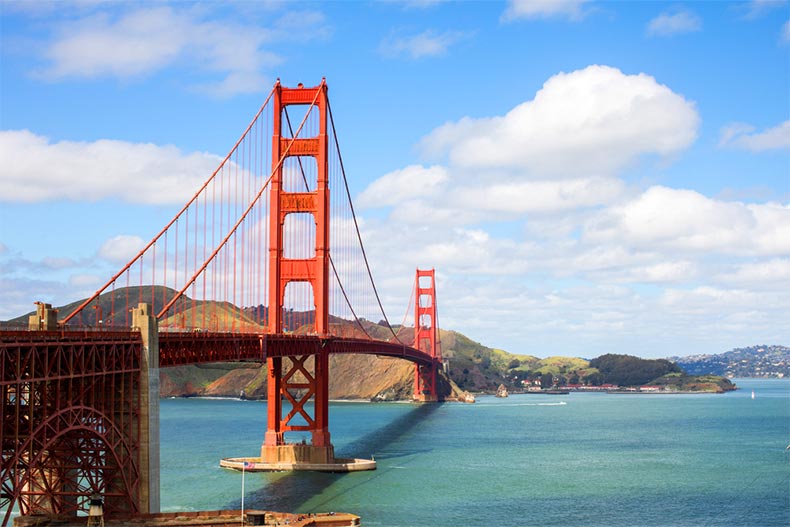 Pros
There are many compelling reasons to move to California, but some of the highlights of living in the Golden State are:
The warm, sunny weather.  Overall, the weather in California is mild and warm with an average of 284 glorious sunny days in Los Angeles. By contrast, the U.S. has 205 average sunny days. California's Mediterranean climate is one of its main attractions.
Top-notch attractions and entertainment.  With world-famous national parks, popular beaches, numerous renowned wine regions, theme parks, thriving tech hubs, destination ski resorts, and cities famous for food, shopping, and entertainment, there's always something to do and never a shortage of day trips to take in California. From Napa Valley to Lake Tahoe to Palm Springs, there are entertainment opportunities and activities galore in California.
All the natural beauty.  From the breathtaking waterfalls of Yosemite to the towering, majestic Sequoias of Calaveras Big Trees State Park, there's no shortage of natural wonder and beauty in California. In fact, this great state boasts a whopping nine National Parks and close to 300 State Parks. The sunsets in Southern California are some of the prettiest in the nation, and driving along the coast on highway 1 is as breathtaking a scene as one could imagine.
Cons
While some people may have their own drawbacks to living in California, these are the most popular grievances to living in the Golden State.
The high cost of living.  As most are well aware, the cost of living in most of California is high. Typically, high housing prices are seen in metropolitan areas where the job market is thriving (think the Bay area and Silicon Valley) or in posh beachside communities such as Carmel or Santa Monica. Luckily for retirees, being a distance from a thriving job market isn't a dealbreaker, and there are plenty of beautiful communities that are still affordable. But there's no way around it, California is one of the most expensive states to live in.
When looking at the average cost of living in California, one should keep in mind that homes generally list for a median price of around $568,000. By contrast, the average median value of a home in the U.S. is around $240,000. One can also expect to pay more for groceries, gas, transportation, and healthcare in California.
The high population density.  There are plenty of rural areas left in California, particularly in the Mideastern areas of the state and up north. But when you get near the metropolitan areas, the traffic and crowds are undeniable. California remains the most populous state in the country with a 2019 estimated population of 39.5 million people—about 12 percent of the U.S. population.
Los Angeles is infamous for its near-constant gridlocked traffic, and the Bay area housing crisis is proof of the constant influx of people looking to purchase a home in the thriving economic hub. There's a silver lining to all of those people, however, as California boasts one of the most diverse populations in the country. With residents from around the world, there's a dizzying array of cultures and diverse cuisines to explore and enjoy.
Extreme weather in certain areas.  While California's climate varies drastically due to the large and diverse landscape throughout the state, it's safe to say that it's generally mild, compared to the freezing cold, heavy rains, and sweltering humid heat of other states. The Mediterranean climate is the state's biggest draws, and people compare it to mild-weather European countries like Italy. Most of California enjoys hot, dry summers and mild winters, but more extreme weather can be found in the upper and lower eastern areas of the state.
In the arid desert areas of mid and lower-east California, temperatures can spike up well past 100°F. Death Valley is on record as the hottest location in the world, with a record-breaking temperature of 134°F. Up north in the Sierra Nevada Mountains, winter lows drop to around 15°F, with plenty of snow. Luckily, most of the coastal and metropolitan areas of the state are mild. On the coast, the average daily high temperature is around 70°F with coastal fog that usually burns off by midday, while inland usually runs a high of 91°F in the summer.
California Taxes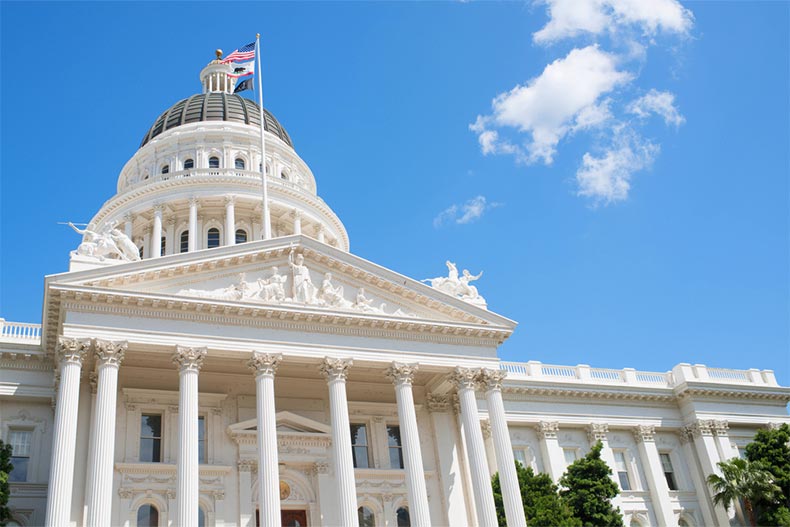 California Property Taxes
Compared to the national average property tax rate of 1.08 percent, California's standard property tax rate is at 0.73 percent. That's great news for active adults worried about California's cost of living. That lower property tax rate helps offset the higher-than-average cost of living. To calculate the exact amount of property tax you would be expected to pay requires your property's assessed value multiplied by the current property tax rate based on your property's address.
California Retirement Income Taxes
The income tax rate in California ranges from one to 13.3 percent, depending on which tax bracket you're in. The retirement income tax rate remains the same, but California does exempt Social Security retirement benefits from taxation. However, California is one of the states that, unfortunately, taxes pensions.
California Tax Exemptions for Seniors
California offers a number of property tax exemptions for seniors, including proposition 60 and 90, which allow homeowners aged 55+ to move into a new home without significantly increasing their property taxes. Disabled veterans living or moving to California enjoy a significant tax exemption, starting at $100,000.
Also, homeowners in California voted to approve Proposition 19 on November 3, 2020. This new law means those over 55 can move residences up to three times in their lifetime, all while keeping their current property tax rate. However, their children may not be able to keep that low tax rate.
California Health Care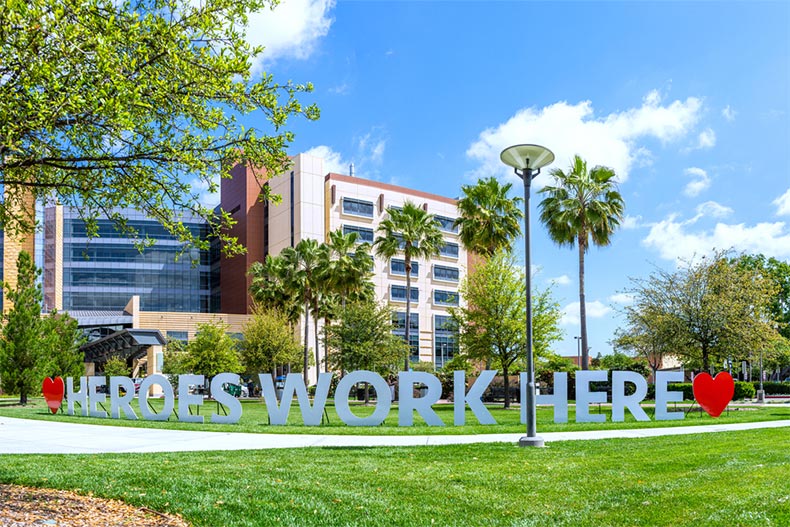 There are a variety of affordable healthcare options to choose from in California, with the most popular health insurance companies being Anthem Blue Cross, Kaiser Permanente, Blue Shield, Health Net, and SHARP. Low-income seniors can also qualify for Medi-Cal, California's version of Medicaid. According to U.S. News and World Report, some of the best hospitals in the state include UCLA Medical Center, Cedars-Sinai Medical Center, UCSF Medical Center, Standford Hospital, and Keck Medical Center of USC.
Where to Live In California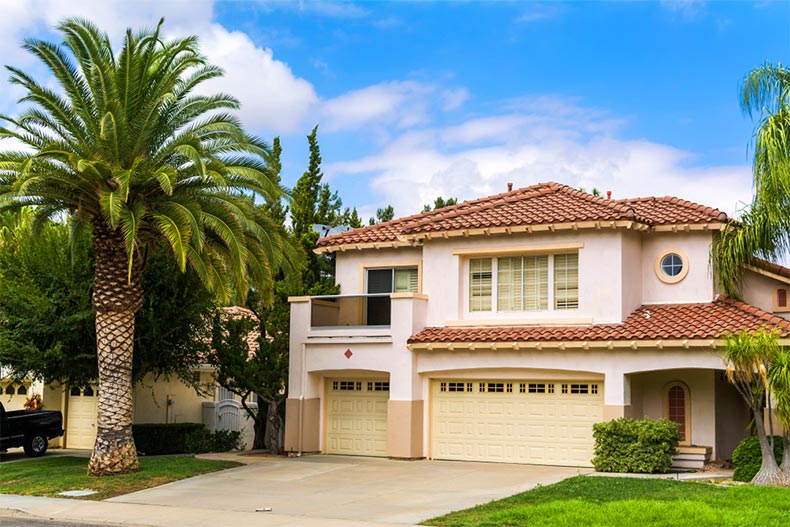 California is a large state and different areas of the state vary drastically, from climate and geography to demographics, cost of living, and political leanings. We've broken down the three major areas of California (North, Central, and South) into their popular major metro areas.
Northern California enjoys cooler weather than Central or Southern California, with more rainfall and even some snow in higher elevations like the Redding/Tahoe area. The area generally leans more liberal than lower areas, and it has a thriving economy thanks to tech hubs like Silicon Valley. Enthusiastic sports fans are loyal to their Northern California Bay area teams, which include the San Francisco Forty-Niners, the Oakland Raiders, the Golden State Warriors, the Oakland A's, and the San Francisco Giants.
Check out the four major Northern California metro areas below:
The Bay area boasts a thriving economy (based on tech jobs in Silicon Valley and San Francisco), a rich and diverse population, moderate weather, and some of the world's most notable dining and entertainment venues. Along with all those attractions, this area has some of the highest home prices in the state, but many retirees choose to pay the higher prices in order to be near all the shopping, museums, theatre venues, and more.
Take a look at the 55+ communities in the Bay area.
The Sacramento area is rich in history, farmland, warm weather, and a nice mixture of urban and rural cities. The state capital boasts plenty to do, from museums and fine dining to parks and shopping to fishing and hiking in nearby Folsom Lake. Nearby cities such as Rocklin, Elk Grove, and Lincoln offer upscale active adult communities with plenty of open space.
Take a look at the 55+ communities in the Sacramento area.
The area in and near Stockton and Modesto offers more affordability than the Bay area as it's farther from job centers and the coast; not a problem for retirees looking to enjoy California's sunny weather. This area sits directly east of the Bay area and enjoys a beautiful year-round climate with surrounding farmland and a laid-back lifestyle.
Take a look at the 55+ communities in the Stockton/Modesto area.
Active adults looking to settle down in one of the most picturesque areas of Northern California should consider Redding, where they'll be surrounded by lush redwood forests and lots of natural beauty. Nearby Lake Tahoe boasts some of the world's best ski resorts as well as hiking, fishing, and lake activities in the summer. Residents of this area enjoy true seasonal weather shifts; summers are hot, and winters are cold.
Take a look at the 55+ communities in the Redding area.
Central California is a mixed bag of climates and demographics. Near the coast, home prices are higher, the weather is cooler, and the cost of living is more expensive. As you move east, home prices fall dramatically, and the geography and weather change considerably.
The central coast of California boasts some of the most beautiful coastline in the country, with sunny weather, a laid-back beach lifestyle, and fewer crowds than Northern and Southern California beach cities.
Take a look at the 55+ communities in the Central Coast area.
Active adults looking for wide open spaces, affordable homes, warm weather, and a slower pace of life should consider the Bakersfield area, where there are a number of wonderful 55+ communities to choose from.
Take a look at the 55+ communities in the Bakersfield area.
Southern California is world-famous for its gorgeous beaches, sunny weather, exciting cities, and luxurious neighborhoods. It's a popular place to live for a number of people, from those looking to find fame and fortune to boomers looking to settle down in one of the most desirable climates in the world. The area is rife with entertainment, activities, and shopping and dining venues.
Take a closer look at the major metro areas in Southern California below:
The Palm Springs area of California is a haven for active adults. This desert oasis boasts numerous 55+ communities with affordable homes and resort-like amenities. The Palm Springs area offers year-round warm weather, world-renowned golf courses, outdoor recreation such as hiking and biking, numerous shopping centers, and world-class restaurants.
Take a look at the 55+ communities in the Palm Springs area.
The Inland Empire of Southern California is extremely popular with retirees, for good reason. It's much more affordable than beachside regions, but it's still close enough to the ocean for day trips to the beach. The Inland Empire area is located between Orange County and Palm Springs, so it's a short drive away from popular cities such as San Diego, Palm Springs, and Los Angeles. The weather is sunny and warm but not as hot as nearby desert areas.
Take a look at the 55+ communities in the Inland Empire Area.
Known for its upscale homes and stunning ocean surroundings, Orange County is perfect for active adults who enjoy elegant surroundings and idyllic weather. This area tends to lean conservative, but some beach towns in the area are more eclectic and liberal (such as Huntington Beach). Orange County offers stunning beachside 55+ communities that are selling homes perfect for enjoying an active, sun-drenched lifestyle.
Take a look at the 55+ communities in the Orange County area.
At the Southernmost tip of California, the San Diego area is rich with history and diversity. San Diego is a beautiful city with vast offerings when it comes to dining, entertainment, shopping, and cultural attractions. The weather in this area is highly desirable, with year-round sunny and temperate days. There are miles of beaches to stroll along, and fun day trips to Mexico are only a short drive away.
Take a look at the 55+ communities in the San Diego area.
If you're looking to settle down near the beach, but you still want a faster pace of life, the Los Angeles area may be for you. Enjoy sunny weather, proximity to the beach, and the exciting urban offerings of "The City of Angels" in the 55+ communities in the Los Angeles area.