For decades now, Americans living in colder climates have been heading south in search of warmer weather in the winter. The practice actually started early in the 20th century, but at that point, it was largely reserved for the wealthy, including Henry Ford and Thomas Edison. Years later, the term snowbirds shifted as the American middle class grew and more and more retirees and older Americans made the yearly trek south.
Besides a larger, wealthier middle class, the emergence of 55+ communities made it easier for Americans to snowbird. That started with Sun City near Phoenix in the 1960s and continues today. The country is now home to thousands of age-restricted communities.
These communities make it easier to snowbird because of the amenities, lifestyle, and homes they offer. Many 55+ communities are maintenance-free or low-maintenance, meaning homeowners can largely ignore outdoor upkeep like lawn mowing and hedge trimming. That allows residents to embrace the lock-and-leave lifestyle that lets them travel the globe or head south for a few months without worrying about their home.
55+ communities also come with amenities, the most traditional being a clubhouse, a fitness center, and a pool, but many also boast golf courses, pickleball complexes, stained-glass studios, and more. This allows snowbirds a greater variety of where to live and how to spend their newfound extended summer.
Despite that, the 55+ community lifestyle might be the most important aspect. Snowbirds are often leaving family and long-time friends for extended periods, putting them in some danger of isolation. 55+ communities reduce that danger drastically by creating a built-in social network of neighbors, friends, and hobbyists eager to meet new people.
Knowing that, we wanted to look around the country to find the best communities for snowbirds. To find our list, we used data compiled for our Most Affordable Places to Snowbird list, then gave points to communities based on median home price, sales, smaller floor plans, and how amenable each community is to snowbirds.
Here are the 25 most affordable communities for snowbirds this winter.
Below $100k – High $800s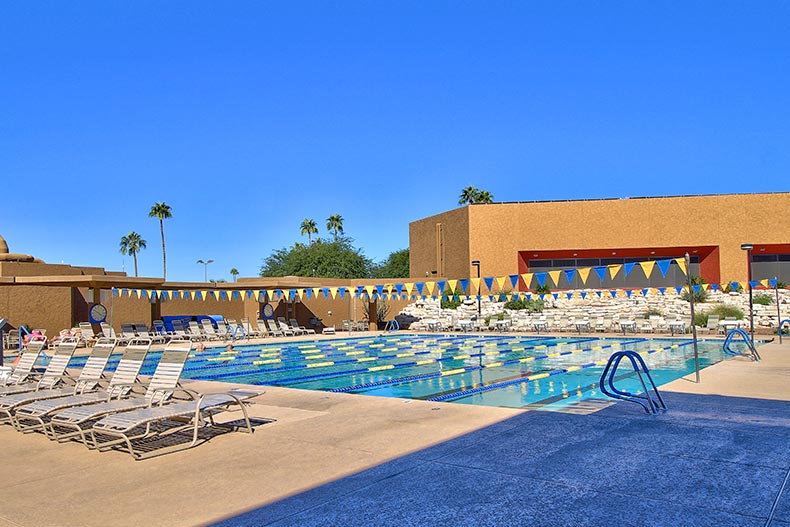 Where better to start than at the original age-restricted community? The brainchild of Del E. Webb, Sun City opened its doors in suburban Phoenix on January 1, 1960, a day that saw 90,000 people visit the new community.
Sun City set the standard for what we know to be 55+ communities now. And despite opening 60 years ago, the community has evolved to meet the needs of every retiree and snowbird since. That includes modernizing fitness centers, building pickleball courts, and providing easy access to health care.
Sun City is home to a large population of snowbirds (and for good reason). The community has a variety of home styles, many of which are great for downsizing and living a low-maintenance lifestyle. The community essentially acts as more of a town than a city, providing access to a dozen golf courses, several bowling alleys, and shopping centers. Plus, due to Sun City's popularity, there's always a chance for snowbirds to rent out their home when they're away.
Request more information about Sun City.
Below $100k – Low $300s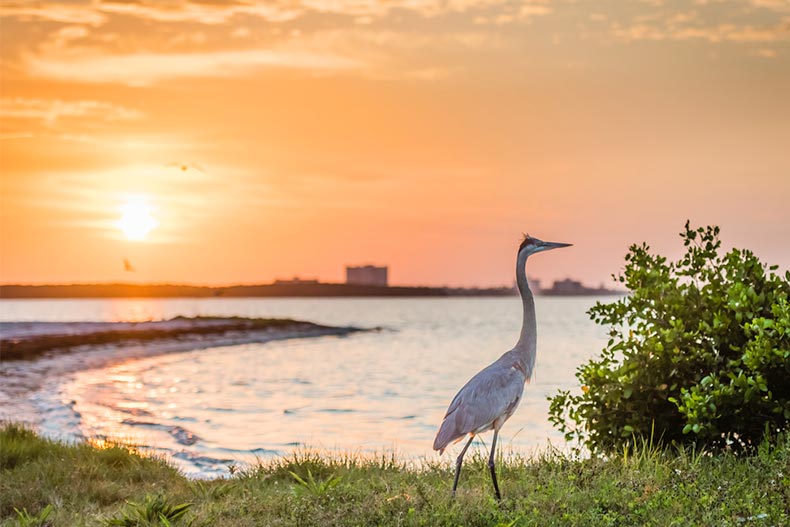 Kings Point is another 55+ community with roots that go back several decades but has evolved to fill the needs of today's snowbirds. While not necessarily the same, Kings Point shares similarities with its sister community Sun City Center.
Both are large enough to act more as towns that traditional communities, both use golf carts as their primary mode of transportation, and both have multiple expansive amenity complexes. Some of the amenities in Kings Point include cafes, resort-style pools, spas, and even tram service. The community also has dozens of home styles and floor plans, including duplexes, paired villas, and single-family homes.
Besides amenities and homes that are great for snowbirds, the community's size lends itself to a long list of social opportunities, including events, clubs, outings, games, and sports leagues. Plus, the community is part of the Tampa metro area, so a day exploring the city or relaxing on Clearwater Beach is always an option.
Request more information about Kings Point.
Mid $100s – Mid $1Ms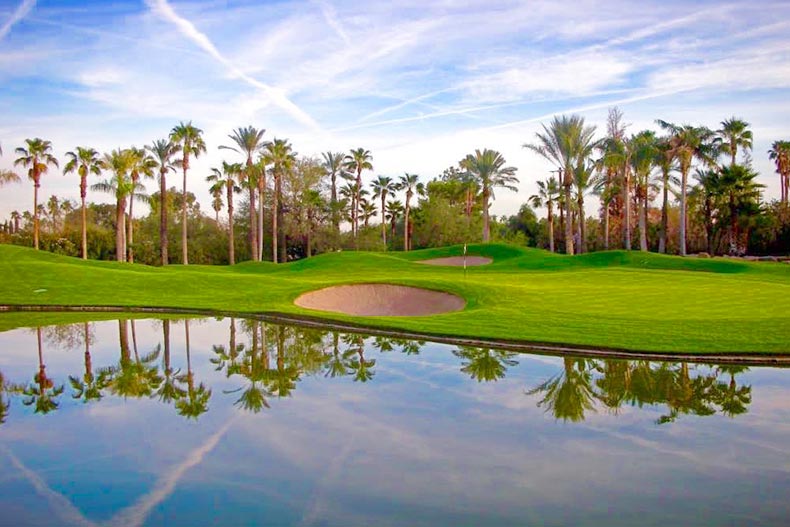 Many probably don't think of Southern California (or more specifically Orange County) as affordable places to snowbird, but Laguna Woods Village makes it possible. The community is another age-restricted neighborhood that boasts the amenities of a city.
With over 12,000 homes, Laguna Woods Village has the amenities to match, including six clubhouses, a community center, and outdoor amenities that range from a nine-hole golf course to equestrian facilities. With a large price range that includes homes in the $100s, there's a floor plan for every buyer, including condos, attached, and single-family homes.
There's also hundreds of clubs and groups snowbirds can join to meet like-minded people, including an American Legion post, a barbershop quartet, Kiwanis, a yacht club, and virtually anything else residents want to create. On top of everything inside the community, snowbirds here get to live in one of the most desirable locales in the country, so they're always near shopping, beaches, and Los Angeles.
Request more information about Laguna Woods Village.
Below $100k – Mid $300s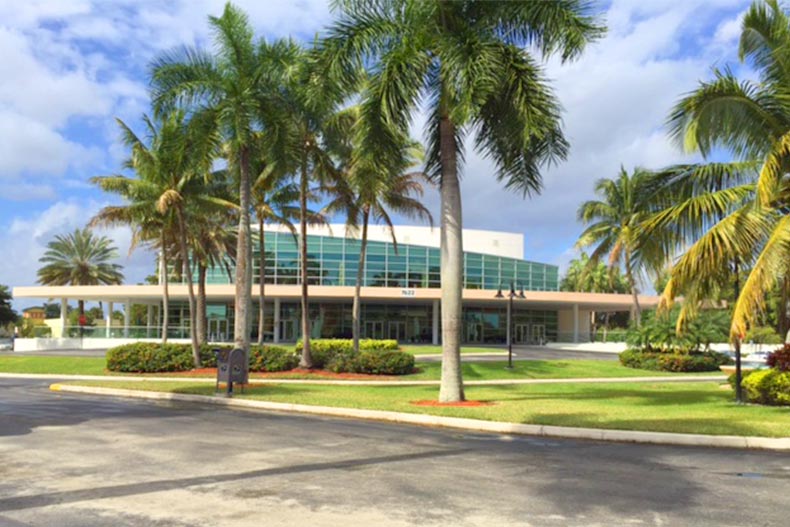 The Atlantic Coast version of Kings Point also makes our top five. Kings Point in Tamarac is located in popular Broward County just next to the eastern edge of the Everglades.
The community only has condos and attached homes, so all of the 4,869 homes are great for snowbirds who need low-maintenance homes and small spaces to maintain. Amenities span two clubhouses, a fitness center, 12 satellite pools, and community transit.
The community's location provides easy access to beaches, entertainment, and popular cities like Boca Raton, Fort Lauderdale, Boynton Beach, and Palm Beach, Plus, homeowners enjoy Florida's low taxes, including no income tax and low property taxes.
Request more information about Kings Point in Tamarac.
Below $100k – Low $200s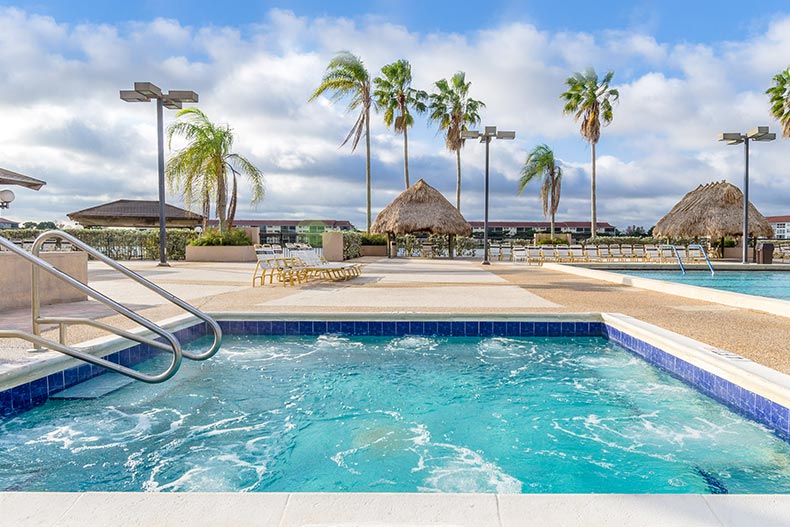 Next up, we're staying in Southeast Florida with Century Village at Pembroke Pines at No. 5. Pembroke Pines came in at No. 7 on our Most Affordable Places to Snowbird list, so it's fitting its largest 55+ community makes this list.
Century Village at Pembroke Pines is a large condo community with 7,700 units throughout. While the homes are older, many of them have been renovated with modern appliances and finishes. Being a condo community makes it ideal for snowbirds who are willing to cut down on size in exchange for warmer weather. There's plenty to do outdoors in the community too, with a 135,000-square-foot clubhouse, a health club, over 25 pools, an 18-hole golf course, and dozens of hobby rooms.
Homes in Century Village at Pembroke Pines are very affordable, with only the most expensive going in the high $200s, while many are sold for below $100k. Those prices, ideal home styles, resort-style amenities, and a great location, make Century Village at Pembroke Pines a great option for snowbirds.
Request more information about Century Village at Pembroke Pines.
Below $100k – High $200s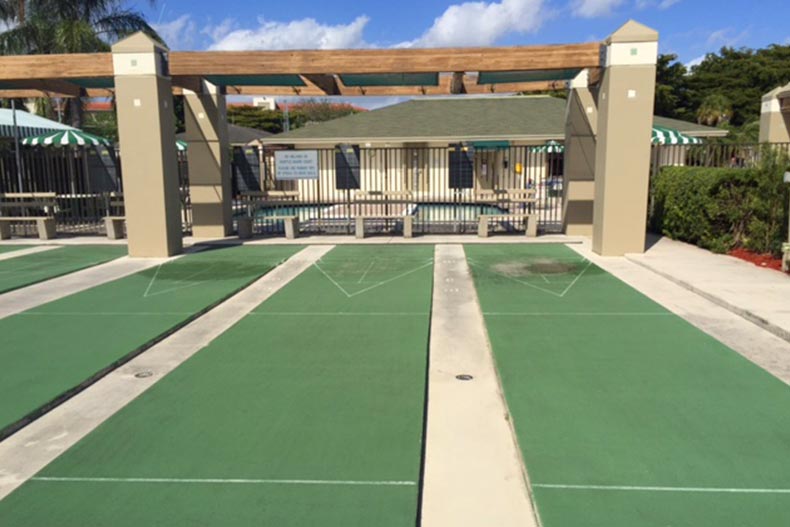 Being a condo community, Wynmoor Village checks a lot of the same boxes as Century Village at Pembroke Pines. Also in Southeast Florida, the community is just a few miles north in Coconut Creek.
Wynmoor Village has over 5,000 condo homes offering 550 to 1,250 square feet, so they're all great options for snowbirds looking to cut down on space and costs in their second home. Homeowners get access to a wide range of amenities, including the 50,000-square-foot clubhouse with several hobby rooms, 20 outdoor pools, lighted tennis courts, and walking trails.
The community is also home to Wynmoor Golf Club, where residents can pay for a daily fee or seasonal membership. Coconut Creek is just west of Pompano Creek, so a day near the ocean is always an option.
Request more information about Wynmoor Village.
Mid $200s – High $500s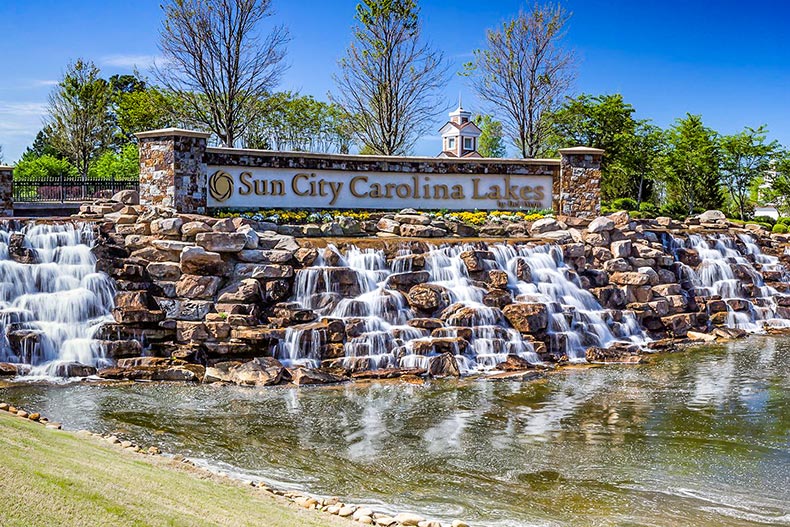 Our first community in the Carolinas is Sun City Carolina Lakes, a Charlotte-area community that gives homeowners the benefits of South Carolina taxes. Sun City at Carolina Lakes is also just minutes from abundant shopping opportunities in Fort Mill.
Sun City at Carolina Lakes is the second largest 55+ community in the state, and it comes with the amenities to match. They include two clubhouses (the 55,000-square-foot Lake House and 13,000-square-foot Lodge), resort-style pools, a restaurant, hobby rooms, and more. Outdoors, residents enjoy an 18-hole golf course, sports courts, and a fishing lake.
Request more information about Sun City Carolina Lakes.
Mid $100s – High $1Ms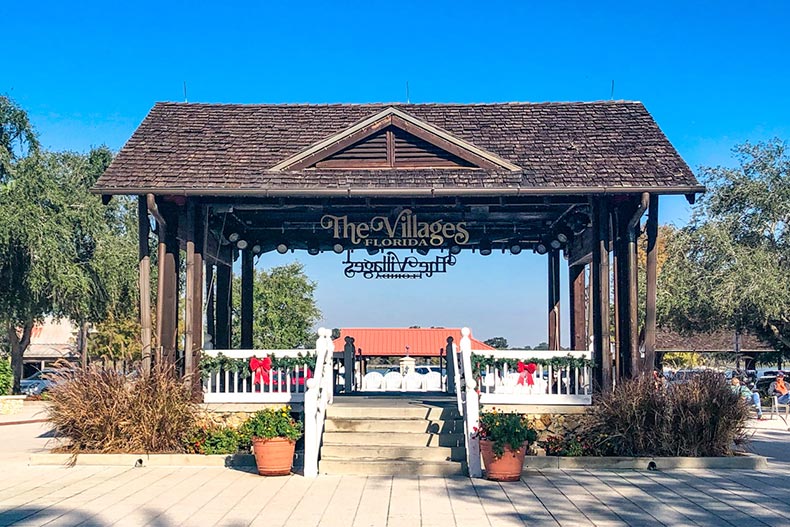 Naturally, the country's largest 55+ community is also one of the best for snowbirds. The Villages spans several counties, zip codes, and neighborhoods. There are plans for 70,000 homes currently, but The Villages continues to grow so there's no telling when it will stop.
Due to the community's size, there's effectively a group, club, class, or event for anyone. A few examples include jazz 'n' tap, karaoke, big band, theater, cards, and volleyball, but there are dozens of other options. Throughout The Villages, there are over 200 retail shops, over 80 outdoor pools, over 50 golf courses, and over 200 pickleball courts.
For the snowbird that's looking to stay as active as possible, The Villages is perhaps the best community for easy access to outdoor recreation and amenities. If residents do what to get out of town, both Florida coasts are just a drive away.
Request more information about The Villages.
Mid $100s – High $500s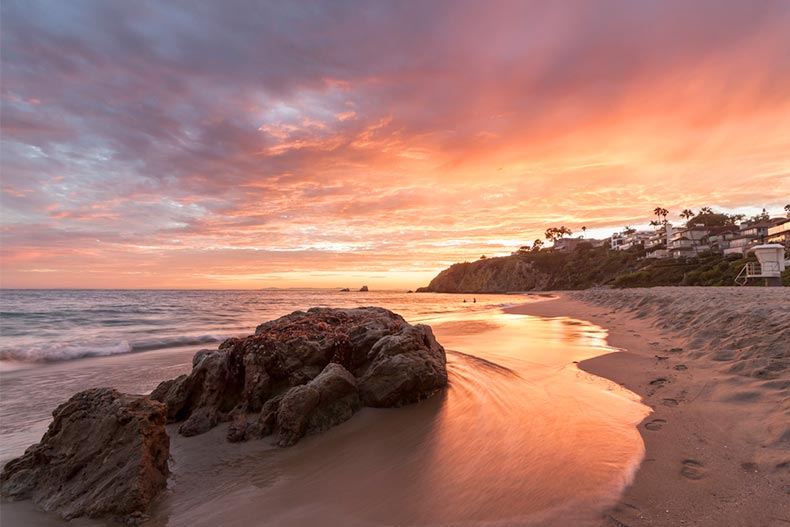 Back in Orange County, Leisure World Seal Beach is our second community to buck the trend of an expensive Southern California. The community is ideally located just off the beach and next to Interstates 405 and 605.
Leisure World Seal Beach has 6,608 condos and attached homes that offer ideal floor plans for snowbirds. Amenities are spread across six clubhouses and several outdoor spaces. Some of the more unique options are a health care center, a post office, a credit union, and an outdoor amphitheater.
Despite all there is to do inside the community, there will be times when you need to leave. Fortunately, it's ideal location gives snowbirds easy access to nearby Los Angeles, the beach, and all of Southern California's natural beauty.
Request more information about Leisure World Seal Beach.
Below $100k – Mid $200s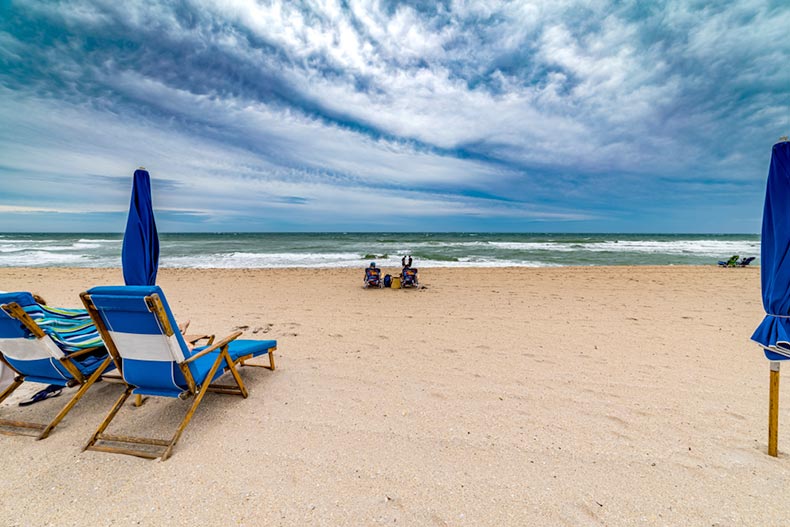 To round off our top 10, we head back to Southeast Florida with Lakes of Delray. Another condo community, Lakes of Delray has 1,400 homes, with many of them selling for below $100k.
Snowbirds here enjoy a large clubhouse with hobby rooms, an outdoor pool, sports courts, and walking trails. There are also two other pools throughout the community. Making new friends is easy here too, with dozens of clubs on offer, including book club, ceramics, fishing club, and painting class.
Delray Beach is a great location for snowbirds due to Florida's low tax impact, warm weather, and the community's location near the beach and the rest of the region's fun. It's the city with the most communities to make the list, with seven in total.
Request more information about Lakes of Delray.