Los Angeles is an alluring and vibrant city, home to a whopping four million residents and host to thousands of sun-seeking vacationers every year. With so many attractions and near-perfect weather, it's no wonder LA is such an in-demand destination. But what is it like for active adults living in LA?
Unsurprisingly, the "City Of Angels" is a wonderful spot for retirees looking for excitement, outdoor recreation, and plenty of sun. Here's a comprehensive breakdown of what to expect if you're considering moving to LA.
Retiring in LA: Pros and Cons
PROS
Lots to do: There's never a dull moment in LA. With hundreds of award-winning restaurants, dozens of shopping malls, boutiques, theaters, bars, outdoor farmer's markets, professional sporting games, hiking trails, and nearby beaches, there's always something to see or do in Los Angeles.
Warm weather: Nearly year-round, sunny weather is a big reason retirees flock to LA. Rarely getting colder than 48 degrees in the winter or warmer than 93 degrees in the summer, the weather in Los Angeles is some of the most enviable in the country.
Outdoor recreation: With year-round sun comes plenty of outdoor recreation, so retirees can stay active outdoors. Hiking, swimming, biking, pickleball, tennis, and golf are all-year-round activities in LA.
Diversity: Los Angeles is a melting pot of different ethnicities, religions, cultures, and lifestyles—a place where people from all walks of life come to live their dream. Retirees can benefit from meeting new people and enjoying a diverse community made up of an exciting array of cuisine, music, and experiences.
CONS
Expensive: It's no secret that California housing prices are at an all-time high, and Los Angeles is no exception. According to the Los Angeles Almanac, the median home price in LA County in 2021 reached $848,970. But for active adults, there are some relatively affordable 55+ communities in LA that are priced well below that median home price.
Traffic: The traffic in LA is infamous, so much so that LA traffic is often depicted in movies and on television. It's just a way of life for "Angelinos", who learn to leave early or travel during non-peak hours.
Pollution: What invariably comes with heavy traffic and a large population is pollution, and LA has some of the worst ozone air pollution in the United States. For people who suffer from respiratory disease or inflammation, they may be better off living in areas with cleaner air.
Crime: Neighborhood Scout gives LA a "crime index" of 13, with 100 being safest and 0 being most dangerous. This score means LA is safer than just 13% of other US cities. It's best to keep in mind that LA is a huge city, and the majority of these crimes occur in the most dangerous, undesirable neighborhoods, while there are many other safe, low-crime neighborhoods to choose from.
Los Angeles Climate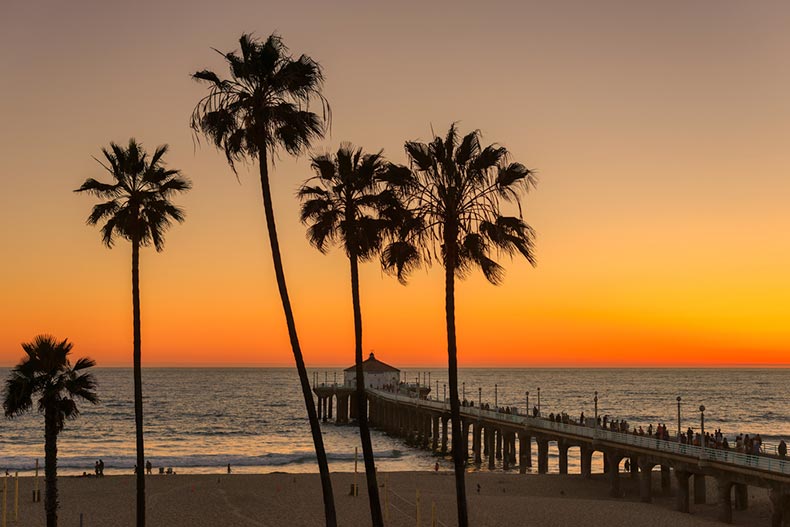 Los Angeles is famous for its year-round sunny days and warm, idyllic climate. The summers in LA are warm, clear, and arid with highs of 85 degrees and lows of 62 degrees. Winters are cool, wet, and typically partly cloudy. Winter highs can get around 69 degrees and even into the low 70s, while lows fall around 49 degrees.
Spring and fall weather in Los Angeles is considered by many as nearly perfect, with average highs hovering in the low 70s. Regardless of the season, residents of Los Angeles take advantage of great weather by biking, hiking, and walking outdoors. In fact, it's not unusual to see beachgoers walking around in bathing suits in the dead of winter.
Los Angeles residents rarely find a need for rainfall, as rainy days are a rare occurrence with only about 14 inches of yearly rain on average. When it does rain, it happens mostly during the months of December through March, while in the summer it almost never rains.
Los Angeles Taxes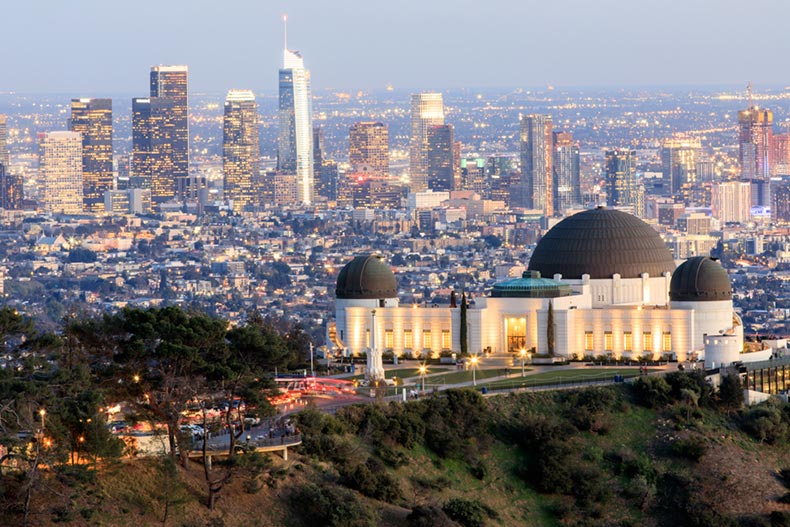 California's high tax reputation shouldn't deter active adults who have their sights set on retirement in Los Angeles. While it's true that LA sales taxes are high, the city actually boasts lower-than-average property tax rates and income tax rates.
While sales tax in CA is currently at 6%, the sales tax in Los Angeles County is 10.25%. This rate reflects a total of state, county and city sales tax rates. The Los Angeles County tax rate is currently 0.25%. Comparatively, the U.S. average sales tax rate is 7.3%.
Los Angeles Property Taxes
California has one of the lowest property tax rates in the country. The Golden State is rated No, 16 for lowest property tax rates at 0.77%.
However, property values are very high, thus homeowners still end up paying a substantial amount in property taxes. Property Taxes in Los Angeles differ by district but are approximately 1.25% of the assessed property value, paid in two installments every year. For new homeowners, the price of your home will be your assessed value.
Los Angeles Retirement Income Taxes
Retirement Income can be taxed in Los Angeles. Social Security isn't taxable in California, but all other forms of retirement income are taxable, at a rate of 9.3% in Los Angeles.
Los Angeles Tax Exemptions for Seniors
Proposition 19, also known as "The Home Protection Act for Seniors, Severely Disabled, Families, and Victims of Wildfire or Natural Disasters Act" was passed in California on November 3rd, 2020. Prop 19 can benefit active adults ages 55 and up who are looking to purchase a home in Los Angeles but are afraid of a higher property tax rate.
Prop 19 allows homeowners aged 55+ up to transfer their property tax assessments from their sold home to a newly purchased home anywhere in California, regardless of value. This is great news for retirees looking to move to LA in-state.
Health Care in LA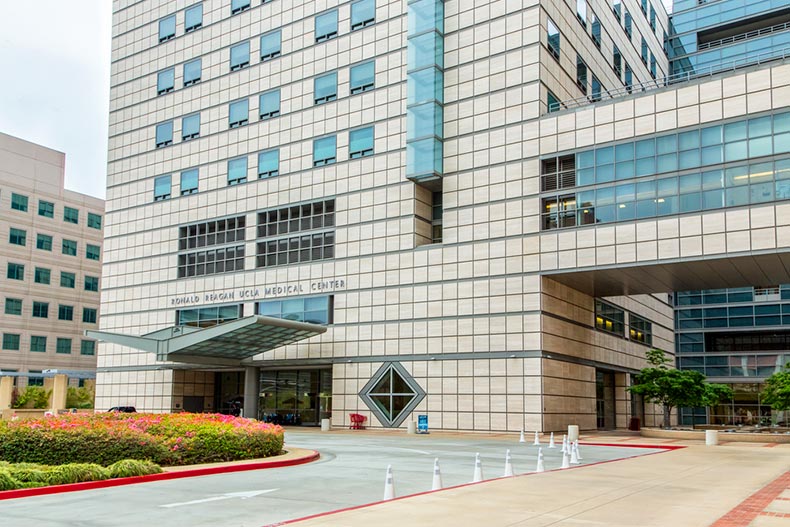 With a population of four million, Los Angeles boasts a staggering number of hospitals and health care centers. Los Angeles has a whopping 253 hospitals to choose from and is home to two of the nation's best. A 2022 edition of U.S. News & World Reports ranked UCLA Medical Center in the No. 3 spot and Cedars-Sinai Medical Center in the No. 6 spot of national best hospitals.
For excellent cancer treatment, both UCLA Medical Center and Cedars-Sinai have been nationally recognized for their cancer treatment, taking into account patient outcomes, nurse staffing, doctor specialists, funding, and more. Cedars-Sinai Medical Center is also the celebrity hospital of choice, treating famous patients such as Frank Sinatra, Lucille Ball, and Elizabeth Taylor.
For people who meet certain income guidelines, L.A. Care Health Plan is a public program that provides health care regardless of age, disability, or immigrant status. L.A. Care is free for those who qualify, with no copays or monthly premiums.
Where to Live in LA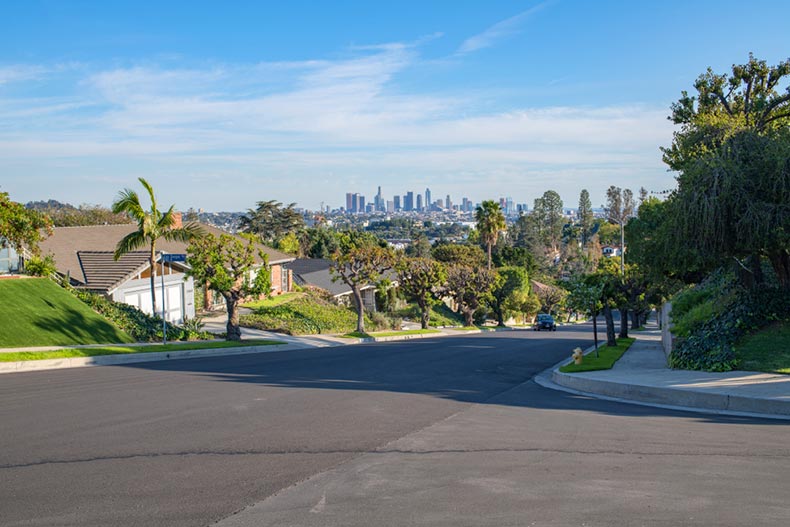 Downtown
If you want to be in the heart of all the action, there's no better place to live than Downtown Los Angeles. Here, a quick trip to grab morning coffee could easily lead to a brush encounter with a celebrity, and a delicious restaurant is only a short walk away.
Downtown Los Angels boasts many famous landmarks, such as Grand Central Market, the Bradbury Building, Globe Theatre, and hundreds of shopping boutiques and highly rated eateries.
Public transportation is plentiful, safe, and convenient in Downtown LA, with light rails, buses, and shuttles on nearly every corner, making it easy to get around all of greater Los Angeles without the need for a car.
There's always something to see or do in Downtown Los Angeles, from hearing a concert by the LA Philharmonic at the Walt Disney Concert Hall to joining a walking tour with the Los Angeles Conservatory Walking Tours. Grand Park is a 12-acre public space, and at the renowned "Last Bookstore," one could get lost for hours in the hundreds of shelves. The Downtown Arts District and nearby Chinatown offer even more exciting attractions.
If you're considering a move to Downtown LA, Teramachi Homes is a 55+ community nestled right downtown, with surprisingly affordable condos priced from the high $300s. With 127 homes, this mid-rise condo community offers a quaint feel and amenities such as a fitness center, a large pool, a catering kitchen, and a multipurpose room.
Torrance
Just 20 minutes from Downtown Los Angeles, the city of Torrance offers all the tranquility of the suburbs while being just a quick drive from the excitement of Downtown Los Angeles. Torrance is a desirable beachside city with a long, sandy stretch of coastline and plenty of greenspace.
Old Town Torrance is known for its charming, historic buildings and numerous restaurants. Big-name stores such as Walmart, Lowes, and Costco make everyday conveniences easily accessible, but this coastal suburb also offers wonderful attractions such as Hopkins Wilderness Park, Torrance Art Museum, and Del Amo Fashion Center.
There are five fantastic 55+ communities in Torrance to choose from, ranging from small, intimate communities with only 40 homes, to sprawling communities with over 500 homes.
New Horizons South Bay is a large, 600-condo-home community with home prices starting from the mid 400s. This well-established 55 and up community offers spacious one to three-bedroom condos and a large assortment of amenities, including a 10,000-square-foot clubhouse.
Village Court offers residents newer condo homes in an intimate setting of just 112 homes. Homeowners here enjoy access to a variety of amenities, including an outdoor pool and spa. The condos here range from 716 to 1,378 square feet and start in the mid 500s.
Offering value and intimacy, Pacific Village is a 55+ community comprised of just 61 condo-style homes, priced from the high 300s. Here, residents enjoy a low-maintenance lifestyle and a peaceful, friendly setting just minutes from Los Angeles.
Ready to Make the Move? 55places Can Help.
To discover more exciting 55+ communities in LA, we invite you to contact us at 800-928-2055 or visit 55places.com. Our experienced team of real estate experts will guide you through the top options in your area and help you make a seamless transition from your current home to a 55+ community. We look forward to helping you make your next move the best one yet!