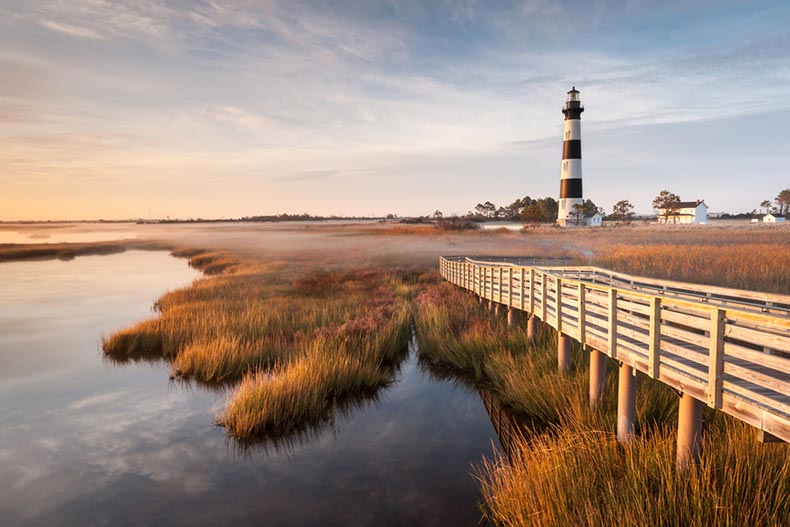 North Carolina is made up of a mixture of small Southern towns and major metro areas. It has hundreds of miles of scenic coastline to the east, just as many miles of mountain ranges to the west, and a number of busy cities in between.
Considering a move to the Tar Heel State? Here's everything you need to know, from taxes and climate to places to live and popular active adult communities to consider.
Retiring in North Carolina Pros and Cons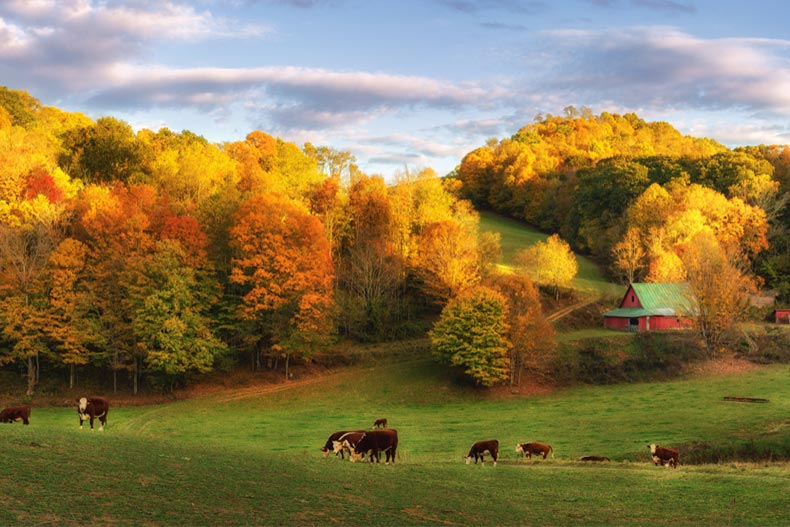 Pros
Affordability. North Carolina's property taxes and cost of living are lower than the national average. Plus, Social Security benefits are not taxed.
Location. Situated along the Atlantic Ocean, North Carolina offers plenty of coastline and sandy beaches to soak up the sun and enjoy cool ocean breezes. The state also has plenty of fresh mountain breezes with both the Blue Ridge and Smoky Mountains located in the western part of the state.
Outdoor recreation. From golfing and fishing to whitewater rafting and hiking along steep mountain trails, there's no shortage of outdoor activities to choose from.
Healthcare. North Carolina is home to several hospitals and healthcare facilities that have been nationally ranked as the best in the country.
Winter. While the higher altitudes of Western North Carolina can get quite cold, most of the state has relatively mild winters compared to the rest of the country.
Cons
Not as tax-friendly as other states. IRAs, pensions, and 401(k)s are taxed at a flat rate, and there are very few tax exemptions for seniors.
The heat and humidity. Summer temperatures can start as early as May, and late July and August frequently have temperatures between 90 and 100 degrees with intense humidity.
Hurricane season. Because of its location along the eastern seaboard, North Carolina is typically impacted by at least one hurricane a year. Coastal towns are often hit the hardest, but other areas like Central North Carolina can often feel the effects as well.
North Carolina Climate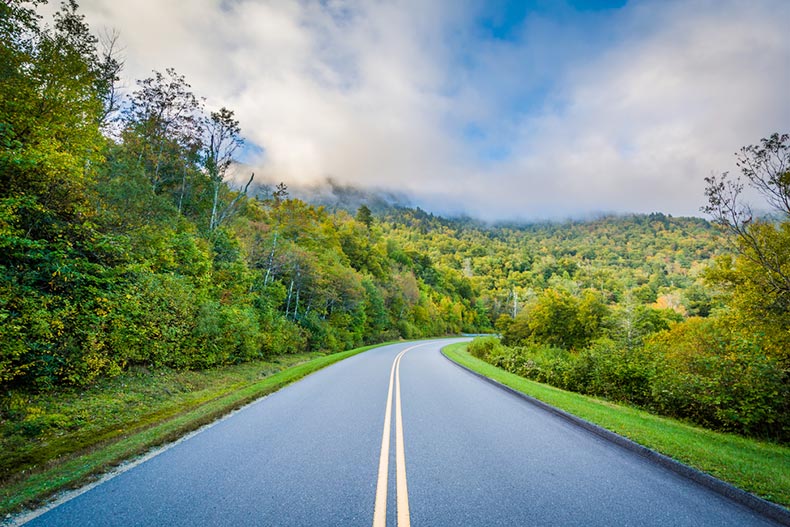 With the highest peak east of the Mississippi River on one side of the state and hundreds of miles of flat coastline on the other, North Carolina can see a wide range of climates. Temperatures can vary by 20 degrees on the same day, depending on the location.
For most of the state, winters are fairly mild without much precipitation. There are typically less than a handful of snow or ice storms each year along the shore or in the center of the state. And, even when there is a storm with precipitation, it doesn't stick around long. However, the higher peaks in Western North Carolina can see up to 50 inches of snow per year.
Summers tend to be hot and muggy along the Coastal Plain and Piedmont area with temps that often stay in the mid 90s. On the other hand, the towns along the mountains typically offer a welcome respite from the stifling heat and humidity with temperatures closer to 70 degrees.
Because of North Carolina's location along the eastern seaboard, hurricane season is a yearly problem. Storms often cause major damage along the coast with lots of flooding and dangerous winds—and the effects from major storms can often be felt statewide.
North Carolina Taxes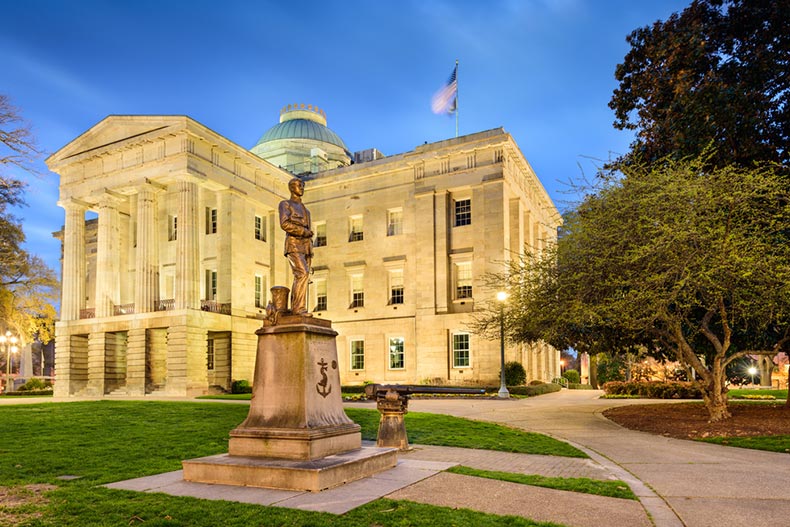 According to Sperling's Best Places, The Tar Heel State's cost of living is 9.4 percent below the national average. Although the state doesn't tax Social Security benefits, it does tax other forms of retirement income, including IRAs, 401(k)s, private pensions, and public pensions.
North Carolina Property Taxes
According to SmartAsset, North Carolina's 0.77 percent property tax is below the national average of 1.07 percent.
North Carolina Retirement Income Taxes
Social Security benefits are completely exempt from income taxes in North Carolina; however, IRAs, 401(k)s, private pensions, and public pensions are taxed at a flat rate of 5.25 percent.
North Carolina Tax Exemptions for Seniors
There are no estate or inheritance taxes, which can often impact seniors who are widows/widowers. Homeowners 65+ can qualify for property tax relief as long as their previous year's income does not exceed $31,500 annually. According to the Homestead Property Exclusion/Exemption, "The amount of the appraised value of the residence that may be excluded from taxation is the greater of twenty five thousand dollars ($25,000) or fifty percent (50%) of the appraised value of the residence."
North Carolina Health Care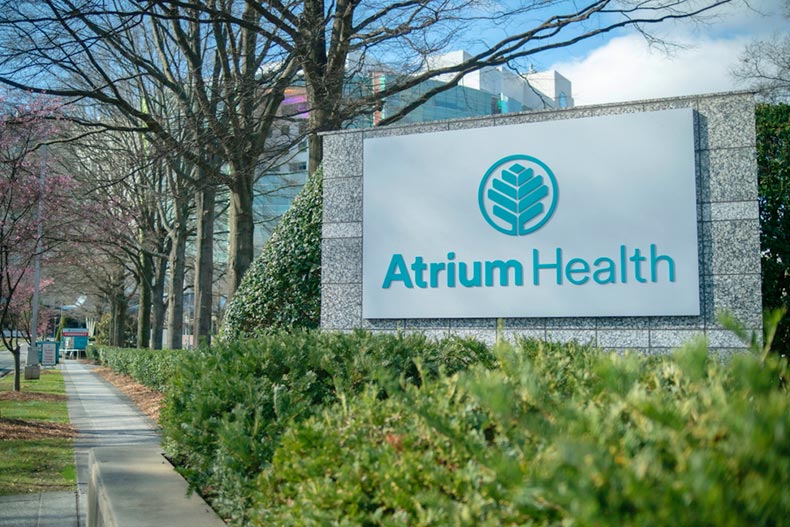 North Carolina residents have access to a wide variety of treatment options. (Image credited to Travel_with_me / Shutterstock.com)
The Tar Heel State is home to several renowned health care centers that have been nationally recognized as some of the best in the country. With so many facilities to choose from, residents have access to a wide variety of treatment options, the latest medical research and studies, and many types of care.
Some of the most well-known facilities in the state include Duke University Hospital, which is consistently named one of the best hospitals in the U.S., Chapel Hill's UNC Medical Center, Hillsborough's UNC Hospital, and Raleigh's WakeMed Hospital.
Where to Live in North Carolina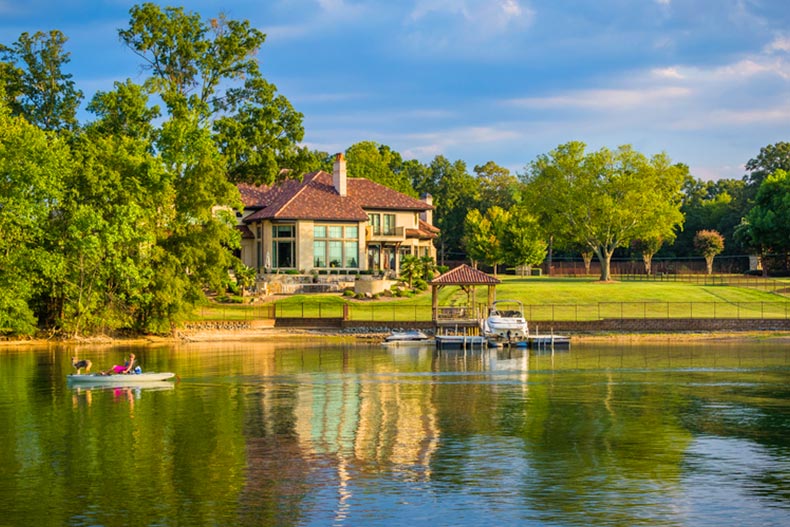 North Carolina has plenty of options.
Whether you want to retire in a seaside town along the coast, in a major city, or in a quaint mountain town full of charm, North Carolina has plenty of options.
Western North Carolina is known for its picturesque mountainscapes and countless outdoor activities. The eclectic city of Asheville is a popular retirement destination for active adults because of its bevy of art galleries and museums as well as its celebrated restaurants and craft breweries. The city is also within a short drive of many of the state's most beloved landmarks, including the Biltmore Estate, Grandfather Mountain, Linville Falls, and the Blue Ridge Parkway.
Active adult communities to consider in Asheville include Biltmore Lake, Beaverdam Run, and Pinebrook Farms. The smaller towns of Brevard and Hendersonville offer the same tranquil mountain scenery as Asheville, but without the everyday hustle that comes with living in a city. Active adult communities to consider in these charming towns include Brevard's Connestee Falls and Hendersonville's Cummings Cove.
Central North Carolina is home to the state's largest metro areas, including Charlotte, Raleigh, and Durham. As one of the country's fastest-growing cities, Charlotte has a lot to offer its residents including cultural amenities, entertainment options, healthcare facilities, an international airport, and vibrant dining and shopping scenes. The city is also located within a two- to three-hour drive from both the mountains and the coast, giving active adults who like to travel plenty of opportunities to explore the state without having to go too far.
There are several active adult communities located in the city's surrounding areas, including Cresswind Charlotte, The Vineyards on Lake Wylie, and Regency at Palisades.
The Research Triangle is another popular metro area in Central North Carolina that's made up of Raleigh, Durham, and Chapel Hill. The area is home to several major universities, healthcare facilities, an international airport, and downtown areas that feature a variety of performing arts theaters, art galleries, museums, and dining destinations.
Active adult communities in the area include Durham's Creekside at Bethpage, Fendol Farms, and Carolina Arbors as well as Auburn Village and The Village at Aversboro, which are both near Raleigh. Also in Chapel Hill, there's Encore at Briar Chapel, Chapelwood, and The Villas at Culp Arbor to consider.
North Carolina's coastal towns have always been desirable destinations for vacationers from all over the country, but they're also ideal for active adults who want to retire near the water. Not only does the coast boast some of the Southeast's most beautiful beaches, but it also has a rich history that dates back to America's earliest days and no shortage of outdoor activities or places to explore.
Popular communities in coastal North Carolina include St. James Plantation in Southport, Del Webb Wilmington in Wilmington, and Brunswick Forest in Leland.