Many retirees are drawn to North Carolina's capital city because it strikes the perfect balance between being a vibrant, fast-growing city, and maintaining the warm, welcoming feeling small Southern towns are famous for. Raleigh is well-rounded with a mixture of old and new; historic landmarks and museums are just steps away from trendy restaurants, shops, and breweries, giving residents the best of both worlds.
Along with its many cultural amenities, the city also has a number of prominent hospitals and health care facilities that are nationally ranked. If you're considering a move to the capital, here's everything you need to know about Raleigh:
Retiring in Raleigh: Pros and Cons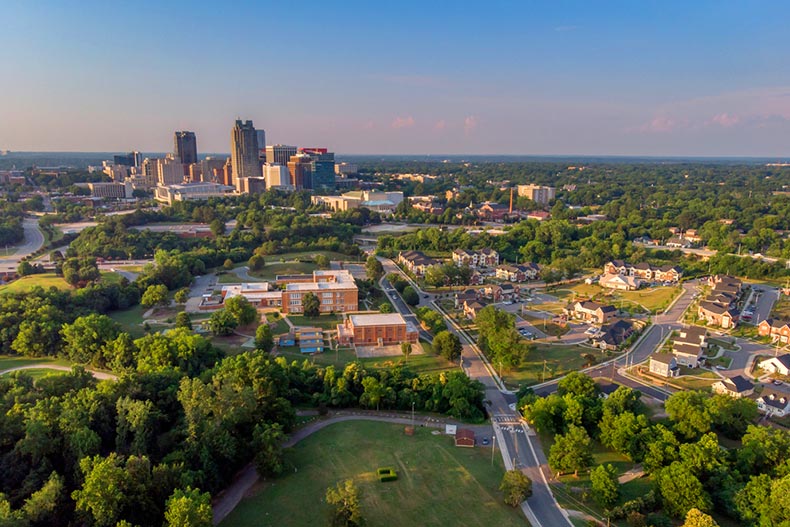 PROS
Top-notch health care: The Raleigh area is home to some of the leading hospitals in the country that are nationally ranked for a variety of specialties.
There's always something to do: Between Raleigh's impressive list of cultural amenities and more than 200 parks in the area, there's always something to do whether you prefer to be indoors or outdoors.
The weather: Often one of the biggest factors when it comes to retirees picking where they'd like to settle down is the weather, and Raleigh's moderate climate provides comfortable temperatures throughout the year with relatively mild winters.
CONS
High cost of living and housing: According to BestPlaces.net, Raleigh's cost of living is 2.3% higher than the national average. Additionally, the city's housing costs are 18.5% higher than the U.S. average with a median home price of $346,600 compared to the national median home cost of $291,700.
Heat and humidity: Like most cities in the southeast, summers in Raleigh can be hot and very humid.
Raleigh Climate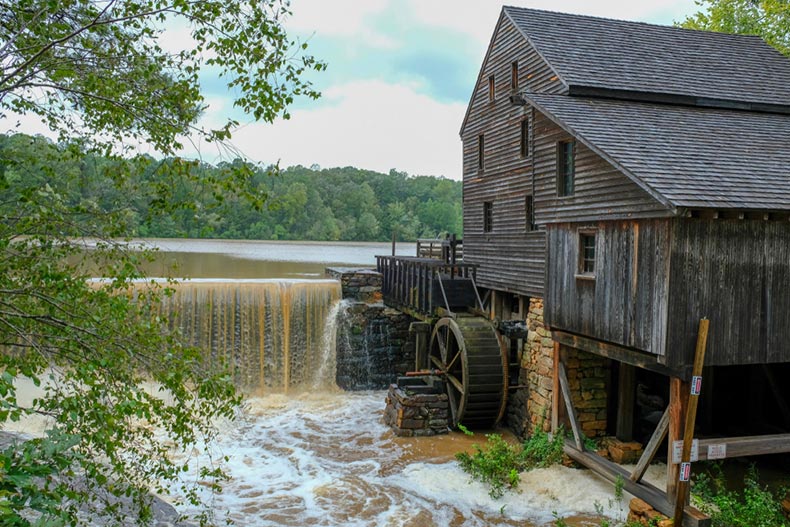 Located in the Piedmont Region of North Carolina, Raleigh has a moderate climate. Residents get to enjoy four full seasons with minimal threats of winter storms with an average of only 4.7 inches of annual snow.
Autumn in Raleigh consists mostly of balmy days with average temperatures in the 70s, while the city's winters average temps between the high-20s and mid-50s. Springs are pleasant—other than the amount of pollen—with temps ranging between the high 60s and high 80s. Summers are hot and humid with the average humidity ranging from 70% to 80% in July and August.
When the weather is nice, many residents opt to head outside to take advantage of the area's endless supply of outdoor recreation options that include more than 200 parks, seven nature preserves, and a greenway system that stretches over 180 miles.
Raleigh Taxes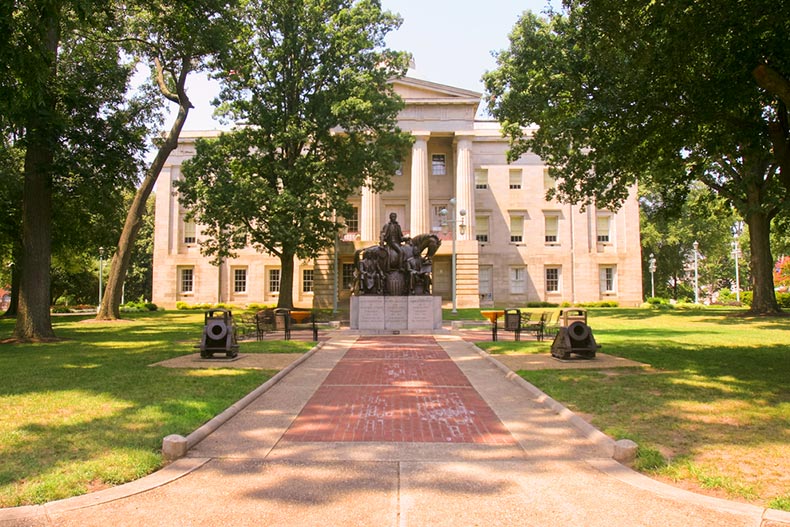 Although Raleigh's cost of living and housing prices are higher than the national average, the city's residents do have some advantages when it comes to taxes. Property taxes are lower than the national average, there's no estate tax, and qualifying retirees 65+ can benefit from a low-income homestead exclusion.
Raleigh Property Taxes
According to SmartAsset.com, the state of North Carolina and Raleigh's property taxes are both lower than the national average of 1.07%. North Carolina's property taxes are currently 0.77% and Raleigh's are slightly higher sitting at 0.88%.
Raleigh Retirement Income Taxes
Social Security retirement benefits are tax exempt in North Carolina, but other forms of retirement income including pensions, 401(k)s, and IRAs are taxed at a flat rate of 5.25%.
Raleigh Tax Exemptions for Seniors
Active adults who are 65+ and have an income of less than $31,500 can qualify for the North Carolina low-income homestead exclusion, which can deduct either $25,000 or 50% of taxable value on their property (whichever is the greater deduction).
Raleigh Health Care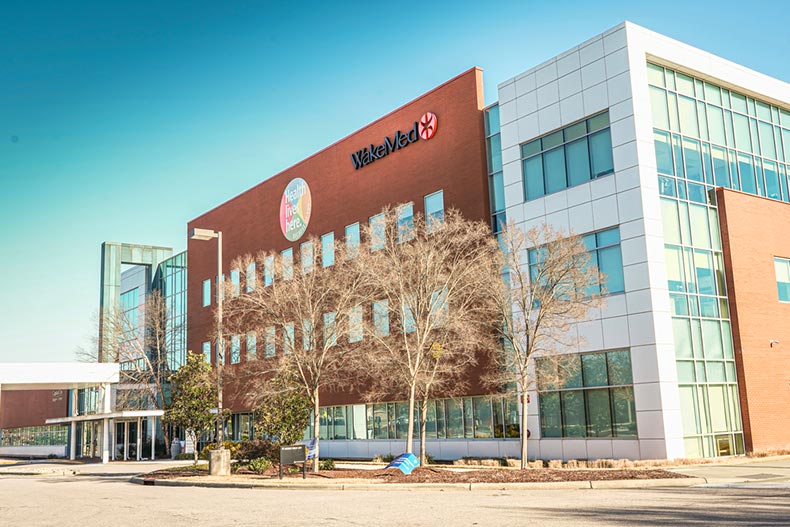 Between Duke University Hospital, UNC Medical Centers, and WakeMed Hospital, Raleigh has some of the leading hospitals in the country right around the corner, providing residents with easy access to world-class health care.
Duke University Hospital is widely known as one of the best hospitals in the country and is consistently ranked nationally for its patient care and medical research. U.S. News and World Report recently ranked Duke University Hospital as one of the top hospitals in the country for 11 different adult specialties, ranging from cancer and cardiology to orthopedics and neurology.
UNC Medical Centers have also been nationally ranked for different specialities including, gynecology, ear, nose, and throat care, as well as nephrology.
WakeMed is another award-winning hospital in the Raleigh area that's well-known and nationally ranked as one of the top rehabilitation hospitals in the country.
Where to Live in Raleigh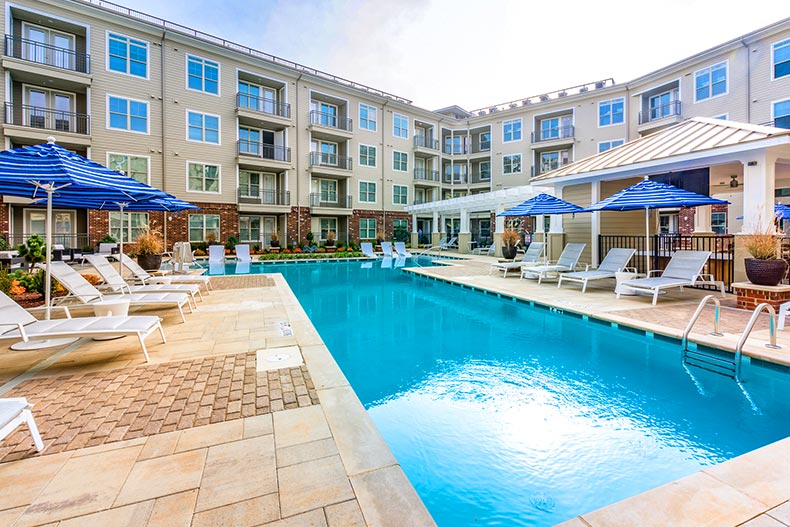 As part of North Carolina's renowned Research Triangle Region—which is the largest research park in the U.S.—Raleigh is a hub for both the science and technology industries with companies like IBM calling the city home. It's a steadily growing city with a high quality of life where residents can take in the city's rich past at one of the many historic landmarks or museums, then enjoy a cold brew at a craft brewery that's right around the corner.
Nicknamed the "Smithsonian of the South", Raleigh boasts an impressive list of museums including The City of Raleigh Museum, the North Carolina Museum of History, the North Carolina Museum of Natural Sciences, the North Carolina Museum of Art and the Contemporary Art Museum.
For those who prefer the performing arts, there's the North Carolina Opera or North Carolina Symphony and Carolina Ballet; and sports fans have plenty of teams to cheer on between the area's local college teams and professional sports teams like the NHL's Carolina Hurricanes. Getting outdoors and staying active is a breeze in Raleigh with more than 200 parks and over 180 miles of greenway to explore.
Considering moving to Raleigh? The city is home to three active adult communities:
Low $500s – Mid $700s
Regency at Briar Creek boasts 123 single-family homes with prices ranging between the low $500s and the mid $700s. Homes are single-level, ranch-style homes with floor plans that range from 1,825 to 3,680 square feet. Plans offer between two to five bedrooms, two to three-and-a-half bathrooms, and oversized two- to three-car garages.
Amenities within the community include access to the Brier Creek Country Club and its 18-hole golf course, six tennis courts, outdoor pool and patio, plus walking and biking trails.
Request more information about Regency at Briar Creek.
Rent Starting at $1,875
Located 15 minutes from downtown, Overture Crabtree is ideal for active adults moving to Raleigh who want to retire somewhere low-maintenance. The gated and age-restricted community's 203 luxury apartments are designed to suit the lock-and-leave lifestyle.
There are one and two-bedroom floor plans available that range from 660 to 1,366 square feet. There are also several customization options available that include having a dining room or study area.
Overture Crabtree's list of amenities includes a concierge, a fitness center, a yoga studio, a movie theater, a hair and nail salon, and a coffee bar and bistro. Outdoors, residents have access to a swimming pool and patio, a poolside grilling area, and bocce ball courts.
Residents at Overture Crabtree will have no trouble staying busy and leading an active lifestyle with a plethora of planned community events, organized clubs, and classes that range from fitness and art classes to a drama club and bocce ball teams.
Request more information about Overture Crabtree.
Rent Starting at $1,485
Overture Centennial is another apartment community geared toward the 55+ crowd in Raleigh. The development features 188 luxury apartments with a wide variety of floor plans that range from 598 to 1,373 square feet. Apartments offer open layouts with one to two bedrooms and one to one-and-a-half bathrooms. A number of plans also include a study.
Overture Centennial residents have access to a variety of amenities, including a fitness center, a yoga studio, an art studio, a game room, a movie theater, and a coffee bar and bistro. Outdoor amenities include a heated pool and sundeck.
Along with its amenities, the community provides its residents with a wide variety of organized groups, classes, and events that will appeal to many interests, ranging from art classes and book clubs to happy hours and movie nights.
Request more information about Overture Centennial.
There are several other 55+ communities nearby in the small towns of Cary and Apex to consider, including Carolina Preserve, The Courtyards and Kildaire Farms, Regency at White Oak Creek, and The Orchards Villas.