Warm waters at the beach, a giant European-style museum, and lots of opportunities for fine dining, shopping, and arts and culture; this is why people retire in Sarasota.
The city is found on Florida's Gulf of Mexico coast, just south of Tampa and St. Petersburg. It's diverse, it's pretty, and there's more than enough to keep active adults busy, social, and healthy. Just off Interstate 75, Sarasota provides easy access to the rest of Florida, and there's an international airport as well.
If you're thinking about moving to Sarasota, we have some tips and advice that will prepare you for settling into your new, sunny home.
Retiring in Sarasota: Pros and Cons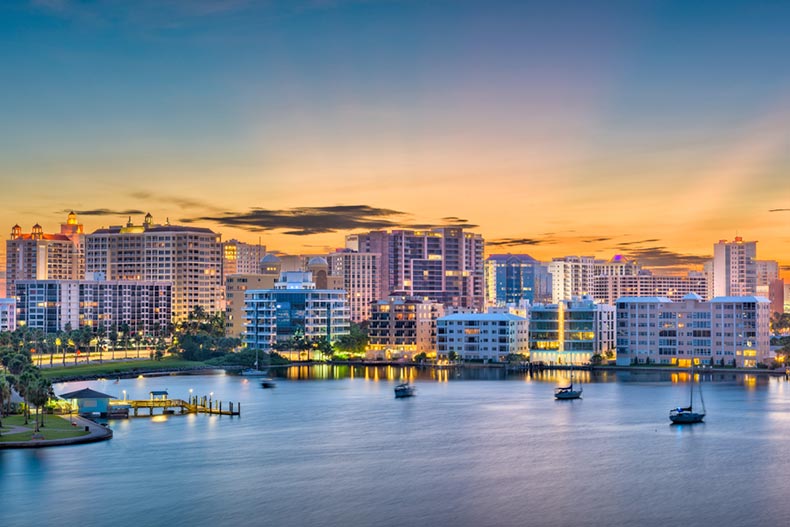 Sarasota is routinely recognized as one of the best places in the U.S. to retire. Here are some of the reasons it's so popular—and some of the reasons that living in Sarasota isn't always as perfect as one might imagine.
PROS
The beaches are brilliant: Six inviting islands hang out off Sarasota's 40 miles of coastline. With fine white sand, gentle surf, and shallow waters, these coastal areas make for some beautiful beach-going. The most desirable beach in the area is Siesta Key, which offers free parking, tons of amenities, and on-duty lifeguards. Other hotspots for those living in Sarasota who want sun and sand include Lido Beach, Caspersen Beach, and Longboat Key. For dog-friendly fun, check out Brohard Paw Park.
Art is abundant: Walk through the huge, open galleries in The Ringling Museum of Art, and you'll feel like you're in some European capital looking at masterpieces from some of the art world's most impressive painters. There's also a sculpture garden, an art library, and ongoing lectures and classes. In addition to The Ringling, Sarasota offers art lovers The Sarasota Art Museum, Marietta Museum of Art & Whimsy, Marie Selby Botanical Gardens, and lots of other galleries and working artist studios.
The weather is wonderful: Sarasota is not short on sunshine. People moving to Sarasota from other parts of the country tend to appreciate the mild temps in the winter months, the lack of snow and ice, and the ease with which they can cool off in a pool, a bay, or the Gulf beaches. The constant breeze from the water keeps even the hottest summer days tolerable.
CONS
Red tide is real: Every now and then, naturally occurring toxic algae blooms in the waters off the coast, especially near Sarasota and Tampa Bay. It's not as dangerous to humans as it is to fish and wildlife, but it does make for some unpleasant beach conditions. It's most likely to occur between August and December, and some years are worse than others.
There's always the hurricane threat: Hurricane season runs from June 1 to November 30 every year. There haven't been any devastating storms to strike Sarasota head-on. Hurricane Donna in 1960 was the last one. But, this doesn't mean tropical winds and heavy rains aren't a threat. Living in Sarasota means being prepared for the potential of Gulf hurricanes.
Growing pains: Sarasota's population is steadily growing. People are moving into Florida in record numbers, and cities like Sarasota are where many of them are settling. There hasn't been much time for infrastructure and public services to adjust. There's some traffic to contend with and an ongoing struggle between developers and conservationists. It can get a bit uncomfortable at times.
Climate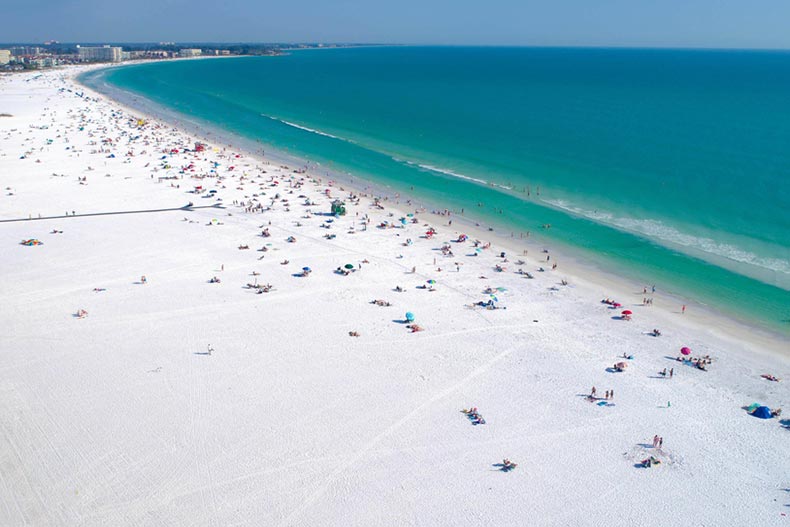 Sarasota gets pretty hot in the summer, with July and August temperatures averaging at around 92 degrees during the day and 74 degrees at night. During the winter, January and February temps hover at around 72 degrees in the daytime and 53 degrees at night.
There may be some surprisingly cold and windy days in the winter. On January 19, 1977, snow was spotted falling—but not sticking—during an unseasonably cold morning.
Rain is fairly typical in the summers. There's precipitation almost every day, but it usually shows up early in the morning or late in the afternoon. If you like thunderstorms, you'll enjoy the spectacular lightning that can be seen as storms roll in.
With so much sunshine and warm weather, active adults enjoy year-round golf, good beach weather, and plenty of opportunities for hiking, boating, biking, tennis, and camping. Plenty of parks and trails in Sarasota invite long walks and there are even equestrian barns and stables around the area for those who love horseback riding.
Taxes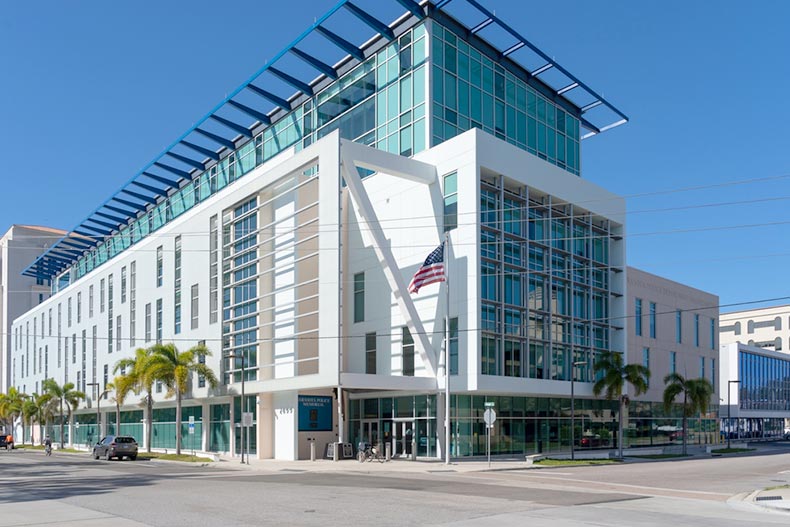 Moving to Sarasota means not having to pay state income tax on your earnings or your retirement income. The lack of state income tax is one of the reasons why Florida is such an ideal place to retire. There's no inheritance or an estate tax, either.
Sarasota Property Taxes
What homeowners save in income taxes is often paid in property taxes. Sarasota County has one of the highest median property taxes in the United States and is ranked 404 out of 3,143 counties in order of median property taxes. Property taxes are collected by Sarasota County, and residents who qualify can apply for a Homestead Exemption. Homeowners must prove their home is a permanent residence on January 1st of the year that the exemption is applied.
Sarasota Retirement Income Taxes
Social Security retirement benefits, pension income, and any earnings Sarasota residents take from income from an IRA or a 401(k) are all untaxed. Any retirement income earned by active adults living in Sarasota is only taxed on a federal level.
Tax Exemptions for Seniors
The Limited Income Senior Exemption provides an additional exemption for residents 65 and over who currently have a Homestead Exemption. Local municipalities determine the benefit amount, and in Sarasota, that's $25,000 for seniors who have limited incomes.
Health Care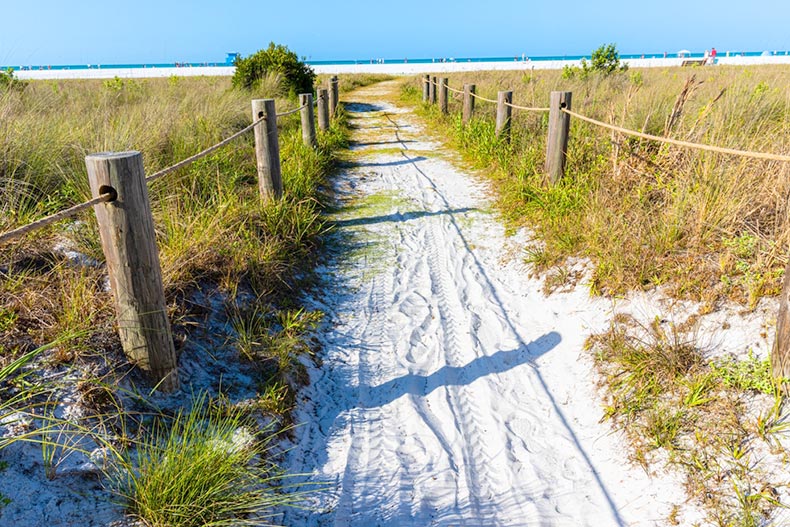 Sarasota Memorial Hospital is a public hospital that has been ranked by Newsweek Magazine as one of the world's best hospitals. The health system specializes in heart, vascular, cancer, orthopedic and neuroscience services, and it provides a network of outpatient centers, urgent care centers, laboratories, diagnostic imaging, physician practices, skilled nursing, and rehabilitation programs.
Where to Live in Sarasota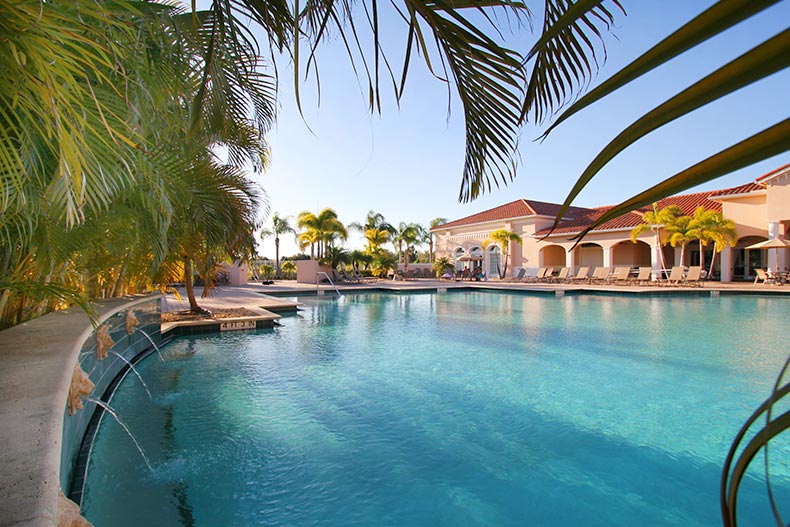 Sarasota is full of great neighborhoods and 55+ communities. Surrounding areas like Bradenton and Longboat Key also have a lot to offer. When you're moving to Sarasota, think about how close you want to be to the city, or whether you'd rather live in a smaller community or even something close to the water.
Central Living in Sarasota
Sarasota is packed with everything you'd want from a small city. There are great restaurants, lots of bars and nightlife, and a walkable downtown area with plenty of entertainment and recreation.
Living in Sarasota means being close to everything. The local museums that we've already mentioned are worth seeing over and over again. For live entertainment, there's also The Gator Club and McCurdy's Comedy Theater. For outdoor recreation, some of the best sights and sounds are found at Celery Fields, Myakka River State Park, and Oscar Scherer State Park.
Sarasota has dozens of 55+ and active lifestyle communities. Some of the most popular include Cascades at Sarasota, a gated 55+ community with single-family homes, a clubhouse, and amenities like a fitness center and pool. A full-time lifestyle director keeps residents active and social.
Moving to Sarasota and looking for new-construction homes? Try Esplanade on Palmer Ranch, where 14 floor plans ranging from 1,689 to 3,006 square feet offer plenty of opportunities for customization and personalized upgrades. The community is planning a huge amenity center.
For a variety of housing types, The Landings is an active lifestyle community in Sarasota offering single-family homes, attached villas, and low-maintenance condos in both new construction and resale models. The community includes 15 distinct neighborhoods and private amenities at The Landings Racquet Club. The community is minutes from Downtown Sarasota and the beach.
Living in Bradenton
Bradenton is just north of Sarasota, and an ideal spot for residents who want to be close to the city but still outside of it. Bradenton is located on the Manatee River.
Things are a bit quieter in Bradenton, and there's a passion for fishing, outdoor recreation, and having fun along the banks of the river and further out to Bradenton Beach.
Bradenton Riverwalk is a 1.5-mile public greenspace located along the Manatee River, where people can be found walking, biking, jogging, and simply hanging out. Other attractions include The Bishop Museum of Science and Nature and Robinson Preserve, which is a great place for hiking, kayaking, and paddleboarding.
Mirabella is an intimate 55+ community with 160 attached villas. The clubhouse includes a fitness center and a movie theater, and outside there's a pool and pickleball as well as walking trails. Four models are available, with two or three bedrooms, two bathrooms, and a den.
Hoping for a golf course community when moving to Sarasota? Consider Pinebrook Ironwood Golf Club in Bradenton. Here, you'll find condos in low to mid-rise buildings with 600 to 1,534 square feet. In addition to 18 holes of golf on the public course, there are also amenities such as a clubhouse, pool, fitness center, tennis, and shuffleboard courts.
New and resale homes are available at Harbour Isle, a gated community with views of Anna Maria Sound and the Gulf of Mexico. Waterfront living doesn't get much better, with attached villas and condos and tons of amenities, including the 23,000-square-foot Beach Club. Ten floor plans are available through the Nautical Series and the Seascape Series of homes.
Living in Longboat Key
Longboat Key is your best option for Sarasota-area living right on the water. It's on a barrier island, south of Anna Maria Island, between Sarasota Bay and the Gulf of Mexico. Kayak tours, boat launches, and waterfront dining are some of the best things to do here. There's also the beach, the beach shops, and the beach bars to enjoy.
There's waterfront golf, gorgeous sunsets, and plenty of beaches to enjoy. In Longboat Key, you can also join the Longboat Key Turtle Watch. This volunteer group patrols beaches looking for turtle nests that need protection.
A couple of notable communities can be found in Longboat Key. Spanish Main Yacht Club is a 55+ community of low-maintenance villas with scenic views of Sarasota Bay. From the community, it's easy to access the Gulf of Mexico waters. Residents have access to a marina, a beach, kayak racks, and boat docks.
Longboat Harbour is an active lifestyle community with 300 condo homes. Amenities include three outdoor pools, a clubhouse, tennis courts, and a boat launch at the Yacht club. A beach house is available for residents and their guests, and it's easy to store bikes, kayaks, and paddleboards.
Ready to Make the Move? 55places Can Help.
To discover more exciting 55+ communities in Sarasota, we invite you to contact us at 800-928-2055 or visit 55places.com. Our experienced team of real estate experts will guide you through the top options in your area and help you make a seamless transition from your current home to a 55+ community. We look forward to helping you make your next move the best one yet!