There's no denying Savannah, Georgia is one of the most beautiful cities in the U.S. There are stately homes and historic sites around every corner, a lively culinary scene, easy access to some of the Southeast's most scenic beaches, plus some of the country's most renowned golf courses are close by in Hilton Head.
Combine all of that with the city's low cost of living, affordable housing, and the state's tax incentives for retirees, and it's easy to understand why it's a popular destination for active adults who want to retire. The city has even been named one of the best places to retire by Forbes.
If all of this has piqued your interest, here's what to consider before moving to Savannah, GA.
Retiring in Savannah: Pros and Cons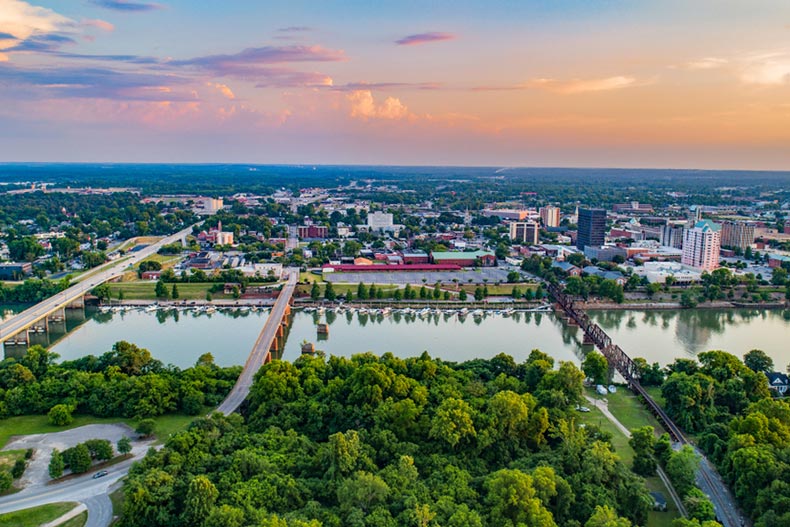 PROS
No shortage of things to see and do: With the city's lengthy list of historic sites, state and national parks, art galleries, museums, and performing arts theaters, there is always something new to discover in Savannah. Plus, Savannah's monthly social calendar is usually full of community events that range from 5K runs to public garden tours and music festivals. The city is renowned for its beloved St. Patrick's Day Parade.
Affordability: Savannah's cost of living is significantly lower than the national average. According to BestPlaces.net, the city's cost of living is 16.8% lower than the U.S. average. Real estate is also relatively affordable with average home prices costing around $211,300 compared to the national median of $291,700.
Short, mild winters: Even during the coldest months of the year, Savannah temperatures rarely ever drop below freezing, and it's extremely rare for the city to get snow.
CONS
Crime rate: Savannah's serious crime rate is above the national average.
The summer heat and humidity: During the months of July and August, temperatures frequently reach the mid to upper 90s with high humidity.
Tourists: While Savannah has a small population of residents, it can become quite congested with the large number of tourists who flock to the city each year. In its most recent report, the Savannah Chamber of Commerce reports having a total of 13.9 million annual visitors in 2020.
Savannah Climate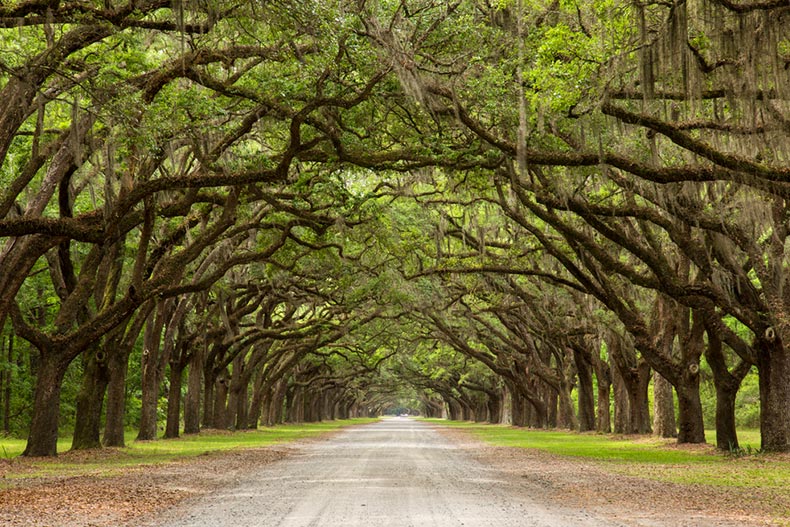 Savannah has a subtropical climate with comfortable temperatures most of the year. The city enjoys short, mild winters with average temperatures of 51 degrees and almost no threat of snow or ice. Spring and fall are both pleasant with temperatures averaging in the low 60s. However, summers can be very hot and humid with temps hovering in the 90s during the months of July and August.
Savannah has a wide array of parks and outdoor recreation options for residents to enjoy when the weather is nice, including Forsyth Park, the Wormhole State Historic Site, Skidaway Park, and the Savannah Botanical Gardens. Many residents will also take the opportunity to soak up the sun on Tybee Island, which is less than 20 miles away.
Savannah Taxes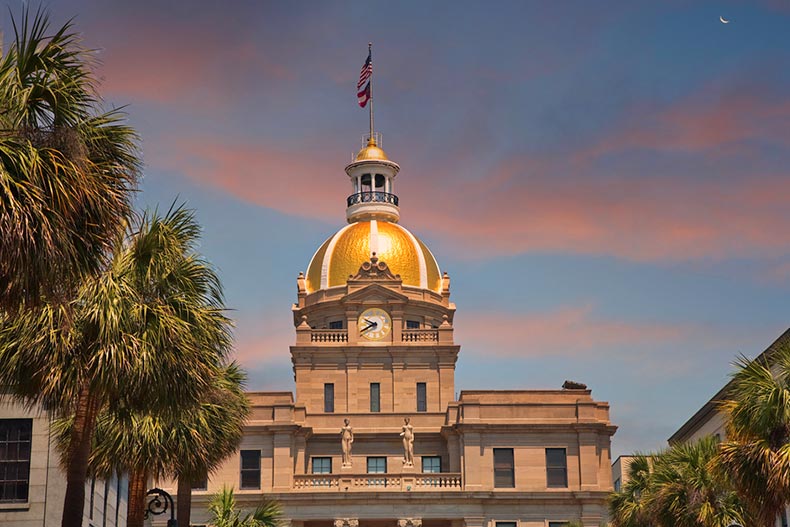 Georgia is one of the most tax-friendly states in the country for retirees. In Savannah, retirees can benefit from tax exemptions based on age and low property taxes, and they're also able to keep more money in their pockets because social security benefits are not taxed.
Savannah Property Taxes
According to SmartAsset, both Georgia and Savannah's (Chatham County) property taxes are lower than the national average of 1.07%. Savannah's average tax rate is 1.02%, while Georgia's is even lower at 0.87%.
Savannah Retirement Income Taxes
While social security benefits are not taxed in the state of Georgia, retirement income is. However, there are specific tax exemptions available for seniors based on age.
Savannah Tax Exemptions for Seniors
There are a number of tax exemptions Savannah retirees can benefit from. For retirees ages 62-64 retirement income up to $35,000 is tax-exempt, and that amount increases to $65,000 for those 65+.
Savannah Health Care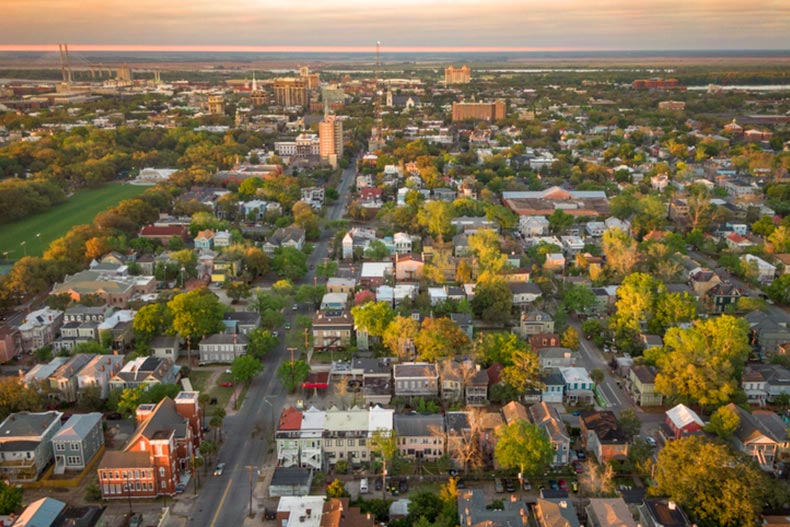 Savannah is home to two nationally recognized health care systems: the Memorial University Medical Center, which is the largest health care provider in southeast Georgia, and the St. Joseph's/Candler Health System, an affiliate of Emory University Healthcare. The city also boasts two Cancer centers: the Nancy N. and J.C. Lewis Cancer & Research Pavilion and the Curtis and Elizabeth Anderson Cancer Institute.
Where to Live in Savannah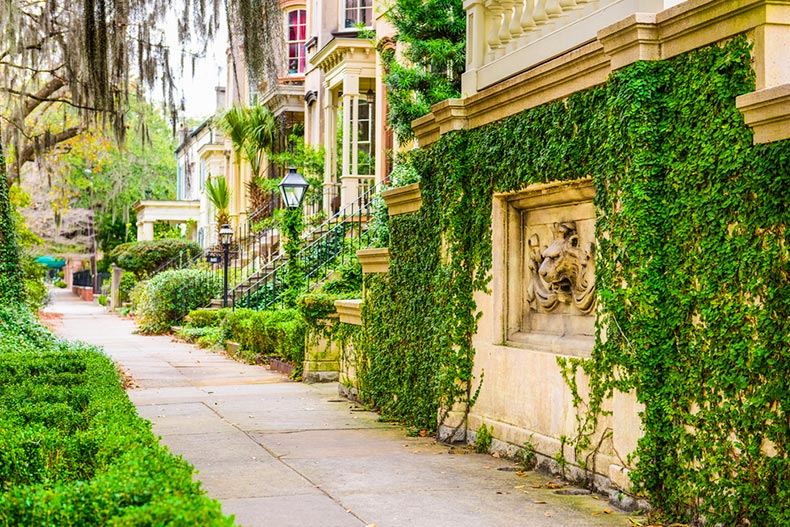 Downtown
From historic sites and art galleries to eclectic boutiques, hopping craft breweries, and fresh seafood joints, the downtown area of Savannah—known as the Historic Landmark District—serves up everything you could want from a city.
Here, you'll find plenty of tourists and residents alike meandering down buzzy River Street taking in the sights or exploring the endless list of landmarks and picturesque squares that can be found around every corner. The district is home to the Savannah City Market—often considered the heart of the city—where you'll find plenty of shopping and dining options as well as art galleries.
Victorian District
Known as Savannah's first neighborhood, the 50-block Victorian District moves at a much slower pace than the more touristy Historic District. Here, you'll find an abundance of Victorian-style homes, B&Bs, and popular local restaurants as well as a more family-friendly atmosphere. This area is home to Forsyth Park, which spans 30 acres and is the city's largest and oldest park.
The Southside
Moving further away from the city's busiest areas, The Southside, is located 15 minutes from downtown Savannah—putting residents close enough to the city to easily take advantage of all it has to offer without being right in the middle of everything. The suburban area is made up of a combination of upscale gated communities, commercial businesses, and retail shopping centers.
There are several active adult communities to consider when moving to Savannah:
High $200s – Mid $300s
Coffee Pointe is an existing Savannah neighborhood that's adding a new section to the development that's specifically age-restricted to 55+. This area will feature 45 new, single-family homes.
Four single-level floor plans are available with layouts ranging from 1,588 to 1,883 square feet. Plans feature two to three bedrooms, two bathrooms, and two-car garages. All layers feature a den area.
Coffee Pointe residents will have access to several amenities, including a clubhouse, a fitness center, a multipurpose room, an outdoor pool and patio area, a gazebo, and a tot lot. There's also walking and biking trails, plus plenty of parks and natural space. (Amenities are not age-restricted and can be used by anyone living in the community.)
Request more information about Coffee Pointe.
High $200s – High $300s
Located only 12 miles from downtown Savannah, the gated Cottages at Autumn Lake community features a combination of 80 single-family and attached homes. Floor plans range from 1,950 to 2,600 square feet and offer options with three to five bedrooms, two to four bathrooms, and two-car garages.
Cottages at Autumn Lake amenities include a clubhouse, an exercise room, a catering kitchen, and billiards. Outdoor amenities include access to a nine-acre lake and lakeside pavilion, an outdoor pool and patio, plus walking and biking trails.
Request more information about Cottages at Autumn Lake.
Low $600s – Mid $2Ms
The Landings on Skidaway Island is a large, private, gated community that stretches over 4,596 acres and is made up of eight different neighborhoods. The development will feature more than 4,400 single-family and attached homes upon final completion. There are a wide variety of floor plans by several different builders for potential buyers to consider.
Along with its variety of floor plans, The Landings on Skidaway Island also offers residents a seemingly endless list of amenities, including several clubhouses, 18-hole golf courses, on-site restaurants and bars, dozens of athletic courts, and wellness centers. There are also indoor and outdoor pools spread through the eight neighborhoods, a playground, a dog park, and a community garden. There's even a marina and boat storage available for residents to use.
Request more information about The Landings on Skidaway Island.
Want more options in the Savannah area? There are several more active adult communities in nearby Pooler, GA, including The Fairways at Savannah Quarters and Westbrook Villas at Savannah Quarters.
Ready to Make the Move? 55places Can Help.
To discover more exciting 55+ communities in Savannah, we invite you to contact us at 800-928-2055 or visit 55places.com. Our experienced team of real estate experts will guide you through the top options in your area and help you make a seamless transition from your current home to a 55+ community. We look forward to helping you make your next move the best one yet!