Many people look forward to retirement because they can finally stop focusing on work and start focusing on doing more of what they enjoy. Unfortunately, many people 55 and older find themselves withdrawing and sticking with activities that aren't mentally stimulating. This can lead to boredom, loneliness, and even cognitive decline. However, many have chosen to prioritize lifelong learning and continuing education. This approach can combat many potentially negative aspects of aging. 
Do you want to learn a new language, play an instrument, or try making a new craft? There are many benefits that learning something new can provide. Some of the most important benefits of learning new skills and information include:
Higher Levels of Neuron Generation
Neurons are the building blocks of the brain and nervous system. They're responsible for transmitting signals between our muscles and brain. Neurons can also impact our memory, thinking, reasoning, and attention. Unfortunately, neuron generation can slow significantly once a person reaches older adulthood or stops learning new things. 
The good news is that continuing education can actually increase neuron generation. This helps our brain stay sharp and keep it fit for further learning. If you haven't tried to learn a skill in a while, it can feel intimidating to try something new. But if you keep with it, you'll begin to find it easier and easier to keep learning new things. 
Besides keeping your brain active, neurogenesis can also be improved by keeping your body active, keeping stress to a minimum, eating a balanced diet, and sleeping seven to eight hours each night.
Improved Self-Esteem and Better Moods
When people reach 55 and beyond, many start to feel that their best years are behind them. This belief can take a major toll on a person's self-esteem. Some research suggests that those beyond mid-life tend to experience significant declines in self-esteem levels. Lifelong learning can help increase confidence.
Besides improving self-esteem, learning something new on a regular basis can also facilitate better moods and improve mental well-being. This is especially true if you have stumbled into a routine that has made you feel like you're stuck in a rut. Learning a new skill can beat boredom and give you a renewed sense of purpose.
Learning new skills or information isn't always easy. However, it can bring about a major sense of accomplishment, especially when you decide to share your newfound skills or knowledge with your loved ones.
Reduced Risk of Several Forms of Dementia
Researchers from Johns Hopkins have recently found an association between lower rates of dementia and higher rates of education. It appears as though people who stayed in education longer seem to develop dementia at lower rates. This study focuses on formal education, such as undergraduate and graduate degree programs. However, that doesn't mean you have to go back to school to reap the benefits of long-term education.
This phenomenon may also be due to the fact that those with more education tend to have healthier lifestyles for a variety of reasons. But it could also be that more education helps to boost the number of connections between brain cells. Either way, keeping your mind active by doing activities you enjoy, staying social, and regularly learning something new, can help to preserve brain health and reduce your risk of developing dementia later on in life.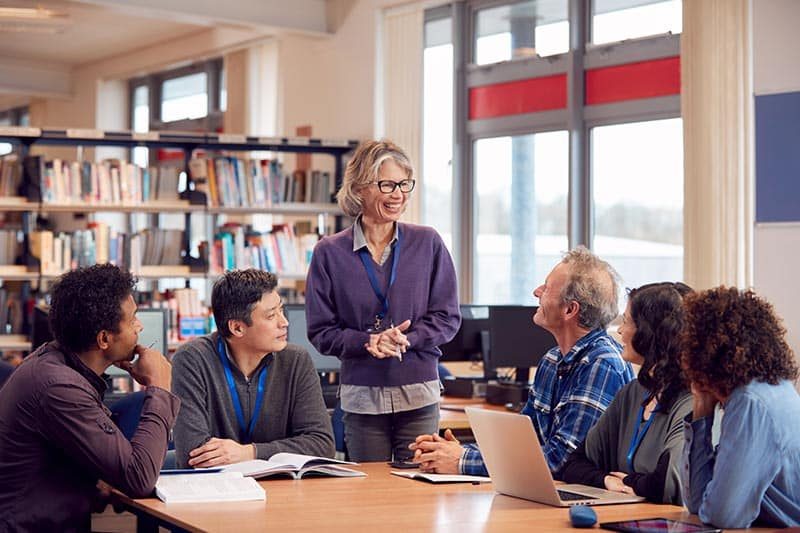 Many forms of learning can take place in the home, like reading magazines or working on an art project. Other forms of learning take place out of the home and with a group of people, like visiting a historical site or taking a painting class. Learning that comes in a classroom or activity session can provide all the benefits listed above, as well as increased opportunities for socialization. 
Sadly, many people 55 years and older have a hard time staying social. This is especially true if they struggle with a physical disability or live far from family and friends.
Socialization is important for preserving brain health. It can help improve mood and memory. It is also associated with healthier behaviors like exercise and eating well, but it can be hard to get started in social activities if you don't know anyone. 
Many 55+ communities offer a wide range of activities and classes that allow people to get together in a social setting while helping everyone involved learn something new. Classes serve as excellent icebreakers, and they can create a fantastic opportunity to meet new friends.
What Is Considered Learning?
Learning can come in many forms. It can be as simple as reading, doing crossword puzzles, or visiting a museum. It can also be more hands-on, such as learning a new art form, playing a new instrument, or even attending lectures on interesting topics. There are numerous possibilities when it comes to lifelong learning. We're all different. What keeps some engaged may not work as well for others.
It may take some trial and error to figure out what type of learning you or your loved one is most interested in. However, the pursuit of lifelong learning is always worth it.
Find a 55+ Community With 55places Today!
If you or a loved one is ready to get back to learning, moving into a 55+ community may be one of the best decisions you can make! 55+ communities offer a wide range of classes and activities. They often provide numerous amenities like swimming pools, tennis courts, book clubs, and more to promote physical and mental well-being.
Reaching 55 years old and above can be an exciting time, but it can also be hard when people aren't sure how to fill the time they used to dedicate to working and family needs. A 55+ community can help your body and mind stay active. If you're ready to find a 55+ community that emphasizes lifelong learning, visit 55places today!