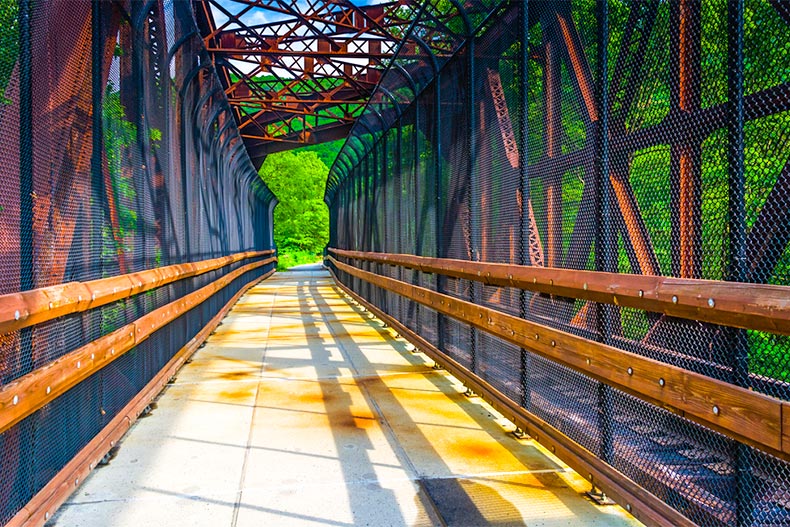 Pennsylvania's Bucks County is about 50 miles north of Philadelphia and is one of the state's most sought-after destinations. Its southernmost region is across the Delaware River from Burlington County, New Jersey, and it extends north towards Allentown. At its core are numerous villages and towns, including Chalfont, New Hope, Doylestown, and Quakertown.
With around 9,000 residents, Quakertown is about 15 miles south of Allentown, and 50 miles north of Philly. In the early eighteenth century, it was settled by the Society of Friends, a Christian group from Europe that immigrated to Pennsylvania. They are also known as Friends Church or Quakers. Quakertown was established in 1801. After the North Pennsylvania Railroad was built in 1855, the town's population grew. The expansion continued after the Civil War, soon enough it became a thriving town with flourishing local industries.
One of Quakertown's most appealing qualities is its combination of small village sensibilities along with a modern outlook. Active adults who choose to retire here can reap the benefits of both worlds while basking in low-maintenance lifestyles.
Area Attractions
Some of the most visited landmarks in Bucks County include Peddler's Village, Sesame Place, and Washington Crossing Park. There are also many worthwhile attractions right in Quakertown, though.
The downtown area is home to a variety of eclectic shops, operated by local business owners. ASPAthecary is a trendy salon and spa that specializes in botanical services. Vegetarians and health food lovers congregate at Clean Roots Vegetarian Cuisine, which features a plant-based menu and friendly services. Pippi & Peanuts sells uniquely repurposed home furnishings, while The Proper Brewing Company is a family-run brewery and restaurant. There are also wellness centers, a thrift shop, a dentist, pharmacies, and other businesses here.
The historic McCoole's Red Lion Inn dates back to 1750 and was open during the Revolutionary War. It was expanded in 1810 and has a storied history leading up to its current incarnation as a restaurant and bar. Adjacent to it is McCoole's Arts & Events Place, which has different theaters, shows, and event rooms. And then there's the popular Quakertown Famers Market and Flea Market, which opened in 1932. Shoppers can browse at 450 outside flea market vendors, 120 indoor flea market vendors, and over 150 food sections. It is open year-round, seven days a week.
For Outdoorsy Types
Just seven miles from the city center, Nockamixon State Park offers a mini-vacation for active adults, with 5,286 acres of fishing, boating, wildlife observation, mountain biking, and hiking. Additional warm-weather activities include swimming (there is an outdoor pool), picnicking, and disc golfing. Molasses Creek Park and Unami Creek Park are also in Quakertown, and Veterans Park is another area park in nearby Richland Township. Golfers head out to Fox Hollow Golf Club and Locust Valley to play the links with their friends and family.
Modern Conveniences
Active adults who live in Quakertown need not travel far to run their errands. In addition to the charming downtown shops, there are grocery stores, liquor stores, bakeries, and other shopping centers in the city. There is also a Walmart Supercenter, a Ross, Kohls, Michael's, Dollar Tree, and just about any other store you can imagine. Quakertown's main hospital is St. Luke's, while other regional medical facilities include Grand View Hospital and Lehigh Valley Hospital-Cedar Crest.
Quakertown does have a small airport for charter flights, though most 55+ adults head down to Philadelphia International or the Lehigh Valley Airport in Allentown for their travel needs. The city's main thoroughfares include Interstate 476, PA-309, and Interstate 276.
This Bucks County gem is easy to get in to, easy to get out of, and if you decide to move here, you will never want to leave. But, where should active adults live?
Quakertown, PA 55+ Communities
Arbours at Morgan Creek
Built by Ryan Homes, Arbours at Morgan Creek is a 55+ community of 85 attached new and resale homes is on a wooded property that features a pristine trail, a pond, and a gazebo. The attached, carriage-style residences are sized from 1,528 to 2,250 square feet, with two to three bedrooms, two-and-a-half to three-and-a-half baths, and attached two-car garages. These homes all have first-floor master suites and unfinished basements. Plans are underway for a private clubhouse, which will have activity and common rooms upon completion.
Arbours at Hearthstone
This active adult neighborhood will have 133 attached new and resale home when finished. Built by Erb & Mascio Builders, Arbours at Hearthstone offers three models, ranging from 1,565 to 2,100 square feet. They have two or three bedrooms, one-and-a-half to two-and-a-half baths, and attached two-car garages. Options include bay windows, tray ceilings, and great room extensions. A homeowners' association fee provides trash and snow removal, common area maintenance, and landscaping. The community has a clubhouse with a fitness room and a game room. There are also walking and biking trails outside.
Renaissance at Morgan Creek
Renaissance at Morgan Creek is also a newer Quakertown active adult community. This neighborhood is built by Judd Builders and upon completion will have 144 new and resale single-family homes. There are eight models, sized from 1,561 to 2,426 square feet. They offer two or three bedrooms, two or three baths, and attached two-car garages. Available upgrades include decks, porches, and studies. Homeowners enjoy the private clubhouse, with its fitness center, business center, activity rooms, putting green, and outdoor pool.
---
agent.calls_to_action.here_to_help
agent.calls_to_action.call_us_long