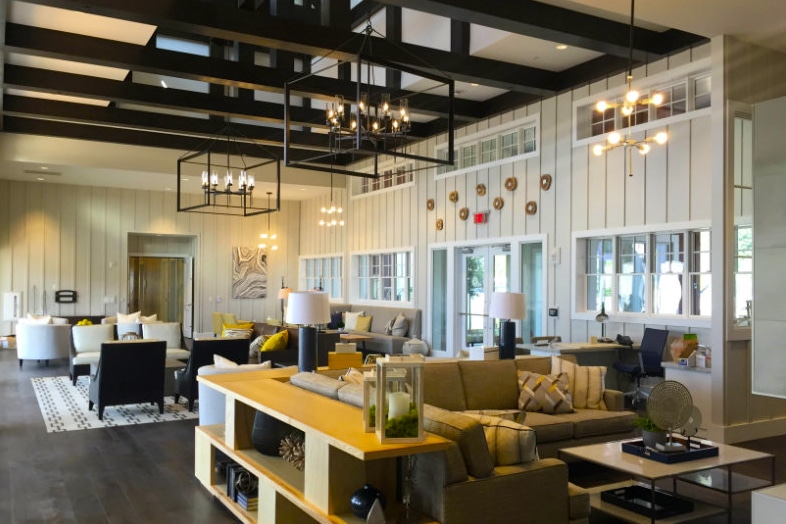 Trilogy Lake Norman in Charlotte, NC will celebrate the grand opening of its resort club this Saturday, September 23 starting at 11 a.m. and Sunday, September 24 starting at 1pm. Tours will be available every 30 minutes and no RSVP is required. In addition to these tours, the community will also offer additional group tours of the new clubhouse on October 4, 5, 7, 11, 12, and 14.
Guests will be able to tour the new 30,000 square-foot Twin Mills Club at Trilogy Lake Norman. The clubhouse tours will include personal introductions from the Resort Team that provide daily assistance to clubhouse members as well as an interactive tour of each space of the clubhouse. Visitors will be able to explore some of the resort-style amenities in the Twin Mills Club such as the grand living room, the on-site restaurant The Foundry, a private dining area called Scuppernong, a culinary studio and event space, a sports and game room called the Crow's Nest, a state-of-the-art fitness facility called Afterburn, and an events center.
Outdoors, the clubhouse also features recreational spaces called The Outfitter, which is where residents can grab a cup of coffee and a kayak for an adventure on the lake, and The Back Porch that offers residents covered and open patio areas with seating that's styled with an idyllic Southern setting for a tranquil space for reading, dining, or having a drink after a long day.
Request more information about this event.