Active adults looking for a new 55+ community in the Orlando area have a lot of options. Two of the most popular choices are Solivita in Kissimmee and Del Webb Orlando in Davenport. These two communities have a lot of similarities such as location and amenities that focus on fun and fitness. However, they each have their own unique vibe as well.
Read on to learn how they're the same and where they're different. This comparison might help buyers make a decision if they're not sure which way to lean.
Similarities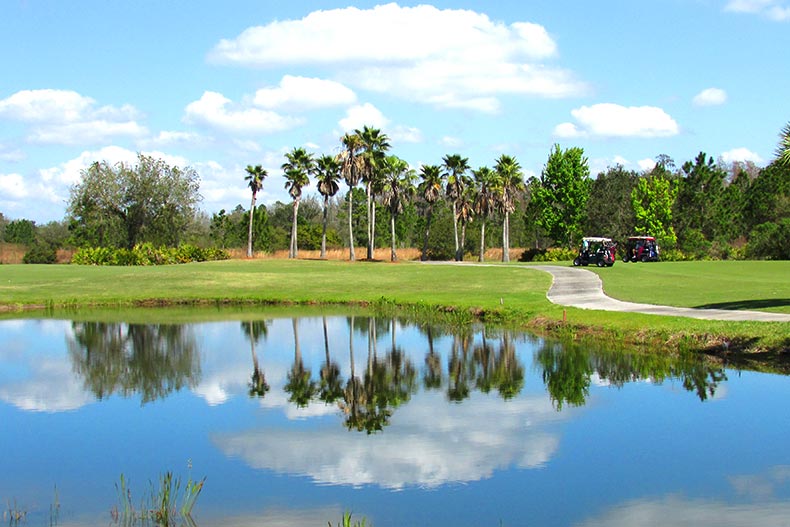 Being close to Orlando is a priority for a lot of homebuyers who appreciate the entertainment, recreation, and cultural activities of a large city but prefer not to live in the middle of traffic, tourists, and crowds that can come with such locations. Solivita and Del Webb Orlando offer a perfect blend of serenity and access.
In Davenport, Del Webb Orlando is just minutes away from Interstate 4 and the Florida Turnpike, which both lead to Orlando as well as other Central Florida cities like Tampa, Daytona Beach, and Lakeland. Solivita is just half an hour from Orlando in Kissimmee and also close to a number of nature preserves, state parks, and shopping.
Both communities also offer new construction and resale homes. This provides flexibility to buyers. Those looking for a move-in-ready property that's in great condition and has everything they need can choose an existing model. If the freedom to choose finishes, details, and upgrades is preferred, there are opportunities for new construction homes in both communities.
Golf is available in both communities, as well. At Solivita, residents can play at the semi-private Stonegate Golf Club, which has two impressive and well-landscaped 18-hole courses. The Solivita Golf Club also includes a pro shop, practice facilities, an aquatic driving range, as well as men's and women's locker rooms. At Del Webb Orlando, homeowners can play at Ridgewood Lakes Golf Club, a public course that borders the community and offers optional memberships. In addition to the 18-Hole Ted McAnlis championship course, there's a clubhouse, pro shop, and driving range.
Differences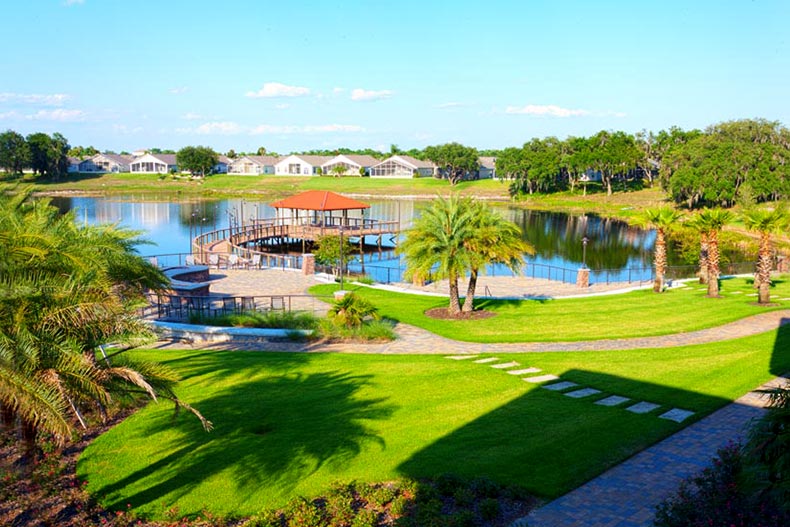 While the location, the golf-friendly amenities, and the choice of resale or new construction homes bind the communities together, there are also some fairly stark differences. Here's what they look like.
Community Size
Buyers who want a smaller and more intimate community will want to focus on Del Webb Orlando, where fewer than 1,000 homes are planned. Construction began in 2007 and 937 homes are planned for the community.
At Solivita, neighborhoods have been designed on a much larger scale. Construction began in 2000, and a total of 5,900 homes are planned for the community. That will provide a lot more neighbors than a smaller community like Del Webb Orlando.
Home Models & Floor Plans
Buyers seeking a single-family home will find options in both communities. At Solivita, there are 21 collections that include dozens of models and floor plans. These homes range from 891 to 3,057 square feet with between one and four bedrooms, one and four-and-a-half bathrooms, and attached two- or three-car garages. A large selection of single-family home floor plans is available on both a new and resale basis.
At Del Webb Orlando, the single-family homes are 978 to 2,251 square feet with one to four bedrooms and one-and-a-half to four bathrooms. Homes come with an attached garage for one or two cars. Some models have extra garage space for a golf cart. There are three collections: The Garden Series, The Classic Series, and The Generation One Series.
Buyers looking for an attached home will want to turn their attention toward Solivita. Del Webb Orlando only offers single-family floor plans, while Solivita has two attached collections available. The Courtyards Collection offers homes with two bedrooms, two bathrooms, and 1,361 or 1,481 square feet. The Courtyards at Montelena Collection has four models with 1,498 to 2,241 square feet, two to three bedrooms, and two or two-and-a-half bathrooms. All of these villas feature an attached one-and-a-half car garage.
Unique Amenities & Pricing
Both 55+ Orlando-area communities offer common amenities such as a clubhouse, swimming pools, a fitness center, tennis courts, and pickleball. They both offer the opportunity for residents to play golf, as well. However, there are also some unique amenities in each community that are worth comparing.
At Solivita, residents have access to several large amenity complexes. One of the most interesting is the Waterfront Galleries, which features a library and three computer labs. Homeowners also have an arts and ceramics center, a billiards and darts gallery, and a competition-sized softball diamond.
At Del Webb Orlando, residents enjoy a fishing dock, several scenic lakes, and over 12 miles of trails for walking, jogging, and bike riding. The Tree of Life Park provides a quiet and natural spot for thinking, reading, and meditating, and there's also a communal gardening area. A Wall Street Room, as well as an indoor track, are additional amenities unique to this community.
For pricing, homes at Del Webb Orlando are currently selling from the low $200s to the high $300s. At Solivita, the range is mid $100s to the mid $500s.
Request more information about Solivita.