So, you're thinking about moving to a Hilton Head active adult community. You're looking for a place that offers convenience, luxury, relaxation, and plenty of fun. But you're stuck on which one best suits your lifestyle. You've narrowed it down to two, Sun City Hilton Head and Latitude Margaritaville Hilton Head.
It all comes down to one thing: Are you a Jimmy Buffett fan?
Just kidding. You certainly don't have to enjoy the musical stylings of Jimmy Buffet to appreciate all that the new Latitude Margaritaville has to offer. On the other hand, Sun City Hilton Head is a well-established active adult community—and the largest in South Carolina, at that—with more than 8,000 homes.
So, which is one is best for you?
Location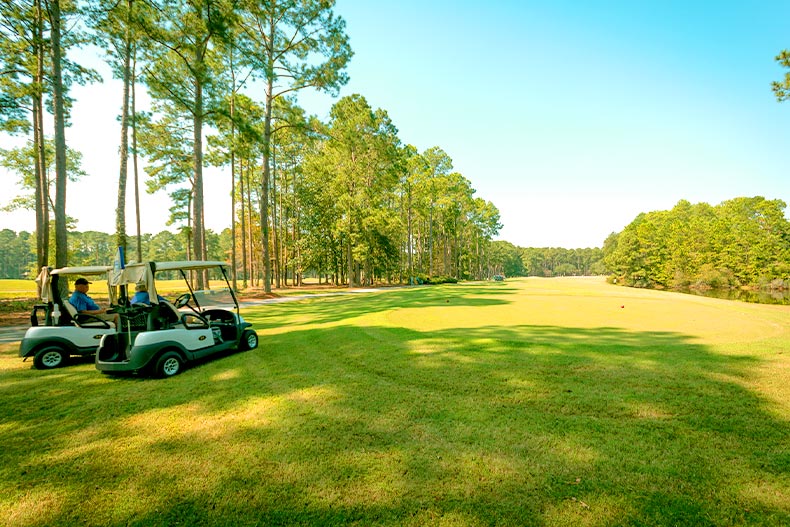 Del Webb's Sun City Hilton Head is conveniently located 15 minutes west of Hilton Head Island in Bluffton, an area famous for its beautiful beaches and golf courses. It also includes plenty of shopping, restaurants, banks, and a grocery store.
At 30 minutes from Hilton Head Island, Latitude Margaritaville Hilton Head is located in Hardeeville. This community is conveniently located close to daily shopping needs, like Publix and Walmart, as well as plenty of retailers and restaurants.
Amenities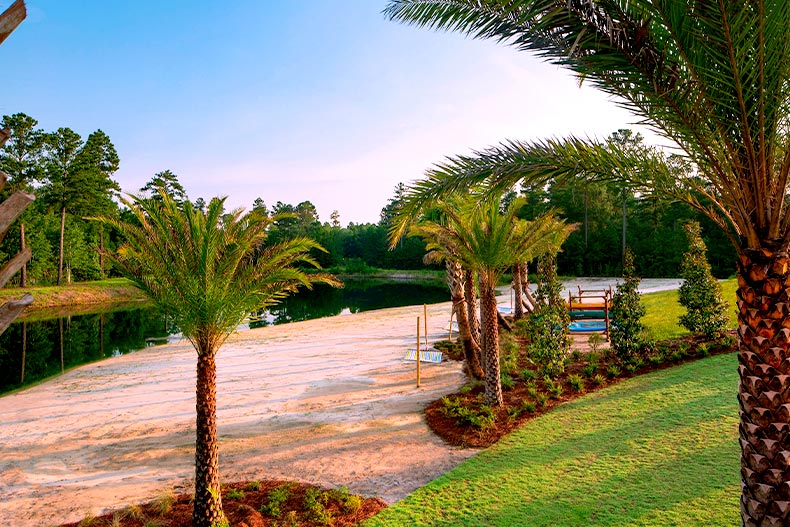 When it comes to amenities at Sun City Hilton Head, the community lives up to its small-town feel. At the center is the 45-acre Village Centre, which includes the 17,000-square-foot Pinckney Social Hall, the Purrysburg Fitness Center, and plenty of other recreational facilities, including athletic courts, a softball field, a dog park, and an event pavilion. Fishers and golfers are also in luck with the 20-acre Lake Somerset and an 18-hole championship golf course designed by Mark McCumber. Afterward, members of the community can gather with friends for drinks or a meal at one of two Jameson's Grille locations.
Latitude Margaritaville Hilton Head is not without its own unique amenities, such as a sandy beach area and golf-cart-friendly streets. Although many features are still in development, residents can expect to find a Town Center and Latitude Town Square, which will offer shopping and live entertainment. The Last Mango Theater will showcase live shows and movies and the Town Square Bandshell will host live music performances. Homeowners will also have access to a fitness center, pet spa, resort-style pool with a poolside bar, and athletic courts.
Lifestyle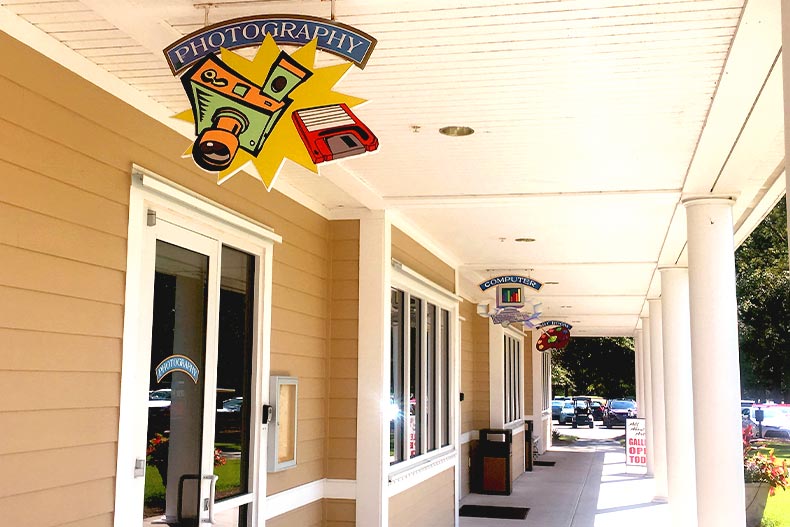 Within the Sun City Hilton Head community, there are more than 200 chartered clubs, classes, and interest groups that include sports, fitness, arts and crafts, religion, continuing education, cards, and games. These lifestyle offerings also include clubs for amateur radio, cooking, bowling, stained glass, kayaking, hunting and fishing, genealogy, model railroading, and more.
Latitude Margaritaville Hilton Head will also offer multiple activities. Members of the community will be able to attend fitness and art classes, enjoy concerts, and celebrate holidays and special occasions with neighbors.
Home Models and Floor Plans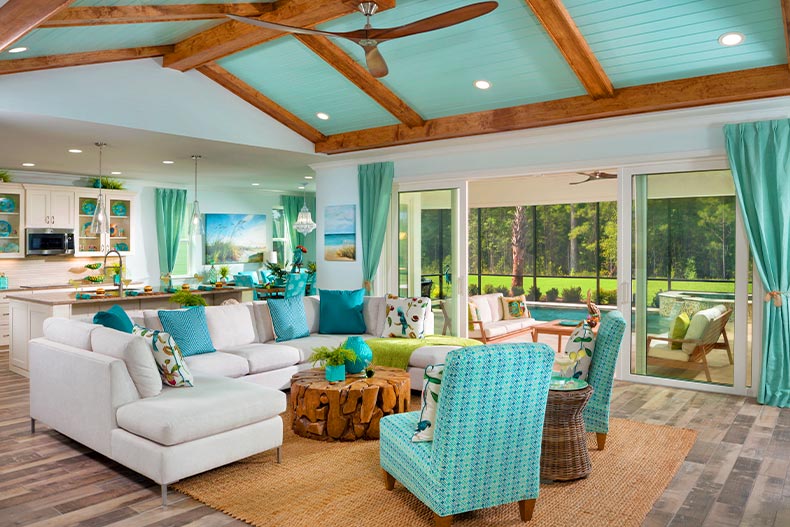 Development of Latitude Margaritaville Hilton Head began in 2018 with plans for a total of around 3,000 homes. These low-maintenance villa and single-family homes are 1,204 to 2,564 square feet with two to three bedrooms, two to three bathrooms, and attached two- or three-car garages. Floor plans may include features like walk-in closets, raised-height vanities, and open, spacious main areas that flow into outdoor living spaces. Pricing starts in the mid $200s and ranges up to the mid $600s.
Sun City Hilton Head has numerous choices for homebuyers, as well. Options start with 1,000-square-foot townhomes and rise to 4,000-square-foot custom single-family homes. The huge variety of home models and floor plans cater to the needs of active adults who prefer low-maintenance ranch living, with expansive great rooms, large kitchens great for entertaining, and ample outdoor space. Prices start in the low $200s and go up from there.
Conclusion
Ultimately, the choice between the two communities comes down to the buyer. Those looking for an immersive, tropical experience that encourages worries to just melt away, then Latitude Margaritaville Hilton Head sounds like the right 55+ community. Buyers more interested in enjoying an endless number of activities in an already established community, then Sun City Hilton Head might be more up to speed.
Request more information about Sun City Hilton Head.
Request more information about Latitude Margaritaville Hilton Head.