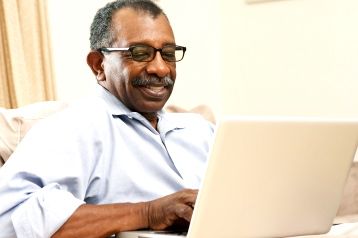 There is a common misconception in our society that Baby Boomers are not interested in technology, or even that they are afraid of it. There certainly may be some Boomers who can't be bothered with computers or tech gadgets, but research shows that the majority of the generation is quite comfortable making use of each new technological advance.
Baby Boomers, particularly those in the 45 to 54 age range, are not far behind Gen X and Gen Y when it comes to having computers, high-speed Internet access, cell phones, digital cameras, DVRs and GPS systems. They are comfortable surfing the Internet, shopping online, and staying in touch through both email and social media sites.
According to Forrester Research's annual benchmark tech study, 46 to 64 year olds now spend more money on technology than any other age group. They also continue to be the fastest growing demographic for social media, and are quickly catching up to younger generations when it comes to early adoption of new technology. Based on Deloitte's annual media research, an estimated 66 percent of Boomers use text messaging to stay in touch. That's about 20 percent less than younger generations, but well over twice the percentage of the 64-and-older set who text.
Clearly, Baby Boomers are becoming more tech savvy. But what does this mean for the generation?
As a generation, Baby Boomers are known for getting things done. As they get older, many Baby Boomers continue to be activists and volunteers. They are active in politics and civic service. Many thrive in careers of their choosing, or decide to retire and pursue a more fulfilling line of work. For the most part, Baby Boomers know what they want for themselves, and they know how to give back to the community.
When you consider the traits that are commonly found in the Baby Boomer generation, it is easy to see how technology can be used to further their causes. Boomers who once mobilized through printed flyers and phone chains, can now connect through their own blogs or social media accounts. Those looking for new careers can network through career building sites or start their own online businesses. When looking for romance or friendship, they can meet new people through social sites and online dating services. In short, Boomers can use the available technology to help them get things done, and enjoy their lives to the fullest.
Though younger generations may be growing up with more technology, they do not have a monopoly on using it. As study after study shows, Baby Boomers are steadily becoming more tech savvy. And, more importantly, they are putting that technology to good use.