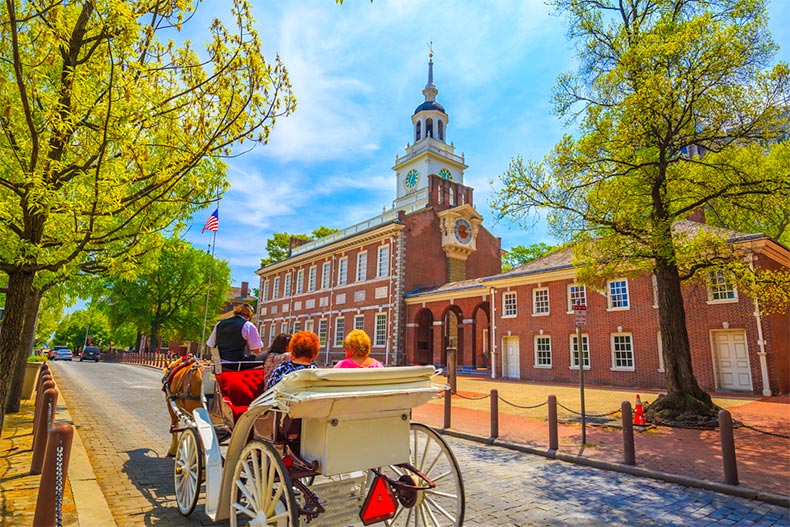 Pennsylvania was one of original 13 colonies, so it's no wonder why there are so many impressive historical sites to visit in the Keystone State. Battles from the Revolutionary War and Civil War were fought here in different cities, and Philadelphia was our nation's first capital. Most history buffs are probably aware the U.S. Constitution and Declaration of Independence were both signed in Philly. This capital city is also where Betsy Ross sewed the first U.S. Flag, in 1776.
Philadelphia is not the only place in Pennsylvania that offers rich cultural history, though. The first official World Series baseball game was played in Pittsburgh in 1903. Also in Pittsburgh, Jonas Salk developed the first polio vaccine at the University of Pittsburgh in 1952.
Read on to learn more about some very appealing historical Pennsylvania landmarks.
Hershey, PA
Hershey, PA pays homage to Milton S. Hershey, creator of the world-renown Hershey Bar. Born in 1857, he apprenticed as a candy maker and later opened his own candy company in Philadelphia. Then in 1905, he opened the world's biggest chocolate manufacturing plant. His success led him to expand the business, and it now includes Hersheypark Arena, Hersheypark, Hershey Gardens, Hershey Lodge, Hotel Hershey, and Hershey Country Club.
Hersheypark is the best known of the group. Built in 1907, this beloved amusement park has over 70 rides and attractions, including 14 roller coasters and a tidal wave pool. It even has its own boardwalk, train, and bumper cars. Spread over 90 acres, it also has its own zoo, which features over 200 animals, including mountain lions, bobcats, and bald eagles. The park holds seasonal events, like "Springtime in the Park," plus Halloween and Christmastime celebrations. Ticket prices vary, and seasonal passes are offered.
Hersheypark opens this year on May 3, with limited attractions. After this, it is open on weekends until Memorial Day. For exact days and times, check out the calendar on their website. Hershey is about a two hour drive from Philadelphia, and three and a half hours from New York City. The closest airport is in Harrisburg. If staying over, there are two hotels: Hershey Lodge, and The Hotel Hershey. Campers can head to the Hersheypark Camping Resort. (Tip: The Spa At The Hotel Hershey offers a Whipped Cocoa Bath and other chocolate treatments!)
Independence National Park
The Constitution was drafted and the Declaration of Independence was signed at Independence Hall, which is the hub of this historical treasure. The Liberty Bell and its exhibits are also here, as are Old City Hall and Congress Hall. This complex also includes the National Museum of American Jewish History and the Ben Franklin Museum.
To visit Independence Hall visitors must obtain tickets, depending on the time of year. They are required from March to December, but not in January, February, in the evenings during the summer, and certain holidays. There is no admission charge for Independence Hall, Congress Hall, and City Hall, although they can be reserved in advance for $1. Guests must go through a security screening before entering. Admission fees apply for the two museums.
Fallingwater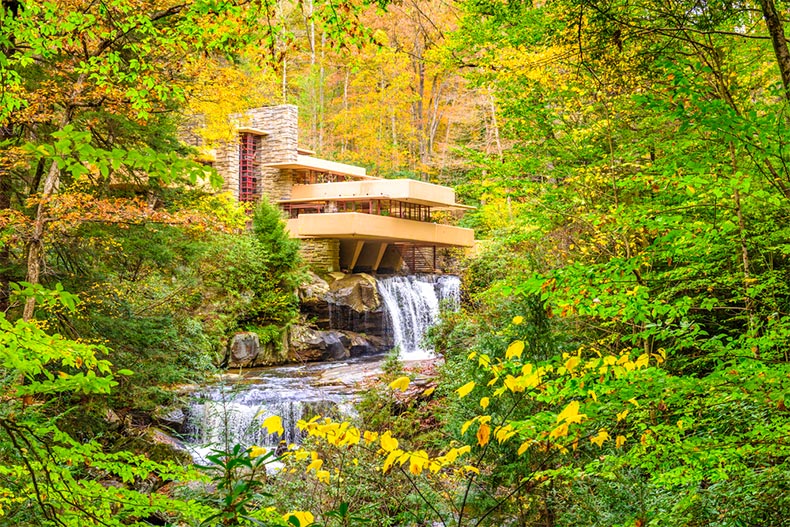 Fans of architecture are drawn to Fallingwater, an incredible home that was designed by famed architect Frank Lloyd Wright. This former residence was designed back in 1935, and was built from sandstone and other building materials.
Fallingwater was dramatically constructed over a waterfall, and is one of Wright's most famous works, designed to show the meeting of nature and art. The family that lived there back in the day amassed a brilliant art collection that features an 8th-century sculpture, a Madonna dating back to 1420, Picassos, Diego Riveras, and folk art. The property also includes a service wing, a guest house, a small eatery and a gift shop.
Fallingwater is approximately 70 miles east from Pittsburgh, in Mill Run, PA. It is closed for the season, and reopens in March. Tickets must be purchased ahead of time.
Valley Forge
Valley Forge National Historical Park is about 22 miles northwest of Philadelphia. It was the site where General George Washington and his Continental Army spent the winter of 1777-1778. Although the soldiers lost around 2,000 troops to unimaginably poor conditions like cold, disease, and hunger, they persevered and went on to achieve victory.
The park's most famous exhibits are the national Memorial Arch, Washington Memorial Chapel and Washington's Headquarters. Their visitor's center is a good place to start, since the park encompasses 3,500 acres. In addition to the historic buildings, there are hiking trails, horse paths, and 21 miles of bike trails. Car tours with audio rentals or your own cell phone and trolley tours are also offered. Valley Forge is open year round, from 7 a.m. until dark; the visitor center has more limited hours and admission is free.
Phipps Conservatory
Opened back in 1893, Phipps Conservatory was a gift that philanthropist Henry W. Phipps presented to the City of Pittsburgh. Originally a glasshouse with nine rooms, it cost $100,000 to build. Many of its original exhibits came from the famous (or infamous) World's Columbian Exposition, which was in Chicago.
The glasshouse now has 14 rooms, with a cacti-filled Desert Room, vibrant and colorful orchids, bonsai, a Tropical Forest Conservatory, and seasonal exhibits. The grounds are filled with flowers, aquatic gardens, and a Center for Sustainable Landscapes. The Conservatory hosts special events, like mystery game nights, Tropical Sundays with discounted admission, classes and programs, and art exhibits. They are open every day throughout the year except Thanksgiving, and adult ticket prices are $17.95 ($16.95 for seniors).