The beautiful state of Georgia offers active adults a charming place to call home, and if you're considering purchasing in one of the stellar 55+ communities in the "Peach State," you may want to narrow your search by considering the reviews. A community with multiple five-star reviews from residents who live there gives you helpful insight into what it's like to be a resident of that community.
Check out the list below of the best-reviewed communities in Georgia to help with your home search. (Each of these communities received at least three five-star reviews by resident homeowners.)
Mid $200s – Low $2Ms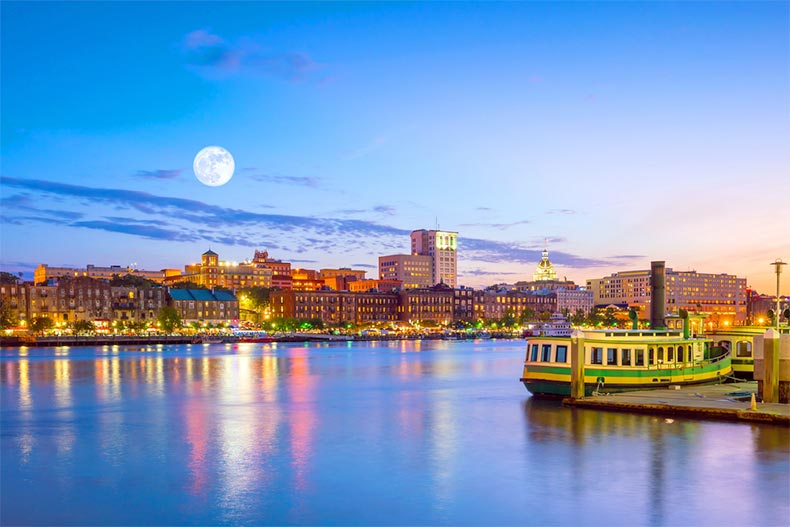 With 4,422 attached and single-family homes, The Landing on Skidaway Island is a sprawling resort-like community with a home for any type of buyer, regardless of age. Even the price range of the homes offered here is huge, with prices ranging in-between the mid $200s and up to the low $2 millions. This gated neighborhood offers residents privacy and security, and manages to maintain a small-town feel, despite its 4,596 acres.
Located on the Intracoastal Waterway and surrounded by beautiful marshlands, residents of The Landing on Skidaway Island enjoy easy access to everyday necessities and plenty of attractions. In his five-star review, William M. says he appreciates the community's location.
"If you are a big water person like me this is an incredible place. It is technically on an island but right when you come on, you see some local shopping centers with everything you need. There are so many marinas and clubhouses throughout this community. It is incredible. Very cool place."
Aside from its natural beauty and prime location, The Landing on Skidaway Island offers a wonderful assortment of resort-like amenities and over 100 active clubs, with residents of every age able to coexist and enjoy each other's company.
Homeowner Susan says in her glowing review:
"Our family recently moved here and we could not be happier. The community is vibrant and has a growing population of younger families. We have received an incredibly warm welcome and our worries about moving into an area with a large retiree population was unfounded—there is a broad mix and the older population couldn't be happier to see younger people joining the community and taking advantage of the wonderful activities available."
Request more information about The Landing on Skidaway Island.
High $200s – Mid $600s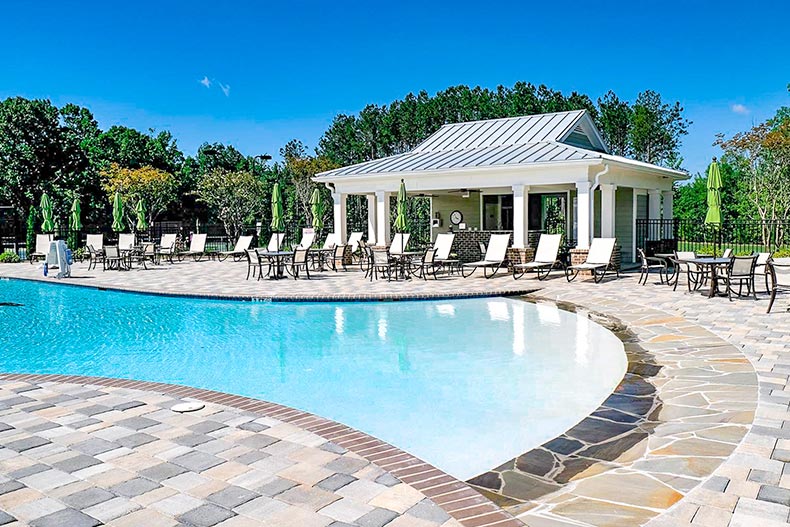 If you're looking for a brand new home in a 55+ community near Atlanta, Cresswind Peachtree City may be exactly what you've been dreaming of. This intimate, 650 single-home community is the perfect blend of small-town Southern charm and upscale luxury. With homes priced from the high $200s to the mid $600s, buyers can experience the thrill and comfort of a brand new home without the steep price tags.
Built on 403 stunning acres, buyers at Cresswind have said that the neighborhood's natural feel and serene, rolling hills attracted them to the development.
Cameron M. said in his 2017 review:
"This development is just getting started but when it is finished, this place is going to be incredible. The drive through the neighborhood was very enjoyable with all of the rolling hills and set back into the tall pines. There are some really great home designs and the plans for the clubhouse looked amazing."
Beyond the stunning surroundings, residents enjoy the many resort-like amenities and fun-filled activities that the community offers. Kell M. said in her review, "Great place for active adults. Everyone I have met has been wonderful, activities are boundless, great people in office (and) at the clubhouse."
At the clubhouse, homeowners enjoy a state-of-the-art fitness center as well as a yoga studio and aerobics studio. There's also an impressive indoor pool and spa to enjoy, and many multipurpose rooms for billiards, a game of cards, arts and crafts, and cooking demonstrations.
Outdoors, the fun continues with a sparkling outdoor pool, a patio and BBQ area, an amphitheater, an event lawn, and a fireplace. Residents enjoy friendly games of tennis, pickleball, or bocce ball on the outdoor courts.
Request more information about Cresswind Peachtree City.
Low $300s – High $300s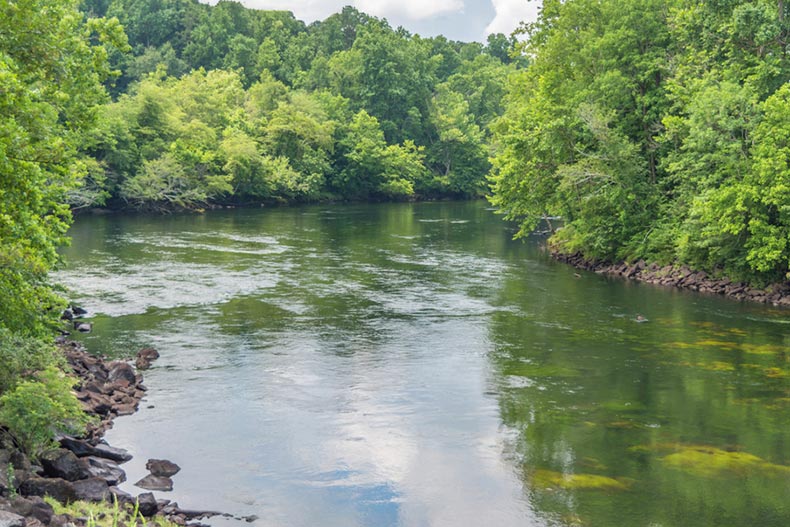 Another beautiful new 55+ community with well-priced homes, The Orchards of Park Ridge offers low-maintenance attached homes starting in the low $300s. This charming and small community is comprised of just 110 attached homes that feature first-floor master suites and beautiful, modern designs.
Located in suburban Atlanta, homeowners at The Orchards enjoy the small-town charm of the suburbs while being just minutes from the excitement and attractions of downtown Atlanta. Settled among mature trees with views of rolling hills, this age-restricted community is peaceful, serene, and quiet. One reviewer said of the community:
"The drive through the neighborhood was very enjoyable with all of the rolling hills and set back into the tall pines. There are some really great home designs and the clubhouse looked amazing."
Peaceful as it may be, there are still plenty of activities and fun amenities to enjoy in the community. The clubhouse offers a centralized gathering area for friends and neighbors to enjoy games, social hours, and quality fitness equipment. Outside, a pool, a patio, greenspace, and a quaint pond are available to enjoy in this friendly community.