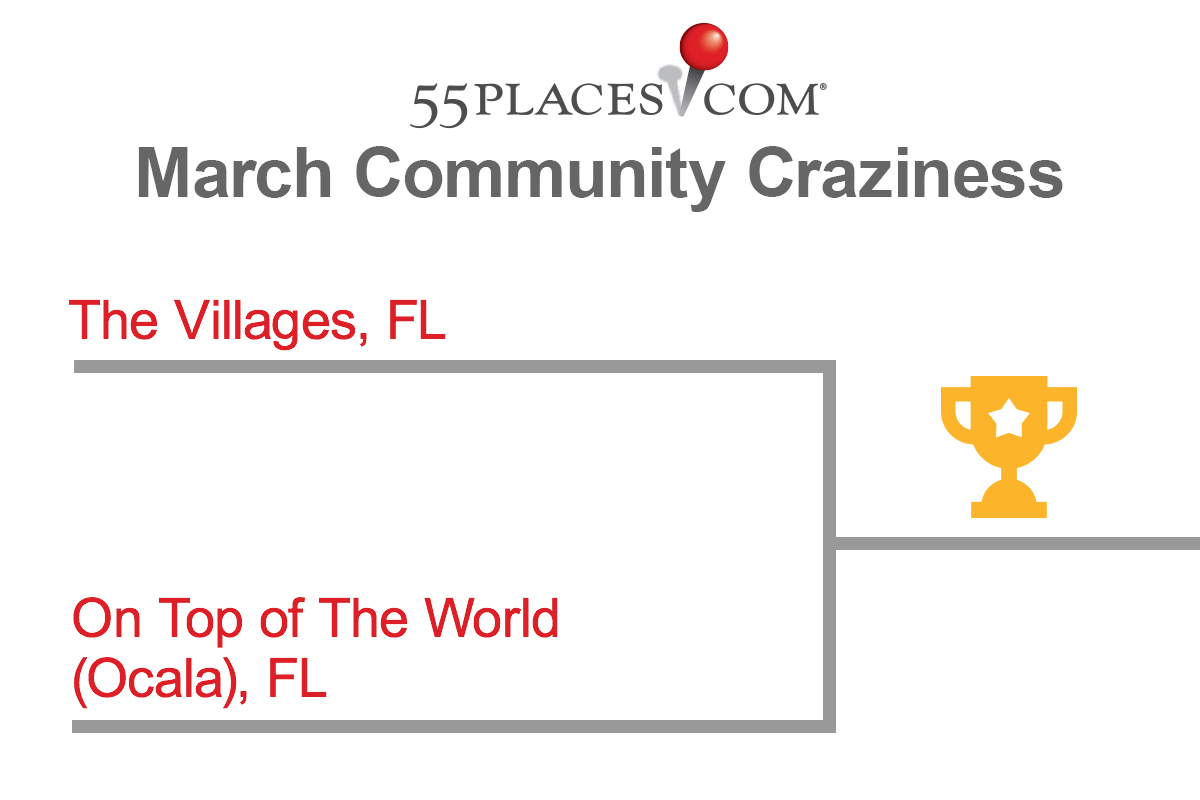 Welcome to the first annual March Community Craziness competition. Think that your community is a cut above the rest? Are your community's amenities simply too good to ignore? Has moving to your community changed your life? Each day we will feature at least one community matchup. When your community (or a community you know well) is featured in a showdown, cast your vote by clicking on the poll below.
After you vote, you can tell us what sets your community apart by leaving a review on the community page. In the event of a tie, the winner will be decided by whichever community has the highest number of unique pageviews. The contest will be in the bracket style and will work just like any other major sports contest, with the winner of each round facing off against the winner of the next round.
Which Community is Your Favorite: The Villages, FL or On Top of the World (Ocala), FL?
Disclaimer: Reviews are subject to approval and may be edited for clarity and accordance to company policy.
The Villages Florida is not only the largest age-restricted active adult communities in the state, it's also one of the largest in the world. What started as a small neighborhood in 1978 has blossomed into a sprawling community that will eventually be home to an estimated 56,268 households of residents aged 55 and better.
The Villages Florida spans three counties, three zip codes and over 20,000 acres. The entire community is connected by over 100 miles of golf cart legal streets and trails. This 55+ community is an entirely self-sustaining town complete with retail establishments, restaurants, banks, post offices, healthcare centers, and countless recreational amenities.
On Top of the World in Ocala, FL is a beautiful active adult community in the heart of Central Florida. The planned 10,000 homes make the community one of the largest in the state. It has attracted retirees from across the country with its finely crafted homes, world-class amenities, and active lifestyle. The setting provides the perfect escape for active adults who want to get the most out of life. With everything that On Top of the World has to offer, it is easy to understand why so many retirees have chosen to call this 55+ community their home.