Florida has always been one of the most well-known retirement destinations in the country. Even as states like South Carolina, Texas, and Tennessee have gained popularity with retirees, plenty of active adults set their sights on The Sunshine State for its pleasant climate, outdoor recreation, and laid-back lifestyle. Another factor that draws active adults to a Florida retirement is the abundance of 55+ and active adult communities to choose from.
Among the nearly 1,000 active adult communities in Florida, two of the largest and most popular are The Villages in Central Florida and On Top of the World in Ocala. These show-stopping communities have plenty of things in common, but there are also some differences to consider. Find out which of these communities is right for you.
Amenities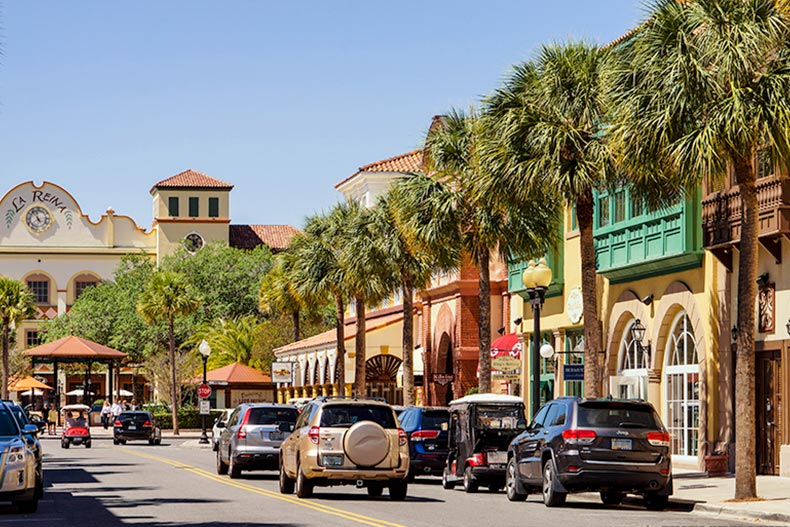 The Villages earns the distinction of the largest 55+ community in the country, with plans for 70,000 homes across 20,000 acres. As a sprawling master-planned community that spans three zip codes, The Villages quite literally offers a city full of world-class amenities. The massive development features multiple town squares, 200+ retail shops, 120+ restaurants, and41 executive golf courses. Residents can enjoy 35 neighborhood amenity centers with fitness centers, art studios, pools, and multipurpose gathering spaces, along with community-wide and regional recreation centers, all accessible via golf carts.
For a night out, homeowners at The Villages can catch a show at the outdoor amphitheater or one of the three movie theaters, or maybe go bowling at one of the two alleys. When active adults want to spend time outdoors, they can use miles of walking and biking trails in the community or fish in the numerous stocked lakes. And with one of the largest social calendars anywhere, active adults can find something to do any day of the week at The Villages.
Although On Top of the World only has plans for 10,000 homes upon completion (a fraction of the homes located in The Villages), the resort-style amenities available to residents are still larger than life. One of the highlights, Circle Square Commons, serves as a central hub of activity and entertainment for residents. Circle Square includes the Master the Possibilities Education Center, The Ranch Fitness Center & Spa, Circle Square Cultural Center, Sid's Coffee Shop & Deli, and Mr. B's Big Scoop Ice Cream Shop.
On Top of the World offers plenty of additional opportunities for a good time, including three golf courses, two restaurants, several clubhouses, fitness centers, and pools. The community even features a 1,500-seat ballroom and an arts and crafts building. Residents also use golf carts to traverse the community. Between these two 55+ communities, residents can find an abundance of options for how to spend their time.
Home Styles and Floor Plans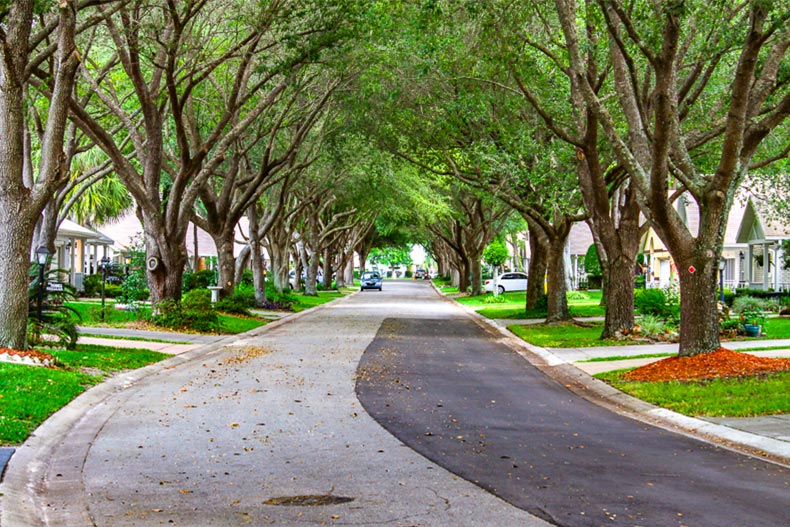 The number of home styles and floor plans at The Villages is expansive (to say the least), and interested homeowners have a wide range of residences to choose from. The Villages offers four home types: single-family, attached, condominium, and manufactured. Each individual home model offers individual floor plans. Depending on a homebuyer's needs and preferences, the floor plans offer flexibility in terms of size, price, and features. Further, because The Villages consists of many smaller communities, residents can find a neighborhood that feels like home. Interested buyers should know that the homes are available on a resale-only basis. Current homes for sale range from the high $100s to over $1.4 million.
At On Top of the World, interested homebuyers can find both new and resale homes. Active adults who want to purchase a new construction home with custom features can do so at this 55+ community. The single-family and attached homes span 10 floor plan collections, all designed with active adult homeowners in mind. Whether active adults want to downsize into a smaller low-maintenance home or find a floor plan that's just the right size, there are an abundance of home styles to choose from. Current homes for sale range from the low $100s to the high $400s.
A Central Florida Location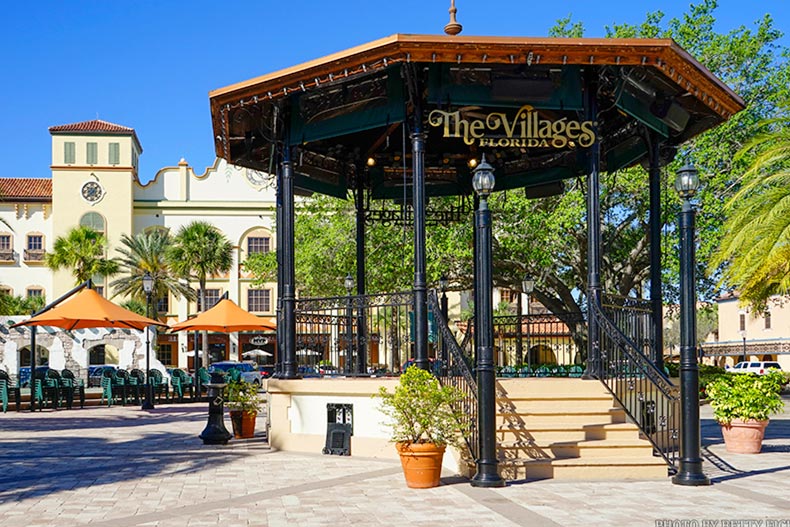 The Central Florida location is the biggest similarity between these two master-planned communities. Because The Villages includes three different counties, it serves as its own city. On Top of the World is located in Ocala, Florida. In fact, these two communities are located less than 45 minutes away from each other in the heart of The Sunshine State.
Residents of The Villages have so much to do within their own community that they may not need to leave it often, but when residents want to venture outside of their neighborhood, they have plenty of things to do. There are several state parks, lakes, and walking and biking trails to explore nearby. Active adults can also reach the world-class city of Orlando within one hour, providing access to a variety of cultural attractions, theme parks, and entertainment options.
On Top of the World is located within 30 minutes of downtown Ocala, providing proximity to the city and the nearby Ocala National Forest. Within 45 minutes, residents can access miles of scenic shoreline along the Gulf Coast, making a day at the beach always within reach for residents of On Top of the World. Also, the Ocala International Airport is just 15 minutes away, which provides an ideal convenience for those who like to travel often.
What Do Residents Think?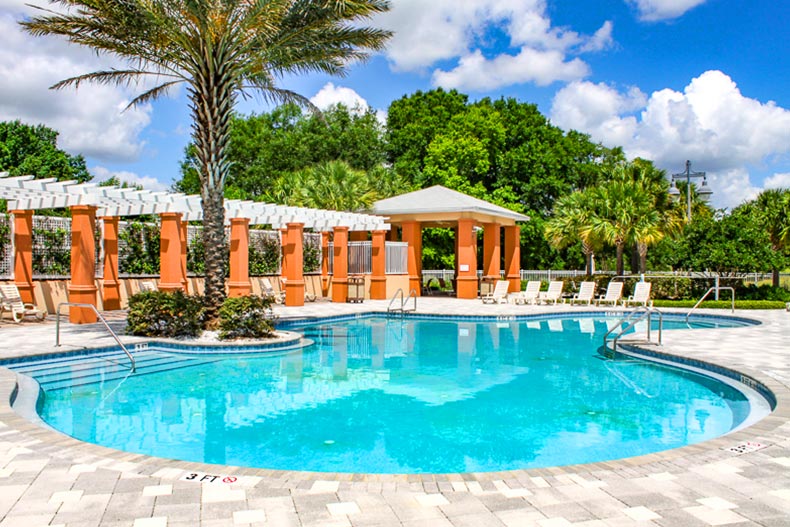 Among all of the similarities and differences between these unique 55+ communities, current residents offer the best insights about what makes a community a home to them. Check out why residents love On Top of the World, or for more in-depth insights, explore this Meet My Community post all about OTOW. There are also plenty of resident reviews posted on the community pages of both The Villages and On Top of the World.
Besides conducting your own research and connecting with current residents, another great way to get to know a community centers around planning your own visit. With these two communities so close to each other, active adults could tour both of them to see which feels like the right fit.
Request more information about The Villages.