16 Communities near Oregon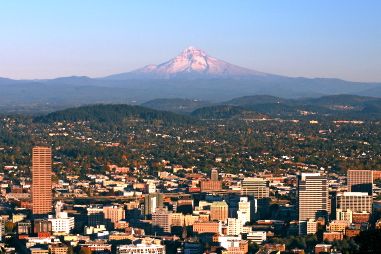 Overview
Oregon is an enchanted place where the spirit of the west is thriving and well. The lack of sales tax, developing wine region, and scenic woodlands make Oregon a captivating place to retire. Oregon is an ideal place for active retirees with beaches, mountains and rivers all within a few hours of each other. Oregon is home to several 55+ active adult communities and lifestyle-oriented retirement communities. Take a look at some of the communities offered in Oregon and choose one that suits your needs and lifestyle.
Climate & Geography
Oregon is located in the Pacific Northwest and is bordered by Washington, California, Idaho, Nevada and the Pacific Ocean. The state has an oceanic climate that varies from the western and eastern regions due to the Cascade Range. The western portion of the state experiences heavy precipitation and moderate temperature while the eastern portion experiences little precipitation and more extreme temperatures.
It is the 9th largest state and is known for its diverse landscape that includes rocky coastlines, mountains, thick forests, valleys, high desert and large cities. The state can be divided into six areas including the Coastal Range, Willamette Lowlands, Cascade Mountains, Klamath Mountains, Columbia Plateau and Basin and Range Region.
Recreation, Culture & Entertainment
Oregon has a diverse and unique character from before European settlement until the modern day. Before the formation of European pioneer settlements there were about 80 Native American tribes living there. Oregon played an important role in shipyards and timber traded in World War I and continues to be an essential part of the Northwest economy.
Lumber and agriculture are the main contributions to the economy. Tourism has also been a leading factor in the more recent years as well. It is a top producer in greenhouse and nursery products, Christmas trees, grass seed, peppermint, blackberries, wheat, potatoes, pears, onions, snap beans and sweet corn. Wineries are nationally known including the chardonnay and pinot noir from Yamhill and Washington counties.
Active adults and retirees benefit from the fact that Oregon is rich in music and art and has many events and festivals such as the Portland Rose Festival, Peter Britt Music Festival, Oregon Shakespeare Festival as well as the Portland Opera and Oregon Symphony. There are many exciting attractions throughout the state that include the McKenzie River Valley, Silver Falls State Park, Crater Lake National Park, Roque River, High Desert Museum, Oregon Zoo, Seaside, Oregon Museum of Science and Industry, and Multnomah Falls. Portland is a popular city within Oregon and is a popular retirement destination known for its world-class food, thriving urban environment and plethora of outdoor activity.
Cost of Living & Taxes
One of the benefits that 55+ residents appreciate is that there is no sales tax or social security tax. However, other retirement income is taxed at your top income tax rate. Property tax is assessed at 100% market values. However, homeowners 62 and older may delay paying property taxes based on certain income criteria. There are four income tax rates that vary from 5% to 9.9%.
Healthcare
Overall Oregon ranks 13th in health nationwide. They have low prevalence of physical inactivity, low rate of preventable hospitalization and low prevalence of low birth weight. There are roughly 70 hospitals in the state and one of them is nationally ranked while eight other hospitals meet standards for strong performance within the state. Active adults and retirees love knowing they are close to great medical care.