The 2020 55places National Housing Survey asked over 2,118 potential and recent homebuyers interested in active adult communities about what they look for in a home, community, and real estate agent as well as other relevant aspects of the homebuying process.
Intro
Retirement, as we know it today, is a relatively new concept. Due to short lifespans and low pay, most Americans didn't even consider retirement until the middle of the 20th century. By then, many white-collar workers had made Florida a retirement state. The first retirement communities opened up in the 1920s, but it was Del E. Webb in 1960 who gave us the retirement community we know today.
Sun City in Arizona was the first 55+ community in the country, and by some measures, is still one of the best. When it opened, residents fell in love with the shuffleboard courts and golf courses, so the community quickly doubled in size. While that was more than enough to bring in thousands of visitors on the first day, those attractions wouldn't be as enticing to the retired or nearly retired of today, who are expecting much more out of their 55+ community.
Besides ongoing trends and changes to retirement preferences, 2020 came with a once-in-a-lifetime pandemic that shut down much of the real estate market and the country, but did it change how people retire or what they want in a 55+ community long term?
According to 55places.com CEO Bill Ness:
"Things don't change from year to year, they evolve over a decade. Barring a pandemic, it's not something that people flip a switch. It wasn't overnight where everyone wanted pickleball over golf, for example. Things change slowly over time as they gain in popularity. It's not surprising that we don't see significant changes because interests don't rapidly change."
Who is buying and what do they want?
Most of the survey respondents are eligible to live in a 55+ community, with 93 percent of respondents being over 55, just over 3 percent under the age of 55, and 4 percent preferring not to answer. Beyond that, 57 percent of respondents are women, while 65 percent are married and 28 percent are either single, divorced, widowed, or separated.
A majority of respondents are active home searchers or soon to be searching for a home. 39 percent said they will most likely be moving in the next 12 months and 85 percent of respondents who won't be moving in the next 12 months plan to do it within one to four years.
Rentals remain popular for retirees, yet still, a majority (77 percent) of respondents indicated they are planning to purchase a home.
69 percent of respondents currently live in a single-family home, while 65 percent expect to move to a single-family home for their next home purchase. Moving to a 55+ community is traditionally seen as a way to downsize, and today's builders are designing homes so residents can use space in a smarter way.
Additionally, the top desired home features from 2019 took the top three spots again in 2020, with a single-level home at 45 percent, a modern kitchen at 28 percent, and a garage receiving 38 percent.

On the topic, Ness commented:
"Often older homes had smaller kitchens and family rooms or were more broken up into formal spaces such as living rooms and dining rooms. Today's buyers want to reconfigure their space and have fewer bedrooms and rooms that are deemed unnecessary, such as living rooms, and instead reallocate that space into areas like bigger kitchens, great rooms, dining areas, mudrooms, walk-in closets, and home office or hobby areas. They might not be downsizing significantly, but simplifying how they use their home and how they use their space."
Where are they going?
While Florida and Arizona remain retirement hotspots, how many retirees are actually looking to move? Turns out, quite a few. 46 percent of respondents say they are definitely going to move states and 34 percent said they would consider relocating to another state. Just 21 percent said they would remain in the state they currently reside in.
Not surprisingly, Florida and Arizona remain the top selections when respondents were asked which states they are considering, coming in at 48 percent and 26 percent, respectively. Following that were the expected states that have been growing retirement destinations for years now. 27 percent of respondents chose South Carolina, 23 percent chose North Carolina, and 14 percent selected Tennessee. Behind those, Georgia had 15 percent, Nevada was at 12 percent, and Texas received 11 percent.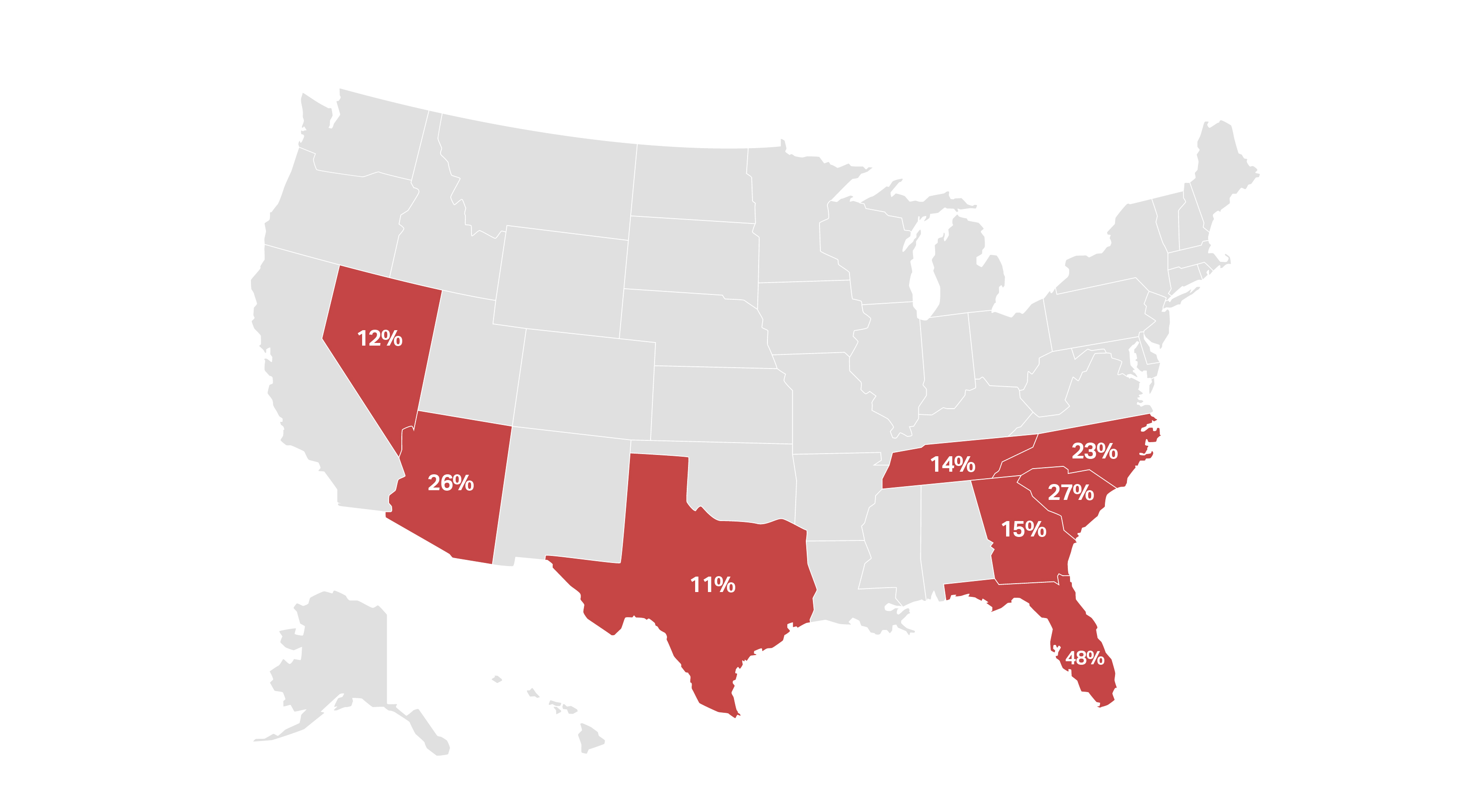 "Besides Florida and Arizona, these states are growing because people want to be closer to grandkids, there's a cheaper cost of living, and they have more seasonal climates. People are exploring new options and taking a path less traveled, knowing they have more options now than ever before," says Ness.
According to 55places.com COO Danny Goodman, "Builders are noticing this too. There's more supply in these states, and builders are meeting the demand for more mid-sized communities in places like the Carolinas."
Why are people moving? The largest reason selected was the desire to move to 55+ communities, chosen by 50 percent of respondents. Next up was better weather, selected by 30 percent of people, and 29 percent are moving because of retirement.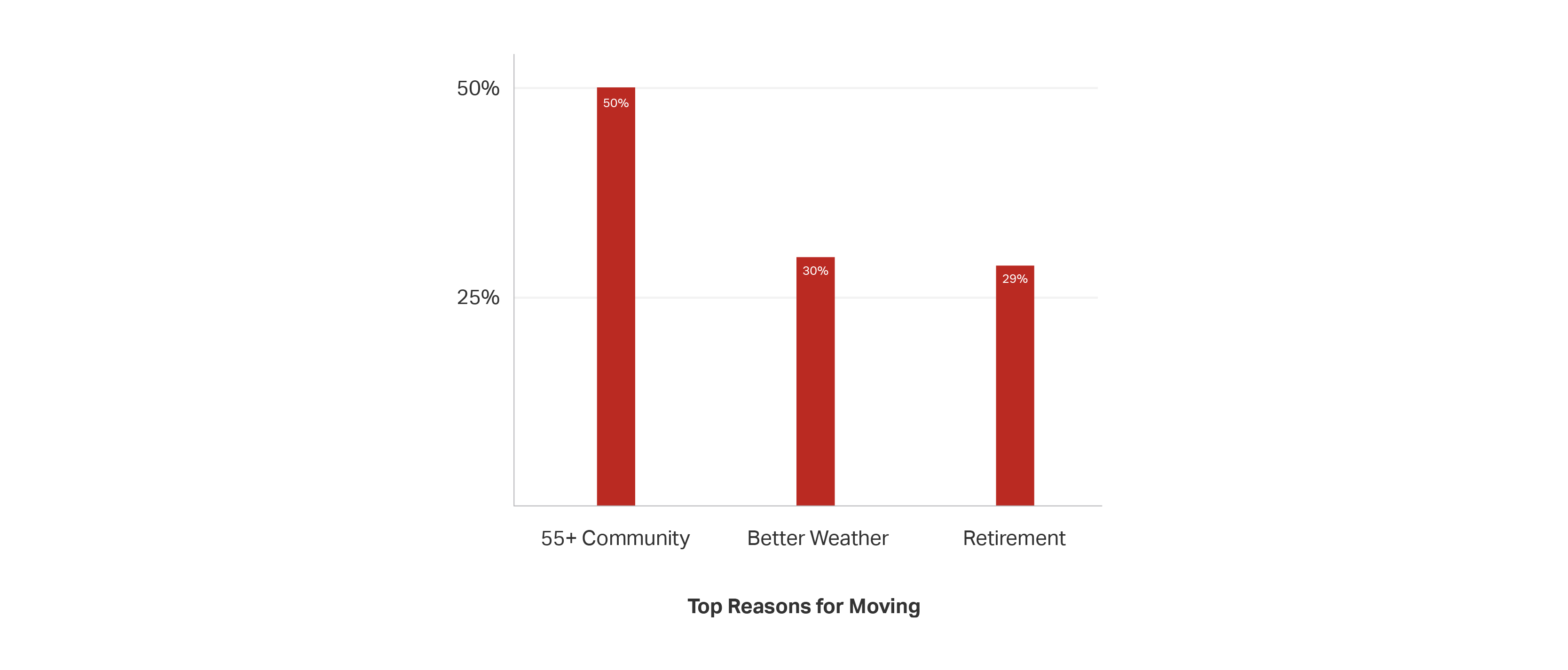 What are they looking for in a community?
While the desire to live in a 55+ community is a top motivator driving people to move, interestingly, 48 percent of respondents said they would live in either an age-restricted community or an all-ages community provided each had the amenities they desire. 42 percent said they would live only in an age-restricted community. In terms of community size, more than one third (39 percent) said they have no preference.
Interest in specific activities remained about the same as last year, with the top five activities including athletic clubs (51 percent), health groups (49 percent), travel clubs (46 percent), cards/game clubs (33 percent), and dinner clubs (33 percent). Similarly, the most desired amenities remained constant, with the top five being a fitness center (61 percent), an outdoor pool (53 percent), outdoor walking and running trail (45 percent), a gated entrance (35 percent), and an indoor pool (32 percent).

Ness stated:
"These things don't change from year to year. It takes a while for needs to evolve. For example, the change from formal layouts to the more 'open concept' didn't happen overnight. Though, it will be interesting to see how the COVID-19 pandemic may change that. For example, we might see a bigger emphasis on home office/hobby rooms, areas for in-house fitness like treadmills and exercise bikes."
How are they buying?
When looking for a home and 55+ community online, 55places.com was used the most by respondents (84 percent), while the next highest selected were Zillow.com (59 percent), Realtor.com (42 percent), search engines (28 percent), and community websites (21 percent).
In terms of when respondents began their online home search, 27 percent were long-term planners and started looking online more than 24 months before they planned to purchase their home. Beyond that, other starting points varied, with 23 percent of respondents selecting six to 12 months, 17 percent selecting 12 to 18 months, 13 percent choosing 18 to 24 months, and 16 percent starting their online search one to six months prior.
Respondents who used a real estate agent mostly did so during their search for a home and community, with 63 percent selecting that option. For those yet to purchase, 41 percent plan to contact an agent during that stage as well.
When looking for a specific agent, by far the most preferred quality for an agent to have was knowledge of an area, with 78 percent of respondents selecting it. Following that is responsiveness (56 percent), client reviews (24 percent), years of experience (24 percent), and availability (20 percent).

Respondents expected agents to provide plenty of benefits during the homebuying process, the top three selected being price negotiations (56 percent), comparable home listings (45 percent), and community insights (39 percent).
How will COVID-19 change 55+ communities?
The pandemic has upended everyone's lives, but how much will it change 55+ communities? Many were forced to close clubhouses and other amenities, while residents opted for socially distanced golf cart parades. Will much change in the long-term, though? According to Ness and Goodman, that's unlikely.
Ness commented:
"COVID-19 will play an interesting role in 55+ communities, as well as homes within those communities. I don't expect a ton of changes to the amenities, except perhaps a greater emphasis on communal outdoor areas that would be deemed more safe than communal indoor areas. From an individual home standpoint, we may see people use their homes differently. They might not take an early retirement, but a permanent work-from-home or remote office opportunity. They might want a room in their home that can be used for multiple purposes, such as a home office or small home gym. The home fitness craze has caught on with a lot of people, but they need room to be able to do that. I also see a higher emphasis on private yards, patios, and entrances."
Goodman said:
"I think we'll see more national management companies taking over community associations. The number of active adult communities being managed by these companies versus the residents is likely to change. In smaller communities, this might not be the case. Anything that has a lifestyle, we'll see more management companies taking over and they might start offering even more services to serve residents in new ways."
Conclusion
While the desires of baby boomers and retirees is always changing, those changes take decades to form, even when a pandemic interrupts life.
"By and large, things won't change, especially for communities that are in the beginning stages of planning because it takes so long to make decisions. In the longer-term view, there might be changes in programming, but there won't be changes in community design over this," says Goodman.
"People will find that if they overreact, it will hurt them in the long run. People will play the long game, not the short game, like requesting what they know they want in the future, a fitness center for example, that they can use in the future, even if they can't use it right now," adds Ness. "This too shall pass. Not much will change."
Methodology
This survey was conducted online through SurveyMonkey within the United States by 55places.com between June 1 and June 30, 2020 among 2,118 users of 55places.com. For complete survey methodology, please contact 55places.com.