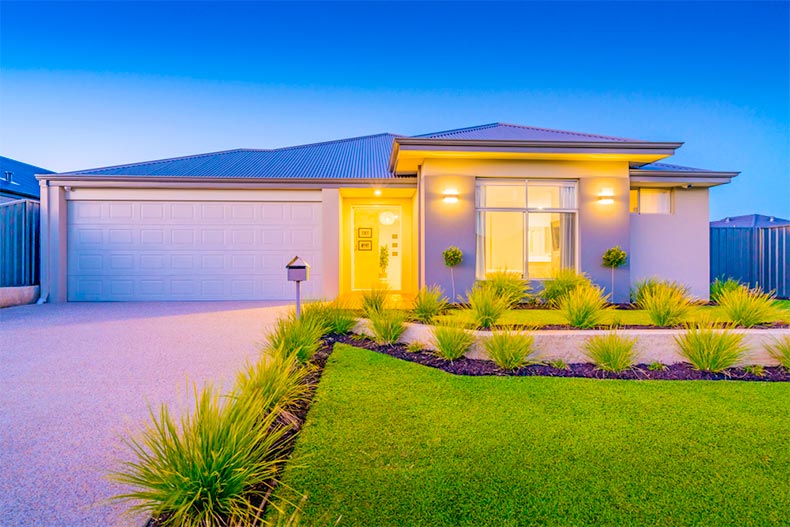 Active adults that choose new construction will reap many benefits, and could even end up saving money in the long run. The most obvious plus is being able to choose your own colors, floor plans, upgrades, and lot locations.
Your new digs will reflect your tastes only, not someone else's, there is no tearing down of old wallpaper and out-of-date window treatments. Another big plus is that the home and its contents are brand new, and will have warranties. Today's modern homes also use improved materials like double-pane windows, which can save energy and reduce monthly bills. New homes also mean the resale value when it times come to sell will be much better.
Here are five New Jersey communities where the move-in condition is on offer.
Mid $100s - High $400s
Although this active adult community was started in 1997, there are new homes here offered by Cokes Organization. When finished, The Fairways at Lake Ridge will have 1,114 attached and single-family new and resale homes in a gated environment. It also has a prime location in Ocean County, just next to Eagle Ridge Golf Club.
The attached homes come in two models, which are 1,352 or 1,508 square feet with two bedrooms, two baths, and attached one-car garages. There are 26 single-family floor plans, from a cozy 1,308 square feet up to their large 3,048 square-foot model. These feature two or three bedrooms, two to three baths, and attached one to three-car garages.
There are well over 50 social clubs and activity groups, whose members gather at the 16,000 square-foot clubhouse to enjoy its exercise room, arts and crafts studio, card rooms, library, indoor pool, and café. There is also an outdoor pool, tennis, bocce, and lovely natural space on the property. A homeowners' association fee provides for landscaping, snow and trash removal.
Learn more information about The Fairways at Lake Ridge here.
High $100s - Low $300s
The charming town of Mays Landing is just 30 minutes from Atlantic City and other shore towns, as well as beautiful Atlantic County Park. Active adult seafarers and landlubbers are drawn to Woods Landing, a community that will have 249 new and resale single-family homes upon completion.
There are 10 floor plans ranging from 1,502 to 2,425 square feet with two to three bedrooms, two to three bathrooms, and two-car garages. Some models have dens and other desirable upgrades. Amenities like a popular clubhouse, exercise room, a library, a pub, an outdoor pool, and tennis courts keep homeowners busy; nearby attractions like Quakerbridge Mall, the New Jersey State Capitol and Museum, and Cream Ridge Winery all make for exciting, easy day trips.
Learn more information about Woods Landing here.
Mid $200s - Low $300s
The historic town of Medford offers a pastoral setting with a charming downtown area, Victorian homes, scenic parks, waterways like Medford Canoe Trail, and of course, Heritage at Medford. A gated active adult community, Heritage was started in 2013 and will eventually have 228 new single-family homes.
Plans call for a private clubhouse, fitness center, outdoor trails, and ponds on the property. There are six floor plans available, from 1,254 to 1,696 square feet. These feature one to three bedrooms, two or three bathrooms, and one to two-car garages. Second-floor options are also available, and a community association fee provides for lawn care and snow removal.
Learn more information about Heritage at Medford here.
Mid $300s - High $400s
This gated, upscale community was started by Toll Brothers in 2008. Upon completion, Sea Breeze at Lacey will have of 568 new and resale single-family homes. There are 11 inspiring floor plans, ranging from 1,681 to 2,590 square feet with two to four bedrooms, two to three bathrooms, two-car garages, hardwood flooring, and gourmet kitchens. Customizable upgrades include gas fireplaces, sunrooms, porches, lofts, and basements.
Sea Breeze at Lacey has resort-style like amenities, including an incredible clubhouse where some of the community's 25+ groups and classes meet. It features a fitness center, sauna, activity rooms, and a ballroom. Outdoors, there is a pool and spa, tennis courts, trails, a putting green, and ponds. Sea Breeze's Ocean County location is close to the Jersey shore towns, shopping outlets, Forked River State Marina, and several golf courses like Bey Lea Golf Course.
Learn more information about Sea Breeze at Lacey here.
Mid $600s - Low $700s
This new, luxurious active adult neighborhood is located in Monmouth County and is close to central Jersey shore towns like Asbury Park and Deal. Regency at Trotters Pointe is being built by Toll Brothers and will have 181 new single-family homes when finished.
The eight models range from 1,844 to 2,679 square feet with two to four bedrooms, two or three bathrooms, first-floor master suites, covered patios, and attached two-car garages. Community plans call for a 4,500 square-foot private clubhouse, a fitness center, an outdoor pool and patio, and other top-of-the-line amenities. A monthly homeowners' association fee will cover lawn maintenance and snow removal.
Learn more information about Regency at Trotters Pointe here.