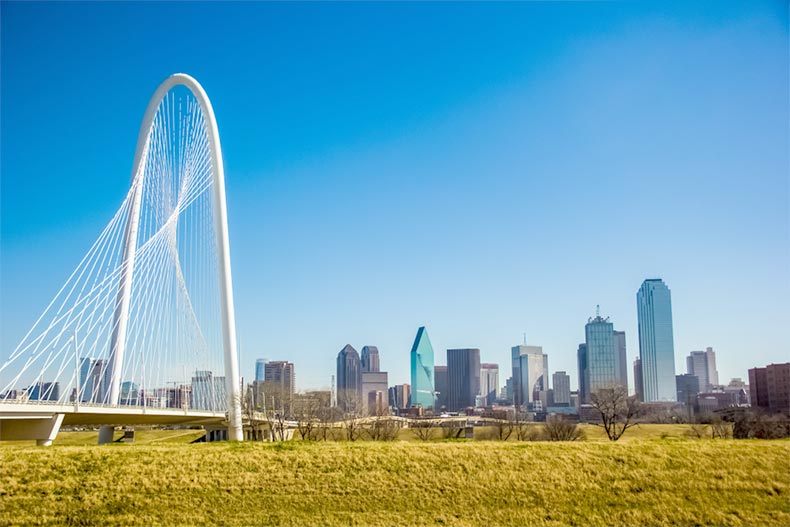 There are many reasons to retire in the bustling metropolitan area of Dallas-Fort Worth. This North Texas region has a population of 7.5 million people, according to the Dallas Business Journal, making it the fourth most-populated metro area in the United States. DFW accounted for 2.3% of the entire country's population last year, adding more than one million people to its population from 2010 to 2018.
The Metroplex is famously known for its Tex-Mex, barbecue, and exciting sports scene. Dallas is the only city to host the Super Bowl, World Series, and NBA championship games in the same calendar year. Whether they want to live near family and friends or they want to take advantage of all that Dallas-Fort Worth has to offer, people continue to flock to DFW from all over Texas and around the globe.
Retirees are also attracted to DFW, whether they prefer the wide-open spaces of Denton or easy access to lakes in Frisco. Check out these five reasons to retire in DFW, and take a look at the many 55+ communities around the Dallas-Fort Worth Metroplex.
1. No State Income Tax
Retirees living on a fixed income can make their dollars stretch further by living in DFW. Texas doesn't have a state income tax, which means Social Security retirement benefits and all other types of retirement income are tax-free. Texas is one of just seven states—joining Alaska, Florida, Nevada, South Dakota, Washington, and Wyoming—that doesn't levy a personal income tax.
2. A Pleasant Year-Round Climate
Retirees who want to put away their snow shovel for good can find respite in the Dallas-Fort Worth area. DFW experiences mild winters, making it an ideal retirement destination for those who have grown weary of the cold. While Texas is often known for its heat, DFW experiences all four seasons—sometimes in the same week. Plenty of sunshine and enjoyable temperatures give residents many opportunities to enjoy the city, both indoors and outdoors.
3. A Picturesque Skyline
Whether retirees are grabbing a bite to eat in Deep Ellum or strolling the Dallas Design District, they're bound to have a breathtaking view. Dallas boasts one of the country's most iconic—and beautiful—skylines. The Dallas skyline claimed the top spot in the Best International Skyline contest category for USA Today's 10 Best Readers' Choice survey.
One of the Dallas skyline's most recognizable landmarks is Reunion Tower, an observation tower that rises 571 feet and offers panoramic 360-degree views of Big D and the land beyond. Other dominant features include the 72-story Bank of America Plaza building and the Margaret Hunt Hill Bridge, which is a local hotspot for urban photoshoots.
4. The State Fair of Texas
Retirees who live in DFW can easily experience the nostalgic joys, exciting events, and immersive flavors of the legendary State Fair of Texas. Held every year since 1886 in Dallas' historic Fair Park, the State Fair of Texas is the country's longest-running fair. It's also one of the largest by average daily attendance, drawing more than 2.25 million visitors each year.
Living in a 55+ community in DFW puts retirees in the heart of the action every fall. They don't have to commute from another Texas city or book a hotel room to experience all the fun and food the fair has to offer. Retirees can check out impressive cars at the auto show, catch a live concert, or sink their teeth into creative new fair food. Some of the hottest food offerings include deep-fried pico de gallo and Southern-fried chicken nachos.
5. Some of the Best Retirement Communities in Texas
DFW offers a massive variety of active lifestyle communities, making it appealing to retirees. Options abound for active adults who want to be close to family and experience the amenities and social atmosphere of a 55+ community. DFW is home to several age-restricted neighborhoods situated within master-planned communities.
In Del Webb at Union Park, retirees can choose from 10 single-family floor plans and enjoy amenities such as a resort-style pool, ball courts, and a fitness center. Elements at Viridian is another active lifestyle community that puts retirees near family in DFW. This 55+ community sprawls across 141 acres and offers residents four pools, a 150-acre wooded conservation area, a dog park, and an artisan market that features special events and various foods.
---
agent.calls_to_action.here_to_help
agent.calls_to_action.call_us_long