For many active adults, a community garden serves as a rewarding and worthwhile endeavor. Not only do community gardens bring neighbors together and create an opportunity to make new friends, but they also allow people to live a healthier lifestyle, spend time outdoors, eat local produce, and reduce their grocery bills. Many 55+ communities have well-established community gardens and gardening clubs for everyone to participate in and enjoy.
Whether you're a lifelong gardener or looking to pick up a new outdoor hobby, you may want to pioneer a community garden in your own neighborhood. Luckily, it's not as hard as you might think, especially with the help of neighbors and friends. To help you get started, we've rounded up some of the best tips, ideas, and information about how to begin a community garden.
Green Thumb 101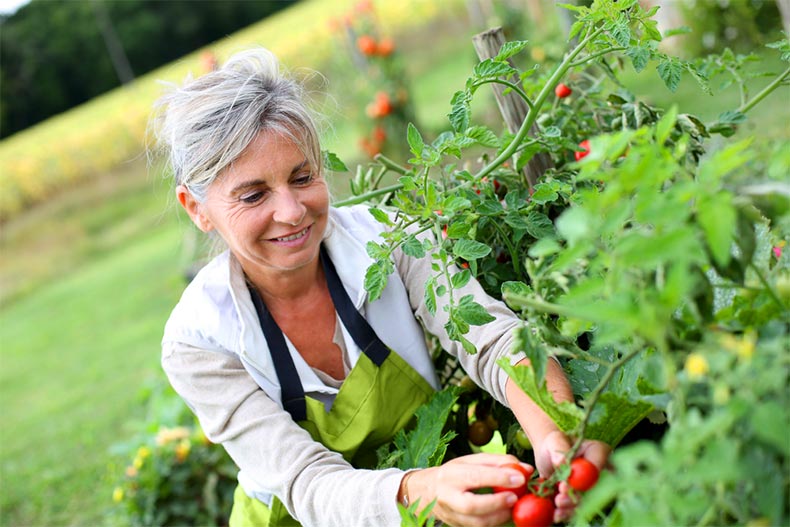 Some people might wonder, what exactly is a community garden? What does it mean to have a community garden? These questions can help define exactly what you hope to create in your own neighborhood. A community garden is a shared garden that members of a community take care of together. People in the neighborhood come together to tend and garden the land, and everyone who participates can reap the rewards of fresh fruits and vegetables.
In major cities across the country, urban farms transform vacant lots into rich community gardens. In suburban areas, neighbors can find larger plots of land to create small farms. Community gardens on any scale have the potential to feed entire neighborhoods, beautify a community, and bring like-minded people together to enjoy a seasonal activity.
How to Start a Community Garden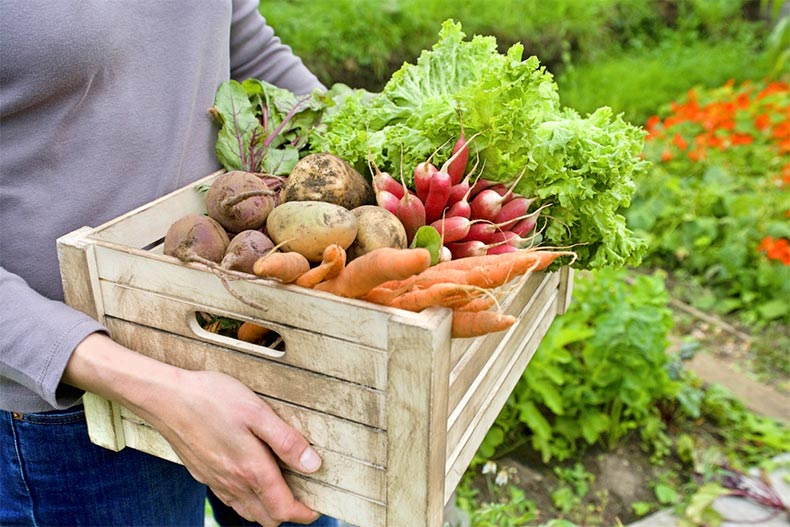 The thought of how to start a community garden might seem overwhelming, especially if you're starting from scratch. But that's the beauty of a community garden—you can make it whatever you want it to be. That said, anyone who wants to start a garden in their neighborhood should take a number of details and decisions into consideration.
Gauge Neighborhood Interest
Begin by gauging the interest of neighbors and friends in having a community garden in the neighborhood. Ask around to see who might want to help take the lead or join a gardening club to start a community garden. Chances are that several people will be supportive and excited about the idea. Gather like-minded neighbors who can bring their own experiences, skills, and passion to the project and make it a true community effort. Early on, you'll also want to receive preliminary approval and support from the homeowners' association (HOA), and make sure to check any local or city-wide regulations.
Determine the Garden's Goals
Then, determine your neighborhood's goals and dreams for the community garden. Think about what you want to harvest from the garden, such as flower bouquets, bunches of herbs, ripe vegetables, fresh fruits, or some combination. Consult the USDA Plant Hardiness Zone Map to identify which plants, fruits, and vegetables thrive best in your local area. In addition to what you want to grow, consider how much you want to collect from your harvest as these two factors can help determine the size of the community garden.
Choose the Right Location
The appropriate spot might depend on the desired capacity of the garden, which might be larger or smaller depending on the size of your community, the availability of land, and the number of people who want to help maintain the area. Do you have a perfect spot in mind, or would you like to seek feedback from neighbors? Do you want the garden located along a walking path or near the clubhouse, or would you like it in a more secluded area? These questions can guide the decision of where to locate the community garden. When considering any location, make sure to gain a general understanding of the soil type, exposure to sunlight, and water access available in a given area.
Create a Plan
With a desired location and size in mind, create a solid plan for how to start the garden. Figure out how to ask the HOA for appropriate permission and funding, or alternatively, begin thinking about how to raise funds from the community. As you gather more support from neighbors, set a regular meeting time to discuss progress on the garden. A gardening club can also maintain a schedule for watering, weeding, and tending. Members of the gardening club can take the lead on decisions about the garden.
Get the Neighborhood Involved
Before starting the community garden, make sure to think about how to get the rest of the neighborhood involved. Even those who might not participate in the garden can still enjoy the new amenity and beautification of the landscape. Make an announcement on the community bulletin board or newsletter about the plans for the new garden. Schedule a day to "break ground" on the plot of land and invite community members to help clear the site, pull weeds, or turn soil. You might also consider partnering with a local volunteer organization or youth group looking to offer their assistance and help with the labor early on.
Designing a Community Garden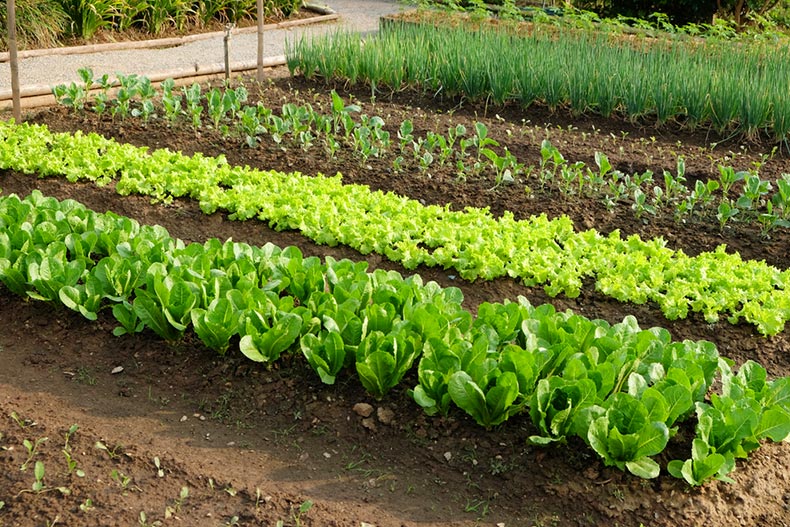 The ability to visualize a bustling community garden where an empty space currently sits may seem challenging, but it's important to use the land and space effectively. Therefore, active adults should have an organized plan and design for the garden in place from the very beginning of the process. Designing a community garden extends beyond choosing what to plant, but also how the garden beds are laid out and what features will add appeal to the area.
As you decide where in the neighborhood the community garden should be located, think carefully about the surrounding area. Open natural spaces or empty plots near shared outdoor areas are ideal options for the location of a community garden. Keep in mind that you will need to get permission from your HOA, property manager, or developer in order to put land aside for the garden. Community gardens can be more than just garden beds with plants in them, so you'll also want to determine what features will make the garden as accessible and appealing as possible.
Many community gardens have a potting area and a composting area. A composting pile provides a place where organic material can naturally decompose and be recycled as fertilizer for the garden, which is a great way to encourage sustainable garden practices. A small greenhouse might also be an excellent addition because greenhouse conditions allow plants to prosper in a controlled environment void of outside detriments such as weather and insects.
Cosmetic improvements to your shared garden, such as walking paths and sitting areas, also serve a purpose because they encourage community involvement and ensure that your neighbors enjoy spending time in the space. When planning a community garden, set your sights on how you hope the garden space will be used and shared by neighbors and friends in the community.
Community Garden Costs & Supplies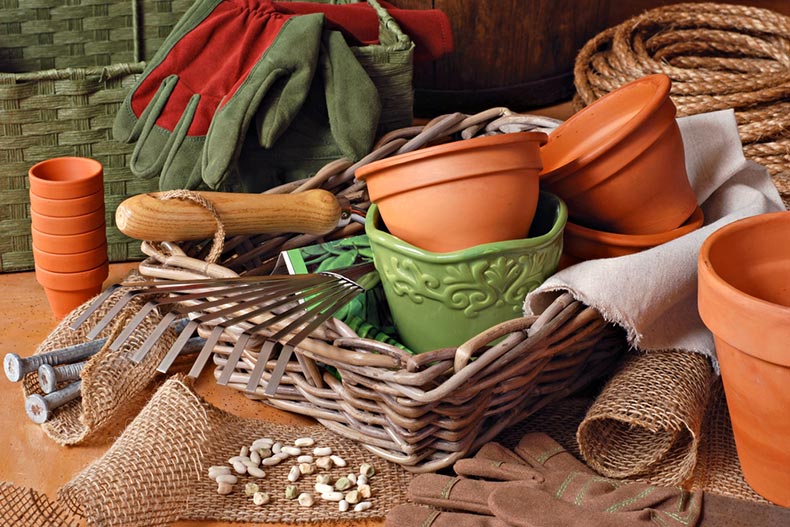 After learning a bit more about what constitutes a community garden and how you might go about creating one, you might be asking yourself: How much does it cost to start a community garden? And what do you actually need to start a community garden? The answer, of course, is that what you need and how much it will cost can vary widely depending on the size and goals for your community garden as well as how resourceful you are and what contributions you can expect from members of your community.
The decision about what plants to grow in your community garden can affect the upfront costs. Depending on whether you want to grow herbs, flowers, vegetables, or the like, the seeds and sprouts can range in price. Whether you want to have a large-scale garden and purchase seeds and materials in bulk can also impact the costs.
The layout and type of community garden can also change the cost and needed materials. You'll need to decide whether the garden will be raised or in the ground. If raised, an above-ground structure will need to be built, such as a wooden garden box, and the lumber and hardware will need to be purchased in order to construct it. The bigger and more numerous your garden boxes, the more the materials will cost.
However, it's possible for these sorts of materials to be salvaged from community members in order to cut costs. For example, your neighbor may have some old fence posts in the back of their garage that could be used for the walls of your raised garden bed, and then you would only need to buy the screws to put them together.
When it finally comes time to plant your seeds and sprouts, you'll need to plant them in healthy soil. From compost to mulch to topsoil, you'll need to research the best combination of dirt for the plants selected for the garden. The cubic footage determines the cost of soil materials, so the bigger the garden, the more it will cost. For perspective, a bag of topsoil that covers one cubic foot costs about $1.50 to $3.00, although you can sometimes find discounts for purchasing larger quantities.
The community garden will also require all of the necessary tools to plant and tend crops and to spread and shovel soil. Large tools such as shovels and rakes typically cost around $10-$30 and smaller gardening tools are normally under $10. However, buying enough of these materials for multiple community members to use at once can add up. Luckily, your neighbors likely have their own home gardens or landscaping and may have such tools on hand. A garden also needs water in order to prosper and a good way to do this is to find a suitable rain barrel that can be filled naturally and used to water the plants.
Since the neighborhood budget for the community garden might not cover all of the materials needed to start the garden right away, it's a good idea to seek help from community members or local sponsors. Neighbors who are eager to participate in the garden and excited to receive the literal fruits of their labor may be more likely to contribute resources to see the garden succeed. As previously mentioned, they may also be interested in donating old tools and materials in order to keep the community garden up and running.
Another great way to raise funds is to find a sponsor in the community, such as a local grocer, store, or restaurant that would be willing to contribute to the budget. Local businesses and charity organizations in your area may be willing to support a well-organized and thought-out community garden. Overall, the cost and time needed to create a community garden depends on how big it will be and what you intend to plant in it. However, the funds and materials needed may not necessarily be as much as you thought with some help from your community members and local businesses.
Community Garden Tips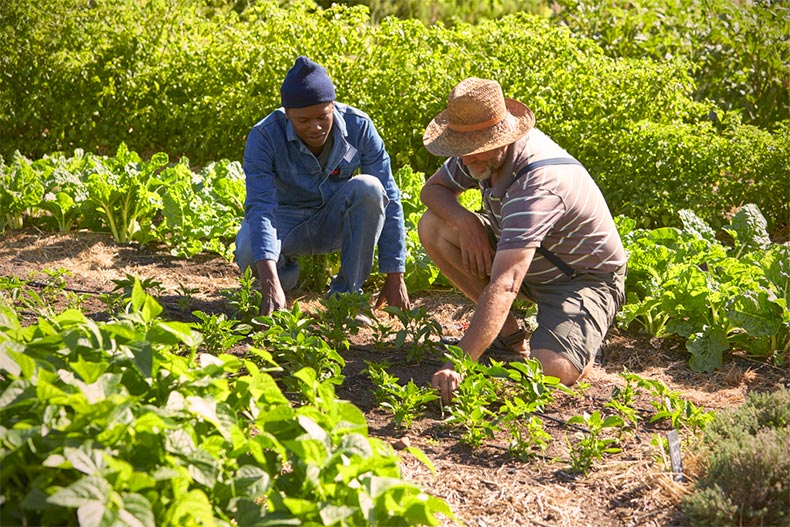 Since people design community gardens to address the needs of their communities, every garden is different. And, there's no right or wrong way to start and enjoy a community garden. Rather, neighbors can come together in a variety of ways to express their passion and joy for gardening. These community garden tips and tricks can help you make the most out of your garden and generate even more excitement in the neighborhood.
Tip #1: Think creatively.
In planning and designing a community garden, active adults have ample opportunities to express their creativity. Thinking creatively about gardening means imagining new possibilities and potential for gardens. If you want to design a community garden with living sculptures, fountains, or wildlife habitats, for example, then you can make it happen.
Remember that community gardening can mean more than harvesting fresh fruits, vegetables, and herbs. You can make the produce last for years to come with canning, preserving, pickling, and making jams and jellies. Cooking and baking can transform humble ingredients into show-stopping dishes. As the community garden flourishes year after year, you can even save seeds to start the next year's crop. When it comes to creative community gardening, the sky's the limit.
Tip #2: Start small.
In the wise words of Theodore Roosevelt, "do what you can, with what you have, where you are." While it may be tempting to start an expansive garden immediately, it's best to set an attainable goal, especially for the first growing season. In the first year, begin with just a few crops—perhaps some of your favorite vegetables or those that you know grow well in the area. Then, year after year, you can expand the community garden and incorporate new crops and ideas as it becomes more established.
Tip #3. Use resources.
The essence of a community garden brings together neighbors and friends to grow produce together. People always bring their own knowledge, experience, and skills to the task, which means that the garden can benefit from more helping hands.
In addition to the local community, seek out further resources that can help your garden reach its fullest potential. Many online websites, such as GrowVeg and The Creative Vegetable Gardener, offer community garden ideas. You might also watch YouTube videos or join local Facebook groups about gardening in the area to gain advice from local experts. Of course, the library always offers an abundance of books about community gardening.
Tip #4: Have fun!
Although starting a community garden comes with many financial and practical considerations, make sure to remember your roots and the reason why you want to begin a community garden in the first place. Neighborhood gardens provide a scenic outdoor space where active adults can enjoy physical and social activity with a reward at the end: home-grown, delicious produce and even fresh herbs and flowers for many seasons to come.