10 minute read
Arizona is one of the most popular states for retirees, Phoenix is the main city, and Scottsdale is one of its most desirable addresses. The city of Scottsdale is one of several cities that make up the Greater Phoenix area, and it's one of the more upscale parts of the urban spread. It has boutique shops, elegant restaurants and bars, art galleries galore, a lively entertainment scene, and lots of parks and greenspaces. It's definitely one of the best places to retire in Arizona.
Although there are a number of excellent 55+ retirement communities here, there are also lifestyle communities with no age restrictions, so this is not a destination purely aimed at retirees. Less than a quarter of the population is over the age of 65. It's also one of the best places for singles to retire in Arizona.
As locals know, anywhere in the Phoenix area has easy access to the rest of what Phoenix has to offer. In Scottsdale, you're only a 20-minute drive from Downtown Phoenix, the same from the center of Mesa, and 15 minutes from Phoenix's Sky Harbor International Airport. Also, if you want the great outdoors, you can be at the Grand Canyon in four hours.
Climate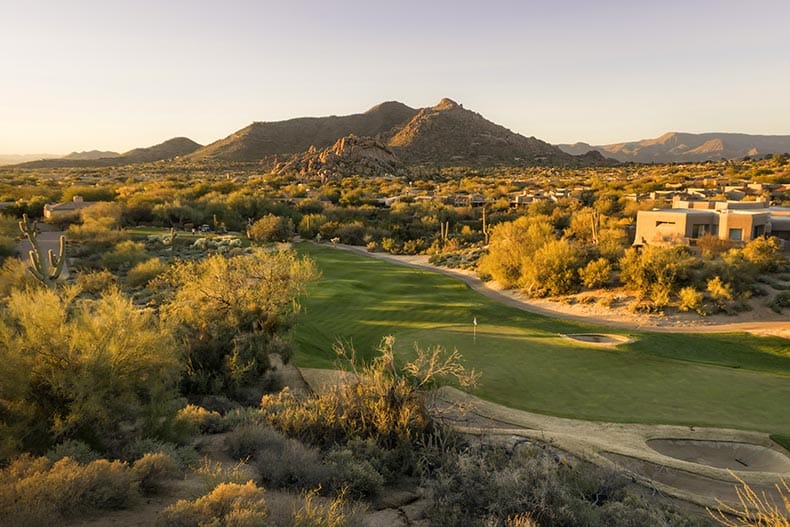 Scottsdale has over 300 sunny days a year, and for a few weeks, those sunny days will have temperatures so high that you won't want to be outdoors past 9:00 am. Scottsdale's record high was 122 degrees in 1990, though 2023 came close to surpassing that.
If you're a snowbird, you'll be escaping those extremes and living in Scottsdale when it's ideal for golfers, tennis and pickleball players, hikers, bikers, and horse riders. In October, for example, the daily average temperature is 75 degrees, and in March it's 64 degrees—perfect for getting out on the greens, the courts, or the trails.
From December to March, and again in the fall, you're only likely to see 3-4 rainy days per month, and even then, the rain will probably be short and light. Snow? It does happen, but it's such a novelty that people rush out to take photos of it before it melts. The bottom line is that Arizona is one of the sunniest places to retire to in the U.S.
Outdoor Recreation Options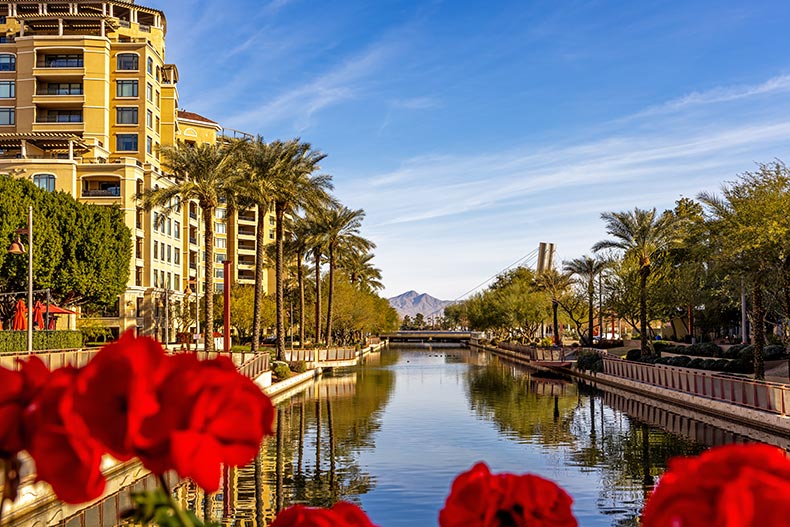 Living in Scottsdale, gives you far more outdoor recreation options than you can find in some other parts of the country, even compared to Florida. Arizona has a dry heat whereas Florida's humidity can make too much outdoor exercise uncomfortable.
The 55+ active adult communities here take full advantage of that climate and offer golf courses, tennis courts, pickleball courts, outdoor pools, and many have their own hiking and biking trails. If not, you're only a short drive from any of these.
For outdoor activities, Scottsdale is close to two of Phoenix's major recreation areas. Camelback Mountain is a 15-minute drive from central Scottsdale, much less if you're in an active adult community in northwest Scottsdale. You have to be fit to tackle either of the two hiking trails that take you to the 2,706-foot peak of the camel-shaped mountain.
The McDowell Mountain Regional Park is a little further, at an hour's drive from Downtown Scottsdale, with the highest peak being East End at 4,069 feet. There are several other peaks within the park, along with nature centers, golf, horseback riding, hiking, mountain biking, paintball, a shooting range, trail running, a waterpark, swimming, boating, fishing, and scuba diving.
Within the city limits of Scottsdale, you have Chaparral Park with a swimming pool and a lake as well as the 60-acre Eldorado Park. This offers a fishing lake, a pool, a gym, a volleyball court, a basketball court, a soccer field, and other outdoor activities.
Cost of Living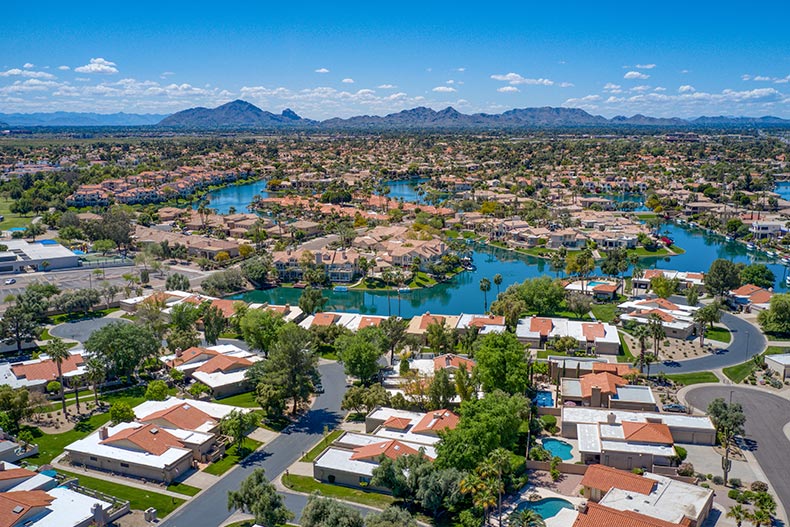 The cost of living in Scottsdale is 13% higher than the national average, and 7% higher than the Arizona average. This obviously makes it more expensive, though not to a ridiculous degree.
Taxes
To compensate for the general cost of living, taxes in Scottsdale—and in Arizona generally—are lower than the national average. Arizona does not levy an inheritance tax, which may be a significant advantage if you're looking to buy your forever home.
Scottsdale is in Maricopa County, the largest in Arizona and the fourth-largest in the entire U.S. At over 9,000 square miles it's about the same size as New Hampshire or Vermont. The average property tax in the county is 0.61% compared to the Arizona average of 0.72%. It's also about one-third lower than the national average. That higher cost of living is obviously only one of the economic factors to take into account.
Health Care Facilities
Because of the high number of retirees who move to Scottsdale, health care here, and in the whole Phoenix area, is as good as anywhere in the U.S. The HonorHealth Scottsdale Shea Medical Center is the 10th-largest in Arizona, with 427 beds, and a leader in several fields including knee replacements and colon cancer surgery.
There are four other major hospitals in Scottsdale, and almost 60 in the Phoenix metropolitan area, including the top-ranked Mayo Clinic-Phoenix. Health care isn't something you need to worry about if you're considering living in Scottsdale. It has several 55+ communities that are near the best hospitals in Arizona.
Restaurants and Shopping Centers
Scottsdale has terrific restaurants and shopping scenes. They range from established favorites in Old Town Scottsdale to the gourmet temples in the many resort hotels in the city.
You could list 50 Scottsdale restaurants and still miss many local favorites, though some to put at the top of your list include:
As well as many fashion boutiques and art galleries, Scottsdale has attractive malls and shopping centers that will appeal to the discerning buyer. Top choice is Scottsdale Fashion Square, where you'll find names like Burberry, Hugo Boss, Gucci, Louis Vuitton, and Tiffany. Kierland Commons is an outdoor shopping mall with restaurants and entertainment, so is not surprisingly always buzzing. Here, you can find more midrange brands such as Tommy Bahama, Crate and Barrel, and Banana Republic. They also host an annual Fine Art and Wine Festival, which is very Scottsdale.
Cultural Attractions and Landmarks
Scottsdale is such an artsy and cultural city that it has various designated arts districts including the Scottsdale Main Street Arts District and the Marshall Way Arts District, where you'll find numerous art galleries and artists' studios. In all, Scottsdale has around 120-130 galleries and studios, one of the highest concentrations in the U.S.
In the Old Town you'll find the Scottsdale Museum of Contemporary Art, while the Musical Instrument Museum has the largest collection of musical instruments in the world and takes at least a couple of days to see everything. You can also take in the Scottsdale Historical Museum, the Museum of the West, and Taliesin West, the winter home and studio of architect Frank Lloyd Wright.
Scottsdale Active Adult Communities
Low $300ks – High $300ks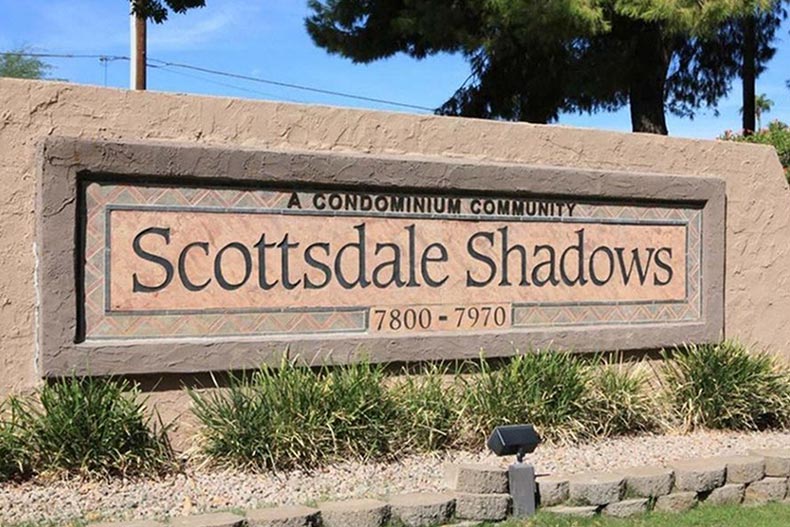 Scottsdale Shadows is an active adult community for those who like downtown living and socializing with their neighbors. It's a gated community of 838 condos with no age restriction. Less than a 10-minute drive has you in Downtown Scottsdale, while directly across the street is Camelback Park, an elongated 32-acre city park with water features and trails ideal for biking or for that early-morning jog.
The community also has plenty of its own amenities, including a clubhouse, fitness center, a woodworking shop, a theater, a 9-hole golf course, an outdoor pool, tennis courts, and hiking and biking trails. There are also numerous clubs and classes such as ballroom dancing, casino trips, exercise classes, Friday night movies, a walking group, holiday parties, and ice cream socials.
The smallest condos are 850 square feet with one bedroom, one bathroom, and underground parking for one car. The largest models have 2,352 square feet, with four bedrooms and four bathrooms.
Low $600ks – Mid $1Ms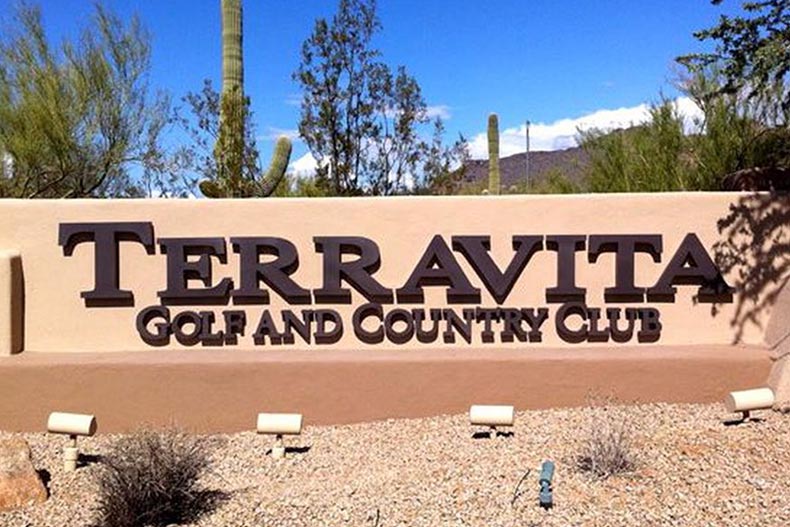 Terravita is a gated community of 1,380 single-family homes with no age restriction. It's a 35-minute drive north of Downtown Scottsdale in the northeast corner of the city.
Amenities at Terravita include a clubhouse, a fitness center, a restaurant, a hobby and game room, and an aerobics and dance studio. Outdoors, there's a golf course, pool, and tennis courts. Residents here also have clubs, classes, groups, and activities including a book club, golf tournaments, wine parties, yoga, tennis leagues, a writing club, specialty dinners, comedy nights, and fashion shows.
Models start at 1,384 square feet, and these have two bedrooms, two bathrooms, and a two-car garage. The largest models are 3,022 square feet, and these offer three bedrooms, two-and-a-half bathrooms, and a three-car garage.
Mid $300ks – Mid $600ks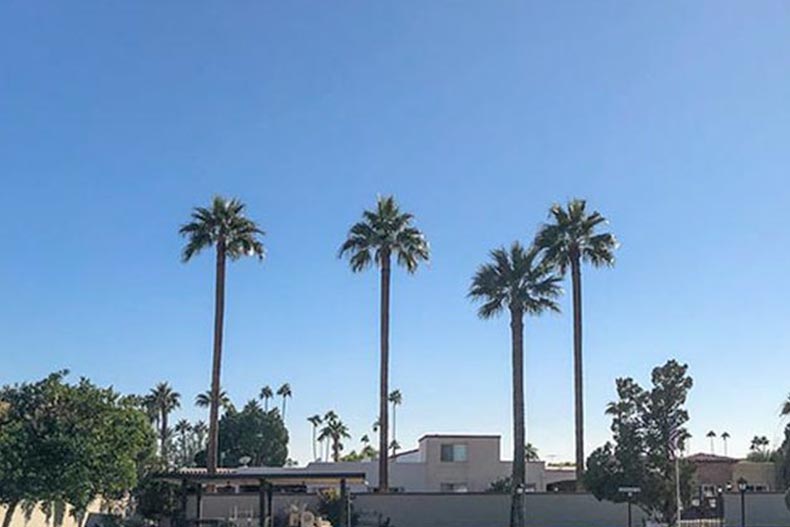 Villa Monterey is a good choice if you want to be near the action of Downtown Scottsdale, as it's only a 5-minute drive away. This 55+ active adult community has 800 attached homes and condos.
Amenities here include a clubhouse, tennis courts, an outdoor pool, and hiking/biking trails. Some of the clubs, activities, and classes include swimming, cycling, tennis, walking, and card groups.
A smaller model at 1,578 square feet provides two bedrooms, two bathrooms, and a two-car carport. A typical larger model at 2,176 square feet has three bedrooms, three bathrooms, and a one-car carport.
Low $500ks – Mid $800ks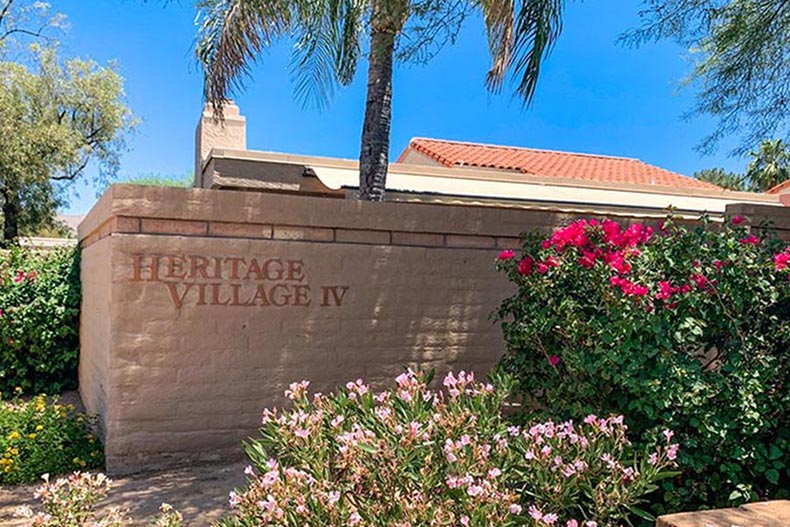 Heritage Village IV is a 20-minute drive from Downtown Scottsdale. It's a 55+ active adult community made up of 162 attached homes.
Indoor amenities include a clubhouse, ballroom, and demonstration kitchen. Outdoors, there's lots to offer including a pool, hiking and biking trails, fishing lakes, a boat launch, gardening plots, tennis courts, a basketball court, racquet and volleyball courts, and a playground for visiting grandkids. Residents enjoy various clubs and activities such as bingo and pizza nights, cocktail socials, jazz nights, a wine club, a yacht club, a book club, a golfing club, and a women's association.
Mid $400ks – Low $600ks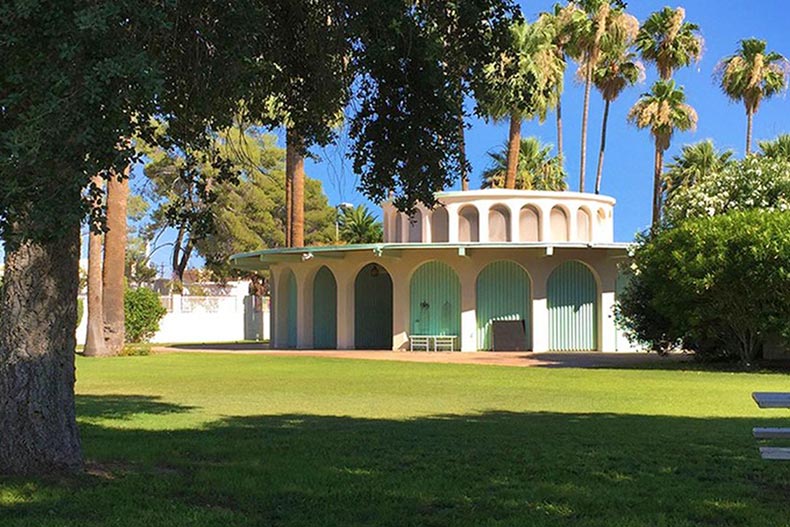 Golden Keys is on the southwest side of the city, less than a 10-minute drive from Downtown and Old Town Scottsdale. It's also only 20 minutes from Downtown Phoenix and its international airport. Golden Keys is a 55+ active adult community of 184 attached homes.
Amenities include a clubhouse, meeting rooms, outdoor pool, bocce courts, and parks and natural spaces. Residents have clubs for both bocce and swimming.
High $600ks – High $900ks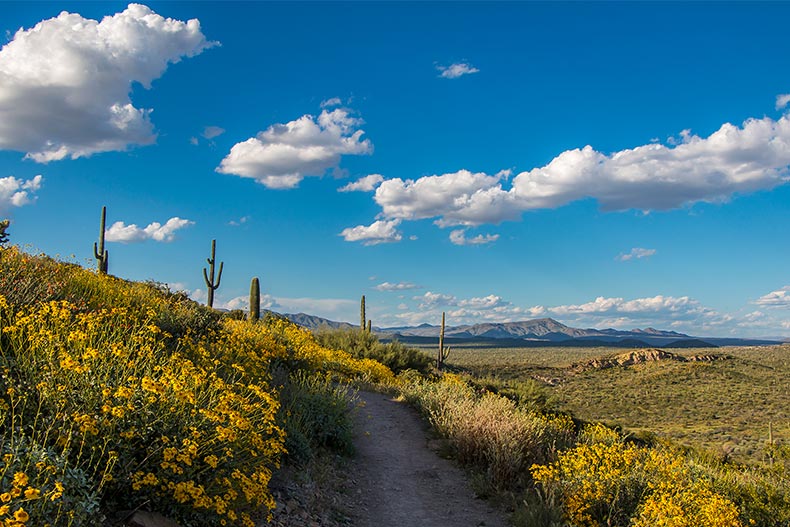 Scottsdale Heights is a 35-minute drive north of Downtown Scottsdale, putting it closer to the desert and mountain landscapes and activities that are on the northeast edge of the city. It's a small, gated community of 75 single-family homes for the 55+ active adult.
As a smaller community, there are fewer amenities, but residents can enjoy the outdoor pool, BBQ facilities, whirlpool spa, and bocce courts. There's also a club for bocce players.
The smallest models are 2,090 square feet and these have three bedrooms, two-and-a-half bathrooms, and a two-car garage. Larger homes go up to 2,294 square feet and offer three bedrooms, a den, two-and-a-half bathrooms, and a two-car garage.
We Can Help You Retire in Scottsdale!
If you think living in Scottsdale is for you, then 55places can help you find the perfect active adult community.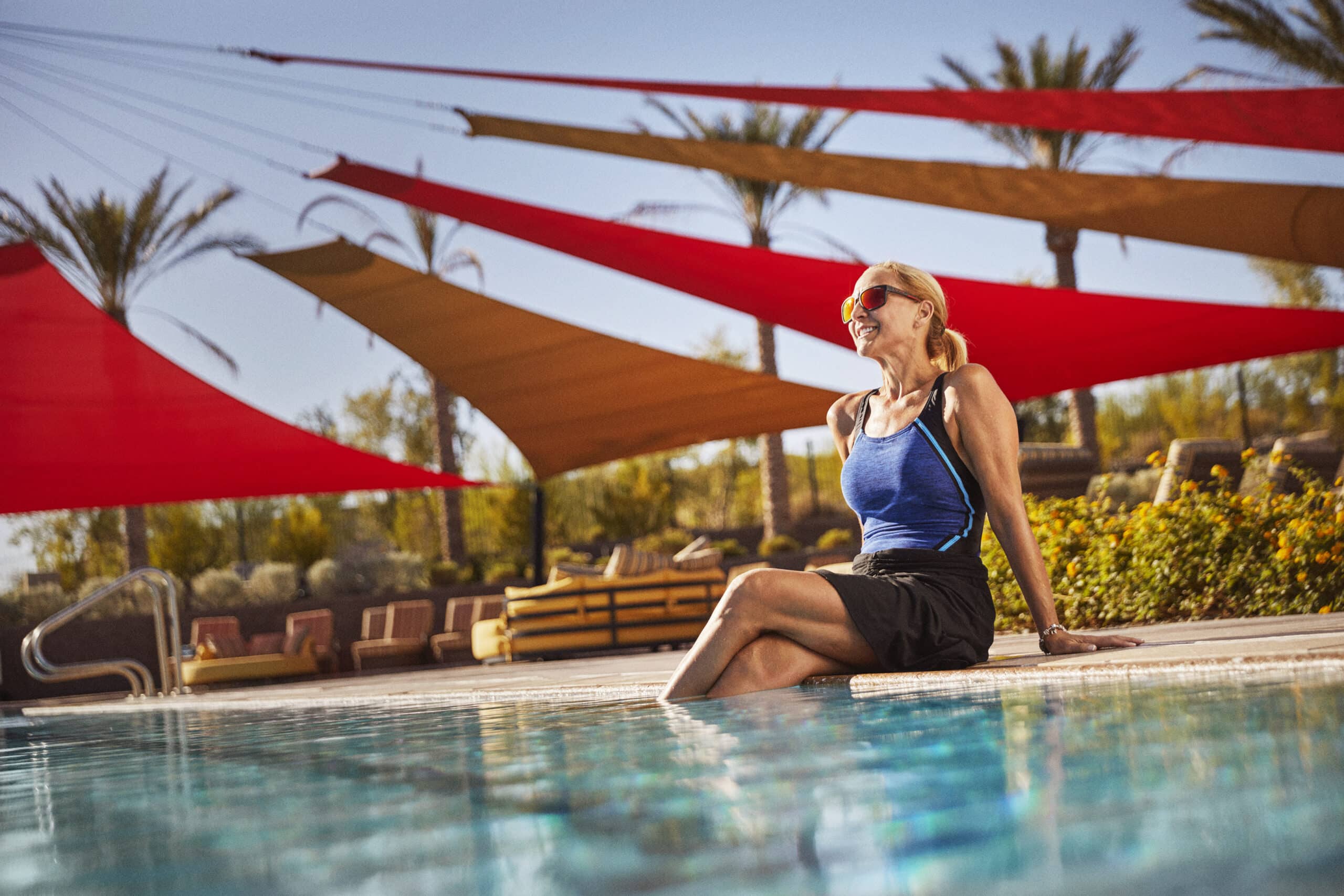 Discover what's next.
To learn more information or connect with a real estate expert, contact us today.