Thinking of moving to Arizona? Here's a comprehensive guide telling you everything you need to know about the climate, the cost of living, and the taxes—including property and retirement income taxes. It also covers the different parts of Arizona, the two main cities of Phoenix and Tucson, and the pros and cons of Arizona living, whether you're thinking of moving to Arizona from neighboring California or from across the country in hopes of escaping those cold winters.
Retiring in Arizona Pros and Cons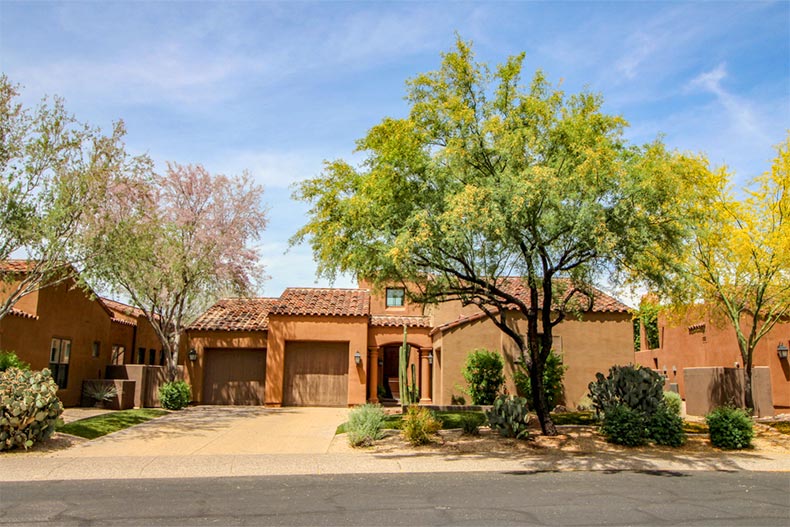 Pros
A hot climate. Of course, a major positive about living in Arizona is the climate—so much so that we've dedicated an entire section to it below. It's enough to say that if you like the sun and hate the cold, you should definitely consider moving to Arizona.
Golf and other outdoor pursuits. Because of its climate, Arizona has huge appeal to golfers, tennis players, pickleball lovers, and those who enjoy hiking, biking, horseriding, and other outdoor activities. With about 300 days of sunshine a year, you can be out on the golf course nearly every day. There are also over 300 golf courses around the state (one for every sunny day). Many active adult communities have their own golf courses, and some have several, but even if your community of choice doesn't have its own course, you can be sure one is never very far away.
Picturesque parks and natural spaces. Arizona has 22 national parks, including the Grand Canyon, and a further 31 state parks. Although the image of Arizona is desert, 30 percent of the state is covered in forest, including the Tonto National Forest which covers almost three million acres.
Top-notch health care. Because it has a large number of retirees, Arizona also has a large number of hospitals, doctors, and other support services to look after older age groups. See more under the health care section below.
Excellent food and drink. Arizona's large resorts attract some of the best chefs in the country, while Tucson is one of only two U.S. cities to be designated as a UNESCO World City of Gastronomy. There's also a thriving craft beer, craft spirits, and cocktail scene as well as several wine-growing areas. Yes, Arizona does produce some good wine.
The low cost of living. On a national scale, Arizona has a pretty average cost of living, but it's far cheaper than other states which are popular among retirees, such as Florida and California. If you're moving to Arizona from California, for example, you'll find the cost of living to be around one-third cheaper.
Cons
A hot climate. For some, the climate could be a disadvantage. In Central and Southern Arizona especially, you have to be prepared for long periods in the summer when the temperature will be well over 100 degrees.
Be prepared for pests. The hot climate that appeals to humans also appeals to bugs. Many homeowners subscribe to a pest control service, which will spray regularly to guard against nuisances like scorpions and cockroaches. Lots of active adult communities have been built on what was formerly desert land where critters live, so depending on your location, you might have to get used to dealing with things like snakes and packrats (which like chewing car wires).
Arizona Climate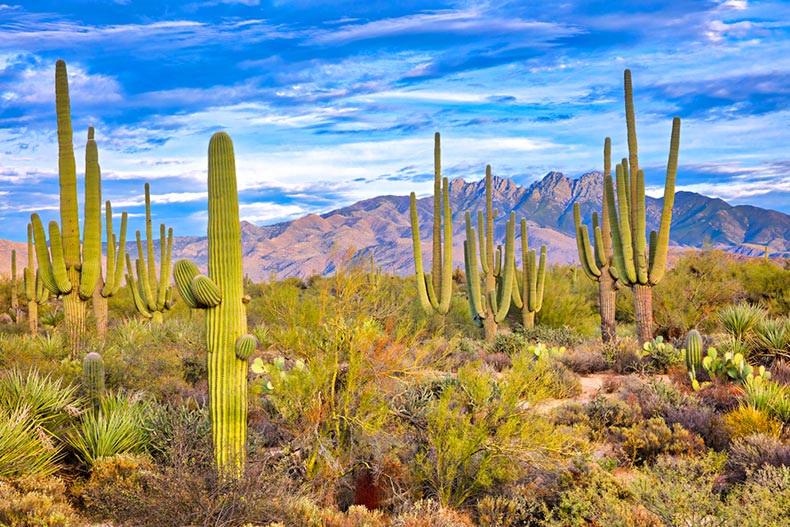 When moving to Arizona, you can't ignore the weather. It's a big factor in your deciding where you want to move to. If you enjoy four seasons, you don't mind winter, and you don't like summers that are too hot, then Northern Arizona would be ideal. If your attitude to sun and heat is 'bring it on,' then Central Arizona and Southern Arizona will both appeal to you.
Most of Central and Southern Arizona has a roughly similar climate. Winters are usually mild, with daytime temperatures in the 60s and even the 70s. Snow is unusual: You might get one or two days a year with a flurry of snow, which will melt as those daytime temperatures kick in. There may be nights, sometimes several in a row, where the temperature dips below freezing and outdoor pipes have to be protected. But that's usually as bad as it gets.
The price paid for the mild winters is very hot summers. As early as May, the mercury can start to climb over 100 degrees, and it can stay that way through the summer. From mid-June to the end of September is monsoon season in Arizona, when intense afternoon and evening storms can cause the heat to drop and roads and rivers to flood. Most residents regard the spectacular thunder and lightning storms over the mountains as better entertainment than TV, but you do have to take care if you need to go out on the roads. Flash floods can occur, though if you're prepared and behave sensibly, they're not usually a problem.
Arizona Taxes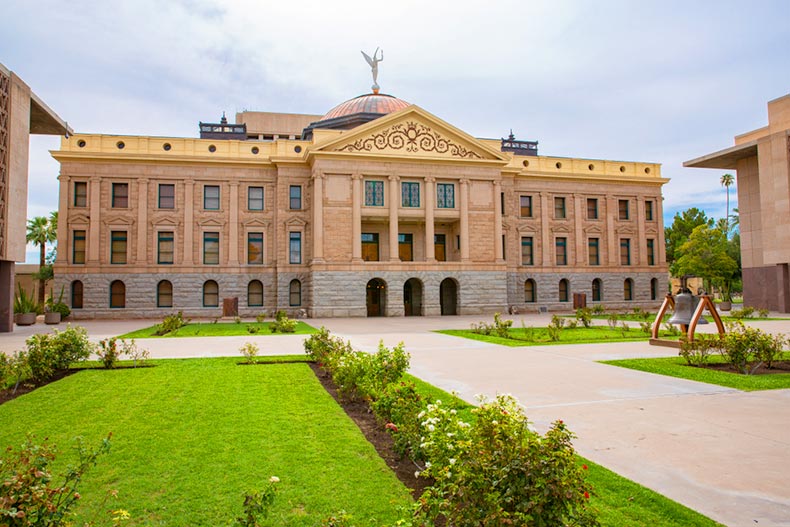 Active adults considering a move to Arizona should know that the state generally has average to low tax rates compared to the rest of the country.
Arizona Property Taxes
Property taxes in Arizona are assessed on a county level, taking into account recent sales of similar properties nearby. The average property tax in Arizona as a whole is 0.72 percent of a home's assessed market value, which is about one-third less than the national average. Property tax exemptions are available for qualifying widows, widowers, and disabled people. Exemptions are also available for low-income seniors on fixed incomes.
Arizona Retirement Income Taxes
Social Security retirement benefits are not taxed in the state of Arizona. Other forms of retirement income are taxed, although tax rates are lower than in other popular retirement states.
Arizona Tax Exemptions for Seniors
There's no inheritance tax in Arizona, which can be an important consideration for seniors. There are also property tax exemptions and tax freezes available for widows, widowers, and disabled people.
Arizona Health Care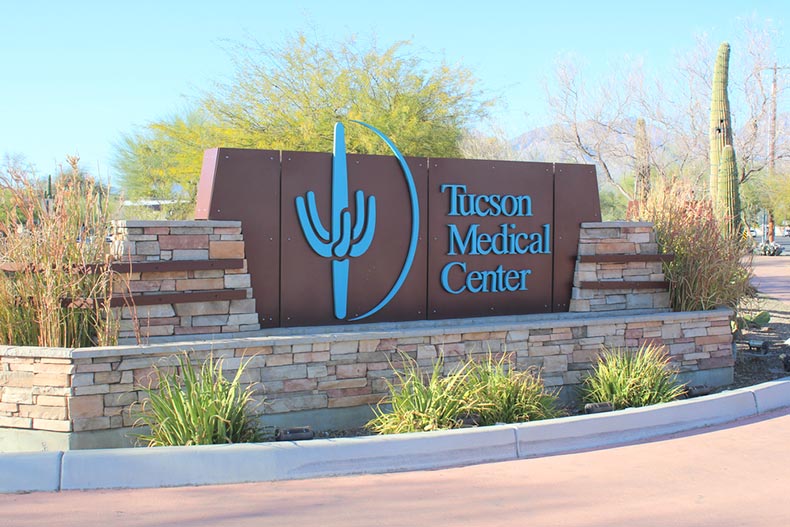 Health care in Arizona is top-notch because of the number of retirees who live there; therefore, the facilities are made to support the needs of an older-than-average population. The dry heat of the state's desert climate also brings health benefits. Many people who suffer from arthritis, for example, find that the dry and warm climate eases the pain considerably. Those with asthma and breathing problems also find the clean, dry air beneficial, as do allergy sufferers.
Where to Live in Arizona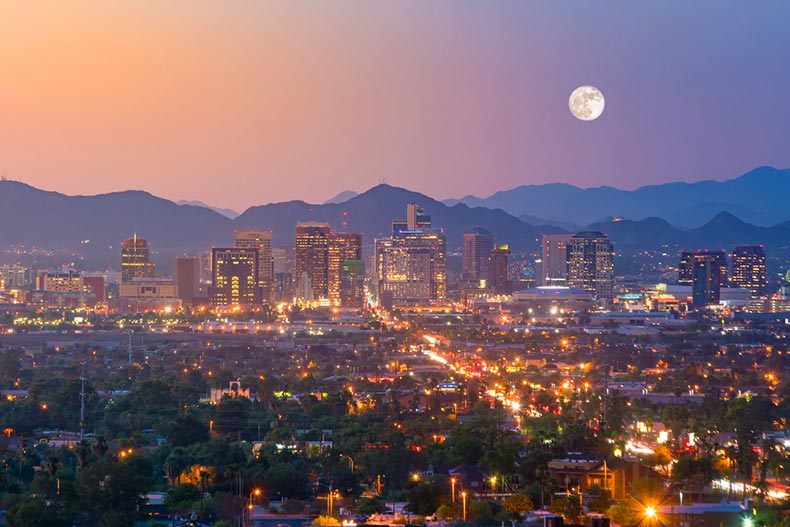 As mentioned in the section on climate, Northern Arizona is very different from Central and Southern Arizona. Another factor to consider is whether you want an active adult community that's firmly in an urban setting, such as Phoenix, or one that's in a more rural setting for enjoying the outdoors.
Northern Arizona
Northern Arizona is mostly at a higher altitude than the rest of the state, and summers are not quite as searingly hot. People from Central and Southern Arizona will often take a break from the summer heat by visiting Northern Arizona. Some even have cabins there for longer summer breaks.
There are no big cities, so the region appeals to those who enjoy an outdoor lifestyle rather than urban living. The larger towns include several places that are also tourist attractions, including Sedona, Flagstaff, and Prescott, all providing a lively lifestyle with plenty to do.
Sedona is an artsy 'new age' town with beautiful scenery, Prescott is a former mining town with a historic feel to it, and Flagstaff is a student town with several museums and attractions nearby, as well as a historic association with Route 66. Northern Arizona also encompasses the Grand Canyon, of course, a place you never get tired of visiting.
The cost of living in Northern Arizona is a little lower than the rest of the state, and it's lower than the national average. If health care is an issue, there are fewer facilities in Northern Arizona, but the Flagstaff Medical Center is rated as one of the best regional hospitals in the USA.
Phoenix and Central Arizona
If you prefer the conveniences of city living, then Phoenix is the best choice in Arizona. It's the fifth-largest city in the USA by population, and its metropolitan area also includes other independent cities like Scottsdale, Mesa, Gilbert, Tempe, Chandler, Peoria, and Surprise. Taken together, this area provides the widest range of homes to choose from when moving to Arizona. There are homes to suit all budgets, and active adult communities ranging from under 100 homes to over 27,000 homes.
Despite its size with almost 5 million inhabitants, it's still relatively easy to get out into the surrounding desert and mountains. Choose places on the edge of the urban area, like Mesa or Gilbert, and you can get the best of both urban and outdoor living. There are dozens of museums, parks and gardens, restaurants, excellent shopping, and of course, numerous golf resorts. Outside the city, you can enjoy hiking and other outdoor activities in many regional parks.
The cost of living in and around Phoenix is higher than in other parts of the state, but it's still cheaper than the average U.S. city. Health facilities are first class, and the larger active adult communities even have their own hospitals and pharmacies.
Tucson and Southern Arizona
Tucson is Arizona's second-largest city, and it has a character all of its own. Locals say that in Phoenix, you have to drive out to the desert, but in Tucson, the desert begins at the end of your driveway. It's much smaller than Phoenix, with about 1 million people in the metropolitan area, and only about 500,000 in the city itself, giving the feel of a large town where people have more time for you.
Tucson has a historic downtown area, a number of museums and campuses, and, as stated earlier, it's one of only two World Cities of Gastronomy in the United States (Santa Fe in New Mexico is the other). The city is surrounded by mountains and desert, and popular attractions include Saguaro National Park, Old Tucson (an active movie studio and Old West theme park), and the Arizona-Sonora Desert Museum.
Another option for Southern Arizona is Green Valley, an unincorporated city 30 minutes south of Tucson and made up largely of 55+ active adult communities catering to retirees and snowbirds. If you really hanker after the Old West of Arizona, then you should consider Sierra Vista, a city of about 45,000 people which is 20 miles from Tombstone.
The cost of living in Southern Arizona is comparable to Northern Arizona, and it's a little cheaper than Phoenix. Tucson has several hospitals and many medical centers, Green Valley has a hospital and a number of medical centers, and Sierra Vista has several medical centers too. Some residents of Green Valley take advantage of its proximity to the Mexican border town of Nogales, a 40-minute drive south along Interstate-19, where dental services and prescription drugs are much cheaper than in the U.S.
55+ Communities in Arizona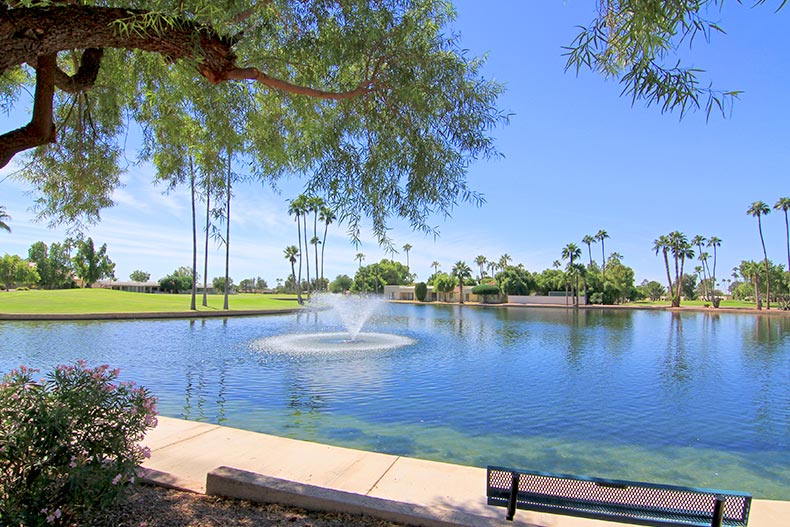 With well over 100 active adult communities in Arizona, buyers are sure to find something to meet their requirements and budget. Visit our Arizona page to search for communities using the wide range of filters available. Or, here's a tiny portion of the choices on offer.
Northern Arizona
In Northern Arizona, the majority of the active adult communities are in and around the lively town of Prescott, with one in Cornville, and a couple in Bullhead City close to the Nevada border and nearer to Las Vegas than to Phoenix.
Prescott Lakes is the largest community in Prescott, a gated community of 1,300 homes aimed at active adults but with no age restrictions. Amenities include its own Golf and Country Club with an 18-hole course and an Athletic Club with an indoor pool, an outdoor pool, a spa, a fitness center, an aerobics studio, and courts for tennis, basketball, and sand volleyball. Homes range from the low $300s to $3 million and offer 1,190 to over 3,000 square feet.
The Villages At Lynx Creek is also in Prescott, but it offers a more affordable option with homes starting below $100k. It has 454 manufactured homes for the 55+ active adult. Amenities are naturally fewer than in a larger community like Prescott Lakes, but residents still enjoy the use of a clubhouse, a fitness center, an outdoor pool, a spa, a woodshop, an activity center, a billiard room, and courts for tennis and pickleball. Homes range from 400 to 1,900 square feet with prices starting below $100k.
Phoenix and Central Arizona
If looking at moving to Phoenix and Central Arizona, you have over 60 communities to choose from, covering all budgets, all home sizes, and a wide variety of amenities.
Sun City, the first active adult community in the United States, should be on anyone's list of options if moving to the Phoenix area. It's about 16 miles northwest of Downtown Phoenix, and it has over 27,000 homes for the 55+ active adult. Its numerous amenities include a hospital, seven recreation centers, 11 golf courses, nine swimming pools, 19 shopping areas, 31 places of worship, and excellent facilities for sports, arts, and crafts. Models here start at 634 square feet and under $100k through to over 2,000 square feet with prices in the high $800s.
Fountain of the Sun is in Mesa, which has ten active adult communities offering the best of urban living with close proximity to the desert and mountains. It's a gated community of 2,296 homes for the 55+ active adult. Amenities include its own private country club with an 18-hole golf course, a clubhouse, a fitness center, an arts and crafts room, and a heated outdoor pool. Models start at under 1,000 square feet and under $100k and go up to 2,100 square feet in the high $200s.
Tucson and Southern Arizona
There are over 60 active adult communities to choose from in Southern Arizona, ranging from 5,400 homes to just 28 homes.
Northridge Estates is the closest to Downtown Tucson, which is just over six miles away. It's a small community of 84 attached homes for the 55+ active adult. Amenities comprise an outdoor pool, a clubhouse, and shuffleboard courts. Also, in about 15 minutes, you could be enjoying hiking in the Catalina Mountains, which are visible from the community. Models range from 1,345 to 2,031 square feet and from the mid $200s to the mid $300s.
SaddleBrooke Ranch is the largest of Southern Arizona's communities, a gated active adult community of 5,400 homes with a low 40+ age restriction. It's in the small town of Oracle, which is a 45-minute drive due north of Downtown Tucson but only a 20-minute drive from Catalina State Park and the Catalina Mountains. It has a 37,000-square-foot clubhouse, one of the best in Arizona. Among its many other amenities is an 18-hole golf course, a Creative Arts and Technology Center, an outdoor pool, an indoor lap pool, a choice of eating places, a brewery, an auditorium, and sports facilities including 24 pickleball courts. Home prices range from the low $400s to the mid $800s.