Phoenix is the fifth-largest city in the U.S. by population, and it's the capital of Arizona. It has all the amenities and attractions of a large city, yet nowhere is too far from the dramatic desert landscapes of Arizona and (a fact that surprises some people) its forests and lakes.
Retirees love moving to Phoenix for its 300+ days of sunshine, its outdoor lifestyle, and its laid-back southwestern vibe and culture. It's also a city that has a large number of 55+ active adult retirement communities, and therefore also the facilities required to support those communities and their residents.
There are pros and cons in moving to Phoenix, though, and it's important to take those into account.
Retiring in Phoenix: Pros and Cons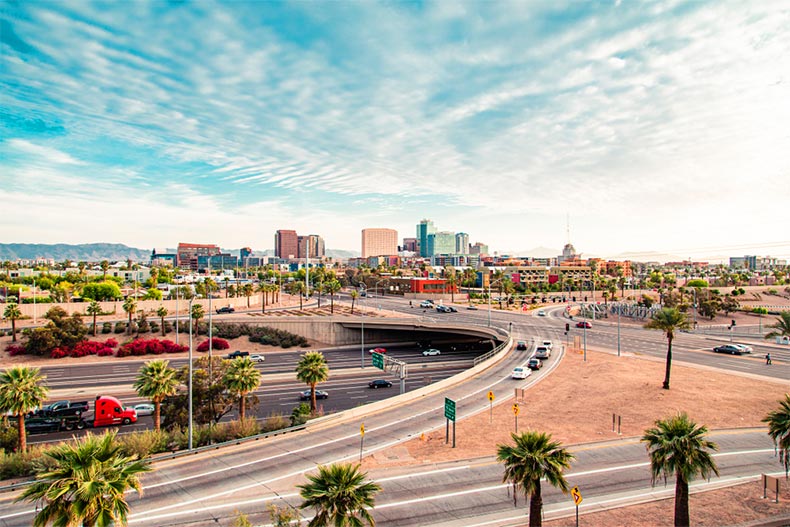 PROS
CONS
It gets hot: In the summer, it can get so hot that any outdoor activities have to be limited to the very early mornings or the evenings. The record temperature in Phoenix is 122 degrees. The daily average for June-August is over 90 degrees, with average highs from June into September over 100 degrees.
Heavy traffic: You'll burn a lot of AC sitting in traffic, especially in the summer months when opening the car window isn't an option. There's a good loop road around the city, which can get you places fast when the traffic is flowing. Residents avoid rush hours when they can, and public transport isn't the best.
Lower pay: If you're still working, salaries are a little below the national average, but then so too is the cost of living.
Phoenix Climate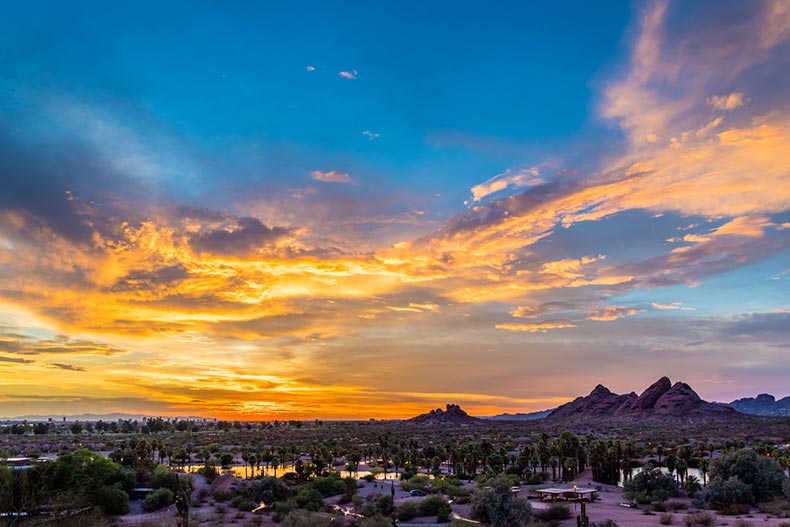 Phoenix does have seasonal climates. There may be over 300 sunny days a year, but those daytime temperatures vary a lot. In summer, they can be well over 100 degrees for days or weeks at a time. From about December to February, they're likely to be in the 50s. Spring and fall are the favorite seasons for locals, with temperatures typically in the 70s and 80s for long periods. It can drop below freezing overnight in winter, but it doesn't happen every year. When it does, it's usually short-lived.
Contrary to what you might think, Phoenix can have rain at any time of the year, though in spring and fall it's going to be minimal. From December-March, you can expect 3-4 rainy days per month, and a little more in July-August when the summer monsoons arrive. These are spectacularly heavy rains that often arrive in the afternoons, with thunder and lightning storms, but they usually don't last too long.
The long sunny days mean that outdoor activities are popular, in particular golf. Phoenix is one of the prime golfing destinations in the U.S., but it's also a great destination if you enjoy hiking, biking, tennis, or pickleball.
Phoenix Taxes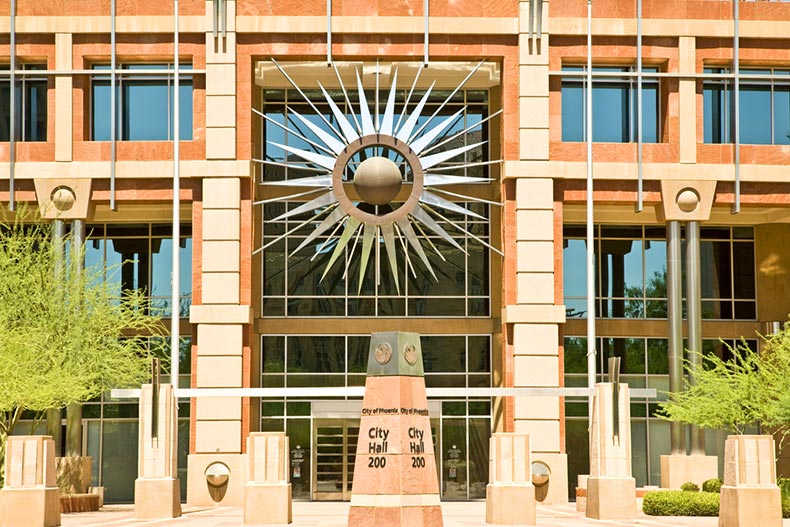 Phoenix—and Arizona—taxes are generally lower than the U.S. average. There are also benefits for retirees, of which there are many living in Phoenix. For example, there's no inheritance tax anywhere in Arizona, which may be an important factor for some seniors. The cost of living in Phoenix is 1.5% above the national average, but for most seniors, this is more than compensated for by the tax savings.
Phoenix Property Taxes
Phoenix is in Maricopa County, the largest in Arizona and which also encompasses the neighboring cities of Mesa, Glendale, Scottsdale, Tempe, Chandler, Peoria, and Gilbert. Arizona property taxes are assessed by the county, and Maricopa's average effective rate is 0.61%. This is lower than the Arizona average of 0.72%, and about one-third lower than the national average. Property tax exemptions are available for qualifying widows, widowers, and disabled people. Exemptions are also available for low-income seniors on fixed incomes.
Phoenix Retirement Income Taxes
Social Security retirement benefits are not taxed in Phoenix or Arizona unless they come from an out-of-state government pension. Other forms of retirement income are taxed, although tax rates are lower than in other popular retirement states. There are also tax benefits for retired military personnel.
Phoenix Health Care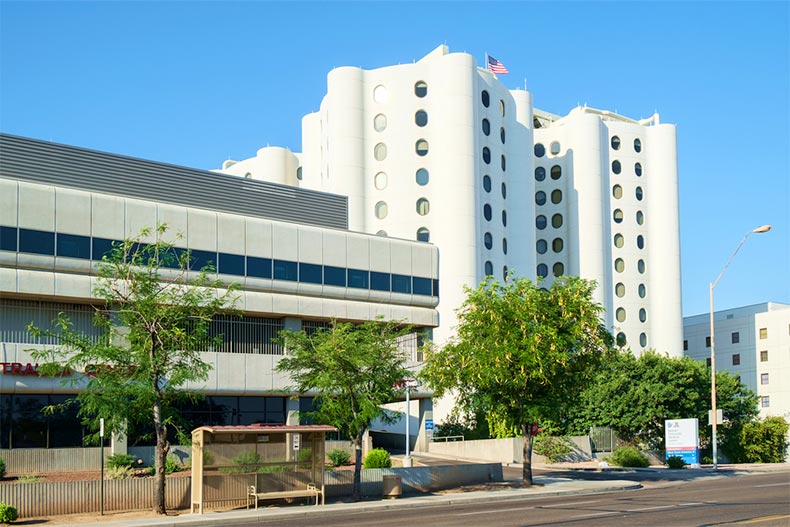 In Phoenix, you'll find health care is as good as anywhere in the country, especially for seniors thanks to the many retirees who do move to the city. The Phoenix metropolitan area has almost 60 hospitals, and these include top-ranked facilities like the Mayo Clinic, St. Joseph's Hospital and Medical Center, John C. Lincoln North Mountain Hospital, Arizona Heart Institute, Banner Health, and Barrow Neurological Institute. Also, there are numerous other specialist facilities in adjacent cities like Scottsdale, Tempe, and Mesa.
Where to Live in Phoenix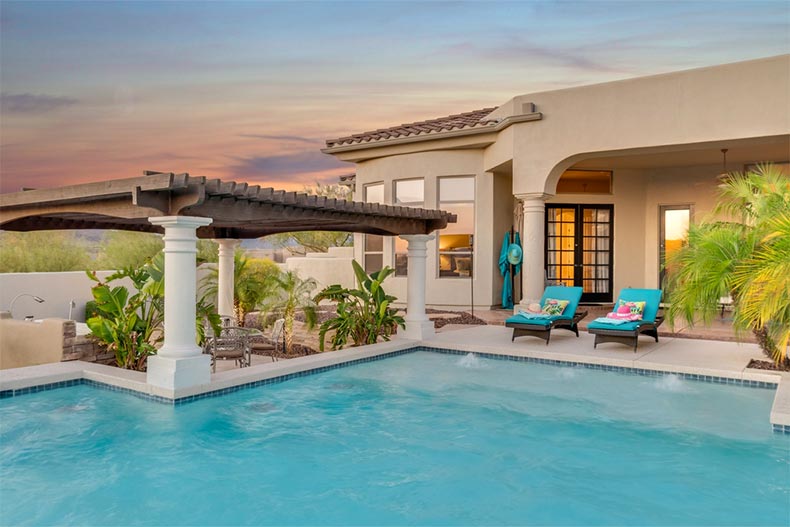 Phoenix, like any city, has its specific areas such as Downtown, Midtown, Uptown, North and South Phoenix, and so on. A number of active adult communities are north of the city center in or near an area known as Paradise Valley, which for retirees does indeed live up to its nametag.
Phoenix
Paradise Valley
Phoenix is unusual in that as well as having city districts, the city council has also created 19 'urban villages' as a way of humanizing the vast city sprawl. Paradise Valley is one of these, which causes a little confusion as it's distinct from the nearby town of Paradise Valley.
Anywhere in this part of the city is an attractive place to live. People drive everywhere, and if you're moving to Phoenix you're moving to the larger urban area. You may find yourself living closer to Downtown Scottsdale than you are to Downtown Phoenix, even though you're technically a resident of Phoenix.
In Paradise Valley, there are the expected city attractions of good shopping, good entertainment, and facilities like doctors' offices and banks. However, you'll also find the Phoenix Mountains Preserve. The preserve encompasses several urban parks which include peaks rising to 2,000 feet, with two of the parks ranking among the largest urban parks in the world.
Nearby communities you might consider include Hillcrest, Northtown, and Turtle Creek, all of which give easy access to the facilities of Paradise Valley.
Scottsdale
Although it's a separate city from Phoenix, Scottsdale is a part of the larger urban area and also runs into Paradise Valley. If you were driving around, you'd be hard-pressed to say whether you were in Phoenix, Paradise Valley, or Scottsdale, at any one time.
Scottsdale is one of the more affluent cities making up the Phoenix urban area, with high-end shops and restaurants. The cost of living is a little higher than elsewhere in the area, but residents feel it's a price worth paying… and you can always drive a few miles and do cheaper shopping elsewhere if you prefer.
Scottsdale is home to dozens of art galleries, and a number of museums. These include the Scottsdale Historical Museum, and the Scottsdale Museum of Contemporary Art, which is the only permanent museum dedicated to Arizona's contemporary artists. In Scottsdale, you'll also find Taliesin West, which was the winter home of the architect Frank Lloyd Wright, and now a major visitor attraction.
There are several active adult communities in Scottsdale, including Terravita and Scottsdale Shadows.
Mesa
Mesa is definitely city living but at a less frantic pace than in the center of Phoenix. You're also always aware of the outdoor attractions in the other direction, as many residents go hiking in the mountains on weekends or boating in the nearby lakes.
If you live in the northeast of Mesa, you're right on the edge of the desert but only 25 minutes from historic Downtown Mesa with its several museums and Arts Center. There are also a couple of important archaeological sites, including the Park of the Canals, which honors the engineering achievements of the Native Americans who created a canal network to irrigate the area.
There is a range of active adult communities to choose from in a large city like Mesa. Sunland Springs Village is the biggest, with 2,890 homes, but there are several other larger communities of over 2,000 homes, all with excellent amenities. There are also communities with homes under $200k, Like Fountain of the Sun, if you're moving to Phoenix on a budget.
Ready to Make the Move? 55places Can Help.
To discover more exciting 55+ communities in Phoenix, we invite you to contact us at 800-928-2055 or visit 55places.com. Our experienced team of real estate experts will guide you through the top options in your area and help you make a seamless transition from your current home to a 55+ community. We look forward to helping you make your next move the best one yet!