55places.com looked at over 29,000 cities designated by the most recent census data, focusing specifically on major areas with a population of 20,000 or greater. We then broke down each area by how many single or unmarried people made up the total population. Additionally, we added a median price to income ratio from the census data to target areas where you can reasonably afford a home. From that data, we curated a final list.
Here, then, are the 10 best places for singles to retire in Arizona.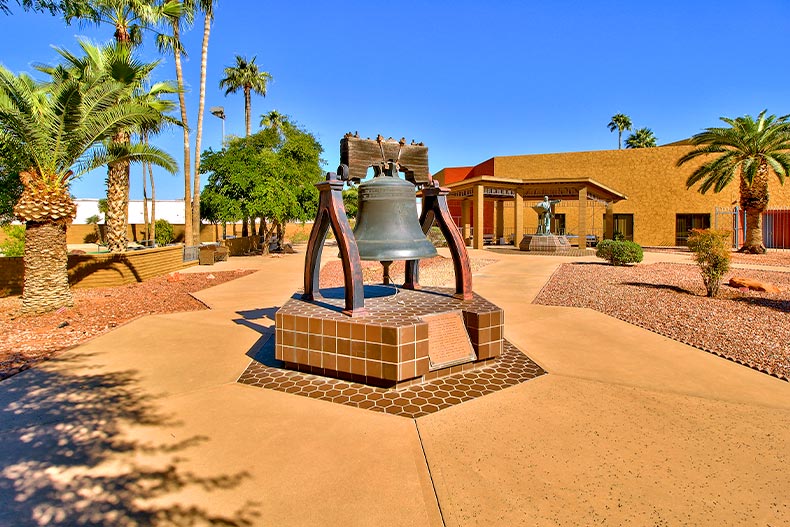 The very best place for singles to retire in Arizona is Sun City, which is both a 55+ community and a city in its own right. Located in the extreme northwest of the Phoenix Metropolitan Area, Downtown Phoenix is a 30-minute drive away. Sun City is also only a 30-minute drive from White Tank Mountain Regional Park, which covers almost 30,000 acres.
The Sun City community offers hundreds of clubs, groups, activities, and classes for single people to participate in, making it easy to find like-minded friends. These include the Sun City Singles Dance Club and the Sun City Singles Social Club. Other clubs cover sports, arts and crafts, card and board games, singing, dancing, and even a Sun City Concert Band for musicians.
The many amenities include 11 golf courses, 19 shopping areas, a hospital, 30 churches, a synagogue, several fitness centers, several indoor and outdoor pools, arts and crafts studios, and courts for tennis, pickleball, bocce, shuffleboard, and racquetball.
Sun City features over 27,000 attached, condo, and single-family homes. Models range from 635-square-foot studio condos to single-family homes more than 2,000 square feet. Homes for sale at Sun City range in price from under $100k to the high $800s.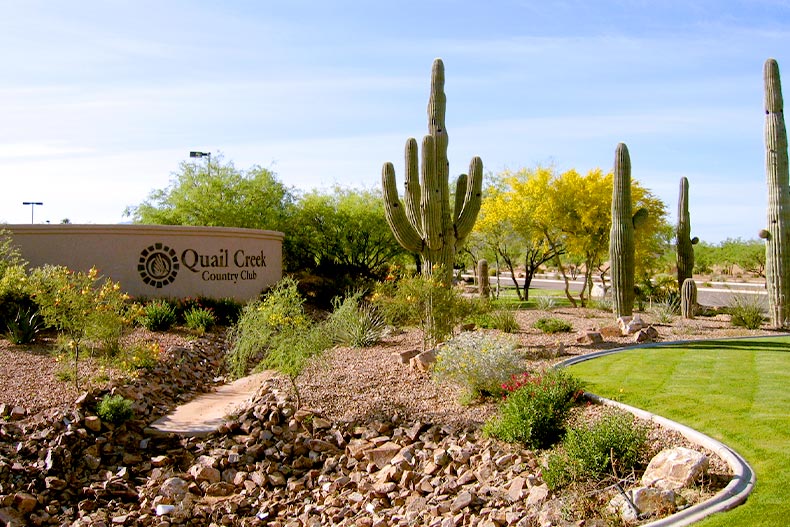 Green Valley, a town with a population of about 24,000, is a 30-minute drive south of Tucson in Southern Arizona. A major reason for this being a popular place for singles to retire is that it's largely made up of a collection of unique active adult communities.
Green Valley Recreation (GVR) runs seven major recreation centers and seven smaller satellite centers. The facilities in all centers are open to anyone in Green Valley who is a member of GVR. These include swimming pools, fitness centers, tennis courts, arts and craft centers, live entertainment venues, and the largest pickleball center in southern Arizona. Outside of GVR, there are also numerous golf courses in Green Valley, along with all the necessities for a small town, including a hospital.
Communities range in size from about 4,000 homes right down to some with just a few dozen. The largest community is Quail Creek with 4,000 attached and single-family homes. It's a gated community for the 55+ active adult. Amenities include a 27-hole golf course, an athletic club with a fitness center, the Creative Arts and Technology Center, indoor and outdoor pools, arts and crafts studios, and both tennis and bocce ball courts.
Residents can also join in on clubs, groups, classes, and other activities to join, including several arts and fitness groups. Homes at Quail Creek start at 1,286 square feet, with prices starting in the low $200s.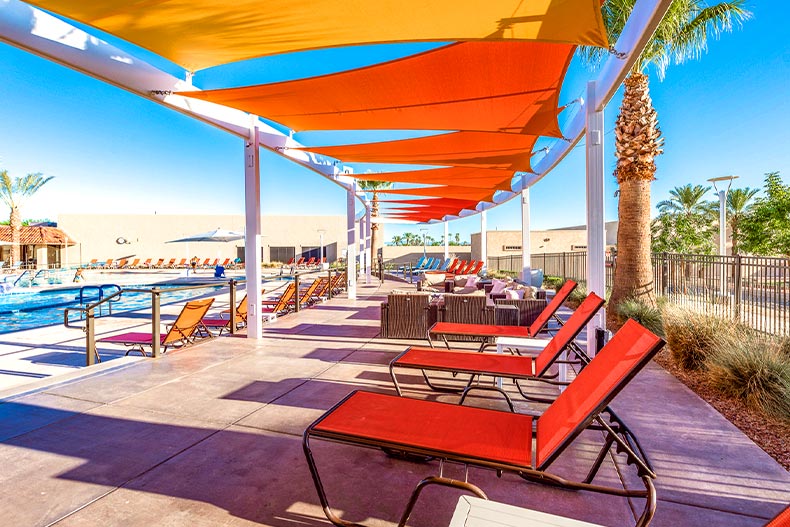 Sun City West is also popular with singles. Similar to the original Sun City, this town is a 55+ active adult community doubling as a city, with 16,900 attached and single-family homes.
Amenities include seven golf courses, nine restaurants, 18 places of worship, and its own hospital. Social life revolves around four recreation centers which feature fitness centers, indoor and outdoor pools, arts and crafts studios, and courts for tennis, pickleball, basketball, volleyball, and more. There are several dozen clubs and classes that allow homeowners to socialize easily, including a singles club. The smallest models are patio homes at 761 square feet, and prices start in the low $100s.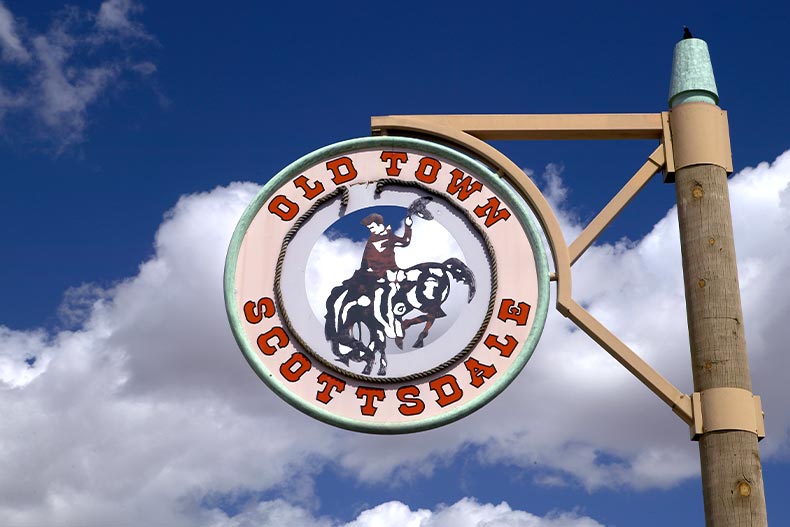 Scottsdale is a city in the Phoenix urban area of about 260,000 people. Downtown Phoenix is a 25-minute drive away and Old Town Scottsdale can be reached in five minutes. Residents are also a quick trip from the Arizona desert and Camelback Park, a 32-acre urban park with hiking and biking trails and a lake.
Scottsdale Shadows is an active lifestyle community with 838 affordable condos, making it of particular appeal to singles. This gated community includes amenities like fitness centers, a 9-hole golf course, three outdoor pools, two tennis courts, and several arts and crafts studios. There are also numerous social activities including dances, holiday parties, shopping trips, and movie nights. Condos available have one to four bedrooms and underground parking spaces. Prices start in the high $100s through to the low $500s.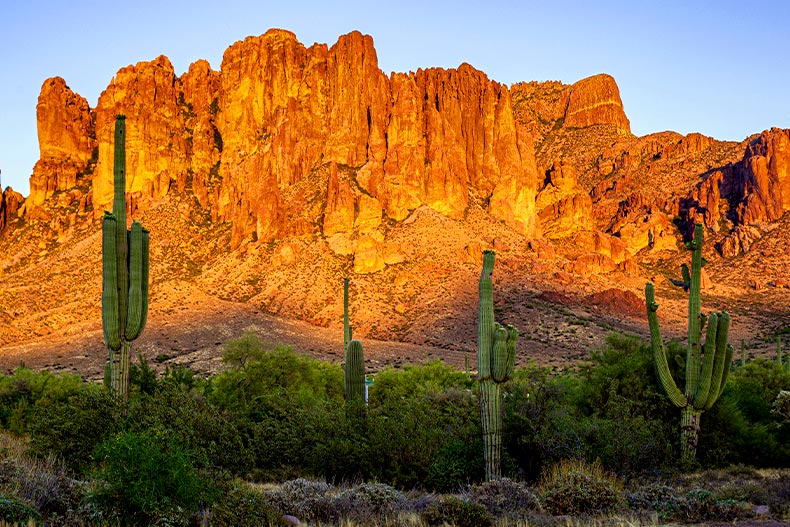 Apache Junction is a city of about 42,000 people at the eastern edge of the Phoenix urban area. Downtown Phoenix is a 40-minute drive, while you can be out in the desert at the 320-acre Lost Dutchman State Park in under 10 minutes.
Meridian Manor is the largest community in the city and a 10-minute drive from the center of Apache Junction. It's a gated 55+ community with 443 single-family homes. Models range from 900 to 1,900 square feet and prices start in the mid $100s.
Amenities include a 10,000-square-foot clubhouse with a ballroom, arts and crafts rooms, exercise room, outdoor pool, a putting green, and multiple athletic courts. There are a number of clubs and activities where singles can meet other residents, including karaoke, ladies' luncheons, a book club, and potluck get-togethers.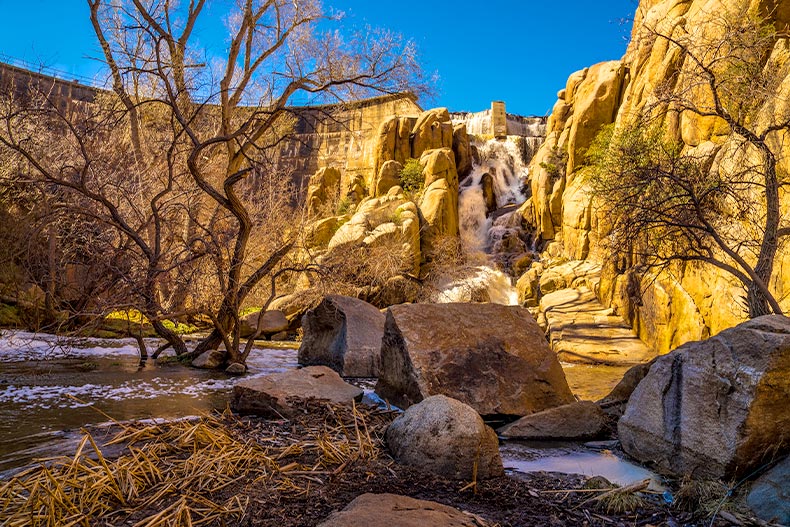 Prescott is a city of around 45,000 people in Northern Arizona, about 100 miles north of Phoenix. It stands at an elevation of over 5,300 feet, making it much cooler in the hot Arizona summers. Naturally, the city also experiences cold winters with snow possible from November to April. Prescott is a popular and lively tourist destination with plenty of entertainment, restaurants, art galleries, museums, and historic buildings.
The largest active adult community is Prescott Lakes nestled in the popular and scenic area of the same name. Despite this, it's still only a 5-minute drive from the downtown. Singles will appreciate this gated community's 1,300 homes in a variety of styles. The multiple neighborhoods making up Prescott Lakes vary in their age restrictions, some with none and some 55+. Home models are 1,190 to over 3,000 square feet, and prices start in the high $200s.
For amenities, residents can enjoy membership to The Club at Prescott Lakes, which has an 18-hole course, dining options, and a pro shop, as well as a library, arts and crafts room, and a hobby and games room. There's also the Prescott Lakes Athletic Club, which has a fitness center, aerobics studio, indoor and outdoor pools, and sports courts. Social activities include game nights, dancing, and travel and walking groups. There's also a gardening group, as gardening plots are available to residents.
7. Fountain Hills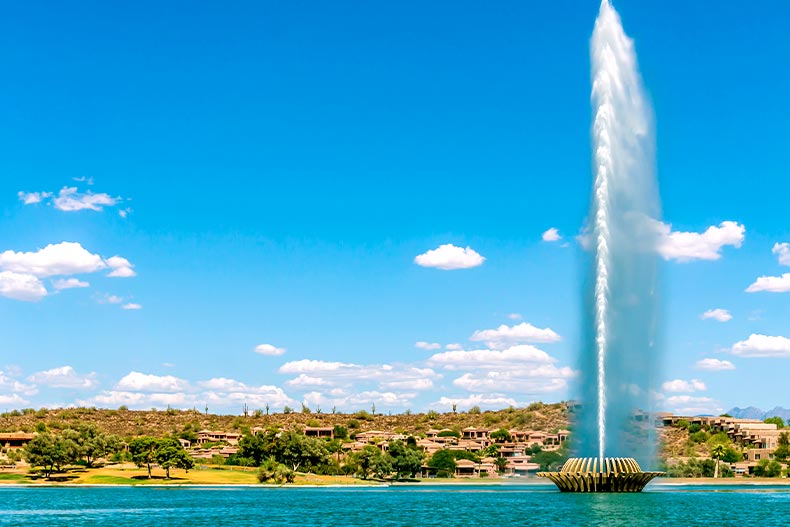 Fountain Hills is a town of about 25,000 people at the eastern edge of the Phoenix area. Downtown Phoenix is a 40-minute drive away, but, in less than 20 minutes, residents can enjoy the attractions of the Scottsdale area, including McDowell Mountain Regional Park, the Arizona Boardwalk,  and the Scottsdale Museum of Contemporary Art. Golfers can also tee off at multiple courses like We-Ko-Pa Golf Club and the Royal Palms Golf Course.
Fountain Hills is made up of numerous small communities and neighborhoods, and prices are generally a little higher here than in nearby cities like Mesa and Gilbert. Singles will appreciate the friendly small-town feel and will find condos starting in the low $100s.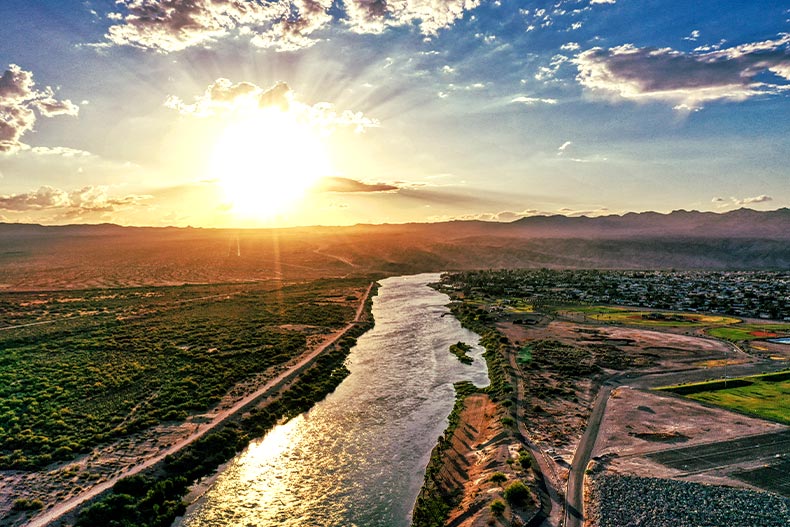 40,000 inhabitants live in Bullhead City, a town found on the banks of the Colorado River just before crossing into Nevada. It's noted for its numerous city parks, the largest of which covers 300 acres. The nearest major city is Las Vegas, 90 miles to the north.
Bullhead City has two 55+ communities, Hillcrest Park, with 212 homes, and Canyon Trails at Fox Creek, with 460 homes. Though smaller, Hillcrest Park will appeal to those on a budget as prices here are in the low to mid $100s. Homes for sale in Canyon Trails at Fox Creek go from the low to the high $200s. Hillcrest Park also has a wide selection of amenities and activities including an outdoor pool and spa, barbecue area, a library, billiards, and an exercise area. Singles can enjoy attending holiday parties, potlucks, barbecues, and social activities like card games. Canyon Trails at Fox Creek amenities also include a clubhouse and outdoor pool.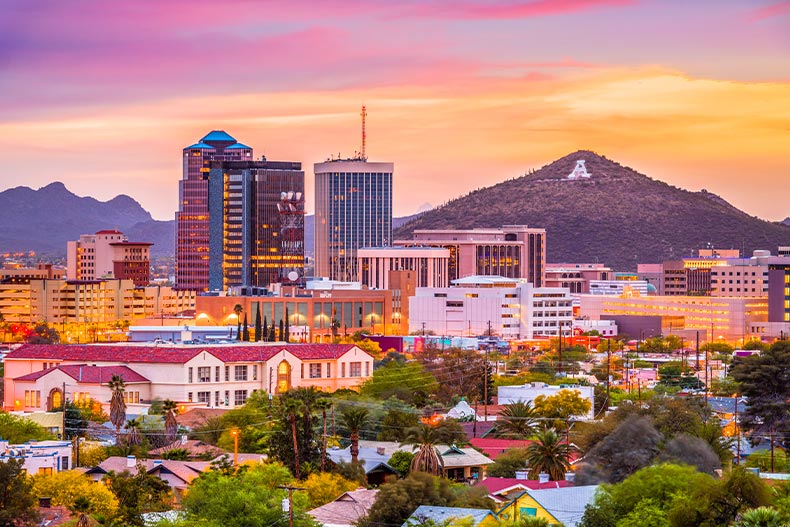 Tucson is Arizona's second-largest city after Phoenix and offers residents a lively entertainment and restaurant scene. It's a two-hour drive south of Phoenix and has its own airport as well as all the facilities of a major city, with its population of just over one million in the metro area. The city is also surrounded by dramatic desert and mountain scenery.
The Tucson area has a number of active adult communities, ranging in size from a few dozen homes to the largest, Saddlebrooke, with 5,400 homes ranging from 1,335 to 3,484. This 55+ community will appeal to singles for its many amenities and lifestyle opportunities.
Those amenities include 18-hole and 9-hole golf courses, with a driving range and a pro shop. Residents also make use of the MountainView Country Club, which has two outdoor pools, a tennis club, restaurants, a library, a fitness center, rooms for yoga, several arts and crafts studios, and more. Additionally, the DesertView Sports Club and Performing Arts Theater provides a second fitness center, outdoor pool, tennis courts, and facilities for softball, basketball, volleyball, and badminton.
There are countless clubs and activities for residents to participate in, and these include a singles club, many arts and crafts groups, various sports clubs, and organized activities most days of the week.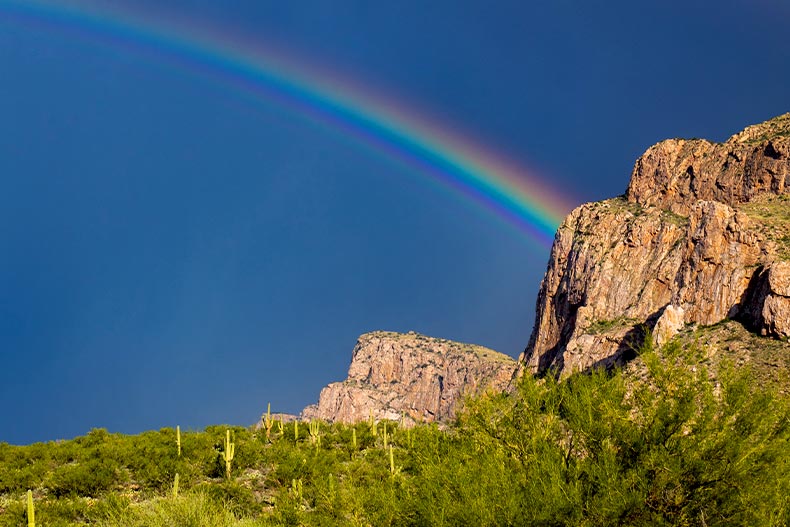 Oro Valley is a town of about 46,000 people that's a 20-minute drive north of Downtown Tucson. It's just a few minutes from the foothills of the Catalina Mountains and outdoor recreation at Catalina State Park.
There are a handful of active adult communities in Oro Valley, and the best place for singles to retire to is the largest: Sun City Oro Valley. This 55+ community has 2,488 attached and single-family homes. Amenities include an 18-hole golf course, an Artisan Center with several arts and crafts studios, and the Mountain Vista Complex and Fitness Center with two outdoor pools, an aquatic and fitness center, and multiple sports facilities.
There are also plenty of activities and clubs for residents, including a singles club, arts and crafts groups, various board game groups, and even a rock and roll club. The floor plans start at about 1,000 square feet, and prices range from the low $200s to the high $500s.