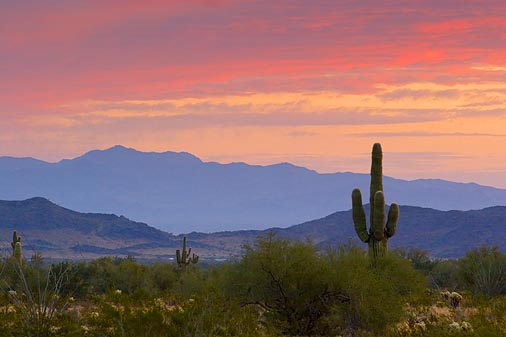 Active adults looking to set their sights toward the Southwest should consider Nevada or Arizona as their ideal retirement destination. But which one is right for you? Well, that all depends on personal taste and what's important to you when choosing where to retire.
Both states are similar in regards to climate, low taxes, outdoor recreation, and affordable homes. They also have a lower cost of living when compared to other states for retirees like Oregon and California. Nevada and Arizona also have a variety of active adult communities that are perfect for retirees who want a vibrant and social lifestyle. So which state will it be: Nevada or Arizona?
Climate
Retirees often seek a year-round warm climate where they can forget about snow. Both Arizona and Nevada offer a favorable climate that appeals to active adults as well as an abundant amount of sunshine. In both states, most days are dry and sunny while nights are cool and refreshing.
Arizona Climate
Arizona and Southern Nevada have similar climates with desert to semi-arid weather and low humidity. With both states having dry climates, Arizona and Nevada are perfect places to retire if you suffer from allergies or asthma.
Nevada Climate
Nevada has a diverse geographic area, from the dry Mojave Desert to the mountain valleys of the Sierra Nevada, giving retirees options for a change of scenery and weather. Nevada is the driest state in the country, and the weather up north gets fairly cold during the winter months while southern parts of the state experience short and mild winters.
Taxes
Taxes might the biggest determining factor when choosing a location for your retirement home. Luckily, Nevada and Arizona are tax-friendly states for retirees.
Arizona Retirement Taxes
Arizona exempts Social Security and some pensions from state income tax. Also, there's no inheritance tax, gift tax, or estate tax.
Nevada Retirement Taxes
Nevada doesn't have a state income tax or inheritance tax, making it an ideal retirement destination for baby boomers living off a fixed budget.
Cost of Living
Affordability is another important factor that retirees must consider. Certain states have a higher cost of living that wouldn't benefit baby boomers on a fixed retirement income. Luckily, Nevada and Arizona offer a low cost of living.
Arizona Cost of Living
Arizona's cost of living is 5 percent below the national average, and homes are relatively affordable. While Arizona has Sun City, which was the first active adult community in the U.S., Nevada has also seen its number of active adult communities increase to meet the growing demands of the baby boomer population.
Nevada Cost of Living
Nevada also has affordable homes and an overall lower cost of living than most parts of the country. However, there are a few places that are more expensive, like Kingsbury and Gardnerville.
Recreation
Arizona and Nevada are full of entertainment options and cultural attractions. Both states also provide opportunities for outdoor recreation such as white water rafting or fishing along the Colorado River.
Arizona Recreation
Tucson, Phoenix, Yuma, and Prescott are the four largest metropolitan areas in Arizona, and they offer professional sporting events, museums, restaurants, and art galleries. Arizona is home to popular sights like Grand Canyon National Park and Red Rock State Park, both of which offer majestic views of the natural landscape. Arizona also has about 70 highly ranked public golf courses.
Nevada Recreation
Las Vegas is Nevada's largest city and its most popular destination for entertainment and attractions. Besides casinos and nightlife entertainment, Nevada is also known for other great resort destinations and attractions like Lake Mead, the Hoover Dam, Lake Tahoe, Reno, and Laughlin. Nevada also has wineries, street festivals, golf courses, and art shows.
Winner: It's a tie!
While Arizona and Nevada share many similarities, each state has its own unique charm and characteristics that appeal to a variety of baby boomers. All you have to do is choose the right place for you!
---
agent.calls_to_action.here_to_help
agent.calls_to_action.call_us_long