California homes have always been in high demand, but it's no secret that some areas and some communities are more desirable than others. When homes sell quickly in a certain area, there's usually a good reason. Whether it's a highly desirable area because of great weather, fabulous amenities, or competitive home prices, it's always a good idea to know where homes are selling fast. Armed with this knowledge, you'll be able to make an informed decision about where you want to purchase next.
Based on the average number of days homes spent on the market, here are the top five communities in California where homes sell the fastest.
Also, if you're planning to sell your home, we can connect you with a local real estate expert to help you get started.
High $700s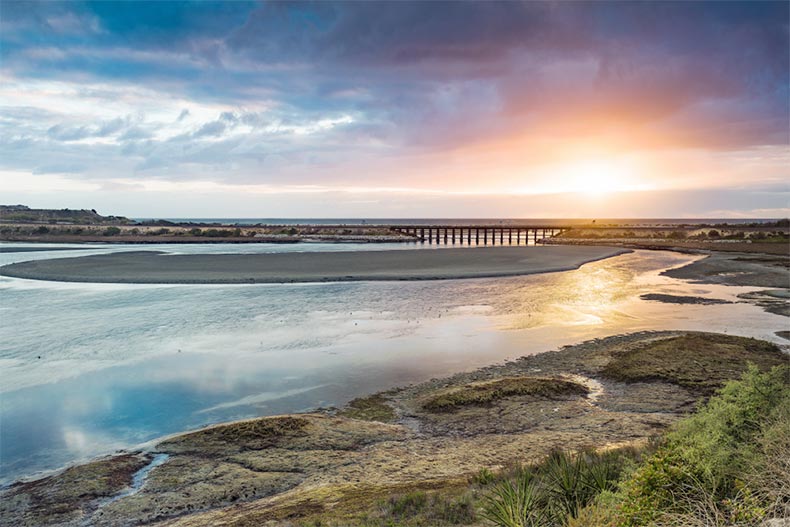 Located near San Diego in the beachside town of Carlsbad, Sea Cliff boasts the number one spot on our list of communities with the fastest-selling homes. This in-demand community has no age restrictions, so residents of all ages mingle together, becoming fast friends while enjoying the beautiful amenities and serene landscaping. Both attached and single-family homes are offered at Sea Cliff with prices starting in the high $700s.
This established gated community was built between 1984 and 1988 and is made up of 303 homes. The attached homes are roughly 1,180 square feet and have two bedrooms, two bathrooms, and an attached two-car garage. The single-family homes offer 1,191 square feet and have three bedrooms, two bathrooms, and an attached two-car garage. Some of the outstanding features of these homes include dual master suites with walk-in closets, vaulted ceilings, hardwood floors, spacious backyards, and stainless steel appliances.
In addition to the beautiful lake and ponds featured at Sea Cliff, the resort-like amenities are a favorite among residents. The clubhouse is a central gathering point where homeowners enjoy a library and multipurpose room. Outdoors, there are two sparkling pools as well as tennis courts and barbecue areas.
Beyond the community, the surrounding area offers much in the way of outdoor activities, such as golfing, fishing, boating, and biking. Also, Sea Cliff is just a 30-minute drive from San Diego.
Request more information about Sea Cliff.
High $300s – High $400s
As the only Northern California community on this list, Diamond Grove is a gem for those looking for well-priced, single-family homes and resort-like living in centrally located Vacaville. This 55+ community is comprised of 220 homes priced from the high $300s to the high $400s. Built between 1997 and 2000, this gated community is popular with home buyers, and homes here stay on the market for an average of 41 days before getting snatched up.
The mid-sized single-family homes in Diamond Grove range from 1,043 to 1,744 square feet and have two to three bedrooms, two bathrooms, and attached two-car garages. These homes feature desirable finishes and upgrades such as vaulted ceilings, hardwood floors, skylights, walk-in closets, and private backyards with patios.
Among the stellar amenities located in the community are a clubhouse, a library, and game rooms, as well as an outdoor pool, spa, and patio. Homeowners enjoy neighborly games of shuffleboard and horseshoes outdoors, as well. There are also RV parking spaces for rent, which is a convenient feature for RV owners. Socializing is a big part of being a resident of this friendly community, where bingo, canasta, poker, arts and crafts, and game nights are common activities.
Outside of the community, it's only a 35-minute drive to the museums, notable restaurants, and theaters in Sacramento, and it's a 40-minute drive to the world-renowned Napa Valley wine region. Closer to home, numerous parks, open spaces, and golf courses can be found, as well as casual eateries, shopping centers, museums, and medical facilities. Just outside the community, everyday conveniences can be found at Safeway, Sprouts Super Market, Walmart Supercenter, Sam's Club Pharmacy, and CVS.
Request more information about Diamond Grove.
Mid $300s – Low $400s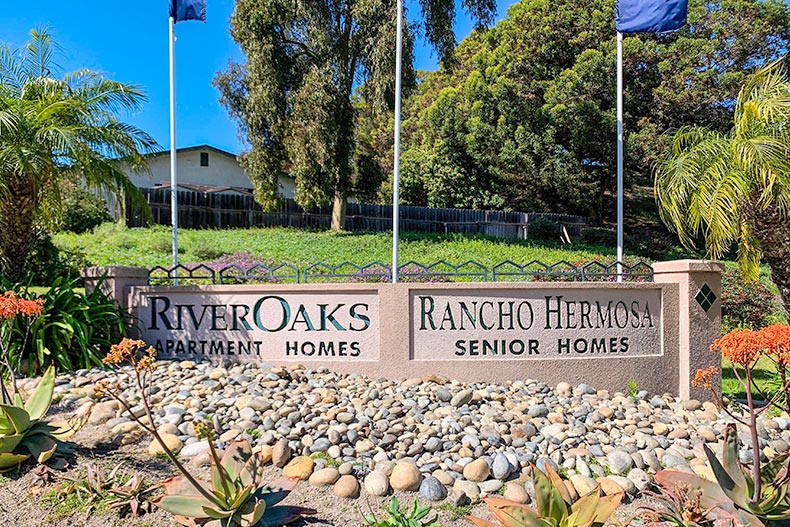 The third best-selling community on our list, Rancho Hermosa boasts a small, intimate feel with only 176 homes located in the community. These popular Oceanside-city homes spend an average of 42 days on the market and are priced from the mid $300s to the low $400s. Residents here enjoy a prime location near the Pacific Ocean with year-round sun, natural beauty, and exciting nearby attractions.
Built between 1983 and 1984, Rancho Hermosa is a 55+ community offering low-maintenance attached homes with approximately 827 to 1,200 square feet. These homes feature two bedrooms, two bathrooms, and an attached two-car garage. Many homes offer owners sweeping mountain views and desirable features such as wood-laminate flooring, walk-in closets, and private outdoor spaces.
Although there's no clubhouse located on-site, residents of this tight-knit community enjoy hosting one another at their private residences and staying active by walking and biking on the paved trails that run throughout the property. In addition to nearby beaches, shopping, and dining, there are several attractions within a short driving distance. These include the Oceanside Pier, Heritage Park Village, Oceanside Historical Museum, and Mount Ecclesia.
Request more information about Rancho Hermosa.
High $300s – Mid $400s
Another popular Oceanside 55+ community, Costa Serena offers active adults a sunny, beachside retreat with homes priced from the high $300s to the mid $400s. Located between Los Angeles and San Diego, Oceanside is a desirable location where active adults take full advantage of the idyllic SoCal weather. The attached homes in this friendly community spend an average of 43 days on the market.
There are 694 attached homes in Costa Serena with 827 to 1,350 square feet, two or three bedrooms, one or two bathrooms, and an attached one-car garage. Homeowners here enjoy ocean views, private yards, and year-round warm weather.
Nearby amenities and attractions include several golf courses and the El Camino Country Club just down the street, as well as numerous restaurants, shopping boutiques, and a medical center nearby. The nearby Shoppes at Carlsbad include a Vons, Sprouts Farmers Market, banks, restaurants, cafes, a Home Depot, a PetSmart, and a Walmart. And of course, miles of nearby beaches and paved walking/biking trails can be enjoyed year-round.
Request more information about Costa Serena.
High $300s – Mid $500s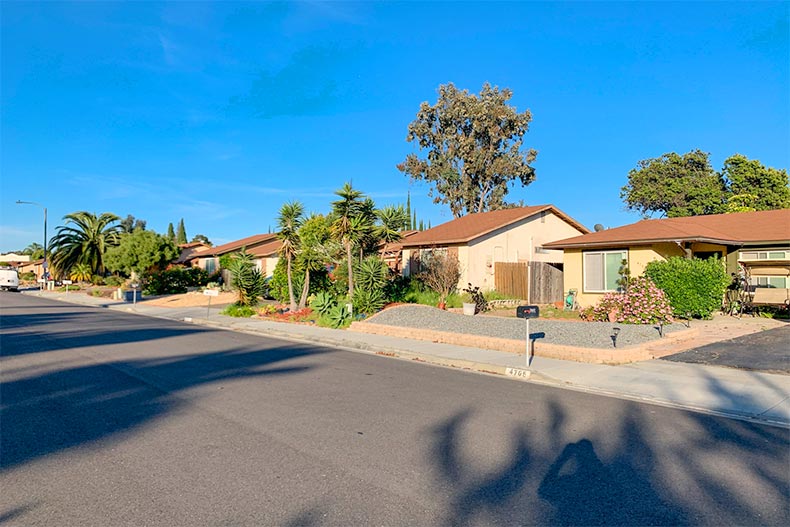 Competitively priced from the high $300s to the mid $500s, this popular 55+ community offers cozy coastal homes which spend an average of 45 days on the market. Peacock Hills is located in the highly desirable Southern California city of Oceanside, just minutes away from the beach, shopping, and dining.
The community is comprised of 920 attached homes built from 1976 to 1980. Active adults will appreciate these comfortable, low-maintenance homes, which are arranged in low-rise, duplex buildings. These homes offer approximately 830 to over 1,300 square feet of living space and feature two or three bedrooms, two bathrooms, and an attached one-car garage.
Peacock Hills offers residents a close-knit, neighborly community where community members socialize and look out for one another. The well-kept landscaping and paved paths make morning walks a favorite activity among residents. Although there's no clubhouse located in the community, the nearby El Corazon Senior Center boasts 27,000 square feet of space designed for adults aged 55+. Inside, members will find common spaces, a classroom, meeting rooms, and a catering kitchen with a dining room. There's also a well-equipped fitness room available to residents for a small monthly fee.
In addition to the nearby senior center, there are plenty of other attractions to stay busy, relaxed, and entertained close by. The beautiful beaches of Oceanside are only a few miles away, and just down the street from the community lies the Plaza Rancho Del Oro shopping center with an Albertson's, a Planet Fitness, and several restaurants and other amenities. The Emerald Isle Golf Course, the El Camino Country Club, and the Oceanside Golf Course are all close by, offering golfers ample courses to play.