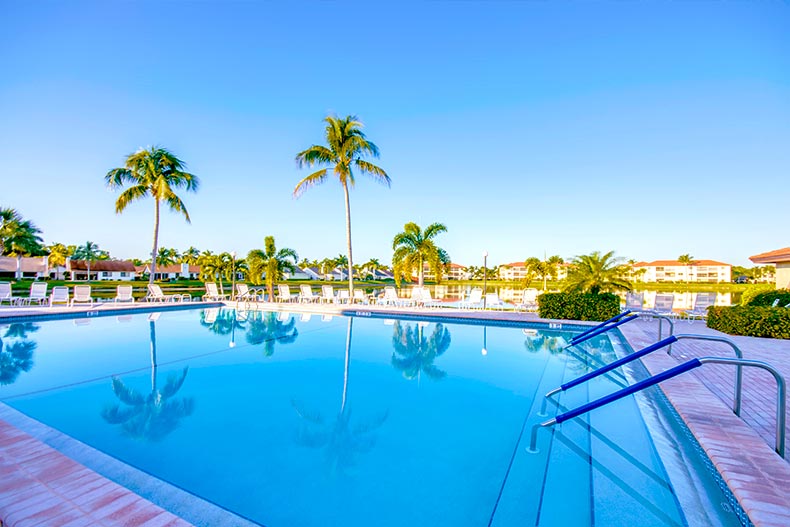 Boating, fishing, and beaches are abundant in Florida's Fort Myers and Cape Coral area on the southwest coast of Florida. The Gulf of Mexico draws active adults from all over the country looking for a Florida retirement that includes recreation on the water, fresh seafood, and plenty of opportunities for socializing and staying active.
The good news is that Fort Myers real estate can be pretty affordable, even if you want to live close to the water and even if you want to live on a golf course. These communities in the area provide some of the best options for buyers looking for budget-friendly housing under the tropical, year-round sunshine.
Pine Ridge at Fort Myers - Fort Myers
Enjoy views of a 20-acre lake at Pine Ridge at Fort Myers, a 55+ community that features a lakeside dock, parks, and a lot of natural walking and biking trails for active adults who enjoy being outside as much as possible. The clubhouse includes a club room and a catering kitchen as well as two multi-purpose rooms for social activities and club events. There's an outdoor pool with a spa and patio, shuffleboard courts, bocce courts, and a tennis court.
Buyers can choose a two-bedroom single-family home with around 1,200 square feet, an attached villa, or even a condo depending on lifestyle and budget. Most floor plans are between 960 and 1,400 square feet, offering low-maintenance living and additional features such as covered lanais, garages, and large master suites.
There's an HOA fee that's charged every month and includes water, sewer, and cable costs. The HOA also takes care of lawn care, street lights, and exterior maintenance.
Seven Lakes - Fort Myers
Free golf is only one of the benefits to buyers who choose a condo or attached villa in the 55+ community of Seven Lakes. If you're looking for affordable homes for sale in Fort Myers, FL and you also want to relax into a country club lifestyle, this could be the place for you. The 18-hole executive golf course is free for residents, and there's also a putting green, six heated outdoor pools, nine shuffleboard courts, and six tennis courts. Residents may enjoy a game of bocce and then relax at the Tiki bar. The clubhouse includes a woodworking shop, ceramics studio, an auditorium, a library, exercise room, and a travel agency.
Mid-rise condos are between three and five floors, and they all have elevators. Most units are one or two-bedroom homes and have between 700 and 1,600 square feet. The villas are between 1,175 and 1,600 square feet. They have two or three bedrooms, two bathrooms, and an attached garage.
Residents will have their HOA fees prorated by the size of their unit. Those fees include the usual services such as water, sewer, cable, and trash bills as well as lawn and building maintenance. At Seven Lakes, the HOA also offers residents a private bus service.
Brandywine - Fort Myers
Active adults looking for a real sense of togetherness in Fort Myers have everything they need at Brandywine, a 55+ community that's closely knit. The Remembrance Garden was planted in 1998 as a community project and is maintained with the help of the garden club and resident volunteers. Native plants attract butterflies, and the setting is serene. Pools, pickleball, shuffleboard, and tennis are all available at Brandywine, and there are a lot of clubs and activities for active adults who love to mix and mingle with like-minded friends.
The homes are spacious and affordable. Condominiums are four units per building and on two floors. These properties have two bedrooms and two bathrooms with about 1,464 square feet and assigned parking with garage space. The attached villas are available in five models with either two or three bedrooms and two bathrooms. Some homes have dens and all of them have a two-car garage. They are between 1,700 and 2,500 square feet.
Brandywine is close to Lakes Park, a popular place to rent bikes and visit the Railroad Museum of Southwest Florida.
Cross Creek Country Club - Fort Myers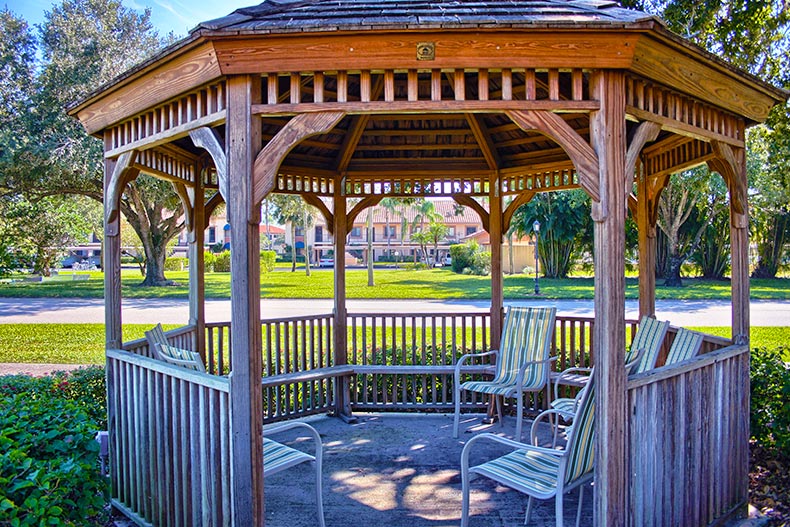 Country club living on a budget is possible at Cross Creek Country Club, an active adult community without specific age restrictions. If you're hoping to enjoy your Florida retirement with adult children in tow or you appreciate generational diversity, this may be the community for you. It has a semi-private golf course that was designed by Arthur Hills, and there's also a putting green, pro shop, and locker rooms. The clubhouse includes a ballroom, multi-purpose room, and library. Restaurants, bars, 10 pools, and three tennis courts round out the available amenities. Lawn bowling is also available and extremely popular with residents.
With 905 single-family homes, attached villas, and condos on the property, buyers can choose a size and model that fits their budgets and their needs. Condos are two or three-story buildings that house units with between 910 and 1,307 square feet. Villas offer two bedrooms, two bathrooms, and attached one-car garages with 1,142 to 1,232 square feet. Single-family homes are on one level and have two or three bedrooms.
Happy hours, karaoke, themed dinners, and holiday parties are just some of the events that keep residents busy and social.
Cinnamon Cove - Fort Myers
A clubhouse director keeps a busy social and activity schedule for residents who want to participate at Cinnamon Cove, a gated 55+ community with affordably priced single-family homes, attached villas, and condos available throughout more than 10 separate and unique neighborhoods.
There's a fitness center, a pool and a spa, and plenty of tennis, shuffleboard, pickleball, and bocce courts for competitive and friendly play. Residents enjoy poolside bingo games, conversation clubs, and water aerobics classes.
Condos are between 931 and 1,057 square feet, with two bedrooms, two bathrooms, and covered parking. Villas are a little larger, with two bedrooms, two bathrooms, and outdoor space for storage and entertaining. Single-family homes have either two or three bedrooms, and many of them also have dens.
Nature lovers will enjoy Cinnamon Cove for its proximity to Estero Bay Preserve State Park, where there's hiking, biking, kayaking, canoeing, and birding to be enjoyed.