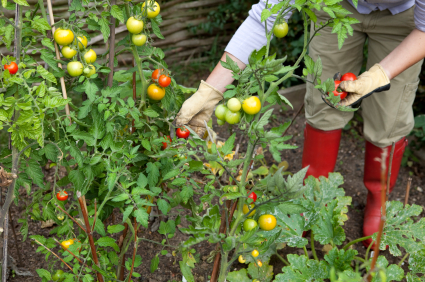 When retirees consider moving to an active adult community, they often worry that they will be giving up their home gardens along with their big backyards. However, gardening is a popular pastime among many active adults, and it is supported in age-restricted communities across the country. Through community gardens, resident gardeners can indulge their passion even after downsizing from their family homes.
Gardening is a hobby which yields more than healthy food. It is a way for adults to stay active and enjoy the fresh air and sunshine in their natural environment. Through gardening groups and clubs, active adults can meet new friends and bringing in a good harvest comes with a surprising sense of accomplishment.
While active adult communities may have some restrictions about planting crops on individual homesites, many offer community gardens where residents can grow their own fruits and vegetables. They also support this healthy hobby with gardening clubs and events like local farmer's markets. By participating in these activities, community residents can easily learn from each other while sharing their love of gardening.
55+ Communities with Community Gardens
Community gardens are not available in all active adult communities, but they can be found in several developments around the country. At Ceres Gleann, in Oregon, residents cultivate plantings, fruits, and vegetables in their own community garden plots. In Delaware's brand new Four Seasons at Silver Maple, the Victory Garden encourages resident gardeners to reserve a space to grow their own produce. At the Retreat at Greenbrier, in Virginia, residents can maintain a plot in the community garden, which is colorfully known as the Garden Quilt.
Residents can also indulge their green thumbs through the community gardens in developments like Regency at Monroe in New Jersey, and Sun City Center in Florida. Garden clubs are found in active adult communities across the country. They are a popular pastime in large, sprawling developments like On Top of the World in Ocala, Florida or in mid-sized communities like Del Webb Charleston. As well as smaller, more intimate neighborhoods like Windsor Hills in The Woodlands, Texas.
If gardening is an important part of your lifestyle, be sure to find out the rules of potential active adult communities before buying a home. While there may be restrictions or limitations in some developments, active adult communities which have their own community gardens let resident gardeners continue their hobby even after downsizing to a home with little to no yard of their own.